What exactly are bushcraft pants? Learn about the best bushcraft Pants in the industry. They are durable and comfortable, with high-quality waterproof outer shell material.
Bushcraft Pants | Get What You Need
Bushcraft!
To those who do not understand it, it's a misguided hobby. But for those who practice it, it's a way of life. One that could prove to be the difference between survival and death when stranded somewhere in the wilderness.
Along with everything on your outdoor supply list, you also need to have the best bushcraft pants for an enjoyable trip.
Read on for some insightful tips on what to consider when choosing the best pants for bushcraft and reviewing reliable ones in the market.
The Best Pants for Bushcraft
Best Overall
Strong and durable fabric
Great fit
Weather-resistant
Weather Resistance
Highly weather-resistant
Quick-drying
Strong and durable fabric
Best Functionality
Highly durable
Reinforced build
Why Use Bushcraft Pants?
Undoubtedly, bushcraft is an outdoor activity. However, outdoor pants just won't cut it if you want the ideal bushcraft experience.
So, don't make the rookie mistake I did. I got the first pair of outdoor pants I could get my hands on and set off. Long story short, bushcraft is no mere outdooring activity, and due to the discomfort, that was my worst experience in the wild.
The first thing you need to do as a beginner is select the best pants for bushcraft. To understand why, let's consider the most common activities of bushcrafters.
A lot of these tasks involve kneeling and squatting to dig holes, splinter firewood or create shelter. But with traditional outdoor pants, you're wearing layers upon layers upon layers on top of that while doing all this. And when it gets hot, you need to take all those layers off.
To avoid this, you need to get a pair of pants made specifically for this purpose and not just any ol' outdoor apparel.
Features to Consider When Choosing Bushcraft Pants
Unlike your day-to-day clothing, when choosing the best bushcraft pants, aesthetics is not a key consideration. You want something that offers:
Protection
You're most likely to be in contact with dangerous and sharp objects during a bushcraft trip: not to mention the thorns, twigs and branches! The best bushcraft pants will offer ample protection on your legs from these dangers through their design.
Abrasion-resistant fabric is often used as it provides a strong barrier against cuts and falling debris.
Comfort and Durability
Durability is the key feature to look out for in bushcraft pants. Sure, you can splurge on several pairs of cheap pants, but you'll regret it when your knees are bleeding from thorns after falling into a thorny patch!
So instead of having multiple pairs, invest in one quality pair of the best bushcraft pants that will last you a lifetime.
Keep in mind that they will be much tougher than your regular clothing since these pants are designed for outdoor use.
Waterproof and Weather Resistance
Being outdoors while it's raining is a drag. You can't be comfortable or practice your bushcraft skills to the fullest if you're cowering in fear of getting wet. Also, you'll encounter varying weather conditions. It may be hot during the day and extremely cold at night.
Since it's not realistic to keep changing each time there's a change in weather, the best pants for bushcraft offer weatherproofing. This ensures that you are safe from the elements at all times.
Pockets and Compartments
When out in the wild, it's useful to have your bushcraft tools and gear all within easy reach. This is especially important if you're wearing a heavy backpack somewhere along your journey! That's why bushcraft pants usually have multiple pockets and compartments for you to store things.
A good pair of pants for bushcraft will have at least two pockets and one compartment. In this review of the Best Bushcraft Pants, I've listed some with up to 10 pockets!
The most important ones will be placed near the waistline for convenience. Also, consider getting pants with leg or thigh pockets, as these are great for keeping your hands free from tools while using them. Good pants should also offer a secure fit, so nothing falls off when in motion.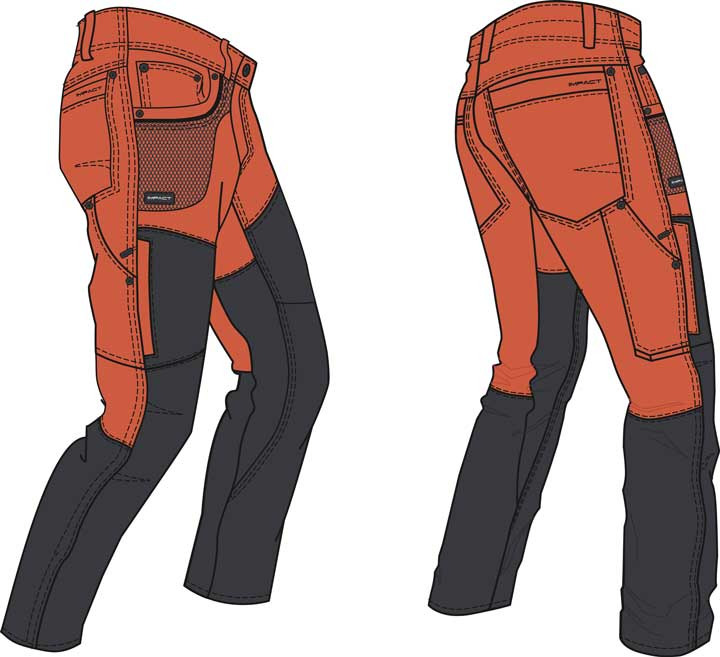 Quick-Drying Material
Bushcraft sessions can get intense and sweaty. Therefore, the best bushcraft pants will be made of quick-drying material. This also ensures you have dry pants shortly after it rains.
Comfort
When you're plagued with itchy, stiff or sore pants after a long day out in the bushcraft, you'll wish that comfort was priority number one when choosing your ideal bushcraft pants. The convenient features include a wider waistband for more support, a gusseted crotch area, and extra padding in the knees.
The cost of your pants should be directly proportional to their quality and durability. Bushcraft is a serious activity that will require all the bells and whistles. So, if you want something you can trust, then invest in well-engineered bushcraft pants.
These pants will give you the confidence of being prepared. So don't be fooled by all the gimmicky pants out there.
The Best Bushcraft Pants
As promised, I won't leave you with an endless search for bushcraft pants that can offer you the necessary protection and comfort.
Here's a list and review of the best pants for bushcraft.
Have you ever felt as if you have to forfeit comfort to get protection when selecting bushcraft attire?
Although that's often the case, it does not have to be like that. With the CQR men's tactical pants, you'll have a thick and strong layer for protection that's comfortable to move in.
Pros:
It has plenty of pockets to provide ample storage space
Suitable for various activities, including walking, hunting, and hiking
Due to the strong fabric, you can be sure of the necessary protection, and the pants are also long-lasting
Beyond the strength, the fabric is also resistant to liquids, mud, dirt, and other contaminants
The fabric has a unique stretching capacity that significantly reduces the risk of ripping
Quick-drying
Cons:
Despite being versatile and comfortable, they offer a baggy fit, reducing efficiency when reaching into pockets, especially if there's an emergency
Limited options for tactical storage as D-rings are only available in the two front belt loops
For real adventurers looking for more than just a pair of outdoor pants, the Helikon-Tex OTP outdoor tactical pants are an ideal option. Due to its incredible features, it qualifies as one of the best bushcraft pants.
Pros:
It offers water, wind, and stain resistance
Great moisture-wicking and quick-drying capabilities due to the lightweight construction
It comes with ten pockets, ensuring you have plenty of storage space for carry-ons such as knives and flashlights
The stretchy fabric and anatomic cut ensure you are comfortable when performing varying activities
The strong and durable material offers added protection
Cons:
The pants make a swishy sound when walking, which may be frustrating if you are used to a quieter one
It does not have padding around the knees
The cargo pockets are a bit small
Though the hook-and-loop waist fastener works well, a snap closure or button may be a better solution
The pants are a bit baggy
Relatively expensive
You can consider the Columbia Men's Silver Ridge Convertible as entry-level pants when it comes to bushcraft attire. Though it has some decent features, it may not be ideal for extreme outdooring.
However, these pants are light and flexible as they have an elastic waistband. This makes them suitable for various activities. Also, the adjustable drawstring ensures you can cinch the waist to get a more personalized fit if required.
With that said, take a look at its pros and cons.
Pros:
Their versatility allows you to use them for different activities
Comfortable material and fit
Easy to clean and maintain
Quick-drying
Multiple pockets for storage
The stretchy fabric makes mobility easy
Stain-resistant
Weather resistance
Abrasion resistance
Cons:
The mesh lining in some pockets causes this to get caught
The material is thin
Not ideal for rainy conditions as it absorbs water quickly
Wrangler Riggs Workwear Men's Ranger Pants are common features in lists containing the best bushcraft pants. This is because they offer both comfort and functionality for various activities.
With breathable and lightweight materials, you will have one of the best options for your outdooring needs. Moreover, they are a durable option that you can comfortably go with for challenging escapades.
Pros:
Highly durable
Offers sufficient protection against weather elements
Reinforced build around the seams and knees for added protection
Several large and smartly placed pockets
Comfortable and improved fit to increase mobility
Good design that makes them perfect for various activities, including hunting
Available in a wide range of sizes that fit most people
Cons:
Not suitable for concealed carrying
Extra care is necessary when cleaning as they can wrinkle and shrink
It can be a little tight around the waist
In your search for the best pants for bushcraft, you'll encounter a wide range of options. Although most will be mediocre, a few will live up to their hype. Well, the 5.11 Tactical Men's Taclite Pro Lightweight Performance Pants fall under the latter category.
This is due to the features and functionality it offers.
Pros:
Well-placed pockets making it easy to access your essentials
They offer a nice fit that affords you a lot of comfort
It has extra padding in the knees and back for added comfort and protection
The Teflon coating of the fabric ensures the pants are water, stain, and dirt resistant
The eight pockets offer sufficient storage space
Cons:
The Velcro may be slightly noisy
The pants can be a bit baggy
Getting the Perfect Fit
In terms of the best pants for bushcraft, there's no one-size-fits-all solution. It all boils down to the activities you want to partake in and your personal preferences. That's if pricing is not a factor.
So, are you just beginning your bushcraft journey, or have you been doing it for some time? And, how extreme do you plan on being? These are some of the things you should consider.
Even still, you need the best bushcraft pants. In this regard, I recommend the 5.11 Tactical Men's Taclite Pro Lightweight Performance Pants. Compared to the other entries in this review, it has the perfect blend of comfort and functionality.
Whereas the Columbia Men's Silver Ridge Convertible Pants come in at a close second, the 5.11 Tactical edges it in functionality. Moreover, it also has a relatively fair price making it also pocket-friendly.