What exactly are bushcraft pants? Learn about the best bushcraft Pants in the industry. They are durable and comfortable, with high-quality waterproof outer shell material.
Bushcraft Pants | Get What You Need
Bushcraft!
To those who do not understand it, it's a misguided hobby. But for those who practice it, it's a way of life. One that could prove to be the difference between survival and death when stranded somewhere in the wilderness.
Along with everything on your outdoor supply list, you also need to have the best bushcraft pants for an enjoyable trip.
Read on for some insightful tips on what to consider when choosing the best pants for bushcraft and reviewing reliable ones in the market.
The Best Pants for Bushcraft
Best Overall
Strong and durable fabric
Great fit
Weather-resistant
Weather Resistance
Highly weather-resistant
Quick-drying
Strong and durable fabric
Best Functionality
D-ring for accessories
Plenty of pockets
Plenty of pockets
Why Use Bushcraft Pants?
Undoubtedly, bushcraft is an outdoor activity. However, outdoor pants just won't cut it if you want the ideal bushcraft experience.
So, don't make the rookie mistake I did. I got the first pair of outdoor pants I could get my hands on and set off. Long story short, bushcraft is no mere outdooring activity, and due to the discomfort, that was my worst experience in the wild.
The first thing you need to do as a beginner is select the best pants for bushcraft. To understand why, let's consider the most common activities of bushcrafters.
A lot of these tasks involve kneeling and squatting to dig holes, splinter firewood or create shelter. But with traditional outdoor pants, you're wearing layers upon layers upon layers on top of that while doing all this. And when it gets hot, you need to take all those layers off.
To avoid this, you need to get a pair of pants made specifically for this purpose and not just any ol' outdoor apparel.
Features to Consider When Choosing Bushcraft Pants
Unlike your day-to-day clothing, when choosing the best bushcraft pants, aesthetics is not a key consideration. You want something that offers:
Protection
You're most likely to be in contact with dangerous and sharp objects during a bushcraft trip: not to mention the thorns, twigs and branches! The best bushcraft pants will offer ample protection on your legs from these dangers through their design.
Abrasion-resistant fabric is often used as it provides a strong barrier against cuts and falling debris.
Comfort and Durability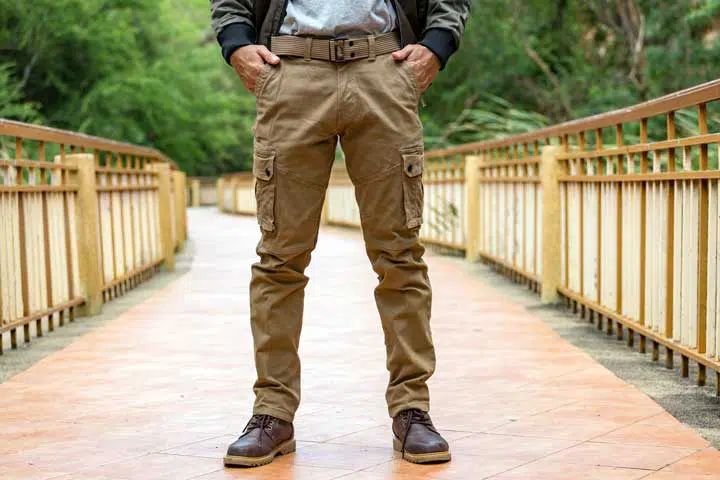 Durability is the key feature to look out for in bushcraft pants. Sure, you can splurge on several pairs of cheap pants, but you'll regret it when your knees are bleeding from thorns after falling into a thorny patch!
So instead of having multiple pairs, invest in one quality pair of the best bushcraft pants that will last you a lifetime.
Keep in mind that they will be much tougher than your regular clothing since these pants are designed for outdoor use.
Waterproof and Weather Resistance
Being outdoors while it's raining is a drag. You can't be comfortable or practice your bushcraft skills to the fullest if you're cowering in fear of getting wet. Also, you'll encounter varying weather conditions. It may be hot during the day and extremely cold at night.
Since it's not realistic to keep changing each time there's a change in weather, the best pants for bushcraft offer weatherproofing. This ensures that you are safe from the elements at all times.
Pockets and Compartments
When out in the wild, it's useful to have your bushcraft tools and gear all within easy reach. This is especially important if you're wearing a heavy backpack somewhere along your journey! That's why bushcraft pants usually have multiple pockets and compartments for you to store things.
A good pair of pants for bushcraft will have at least two pockets and one compartment. In this review of the Best Bushcraft Pants, I've listed some with up to 10 pockets!
The most important ones will be placed near the waistline for convenience. Also, consider getting pants with leg or thigh pockets, as these are great for keeping your hands free from tools while using them. Good pants should also offer a secure fit, so nothing falls off when in motion.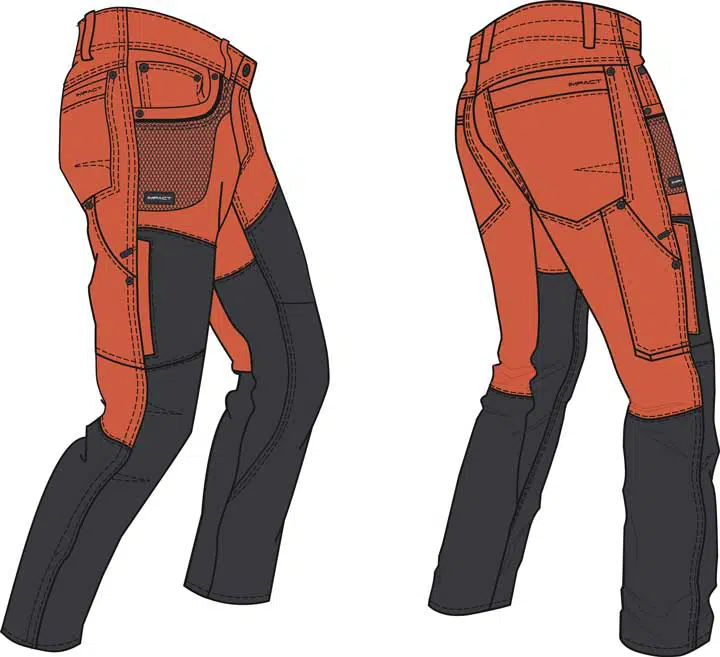 Quick-Drying Material
Bushcraft sessions can get intense and sweaty. Therefore, the best bushcraft pants will be made of quick-drying material. This also ensures you have dry pants shortly after it rains.
Comfort
When you're plagued with itchy, stiff or sore pants after a long day out in the bushcraft, you'll wish that comfort was priority number one when choosing your ideal bushcraft pants. The convenient features include a wider waistband for more support, a gusseted crotch area, and extra padding in the knees.
The cost of your pants should be directly proportional to their quality and durability. Bushcraft is a serious activity that will require all the bells and whistles. So, if you want something you can trust, then invest in well-engineered bushcraft pants.
These pants will give you the confidence of being prepared. So don't be fooled by all the gimmicky pants out there.
The Best Bushcraft Pants
As promised, I won't leave you with an endless search for bushcraft pants that can offer you the necessary protection and comfort.
Here's a list and review of the best pants for bushcraft.
Have you ever felt as if you have to forfeit comfort to get protection when selecting bushcraft attire?
Although that's often the case, it does not have to be like that. With the CQR men's tactical pants, you'll have a thick and strong layer for protection that's comfortable to move in.
Pros:
It has plenty of pockets to provide ample storage space
Suitable for various activities, including walking, hunting, and hiking
Due to the strong fabric, you can be sure of the necessary protection, and the pants are also long-lasting
Beyond the strength, the fabric is also resistant to liquids, mud, dirt, and other contaminants
The fabric has a unique stretching capacity that significantly reduces the risk of ripping
Quick-drying
Cons:
Despite being versatile and comfortable, they offer a baggy fit, reducing efficiency when reaching into pockets, especially if there's an emergency
Limited options for tactical storage as D-rings are only available in the two front belt loops
For real adventurers looking for more than just a pair of outdoor pants, the Helikon-Tex OTP outdoor tactical pants are an ideal option. Due to its incredible features, it qualifies as one of the best bushcraft pants.
Pros:
It offers water, wind, and stain resistance
Great moisture-wicking and quick-drying capabilities due to the lightweight construction
It comes with ten pockets, ensuring you have plenty of storage space for carry-ons such as knives and flashlights
The stretchy fabric and anatomic cut ensure you are comfortable when performing varying activities
The strong and durable material offers added protection
Cons:
The pants make a swishy sound when walking, which may be frustrating if you are used to a quieter one
It does not have padding around the knees
The cargo pockets are a bit small
Though the hook-and-loop waist fastener works well, a snap closure or button may be a better solution
The pants are a bit baggy
Relatively expensive
You can consider the Columbia Men's Silver Ridge Convertible as entry-level pants when it comes to bushcraft attire. Though it has some decent features, it may not be ideal for extreme outdooring.
However, these pants are light and flexible as they have an elastic waistband. This makes them suitable for various activities. Also, the adjustable drawstring ensures you can cinch the waist to get a more personalized fit if required.
With that said, take a look at its pros and cons.
Pros:
Their versatility allows you to use them for different activities
Comfortable material and fit
Easy to clean and maintain
Quick-drying
Multiple pockets for storage
The stretchy fabric makes mobility easy
Stain-resistant
Weather resistance
Abrasion resistance
Cons:
The mesh lining in some pockets causes this to get caught
The material is thin
Not ideal for rainy conditions as it absorbs water quickly
Wrangler Riggs Workwear Men's Ranger Pants are common features in lists containing the best bushcraft pants. This is because they offer both comfort and functionality for various activities.
With breathable and lightweight materials, you will have one of the best options for your outdooring needs. Moreover, they are a durable option that you can comfortably go with for challenging escapades.
Pros:
Highly durable
Offers sufficient protection against weather elements
Reinforced build around the seams and knees for added protection
Several large and smartly placed pockets
Comfortable and improved fit to increase mobility
Good design that makes them perfect for various activities, including hunting
Available in a wide range of sizes that fit most people
Cons:
Not suitable for concealed carrying
Extra care is necessary when cleaning as they can wrinkle and shrink
It can be a little tight around the waist
In your search for the best pants for bushcraft, you'll encounter a wide range of options. Although most will be mediocre, a few will live up to their hype. Well, the 5.11 Tactical Men's Taclite Pro Lightweight Performance Pants fall under the latter category.
This is due to the features and functionality it offers.
Pros:
Well-placed pockets making it easy to access your essentials
They offer a nice fit that affords you a lot of comfort
It has extra padding in the knees and back for added comfort and protection
The Teflon coating of the fabric ensures the pants are water, stain, and dirt resistant
The eight pockets offer sufficient storage space
Cons:
The Velcro may be slightly noisy
The pants can be a bit baggy
The Fjallraven pants are among the best bushcraft pants on the market. You can wear them in cold and warm weather, and they'll help you stay dry and warm. These pants have excellent reinforcements in all the right places and the pockets are insulated against wear and tear.
These bushcraft pants feature multiple pockets to maximize your storage capacity. There are two standard packets and a large cargo thigh pocket on the side with a convenient mesh divider. What's more, two overlapping pockets are present near your left thigh.
The pants fit very well, and the loose fabric makes them comfortable to boot. They're not baggy or restrictive, so you can move comfortably. Fjallraven offers 14 different color combinations, and they come in a variety of lengths and sizes to get the best fit.
The knee area of the pants improves durability since it is one of the more susceptible parts of all bushcraft pants. You can conveniently add knee pads if you must kneel for long periods. Your pants will undoubtedly stay intact as you embark on your adventure.
Additionally, there are reinforcements on the seat of the pants to shield you from the ground while sitting. The spacious pockets can accommodate a folding saw or an ax for quick access and portability.
You can rewax the Vidda Pro pants often, and they'll last for ages. The only drawback is not having back pockets for extra storage. Besides that, these pants are an excellent pick for anyone spending time in the wilderness.
Pros
These are some of the best pants for bushcraft
with a special design to stand up to the rigors of the wilderness.
The knees region is reinforced to fight against wear and tear when kneeling.
These pants are durable and lightweight, giving you the best of both worlds.
These pants are made from the highest quality materials that are soft and comfortable.
The multiple pockets provide the wearer with abundant storage.
Mosquitoes cannot penetrate the pants, so they are naturally repellent.
The fabric is water-resistant and excellent for heavy rain and snow.
If you need to work for an extended time on your knees, you can put knee pads in for comfort.
Cons
The pants are a bit bulky in warmer climates.
There are no back pockets.
They're somewhat expensive.
The SITKA pants are the perfect winter bushcraft pants. They have a reputation for being resilient and high-quality.
Sitka has become a reliable brand, producing hunting and bushcraft gear that is both functional and nice looking. Their layered insulation system is impeccable and designed for all climates and environments.
These soft-shell outdoor pants are made from durable material; they're thicker and feel soft compared to the mountain pants in Sitka's collection. The knee and seat reinforcements are nylon and strengthened with a windstopper to better weatherproof the pants.
Suppose you happen to be someone who stuffs their pockets. These pants have plenty of room to store all your necessities. There are two front pockets, a side pocket on each leg, and one back pocket to complete your full set.
The large side pockets are specially designed to be closed by two buttons; these pockets can accommodate a range finder or a pair of lightweight gloves. The pants also feature a secondary pouch that you zip to close; this pocket is big enough to accommodate a phone.
The side pockets are conveniently positioned, allowing you access to them in virtually any situation. The pockets and waistband and pockets have fleece-lining offer much-needed comfort where it's needed most. You can take the knee pads out, which is a plus if you don't need the extra bulk.
Having suspenders means that you can comfortably bend down when hiking or camping without your pants falling down. The suspenders are lightweight, and they feature a convenient rubber lining on the inside to keep them from slipping off your shoulders.
The zipper lets you zip it open from top to bottom. This eliminates having to dig around for a stuck zipper tab. Just head to the bottom. It's totally convenient.
The SITKA pants are versatile and built for bushcrafters and wilderness guides alike. These durable pants are breathable and warm. These pants cover all the bases regarding having a great pair of bushcraft pants.
Pros
The durable ripstop nylon material can stand up to whatever the wilderness has to throw at you.
Moisture and water are everywhere in the wilderness, and the water-repellent finish will help to keep you dry.
Durability and comfortability are two things that don't often come together. Sitka's timberline pants are very comfortable.
Storage won't be an issue for anyone, thanks to the number of pockets featured on these pants.
Sometimes it can become quite warm while you're out and about; these breathable pants will give you the coolness you need.
The pants are lightweight, which adds to their comfort.
Pants are available in multiple colors.
Pants are quick drying.
Cons
These pants are expensive.
They may not stand up to freezing temperatures.
These Eddie Bauer Men's pants are excellent for practicing your bushcraft skills. They're protective, constructed from a durable material, and lightweight. Whether you're hiking, hunting, or putting them to the test in another survival situation, they hold up pretty well.
The nylon material is stretchy, so you won't have any issues moving around, but you will notice that the material makes a scratching sound when you rub your hands against them.
That's not necessarily a problem, but if you were hoping to be quiet in a hunting situation, that could be a little annoying. However, it's not the end all be all, and I still really like how unrestrained and light I feel as I gather wood, fish, and kneel on the ground.
The material is also water-resistant, so you will get somewhat wet, but you won't be nearly as uncomfortable as you would be without this technology.
They're perfect if you wander through a rainforest, puddles, light rain, and other wet conditions. The material also resists UV rays, ensuring they last longer, and you'll stay cooler thanks to sun protection.
These pants aren't bulky, so you can pack them up easily when traveling, and they don't take up much space. They're also easy to wash, and they don't hold odors.
When you're an outdoors enthusiast, you know how important storage space is when you're out there. One of my favorite features is the zippered cargo pants. I get ample space, plus I don't have to worry about my bushcraft gear or EDC items falling out no matter how much I move, jump, climb, and so on.
This might not be high on anyone else's list, but these pants look great when paired with a simple button-up shirt, so the versatility is a bonus. The Eddie Bauer Guide Pro pants are a solid option for bushcraft pants that you can trust to last a while in various conditions.
Pros
Eddie Bauer Men's pants come in 35 different colors, so you can have more than one pair and possibly match your gear.
The brand is well-known.
Highly impeccable UV protection to prevent damage.
These reinforcements are placed in all the right places, adding to longevity.
Tailored accents around the knees make it easy to maneuver around the campgrounds.
You have a wider range of movement thanks to the Two-way stretch and Flexion Stretch woven technology.
Excellent choice for waterproof bushcraft pants because of the water-resistant finish to prevent getting drenched.
The pants stay fresher for longer because they're odor-resistant.
The pants are versatile, and you can wear them in warm and cold climates.
The pants last for longer because they're UV-resistant.
Cons
While the pants are durable, they're more susceptible to tears than other options.
It's challenging to find the right size.
The zipper on the cargo pockets gets stuck sometimes.
The leg opening is too baggy near the bottom.
Dickies is a brand that has built a reputation for high quality and excellence in manufacturing durable pants, especially for work. The flexible fabric used to construct these pants makes them comfortable when wearing them out in the wilderness, as you have excellent mobility.
Additionally, they're relatively lightweight, so you don't feel weighed down when you're out there. You can wear them during all seasons, but they might not stand up to the cold in harsh winter weather.
Nonetheless, they're affordable, so you're good to go when taking them out in dry conditions to practice your skills. When kneeling to build a fire, building a shelter, hunting, or chopping wood with your hatchet, you can count on these pants to stay intact and not hinder your movements.
Dickie's also look stylish, and come in neutral colors, so you can wear them to go bushcrafting, to the office, or for an evening with friends on the weekend. They're versatile and easy to clean, so that's a bonus to choosing these pants.
There's not a ton of storage, but you have two front pockets, two rear pockets, and a cell phone pocket on the side. Plus, there are belt loops, so you have plenty of space to hang things and grab your essentials to carry on your person. Overall, I'd say these are a solid option to take with you if you're going to be out and need a sturdy pair of men's bushcraft pants.
Pros
The pants offer a comfortable fit that isn't too tight or too baggy.
The flex fabric technology ensures you can move around without the pants ripping or sliding down.
The fabric wicks moisture (sweat and water) away from your body, keeping you dry for as long as possible.
These pants are easy to wash, meaning they'll last longer as you continue to practice your bushcraft skills.
The belt loops are wide, helping to evenly distribute the weight of your gear attached to the pants.
The back pockets have buttons to close and prevent things from falling out.
There's a convenient cell phone pocket on the side of the pants for easy access.
The pants are inexpensive.
You can wear these pants at work, in the wilderness, or for a relaxed day hanging with friends (versatile).
Cons
These pants are more popular as work pants, but you can use them as bushcraft pants as well.
They don't have the same pockets and storage as you usually get with bushcraft pants.
The knees and seat area are not reinforced or padded.
The pants are not rip-resistant.
They don't repel water, which makes them less desirable to wear in extreme weather conditions.
The LA Police Gear Men's Tactical Pants are an excellent choice for cheap bushcraft pants that get the job done. And I don't mean that negatively; sometimes you can get less expensive pants, but they function the same way and sometimes even better than the well-known brands.
Not only are these pants highly affordable, but they are tough and can stand up to harsh weather like heavy snow and rain. One of my favorite features about these pants is that they're super lightweight.
Comfort may be the last thing on your mind in a survival situation, but while practicing your skills, it's certainly a feature you don't mind. The cotton ripstop fabric is soft, but it prevents you from getting scratched or cut through bushes with thorns, tall grass, or on rocky terrain.
Also, the way the crotch area and knees are shaped and reinforced, you get optimal mobility. You can move freely, and it doesn't feel like you're in danger of ripping the threads apart.
Finding the right fit for bushcraft pants can be hard sometimes, especially if you're very tall, short, heavy, or thin. These pants are available in sizes 28-50, so you have many options to choose from.
The way the pockets are designed since these are technically pants for law enforcement officers, the placement is optimal for quick access to your gear. Whether hunting, starting a fire, purifying water, or whatever the case, you can grab your tools quickly.
Lastly, let's discuss the pockets. There are pass-throughs on these cargo pockets that are excellent for items like knives or flashlights.
Two front pockets have a notch, so you can clip items you'll use frequently. There's also one front slip pocket on the right side for everyday carry items like cell phones, your watch, tissues, and so on.
Next, you'll find two hook and loop pockets that can hold everything in place securely, and they're even slanted for access while sitting. Lastly, you get two rear pockets to store your wallet for safekeeping. I highly recommend these pants if you're on a budget and you need a reliable pair of pants for outdoors.
Pros
These ultra-lightweight men's bushcraft pants make it easy to move swiftly without feeling weighed down when practicing your skills.
You can wear these pants whether it's hot or cold outside and still feel relatively comfortable.
There are a wide variety of colors to choose from.
These pants have seven pockets that serve different purposes and offer ample storage.
The price is very low compared to competitors.
The specially designed accents near the knee area and the gusseted crotch allow easier movement.
Cons
The fabric isn't as water-resistant as you'd like it to be, especially if you'll be in wet conditions for extended periods.
Finding the right fit can be tricky.
These pants lack some features, such as reinforced knees and padding.
The waistband feels uncomfortable after a while.
Getting the Perfect Fit
In terms of the best pants for bushcraft, there's no one-size-fits-all solution. It all boils down to the activities you want to partake in and your personal preferences. That's if pricing is not a factor.
So, are you just beginning your bushcraft journey, or have you been doing it for some time? And, how extreme do you plan on being? These are some of the things you should consider.
Even still, you need the best bushcraft pants. In this regard, I recommend the 5.11 Tactical Men's Taclite Pro Lightweight Performance Pants. Compared to the other entries in this review, it has the perfect blend of comfort and functionality.
Whereas the Columbia Men's Silver Ridge Convertible Pants come in at a close second, the 5.11 Tactical edges it in functionality. Moreover, it also has a relatively fair price making it also pocket-friendly.