There's something extremely liberating about going out into the wilderness and applying your knowledge and skills for not just survival, but to thrive. Life in the "real world" can be draining at times, and immersing yourself in nature can be a fantastic way to recharge your batteries.
When it comes to bushcraft, finding the right equipment for your adventure is essential. Here, I'll cover what a bushcraft backpack is, what to look for when buying one, and what the advantages are of choosing a pack for bushcraft versus one for survival. Plus, I'll offer a list of the top five bushcraft backpacks.
Best Bushcraft Backpacks
Best overall
Rainfly.
Padded shoulder straps.
Best value for the money
Durable nylon.
Adjustable straps.
Best brand
Pull-out rain cover.
foldable scabbard.
What Is a Bushcraft Backpack?
A bushcraft backpack is a robust and durable bag that provides enough space to fit all of your gear. Unlike camping or hiking bags, bushcraft backpacks are primarily designed to be hard-wearing and lightweight for longer experiences and adventures in nature.
With the right bushcraft backpack, you should be able to load up everything you need for a longer wilderness experience and carry the load comfortably. Your bag for bushcraft should also be able to withstand harsh weather conditions and rough handling.
Some of the best bushcraft backpacks have a belt that helps improve stability and distributes the weight from the shoulder straps. With this design, they are more comfortable to wear while maneuvering through the forest, climbing, or hiking several miles — all with plenty of space for the things you'll need for a prolonged stay in nature.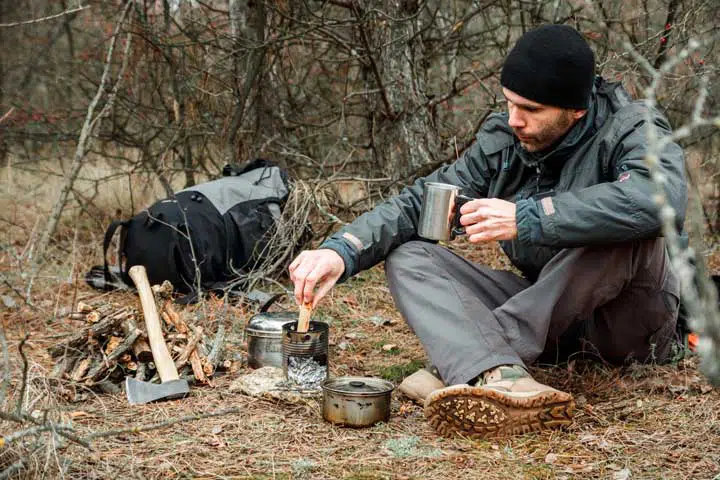 What To Look for in a Bushcraft Backpack
Though bushcraft and more naturalistic outdoor activities are becoming more popular, you may not find packs carrying an exclusive label for bushcraft use. Therefore, it's important to discuss what to look for when choosing the best backpack for bushcraft.
Capacity
Unlike survivalists, anyone heading out on a bushcraft adventure needs to bring plenty of supplies along. Rather than living off the land, you'll be working with it, creating and cultivating what you need from the environment with the aid of tools and equipment you carry.
You're probably not bringing any devices along, or too many luxuries from home. But you do need enough space for equipment like a bushcraft knife, possibly an axe, a bivy sack, cooking tools, water (or a water purifier or system), hygiene supplies, and a first aid kit — among other necessities.
Make sure your bushcraft backpack has plenty of interior room, pockets, and durable zippers (or a drawstring) to withstand all the opening and closing while you're out in the wilderness.
Durability & Comfort
Since you'll be lugging your bag around on and off the trail, you'll need something comfortable that will withstand the tests of mother nature. Some aspects to consider when seeking the best pack for bushcraft are the materials, how well it fits your shoulders, and what kind of straps it has.
If you're shopping online, it can be challenging since you can't try the bag before purchasing. The best way around this is to read through customer reviews and see how others felt about the bag's comfort. With that in mind, there are a few basic things you can look for even when shopping online:
Look at the width of the straps (always go with the widest possible)
Make sure the straps are adjustable.
Look for a sternum clip for additional support.
You can also check to see if the backpack provides sufficient airflow on the backside. Several newer models come with mesh materials that allow your back to breathe.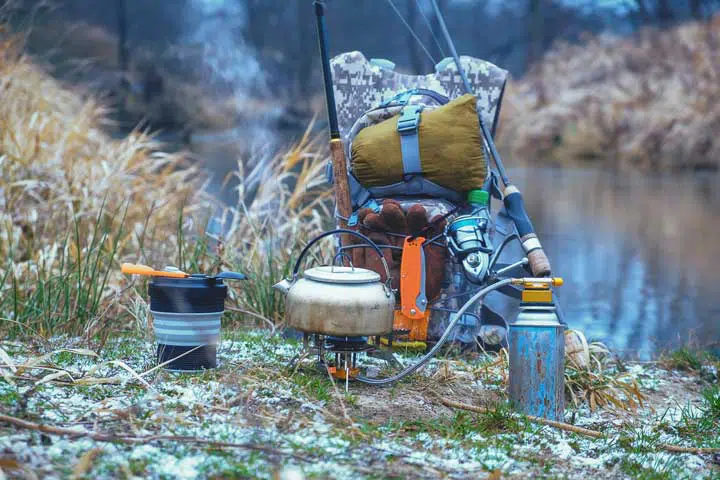 Type of Frame
While most people look at the style and price when choosing a bag, the type of frame is essential. Although having a frame isn't completely necessary, it can enhance your comfort when out in the woods. To know which frame to choose, first, you need to understand the three types of frames:
External Frames. If you plan on packing heavy, an external frame is the way to go. Not only do they help distribute the load better, but they also allow you to attach several useful accessories for your trip. External frames keep the bag away from your back, which adds more ventilation and keeps you comfortable.
Internal Frames. The internal frame keeps the backpack closer to your body, which helps take some of the weight off your shoulders and increases stability. Internal frames are excellent if you aren't carrying heavy loads (over 35 pounds) and want something easy to maneuver with.
Frameless. Frameless backpacks may be the simplest option, but they're also the most popular for bushcraft for their ease of use. Most frameless bags have fewer frills, so if you don't carry too heavy a load and aren't going far, frameless could be a solid choice.
Depending on your goals and body type, knowing what kind of frame a bag has is crucial if you want to remain comfortable. If you're a heavy sweater, I would opt for an external frame bag to create a space between your back and the bag. Those who don't have the best balance (especially when scaling hills) usually go with an internal frame bag. If you'll be taking a more relaxing adventure rather than hiking tough trails, a frameless pack could work just fine.
Your Budget
Finding a solid bushcraft backpack within your budget may be an important consideration for you. Although it may be your instinct to go after the cheapest option, this can cause you some trouble in the future.
The cheaper the bag, the more likely it is to fail you when you need it the most. Therefore, you should find something within a reasonable budget but be ready to invest a decent amount in your bushcraft bag.
Fortunately, most of the items below are quite affordable and will last several years.
Advantages of Using a Bushcraft Backpack
Bushcraft backpacks are becoming increasingly popular in the world of outdoor adventuring. They offer several benefits that regular backpacks don't, including:
Increased durability and stability since they're specifically designed for outdoor use
Numerous attachments and accessories to enhance your wilderness experience
More storage capacity since they're designed to fit large pieces of gear
They are far more comfortable for long-term use since they have padded straps and additional support buckles
Now you have an idea of why outdoors enthusiasts opt for a bushcraft backpack every time they head into the forest.
Bushcraft Backpacks vs. Survival Backpacks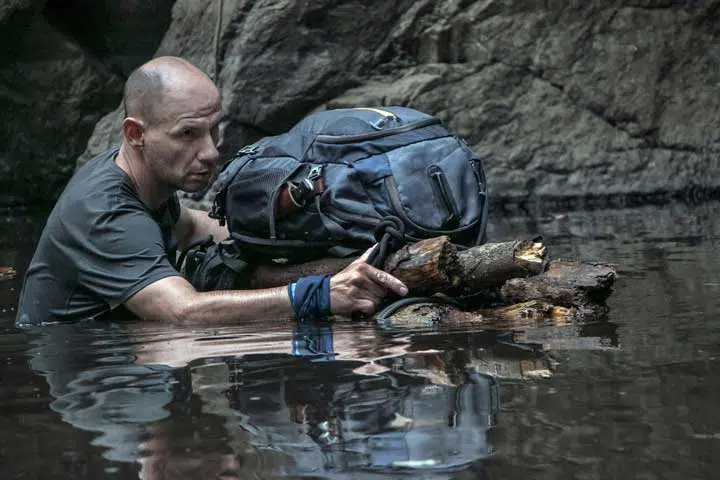 While bushcraft, hiking, and backpacking all seem similar on the surface, they are each very different. All three share the idea of heading into the wilderness, but each has distinct goals in mind.
Bushcrafters crave the experience of being in the wilderness and relying on a combination of human-made tools and what mother nature has given us to survive and thrive.
Hikers often have a destination in mind, therefore, their equipment is designed for a different set of belongings. Survivalists tend to pack light, living off the land almost to a fault and don't often bring along luxuries like cooking kits or tents. That means a survivalist pack likely won't serve the needs of a bushcraft enthusiast.
Best Bushcraft Backpacks
Here are my top picks for the best bushcraft packs.
One of the main reasons why I truly love this bag is that it comes with all of the essentials: comfortable, durable, spacious, and looks awesome. While the TETON Sports Explorer bushcraft backpack brings incredible value to your wilderness experience, it's surprisingly affordable, making it one of the best bushcraft backpack options out there.
This bag comes with 4,000 cubic inches of storage space, which is more than enough to fit all of your gear, hence the name. The TETON Sports Explorer 4000 has an internal frame that helps improve stability and keeps you more on your toes while trekking.
Each of the torso and shoulder straps is completely adjustable so that you can customize your bag for maximum comfort. There's also soft padding on the shoulders that offer even more support. The backside of the pack has a cutting-edge airflow mechanism that protects your back from getting too hot or wet while in the woods.
TETON also provides a helpful rainfly to help protect your gear from getting drenched in case of a sudden downpour.
Pros
This backpack is full of useful features, including a rainfly, airflow mechanism, 4,000 cubic inches of storage capacity, and padded shoulder pads.
You can add several attachments and tie-on to your pack, making it more convenient if your bushcraft trip requires hiking.
Incredibly affordable and will last several years.
Cons
While the shoulder pads are comfortable, they may tear easily if you're not careful.
The CVLife 60L Rucksack is an excellent choice if you want to make the most of your travel gear but don't have the largest budget. Like the TETON Sports Explorer 4000, this bushcraft backpack comes with extremely comfortable shoulder straps and plenty of storage space for your equipment. Not to mention the incredibly cool camouflage design.

One thing I really like about this backpack is the handy Molle system. With the side pockets, you can easily store all of your smaller items and make room for your sleeping gear and outdoor items. You get one primary compartment with plenty of storage space, along with a useful detachable fanny pack to store medical supplies.

The pack also comes with a convenient water bottle holder on the side, which allows you to stay hydrated throughout your adventure easily. CVLife uses 600D nylon for this pack, an incredibly durable and water-resistant material. You shouldn't have an issue with the straps breaking, making this a reliable and long-lasting bushcraft backpack.
Pros
600D nylon is extremely strong and naturally water-resistant
The main compartment is large enough for storing all of your essentials
Shoulder straps are fully adjustable for maximum comfort
Cons
It isn't suitable for heavy loads
The zipper may not last
When you consider the price and all of the potential applications, the Gootium Canvas Backpack is by far one of the most versatile packs on the market. I personally like the design because it's less rugged-looking than other nature packs, and there are a few color options to choose from.
The leather trim also adds a nice touch. Although the Gootium branding is right there on the bag's top, it blends nicely with the design. However, the backpack is a bit limited on internal space, with a relatively low 33 liters, making this one the best option if you plan to pack light.
Gootium does use high-density cotton fabric, making it incredibly easy to wash after a long trip. The natural materials are another reason why this pack makes my list of the best bushcraft bags.
One more highlight? There's no zipper on the Gootium bag. Instead, it has a drawstring closure and a flap that buckles shut. In terms of durability, this pack checks all the boxes.
Pros
Stylish design that's less "outdoorsy" than others
Made from environmentally friendly materials
No zippers to deal with
Cons
Lower capacity than competitors
For those looking for a heavy-duty bag, the ALPS OutdoorZ Commander + pack is an excellent option. The bag comes with a whopping 5,250 cubic inches of storage space and only weighs roughly three kilos. If you're planning to camp or hunt for several days, this pack will help ensure that you can carry enough supplies and then some.
The ALPS OutdoorZ Commander + is incredibly strong and practical, but it's also surprisingly affordable. It's tough to find another pack that offers the same amount of storage space within the same price range. I really like this bag because you can detach the freighter frame and use it to haul your meat. There's also a handy clip handle for your rifle (and plenty of room inside for your bushcraft axe).
The outer and lining material is nylon, making the bag water-resistant and durable against harsh weather conditions. ALPS Outdoorz collection features several high-quality hunting backpacks, and the Commander + is no exception. I would recommend this backpack to anybody planning to haul over 40 pounds or those who want to combine essential bushcraft adventures with hunting.
Pros
Has over 5000 cubic inches of storage space
Optimized for hunting (rifle clip handle/meat hauler)
Durable nylon material
Cons
Bulky if you plan to pack lighter
Eberlestock is known to always be on the front end of outdoor equipment. While the company is mostly known for hunting equipment, they've put out several other high-quality items, including the Operator Pack. One reason why I love Eberlestock is that you know you're always getting quality goods that are affordable and will last for ages.
The Eberlestock Operator Pack is one of the leading bushcraft backpacks on the market, mostly because of its robust construction and weather challenging materials. The Dry Earth color design adds a nice touch, and I especially like the nylon Cordura lining.
With this pack, you get a total of 4,700 cubic inches of storage capacity, a foldable scabbard, and a waterproof rain cover to keep all of your goods dry. The bag weighs roughly 10 pounds, making it one of the heavier choices on this list. However, the Eberlestock Operator Pack makes up for it with its extremely durable and world-class design.
Pros
The materials are extremely resistant to water
Comfortable shoulder straps that don't tear easily
Foldable scabbard allowing for easier storage
Cons
A lot heavier than other packs with the same storage capacity
Conclusion
Without a doubt, there are several top-notch bushcraft backpacks to choose from. If you are looking for the very best all-around, I think the TETON Sports Explorer 4000 is a clear winner regardless of price. It's a stylish bag with impressive features, balanced comfort, and excellent storage capacity. The TETON has everything an avid explorer would need in a bushcraft bag.

If you are more budget-conscious, or a beginner, there are more basic, affordable, and practical options, such as the Gootium canvas pack.

However, if you're thinking long-term, the Eberlestock Terminator Pack is an incredible investment. Not only does it offer a ton of storage space, but its durability stands the tests of time, making this a top-of-the-line product worth every penny.

Fortunately, you have plenty of choices no matter your bushcraft plans. I hope this list of the best bushcraft backpacks will help you choose the best one for your needs. Happy exploring!