A good bushcraft axe needs to meet a lot of demanding criteria. It needs to have a sharp blade that won't leave you hacking away at wood for hours. It needs to be light, but also long enough that you can use two hands for those big jobs. The blade needs to be convex-shaped (curved) in order to take efficient bites out of the wood. The handle ought to be strong and durable, you do not want it splitting on you in the middle of a forest when you need firewood now.
Best Bushcraft Axes
Portable Power
Good weight and balance.
Sharp out of the box.
The Beast From Downeast
Ideal for heavy workload.
Versatile size.
Durable.
Best All-Around
Great for the money.
Great portability.
Comfortable handle/
Hatchets: An ideal multi-use tool for the wilderness
A bushcraft axe, or hatchet (we will be using both terms in this article), is a valuable piece of equipment to take with you camping. A hatchet is an incredibly versatile tool that can be used for splitting small logs, chopping down small trees, and can also be used as a hammer if need be. In many cases and with enough practice, a bushcraft axe can perform many functions of a survival knife, and be used for carving if necessary. Many experienced outdoors people will tell you that a hatchet is a must-have part of their kit when they go out into the woods. A quality, properly sharpened axe is more versatile than any knife.
What should I look for in a bushcraft hatchet?
Bushcraft axes are designed to be portable and much lighter than their bigger, longer cousins. Finding the best hatchet has a lot to do with the person using it, so know that not every hatchet works for every person. An ideal hatchet measures between 15" and 18", though you might like a slightly shorter or longer axe depending on your height and what you intend to use it for. This makes it small enough to stow in your pack and also ensures it is light enough and short enough that it can be easily carried with you out on the trail. Portability is a key factor in choosing a bushcraft axe. If you are browsing in a store, take the time to pick up each hatchet and familiarize yourself with the weight in your hand. An ideal bushcraft axe weighs somewhere between 1.5 to 2.25 pounds. If you are backpacking or hiking, the axe should fit comfortably into your rucksack. If you are planning to wear it on your belt to keep the holster size in mind when shopping.
Another good way to look at a bushcraft axe is that it can be used with one or both hands. You want to use two hands when chopping down small trees. With some practice, you can use the hatchet in one hand while splitting small limbs and while hammering. Depending on how far you want to take it, the right hatchet can also be used to field-clean game. It is light enough that you should be able to wield it one-handed as needed. Larger axes tend to be too heavy to be wielded with one hand for long periods of time and are also too long.
How to find the best bushcraft axe
First, let's discuss function and purpose of the hatchet. Unlike larger axes meant for splitting wood, a hatchet needs to make deeper cuts in the wood. While this seems obvious or maybe deceptively simple, it boils down to the shape of the axe edge. Bushcraft axes are made with a convex edge rather than a full flat one, which is common on larger axes meant for splitting wood. The convex edge allows the hatchet to make deeper cuts.
If you examine the head of an axe and a hatchet side by side, you're liable to notice the axe, in addition, to be longer, has a flatter, thicker head on it. Perfect for splitting logs for firewood, not as helpful when you are trying to make a variety of cuts out in the forest. Now, a convex head could still split and a flat head cut, but at this point, you are using the tools outside of their designed purpose. Best to stick with what each does best.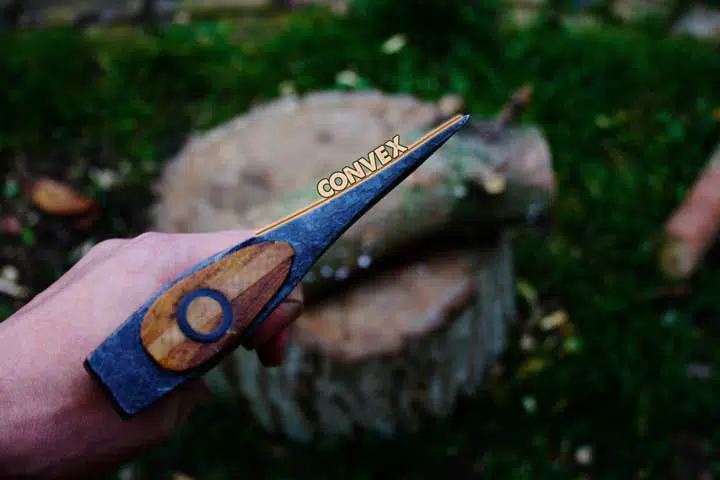 The bushcraft axe is the ideal choice because it is light enough that it can function as a knife in certain situations. A flat-headed axe is too heavy and not as handy as a convex-shaped hatchet, making it unwieldy when trying to make more nuanced cuts. In some cases, a bushcraft axe can be preferable to a survival knife. For instance, if you own an awesome and dependable heavy survival knife like the LionSteel M7, which is a formidable chopper, you won't be able to make as proficient cuts as you would with the convex head of a hatchet. Simply put, a hatchet performs more jobs and is more portable and wieldable than an axe.
Now, you may be asking yourself, why do I need a bushcraft axe instead of a smaller hatchet? As we have already said, your choice comes down to your build, comfort with weight, and what sort of things you would use the ask for. You can, if you had to, chop some pretty large wood with a smaller hatchet. However, this is incredibly tiresome work. You do not want to spend hours whacking away at a spruce with a short hatchet. A longer axe handle, even by a few inches, will be a much more efficient tool.
Five Reviews for Bushcraft Hatchets
On the smaller end of the spectrum at 13", this hatchet is ideal for small firewood, camping, and gardening. Handle made from hickory. Head manufactured using hand-forged Swedish steel. Head attached to handle with wooden and steel wedges for secure fastening.
Pros
Ideal hatchet for cutting small trees (approximately 3 – 4" in diameter) and kindling for campfires.
Good weight and sharp edge make for an effective bite.
Great for portability; fits into all rucksacks and backpacks.
Comes with durable leather sheath for safe transporting.
Cons
Requires lots of grinding to maintain a decent edge.
Heavy for the size and length.
After some extended use, may need to treat the handle with linseed oil.
This axe is an ideal pickup if you do not want to spend a fortune or do not plan to be doing lots of chopping on heavy and thick wood. It comes ready to go in the box from the factory and can be used as-is. Ideal bushcraft axe for beginners or to use around your property for splitting small pieces of firewood, preparing kindling, or around the garden.
A quality bushcraft axe that is ideal for beginners who do not want to sink a lot of money into their first buy. Head is made out of high-carbon steel. Comes with an unvarnished handle. Option to include a leather sheath.
Pros
Another great budget option complete with a lovely beard that allows for choking up on the handle for more nuanced uses.
Great size and weight for backpacking and storing in the rucksack.
Comfortable handle makes for good gripping and control. Grain runs in the right direction.
Cons
Unvarnished handle may be uncomfortable for some users. Varnish with boiled linseed oil.
Some users find the head can be loose upon receiving it.
Shorter than expected, not a "one size fits all" kind of hatchet.
The Prandi is a handsome, well-balanced hatchet that should be good for first-time users and people who do not anticipate using it for lots of heavy-duty cutting. Ideal companion for short-term hikes, tent camping firewood chopping, and general use around the house.
Gränsfors is a legendary Swedish manufacturer known for making high-quality tools. The Wildlife Hatchet uses the same head as their Hand Hatchet but has placed it a longer handle (35 cm, 13.7 inches). Weighs 1.3 lbs, a good weight that most people should be able to handle with relative ease. A longer handle means more power, ideal for chopping. Works well for lopping off large branches or splitting small logs. Perfect size for hiking or backpacking, as it fits well into any rucksack or backpack. Comes with a vegetable-tanned leather sheath. Fits nicely in a belt holster while backpacking. Perfect weight means you carry it all day.
Pros
Ergonomic handle that makes for good grip and is ideal for extended use.
Arrives razor-sharp in the box, a ready-to-cut option. Ideal for immediate use with little or any additional sharpening required.
Head and handle design make it incredibly versatile; can do many of the jobs usually reserved for survival knives.
Cons
Some sheaths may be too small and could need replacing after a while.
Customers have noticed several hatches have crooked heads.
Buying a Gränsfors Bruks Wildlife Hatchet is definitely an investment. Arrives with a sharp blade, is light, and can be used to chop down larger trees as well as be wielded for smaller, more nuanced jobs at the same time. Versatile. Durable. Lovely to look at.
Another axe from a historic Swedish manufacturer. Hults Bruk uses a steel foundry that has been hand-forging since 1697. So, we can assume they know a thing or two. The solid Swedish steel axe head weighs 1.25 lbs, has been blasted and clear-lacquered. Head designed to maintain a sharp edge even after sharpening several times and has also been struck multiple times in order to increase density, resulting in a more durable head. Comes with a 15" curved shaft made out of hickory sourced from the United States. The handle is also treated with linseed oil. Comes with traditional leather sheath and is embellished, complete with a storage box and detailed users manual.
Pros
Good weight and balance make for easy handling.
Capable of chopping down larger trees or logs, packs a punch.
Arrives with an incredibly sharp blade, ready to use out of the box and makes quite a bite in all types of woods.
Cons
May require several hours of sharpening or honing.
If you are looking to buy a beautiful, high-functioning and multi-faceted bushcraft axe, check out the Hults Bruk. A good combination of weight and length makes it a versatile purchase. Good for longer hikes and camping trips. Fits well into any rucksack and can be carried all day without adding much weight.
A favourite of backpackers the world over, widely considered one of the best camping hatchets out there. This quality product is ideal for splitting kindling and can even tackle logs up to 4" in diameter. Each axe is individually crafted and hardened in Snow & Neilley's workshop. Uses a 1.75 lb head and an 18" handle made out of American Hickory. Entire axe made and manufactured in the United States. Comes complete with leather sheath and has an overall weight of 2lbs. 8.8 ounces.
Pros
Durable steelhead that is made to last, fitted well to the handle. Ideal for a heavy workload.
"Perfect" size for all your needs; bigger than a hatchet, smaller than a full-sized axe. An incredibly versatile tool with a long enough handle to take on more serious chopping.
Incredible craftsmanship that means this axe is built to last.
Cons
Blade generally requires sharpening upon arrival. Most folks say 30 minutes to an hour (depending on your tools) should have it razor sharp.
Definitely on the heavier side if you want to take it backpacking.
If you want to buy a hefty, but durable bushcraft axe that can pack a wallop—look no further than Snow & Nealley. Incredible craftsmanship and the perfect length for tackling all but the biggest of jobs. A little love on the front end means it can keep chopping for a while.
The best bushcraft axe (in My opinion)
Deciding which of these is the best bushcraft hatchet is certainly a difficult decision. There is a lot to take into account. When it comes to overall quality, range of use, condition out-of-the-box, and durability, the clear winner, in my opinion, is the Hults Bruk Tarnaby. It is the ideal size for many possible users, comes with the blade razor-sharp or damn near razor-sharp, and is capable of big chopping jobs as well as smaller ones, like carving.
The Snow & Nealley Penobscot axe was a strong competitor but is certainly on the heavier side. The Tarnaby is also incredibly portable, a perfect weight for backpacking and the right size to fit in a rucksack. Other models, like the Husqvarna and the Prandi, are lighter but are not long enough to be effective when performing more heavy-duty jobs that require two hands. It is important to remember that each person needs to find their own ideal hatchet, a process that usually takes time! Keep looking and you will soon discover which one works best for you.