Dynamic Checklist Generator
I know I may not be the most conventional person and I can go for days without things like food, so creating a personal checklist based on my preferences isn't really an option for most of you all. That's why I decided to use the one created by REI. It's super comprehensive, but the downside is that it includes items that you may not need for your trip and therefore you don't want on your checklist. The great thing about MY version of this checklist is that you can customize it to suit your needs by only checking off the items you want to print, it also contains all the links to the products, in case you need to buy them. If you scroll to the bottom, you can download your very own personalized outdoor checklist. I hope you find it helpful! And if you have any issues, just give me a hollar in the comments below.
Tools & Repair Items
Duct tape
Tent-pole repair sleeve
Pad/Mattress repair kit
Mallet or hammer (for hammering tent stakes)
Small broom and dustpan
Kitchen
Cook pots (and pot holder)
Ice or ice substitutes
Camp sink or wash bins
Pot scrubber/sponge(s)
Trash/recycling bags
Dish towel
Camp grill and fuel
Charcoal
Rolling ice cream maker
Marshmallow/hot dog roasting forks
Small food-storage containers/bags/foil
Large, clear plastic bins to store kitchen gear
Clothing & Footwear
Long-sleve shirts (for sun, bugs)
Lightweight fleece or jacket
Boots or shoes suited to terrain
Socks (synthetic or wool)
Sleepwear
In-camp sandals or booties
Health & Hygiene
Toilet paper
Hand sanitizer
Toothbrush and toothpaste
Menstrual products
Prescription medications
Sunglasses (and sunglasses straps)
Sanitation trowel (if no toilets)
Baby wipes
Alcohol or antiseptic wipes
Mirror
Brush/comb
Cosmetics
Spare eyeglasses/contact lens supplies
Personal Items
Credit card and/or cash
ID
Cellphone
Campsite reservation confirmation (if required)*
*Recreation.gov is a great resource for public lands campsite reservations; Hipcamp is a great resource for private lands campsite reservations.
According to the 2020 Forecasting Report by the Outdoor Industry Association, outdoor activities have grown by 34% since 2010. This percentage represents an accurate image of how people are becoming more aware of the environment and changing their lifestyle to a healthier and more conscious one. One of these healthy habits they are incorporating is spending more time outdoors; but to do so you need to be aware of the survival kit list you will need if your time outdoors will be a whole adventure rather than just spending a few hours outdoors
Preparing for the Trip
While preparing your backpack to make an outing you need to consider that the amount of weight you will carry is very important, especially if you are planning on walking extensively and the terrain is uneven: which, let's face it – it probably will be!
Depending on the activities you will be partaking in, consider the weight you will be carrying carefully and pack as light as possible. As you consider buying equipment for your trip, make sure that the tools you will use are light, easy to pack and are not bulky.
Going Solo vs Traveling with Company
The number of things you will need for your trip will be determined by the amount of company you will be taking with you. If you are going solo, it is more likely that you will need more equipment, as you will not have anyone to share anything with. But this also depends on the type of company you would be taking along.
If everyone traveling along with you is an adult, you could easily share tools, equipment and food. However, if you're planning on taking children, it may just be quite the opposite and you'll find yourself taking double than what you expect.
Learn About the Location
On your first time going to a location take the time to do some research about the area online, so that you don't encounter any sour surprises regarding the weather or terrain upon arrival.

If you live close enough to the location, go to the place a few days in advance to assess the location and find out what kind of things you could encounter during your trip, including normal weather conditions in the area.
Outdoors supply list
Essential Items for Shelter and Survival
Although you do want to pack as light as possible, it is true that there are a few essential things that you do not want to leave without.
Cordage
Whistle
Titanium mug
Topo Map
First Aid Kit
Outer Shell: waterproof and breathable
Photo ID
Tarp
Water and Flask
Flashlight or Headlamp
Matches: preferably waterproof
Fire Starter
Sleeping Bag
A survival knife will allow you to do many different things and will give you what you need to build other tools you may need. This is the number one thing you should never be without as it can help you make a fire, build shelter and other tools and help you feel protected.
Cordage can be helpful in tough situations, however when it comes to essential items, this comes second to a survival knife. If you have forgotten to take cordage on your trip, you can always make some natural rope with plants.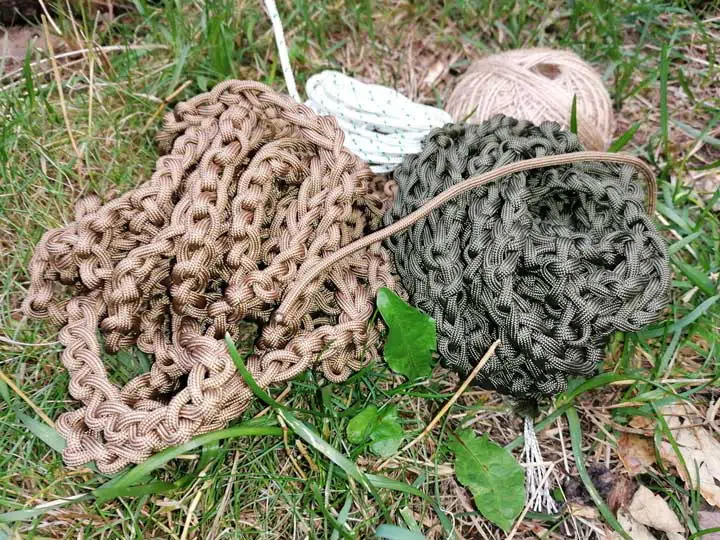 A whistle will be a great asset to have in case you find yourself in trouble and need to be found. If you happen to fall or get trapped somewhere you would not be easily seen, this would facilitate your chances of getting found.

The Topo Map is a suggestion you shouldn't ignore. You can't always rely on technology in case you run out of battery or have a weak signal. Having a physical map will help you stay on track without getting lost. Make sure your map is impermeable in case it gets wet.

The first aid kit is definitely an obvious choice. Anything can happen out in the wild, so you want to be prepared for anything that could put your life or health at risk. You will more than likely only be using it to patch a blister or two, perhaps a small cut, but it's better to be safe than sorry.
A hatchet will be one of your bigger allies during your outdoor adventure, as you will be able to perform bigger tasks that you may not be able to accomplish with a survival knife. This is the one tool it is suggested you make room for and consider always taking along with you.
Getting caught in the rain if you are unprepared is not a situation you want to be caught in. Keeping dry is essential to stay strong and healthy. To protect yourself from the rain use a tarp and an outdoor shell that is waterproof and breathable.
Although you should always carry a photo ID with you anyway, you will definitely not want to forget it during your trip. If you are stopped by local authorities, you want to make sure you have a way of identifying yourself. If you get lost, this will also come in handy to help authorities identify you.
Tarps are not necessarily essential, but they are versatile and will help protect you from the elements. Some people prefer to use a tarp instead of a tent, as they are easy to set up and are not very big or heavy. You can always create your own shelter with wood and leaves.
Before embarking on your trip, you should have checked in advance where the nearest water source is to the area where you will be camping and make the effort to find a water source as soon as you make camp. You should still take some water to start your trip. Keeping a flask at hand will help you to take water everywhere you go without using so much space.
Having access to a flashlight or headlight will be incredibly useful if you need to go a bit out of your camp's way at night or you just need a bit of extra light. Making a torch to see at night could be a fun activity to do as a family, but a flashlight will certainly always be more convenient.
The last items on the list are dedicated towards starting a fire. While you could use bark and make some beautiful containers with it, a flask will always save you time. If possible, avoid using a plastic flask, otherwise try to make sure your flask is BPA free.
Make the effort of learning how to use a compass, as mentioned previously, you can't always rely on technology as you never know when it will fail or be out of reach from a signal. Using a compass will keep you oriented and will be a great compliment to your topo map.
In another article, we discussed the use of a 3 season sleeping bag, which is a great sleeping bag to start with as you learn your needs while being outdoors. Even with a tent, having a sleeping bag is a great idea so that you can stay warm without a fire close to your shelter. Some people struggle to sleep at night if they are cold, this piece of equipment will help you stay warm and sleep better at night. Just be sure to use a sleeping mat under your sleeping bag if it is cold, otherwise being in direct contact with the soil will not allow you to create warmth. However, it will not always be cold at night, so choose a sleeping bag according to the weather you will be experiencing.
Essentials for Everyday Living
If you can spare the room, there are a few more items you should consider taking with you on your trip that will make your life easier and your trip more enjoyable.
Ibuprofen, aspirin, Excedrin (anti-inflammatory medicine)
Gloves
Duct Tape
Mess Kit
Towel
Extra Pairs of Socks
Extra T-Shirts
Hat of Baseball Cap
Even if you don't take medication on a regular basis, consider taking some anti-inflammatory medication that will aid you in case of a headache, muscle aches or minor pain in general. This should always be a part of your first aid kit, as it can help you maintain stable and more comfortable in case of injury or sudden aches.
If your trip will take several days, it is a good idea to keep your clothes clean and fresh due to the secretions leaving our bodies that cause odor. As doing the laundry on the outdoors can be a challenge, it is best to take extra sets of clothes so that you can easily change without it being a burden.

When buying anything made of cloth or fabric, consider purchasing items made of lightweight synthetic materials, which will be more breathable and comfortable to wear. Even your backpack can trap a lot of heat as it is carried on your back, which will make you sweat more; therefore put some thought into the type of material your backpack is also made of.
Gloves will help you stay warm and protect your hands while you work. While doing activities such as chopping wood, you would do well wearing a pair of gloves to avoid getting splinters on your hands.
Duct tape is a crowd favorite due to its strength and versatility, as it can be used for a plethora of things. You can use it to repair or build things as well as to make some cordage, for example.
A mess kit, which is a set of silverware and cooking ware made specifically for camping purposes, is something that can be rather useful for your meals. Although you can also choose to make your own plates and cups out of bark from a tree as an outdoor activity.
A towel will be absolutely necessary to keep yourself dry. You will more than likely find a spot where you will be able to shower, whether it is a public shower in the camping grounds or a safe water source.
Taking a baseball cap can keep you protected from the heat and aid you to avoid getting sunburnt on your face.
Handy, but Non-Essential Items
Of course there are certain things that are not exactly classified as essentials, but they would definitely be helpful to make your trip more comfortable, such as:
Biodegradable Soap
Extra Layers of Clothing
Toothpaste and Toothbrush
Food
Spare Batteries
Sunscreen (at least SPF 30)
Lip Balm
Bug Repellent with DEET
If you're planning on taking soap on your trip with you, make sure it's biodegradable soap to avoid the contamination of any water stream you may encounter. Causing cross-contamination of the soap with water could disrupt the natural habitat of various flora and fauna causing irreparable damage. If you want to live a wild outdoor experience, you can even make your own soap by mixing hash and any type of fat. Making your own soap could make a great outdoor activity, although making this type of soap does require weeks of curing.

You can consult how to make soap with hash and fat here:
We had already gone over the fact that extra pairs of socks are a basic necessity when going camping, however, you should also consider taking other types of extra clothes with you. It's always a smart idea to dress in layers as you can always add more layers if you are cold and remove some if you are hot.
Brushing your teeth may be something you can't go on without, and going camping should not be the exception. Food that is high in starch or sugars will fill your body with unwanted bacteria from your mouth to your guts. Oral hygiene will be an important part of staying healthy while spending time in the wilderness.
Unless you are planning on hunting or doing a fast, you would need to take some food with you. Although, remember that the more you take with you, the heavier your backpack will be. At the end of the day, it will be a personal choice on what food, if any, you will be taking with you.
You never want to get stuck without spare batteries. You can never know when the batteries on your flashlight or any other piece of equipment will run out. Always have them ready at hand in case they are needed.
While on this site I don't advocate chemical products being absorbed by the skin due to health concerns, it is better to keep it in mind if you prefer to use sunscreen or bug repellent. This last product could be just the thing you actually do need outdoors due to ticks, which can cause Lyme disease.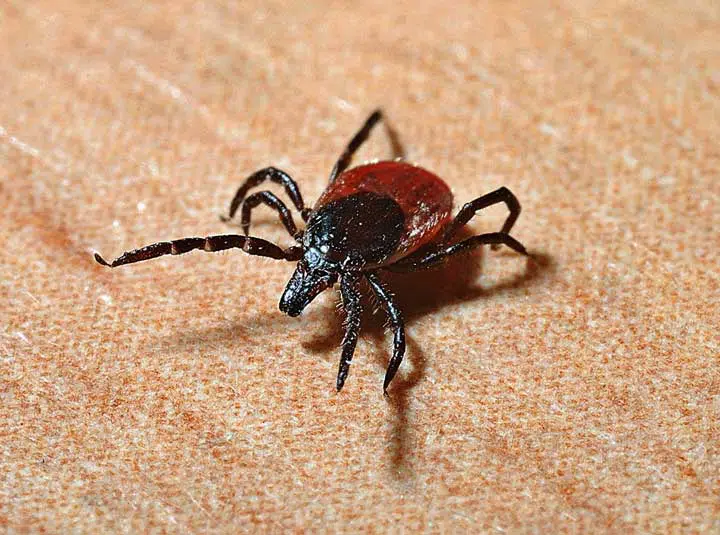 Although the real chances of catching Lyme Disease are relatively small, it's important to consider this as a possibility so that you can take the appropriate measures to take care of yourself and stay protected against this risk.

Some precautions you can take are wearing long thick clothes and avoiding walking in tall grass. Not all ticks carry the disease, so you don't need to go into panic mode in case you do get bitten by a tick. However, even if you are wearing bug repellent, a tick will always act with disregard to repellents while it is hungry.
Comfort, Health and Hygiene Supplies
There are some things that certain campers choose not to take with them on the trip, but others may definitely want to take them to continue a routine like in "normal everyday" life.
Deodorant/Antiperspirant
Toilet Paper
Brush/Comb
Sleeping Pad
Blanket
Sleeping Bag
Pillow
Spare Tent Pegs
Mallet
Repair Kit
Backpacking Stove
Folding Chairs
Collapsible Table
Bin Bags
Entertainment (board games, etc.)
Tips to Pack Your Equipment
In the army, soldiers are taught to have some dexterity even when things are not in sight. The secret is to follow some habits, such as never changing the place of your equipment inside of your backpack. Always try to keep your equipment in the same place so that you can find it with more ease.
Distribute your weight evenly and in specific parts of your bag. It may be that your backpack has a lower part that allows it to separate from your hips. If your bag has it, this is the place where you want to distribute the majority of the weight in your bag.
Always place the things that you will not immediately need at the bottom of the bag, like a tent, sleeping bag or stove. These would not be necessary until you settle down at your campsite.

Some things that you would need to keep at the top of your backpack due to quick and easy access are your map, some changing clothes and a poncho on top of everything. Use the compartments of your backpack for the things you may need to access at any time, such as your first aid kit.
After packing, get acquainted with the weight and get in the habit of checking it once you have finished packing. This will help you to decide whether you want to leave some things behind or not.