Enjoying the outdoors should not be a hassle. Having the best 10 person tent when you are out on an excursion with your family or a group of friends can make or break your trip.
I've written an in-depth guide of what you need to look for in a quality 10-person tent, with detailed reviews of the top models that will keep you dry and comfortable in any weather conditions.
The Best 10 Person Tent Choices Available
All-weather conditions
Built-in roof vents
Shock-absorbing grounding system
Pre-installed stove jack
Easiest setup
Sets up in less than a minute
Darkroom technology
Room divider
Rainy weather conditions
Uses WeatherTec system for optimal weatherproofing
Includes angled windows
Hinged door for easy entry
Choosing the Best 10 Person Tent
Choosing the best 10 person tent can be challenging. Therefore, you must examine which factors and aspects are important to you before making a final decision. While many of these elements are critical, others may be personal preferences.
Floor Space
Of course, when you start shopping for a 10 person tent, you may believe all these large tents have ample floor space. Consequently, the amount of floor space will vary significantly with each brand.
The shape of the tent can hinder floor space. You may notice some designs do not use space effectively, making it less useful for 10 people. Tents with room dividers can also restrict the amount of floor space available in a 10 person tent.
Height Restrictions
The height of a tent can be an essential factor for some outdoor enthusiasts. Having enough space to stand up can make changing clothes more accessible. While some campers may not need a high roof, others may require over six feet to stand up when inside.
A tent's height comes with some drawbacks, though. The higher a tent is when setting up, the less wind resistance it will have in extreme weather. Think of your tent as a giant kite. If it stretches quite tall, it will catch winds easier than a tent that sits lower to the ground.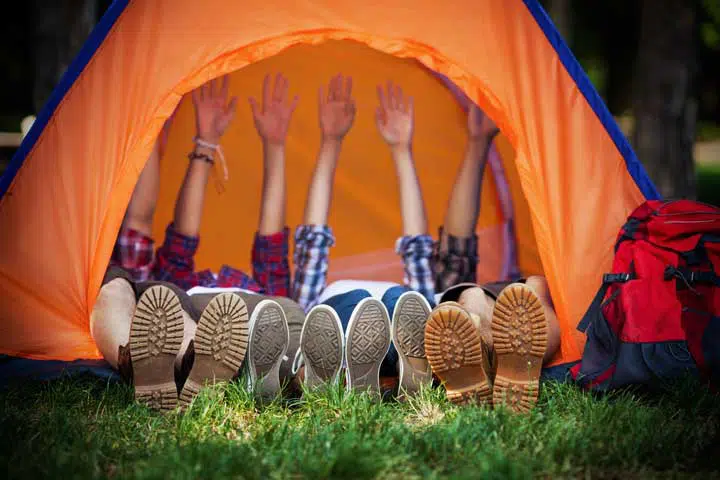 Cost
The cost of a 10 person tent may not be a factor for some individuals, but it can decide for others. Often, the theory you get what you pay for can hold true in many instances, including tents.
Several brands of tents are pretty affordable and can do a terrific job if you want to spend a weekend outdoors. But for those hard-core wilderness lovers, products made with specialized materials and features will indeed cost more.
In the end, it is up to you how much you want to invest in a tent. If you plan on being outdoors year-round or in extreme weather, a higher-priced product might be a better choice.
Ease of Setup, Teardown, and Transportation
No one wants to spend their time fighting with a tent that is hard to set up or takedown.
However, when you head outside for an adventure, the last thing you want to do is waste time at your campsite with a complicated tent.
That does not mean that everyone should purchase an instant pop-up tent. But instead, the 10 person tent you choose should not cause you problems using the poles, ground stakes, or rain flys.
In addition, setting up and tearing down should be straightforward, so you do not waste any precious time becoming frustrated with your tent.
How you transport your supplies will also help you determine which tent will work best for your needs. For example, if you enjoy backpacking, a lightweight, compact tent is ideal.
On the other hand, if you plan on setting up camp in extreme weather, a heavy, durable tent may be a better solution. However, this style of tent will need more than a backpack to transport it to your location.
Durability of Materials
Durability is critical when it comes to products for outdoor living. Purchasing a tent is an investment and is not a disposable item. You want materials that can withstand setting up and taking down numerous times without tearing or breaking.
Heavy-duty zippers can be a vital element to your 10 person tent. Having multiple people coming in and out will mean you will use those zippers often. Also, no one wants a tent zipper to break while out on an adventure.
Poles, clips, and stake fasteners should be strong enough so they do not rip, break, or tear at any time, especially during extreme weather conditions.
Weather Resistance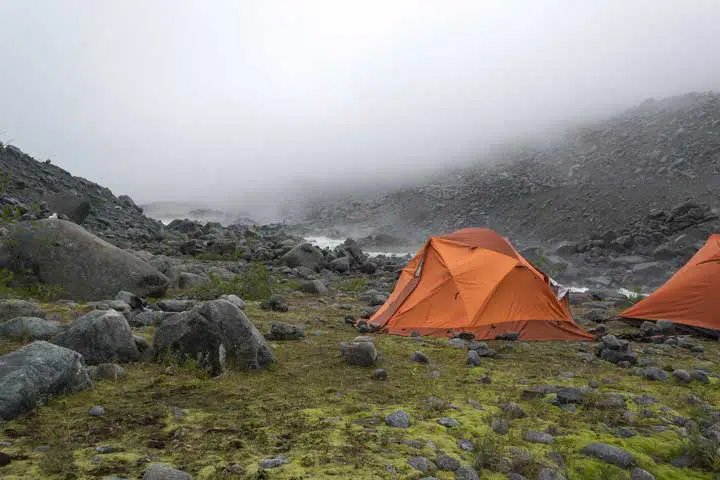 No one can predict the weather, so your 10 person tent must be able to handle any conditions adequately to keep you dry and comfortable. When shopping for a weather-resistant tent, there are some critical elements to look for.
Finding a tent with folded seams and double stitching can ensure that water will not get inside, even in wet weather. However, if your tent begins to leak, you may have to purchase a seam sealer to prevent it from happening again.
The floor material of your tent should contain one piece without any seams. Seams on floor material can invite unwanted leaks. The tent's tub floor should come up a few inches along the side walls before being sewn together.
The Best 10 Person Tents
You do not have to scour the internet reading reviews and comparing dozens of products any longer. I have eight terrific options here that will suit many circumstances and needs, with my top pick overall.
These choices include 10 person tents that are terrific for backpackers, families on a budget, or outdoor adventures year-round. Take a look at each tent's benefits to help you make your next selection.
Coleman is a popular brand name that manufacturers excellent camping and outdoor items. If you want an easy-to-set-up tent, this Coleman Cabin is a perfect choice. It includes pre-attached poles that enable you to have everything ready in only a minute.
This Coleman tent uses darkroom technology to help keep the inside cool and allows you to sleep undisturbed well past sunrise. In addition, it efficiently blocks up to 90% of the UV rays that would usually penetrate through a similar Coleman product.
Pros
It includes an expandable carry bag for easy storage and transport.
There is a hinged door for easy access.
It is the easiest, simple setup for anyone to do within a minute.
This tent includes a room divider.
The darkroom technology keeps it dark inside during those early mornings.
It is tall enough for many individuals to stand up comfortably inside.
While in the storage bag, it fits well in a sub-compact vehicle.
Cons
There are no windows in the back, which can cause a problem with ventilation.
It has only a small roof vent, which may not be adequate to combat condensation.
The rain fly is available as a separate purchase.
The darkroom technology coating can act as an insulator that can retain heat inside during those warm days.
Because it blocks up to 90% of sunlight rays at all times, it can be pretty dark even during the day, so all windows will need to be open to see out.
This tent may be too heavy to carry along for a backpacking trip.
It is not entirely waterproof but can withstand some rain and moisture.
Coleman offers a fantastic product for spending time outdoors in rainy weather conditions. The WeatherMaster 10 person tent uses its patented WeatherTech system technology for the ultimate weather resistance.
There is ample airflow between the screened roof and the large side windows. Ventilation is crucial to help minimize the condensation inside during wet weather.
Pros
The patented WeatherTech system technology includes inverted seams and patented welded floors for leak-proofing capabilities.
It has angled windows so you can keep them open even during rainy weather and still keep yourself dry.
There is zipper protection with a weather-resistant cuff giving them a defense against any weather elements.
It has a wind-strong frame that is more durable than other standard tents with specially engineered poles.
The tent floor uses welding technology to reinforce the floor material and prevents any leaks from needle holes.
There is a front-hinged door and a rear door gives access to both sides of the tent, even with the divider in place.
The room divider has a zipper so it can split.
Cons
The stakes that this WeatherMaster 10 person tent comes with may not hold up in some hard ground materials.
It does not have much inside storage when you camp with a large group of people.
It could be challenging to set up with one person if you are dealing with windy weather.
The directions included with this tent may be challenging to understand when setting up for the first time.
The screened porch for the entrance has no floor.
The screened roof has no zipper flaps, which can let the cold in and not correctly insulate for comfort in the evenings.
This Core Straight Wall Cabin Tent is one of the best options for anyone over six feet tall and wants to stand up inside comfortably. With over seven feet of height, its straight wall design provides exceptional space.
Core uses its H20 Block technology to ensure this cabin tent is water-resistant. In addition, it offers two adjustable ground vents for better ventilation to help minimize humidity and condensation build-up.
Pros
This is one of the tallest portable tents in the market to accommodate over seven feet of height.
It includes a gear loft with a lantern hook to help keep all your supplies organized and off the floor.
This tent has an advanced ventilation system with adjustable floor vents and mesh roofing for ample airflow.
The access door is a D-shape, making it easy for anyone to go in and out.
It is weather-resistant with thermally heat sealed seams and durable polyester water-resistant fabrics.
Core includes two access doors with this large tent for everyone to enter and exit easily.
Cons
The rain fly with this straight wall tent is somewhat small, allowing rain to pool if you are in extended rainy weather.
Although they list this model as a 10 person tent, it does not have enough inside pockets for gear or small items for many people.
It is best to have two people to set this tent up.
This tent is not ideal for cold-weather outdoor camping.
You should take care not to let the top of the door fall inside during wet weather, or water can pool inside when opening and closing.
UNP offers this 10 person camping tent as a stable product that will remain secure even in extreme weather conditions. The overall weight of this tent is 23.1 pounds, making it hefty enough to stay put but not too heavy to pack around when enjoying the outdoors.
This large camping tent from UNP includes eight guy lines to help ensure its stability on various ground materials. In addition, it comes with patented foot sleeves to keep the tent poles secure and minimize any movement or slippage.
Pros
UNP's 10 person camping tent uses waterproof fabric and taped seams to help prevent any leaking.
It uses patented technology, including foot sleeves and fiberglass poles with J hooks for optimal stability.
The simple construction makes it easy to set up in only five minutes.
It comes in three attractive colors that other brands do not offer with their products.
This tent provides a chimney effect ventilation method to keep the airflow consistent.
You can use the divider screen to create two rooms inside or a projector screen for an outdoor cinema.
This tent has an extended awning to help direct rain away from the tent for optimal weather resistance.
Cons
It is best to stake the tent down after the setup is complete and not before, to ensure proper weather resistance.
The walls of this tent may be shakier during high winds because the poles use J hooks rather than putting through sleeves.
Although this tent can sleep 10 people, it will only accommodate three air mattresses that minimize the occupancy.
The angled design can waste floor space if you are using air mattresses.
Columbia offers a spacious 10 person that can fit four air mattresses inside for the most comfortable sleep outdoors. The straight cabin walls do not angle, so it makes the best use of interior space.
The tub flooring uses crunch-free durable polyester materials with a waterproof coating to ensure they are leak-free. In addition, the tape seams help to keep leaks away even during the wettest weather.
Pros
This cabin tent accommodates four air mattresses making it an effective use of floor space.
It includes a superior Omni-Shield coating on the durable fabric for optimal waterproofing.
You can set up and tear down this cabin tent easily in about fifteen minutes, even without help.
The pop-out windows keep water from running down the sides of the tent during a rainstorm.
The rain fly is adjustable to loosen or tighten it as you need with changing weather.
With the ground-level vents and spacious screened windows, air circulation is optimal.
Cons
The footprint for this tent is a separate purchase.
You cannot zip close the mesh roof, making it only ideal for spring, summer, or fall weather conditions.
This tent has numerous poles due to its sizable construction, which can interfere with stargazing at night.
It is advisable to treat the floor space with a sealant to ensure you will not face any future water leaks.
If you use the room divider, the only access to the door is from one side.
The Outbound Instant Pop-Up Tent is an excellent choice for any outdoor enthusiast that prefers backpacking or hiking into a camping spot. Overall, this tent weighs only 12 pounds and has a handy zippered duffel bag for easy storage and transportation.
The fiberglass poles ensure that the construction of this tent remains light enough to carry around even for long distances. You will not even realize that this lightweight spacious tent accommodates up to 10 people.
Pros
The total weight of this tent is only 12 pounds, making it easy to travel with.
Outbound includes D-shaped doors for easier entering and exiting.
It uses Poly Taffeta water-resistant coating to provide exceptional waterproofing.
The durable fiberglass construction offers an easy pop-up setup that anyone can do in only minutes.
The heavy-duty coated rain fly helps to provide excellent coverage even in rainy weather.
The cabin-style design makes it easy to stand up almost anywhere inside this tent model.
Cons
This tent is not suitable for the winter season.
It does not include loft storage for items.
This Outbound tent model does not have a room divider.
You need to ensure you lock the poles into place, so they do not collapse accidentally later.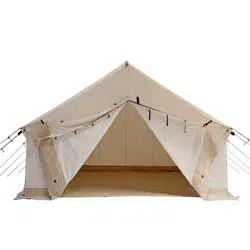 The White Duck 12'x14' Alpha Wall Tent is the ideal solution for any outdoor enthusiast who enjoys adventures all year long. This product comes with everything you need for the outdoors, including the floor and toolkit.
The DYNADUCK specialized army duck cotton canvas of this Alpha Wall Tent is mold and UV resistant. This durable fabric efficiently repels water no matter what weather conditions you face. In addition, the proprietary shock-absorbing bungee cords are durable enough to last through extreme weather conditions.
Pros
The Alpha Wall Tent includes double-stitched seams and reinforced corners for added durability.
There are three-layer reinforced storm windows and a storm door to ensure high protection from severe weather conditions.
Gear and other items remain dry even while outside the front door under the overhang.
It is incredibly durable and can stand up to windy conditions and weather storms.
Cons
The total cost of this Alpha Wall Tent is costly and may not fit every budget.
The overall weight of this canvas tent system can be heavy for some to transport easily.
It does not come with a rain fly and is a separate purchase.
The pipe window may need some specialized attention to use a wood stove inside without issues.
For one of the best 10 person tent choices on the market, White Duck provides an exceptional product with its 20' Avalon Bell Tent. Using premium quality materials, this bell tent is durable and stylish.
The 20' Avalon Bell Tent includes built-in roof vents for premium circulation and ventilation.
Pros
It comes with a water-repellent coating to ensure it stands up to weather in all seasons.
This tent includes premium insect mesh covering over the door and windows to keep bugs out.
The White Duck 20' Avalon Bell Tent model is more affordable than the alternative White Duck option.
It uses galvanized steel poles for extreme durability even in severe weather conditions.
This tent comes with a pre-installed heat-resistant stove jack that is silicon-coated in a five-inch precut pattern.
Cons
The choice for fire-repellant coating is a separate feature that will cost extra.
You will need more than one person to set this bell tent up correctly.
The tent stakes it comes with may not withstand tough ground conditions and will require stronger ones.
Conclusion
The White Duck Avalon Bell Tent is my first choice for the best 10 person tent in the market today. The unique design gives optimal ventilation and airflow while keeping you warm and comfortable in year-round fluctuating weather.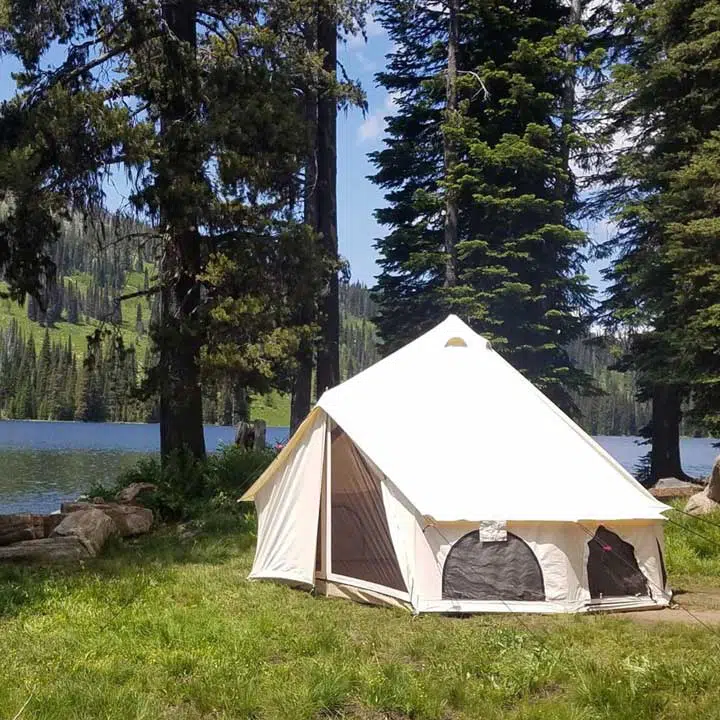 Although White Duck's products are by far superior to other tents available, they do fall under a higher price point, and they may not suit everyone's budget.