If you're an outdoor person, your bushcraft skills and the right tools (like your bushcraft knife) will make the adventure more fantastic. Having the right tools at your disposal makes the task easier and more enjoyable. Bushcraft knives are a must-have for any camper or outdoor lover. Are you interested in learning more about bushcraft knives? Keep reading as I review five of the best bushcraft knives under 50.
My Favorite Bushcraft Knives under $50
Best Value
Ridiculously affordable
Easy to sharpen.
Solid performance for its size
Perfect blade thickness
Best Brand
Ergonomic handle with anti-slip features
Easy to sharpen
Long and durable blade
It comes with a sheath, and a belt loop included
Best partial Tang
Ergonomic handle for comfort and safety.
Fire steels hole in the sheath
Excellent performance.
Perfect for a variety of uses.
How To Choose the Best Bushcraft Knife Under 50 USD
Your choice for your new bushcraft knife will depend on what you're using it for. Many bushcraft knives are versatile, but it's important to note the nuances and specialty that each knife offers.
There are plenty of outdoor knives in the market, and it is easy to get confused about which will serve you best. Here are some tips on what you should consider when shopping for your bushcraft knife for under 50 USD.
Price
Your budget will most likely limit what you can afford. Most of the time, you might be tempted to overspend in your search for quality and durability. There are plenty of average-priced knives on the market that offer enough to get you started in your bushcraft adventures.
I would advise going for an affordable knife to help you iron out your skills before upgrading to the more expensive versions.
If you're planning to upgrade, you will need to spend more on a durable and sturdy multipurpose bushcraft knife. Top-quality bushcraft knives can come in excellent designs featuring anti-slip features, with accessories such as a leather sheath and belt loops included.
Use Cases
Bushcraft knives are designed to be used for a plethora of outdoor activities. I would suggest highlighting some of the tasks you're most likely to do when bushcraft camping or hiking. If you'll use your knife to cut fruits only then a simple bushcraft knife will suffice. However, if you will need to carve tent pegs or skin a deer, then you should consider buying a fixed blade bushcraft knife for under 50 USD.
Build and Design
Comfort is critical whenever you're shopping for a bushcraft knife. Test how it feels in your hand. How is the grip? Will you be able to draw it out of its sheath easily?
Get a knife that feels good in your hands. I suggest you look out for a knife with an ergonomic handle and an anti-slip finger choil.
Sheath and Other Accessories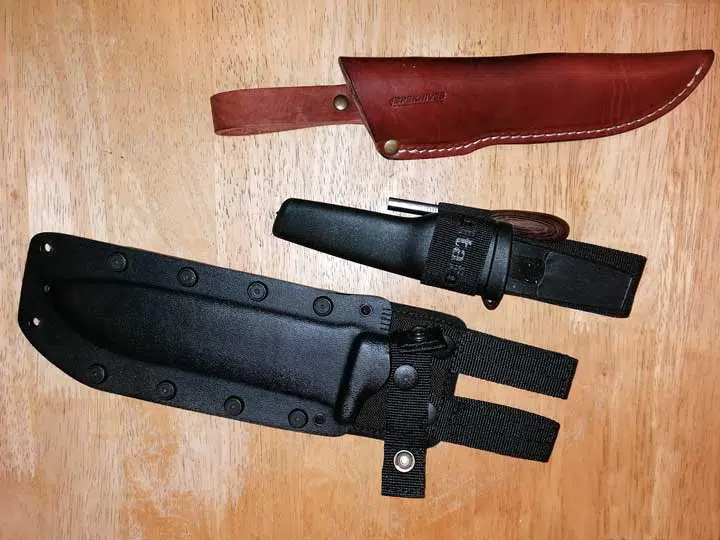 Quality leather or plastic sheath will improve the durability of your knife. Also, it will help you carry the knife around safely. Leather sheaths offer the most extensive protection, but bushcraft knives with leather sheaths could be pretty expensive.
Nylon sheaths are cheaper but don't last long. Always look out for sheaths that have a belt loop included, as it makes it easy to hook it up to your waistline.
Uses For Bushcraft Knives
Bushcraft knives are multipurpose tools. Based on their design and build, you can use your bushcraft knife to skin a deer, chop up onions or tomatoes, or even carve out wooden pegs for your tent. You can even use it to baton firewood, it may not feel like an ax, but it will most likely get the job done.
Ideally, the use cases for bushcraft knives are endless. I often suggest checking out the knife's design to understand what activities you can use it for.
What Is the Difference Between Bushcraft Knives and Survival Knives?
Understanding the key differences between outdoor knives will help you pick the right tool for the job. More often, people often confuse survival knives and bushcraft knives. In some instances, bushcraft knives are classified under survivalist knives.
Bushcraft knives are more miniature than survival knives. They are often used for light tasks such as skinning small games, chopping food items, and carving pegs from wood. Survival knives are much bigger and can be used for anything from digging holes to chopping firewood.
However, some bushcraft knives and survival knives may have similar features, such as carbon steel blades, full tang designs, and ergonomic anti-slip handles. If you love hunting, a bushcraft knife does a great job of skinning small game.
Keep in mind that if you're planning to handle some vital tasks such as buttoning, it would be best to pack a survival knife such as the Lionsteel M7 (my favorite knife ever). Otherwise, think about what you need specifically. Do you want one that folds for safe storage, or are you looking for a budget-friendly option?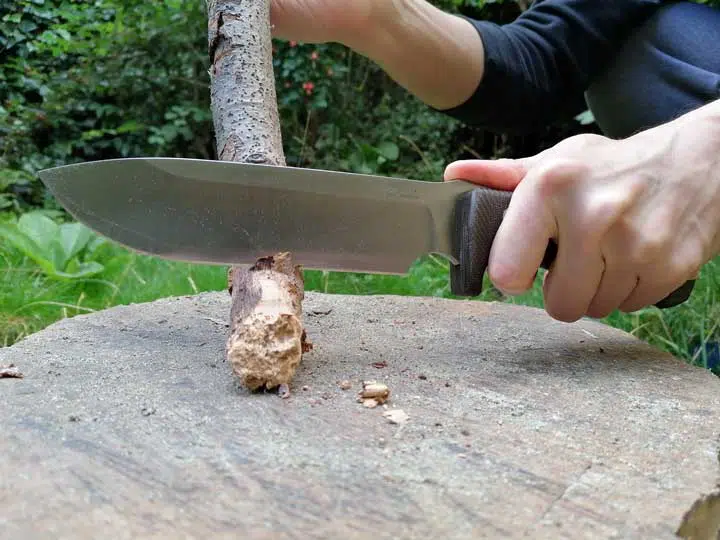 Review of 5 of the Best Bushcraft Knives Under 50 USD
While a bushcraft knife isn't for heavy-duty work, it's great for detail. Here are the five best bushcraft knives that I have found for under $50.
The Schrade SCHF36 is one of the most valuable bushcraft knives on the market. I've reviewed this knife before, and it continues to impress. Top of the list is the anti-slip feature for extra safety when using the knife. The knife has a full tang blade for improved efficiency even when performing hard tasks.
This knife comes with a Ferro rod, a nylon sheath, and a sharpening stone. The knife weighs a paltry 0.45 kgs meaning it is lightweight and easily carried around. The ergonomic thermoplastic handle also felt comfortable, allowing for a firm grip.
Overall, the Schrade SCHF36 is a good knife for its price. If you're looking for a bushcraft knife to perform delicate tasks, I recommend this one. One of the significant downsides of this knife is its nylon sheath.
Pros
The knife has a full tang blade
Features anti-slip features for extra safety
Lightweight for easy portability
Ergonomic handle
Comes with a sharpening stone
Cons
Low-quality sheath
They are not built to handle tough tasks
Bad experience with customer service
I like this knife because it is perfect for beginners learning bushcraft skills thanks to the anti-slip and safety features. The ergonomic handle and full tang blade ensure you get excellent performance from this knife.
Morakniv knives have been around for quite a while. The Morakniv Bushcraft knife is built from high carbon steel for better durability. The knife is sturdy enough and easy to sharpen. Its blade is annealed to absorb extra pressure from heavy-duty tasks such as batoning.
The knife is a Scandi grind ensuring the blade doesn't slip off or get stuck when carving. You can also use this knife with a fire starter, thanks to the ridge-ground on the blade's spine.
This knife is also fitted with an ergonomic handle complete with a rubber grip for better handling. Also included in the package are a belt loop and plastic sheath. The Morakniv Bushcraft knife plus its sheath weigh a paltry 168gms.
Pros
High-quality build and design
Lightweight and easy to handle
Sturdy blade, capable of handling demanding tasks
Ergonomic handle with an anti-slip rubber grip
Cons
The square edges on the blade's spine can make handling uncomfortable
The black coating on the blade wears out, making the knife prone to rusting
Morakniv knives are pretty famous around bushcraft and survival campers. This knife would be better with a bit of work on the edges of the blade's spine.
The Condor Camp Knife is built from quality material to aid in durability and top performance. The knife's handle is constructed from high-quality hardwood for extra sturdiness. Its blade is curved out from high carbon steel, capable of handling demanding tasks.
This knife offers solid performance thanks to its full tang blade design. Also included in the design is a lanyard hole to hook it to a loop or strap easily. This knife comes with a classic leather sheath for extra safety and protection.
Pros
Quality build and design
Full tang blade makes it easy to perform strenuous tasks
Comes with a high-quality leather sheath
The wooden handle is also quite amazing
Cons
The blade coating wears off, making the blade prone to rusting
Newbies could struggle to sharpen its thick blade
I like the quality and design of this knife. The wooden handle and the leather sheath are also excellent features.
If you're looking for a knife that will make skinning and meal prepping easy, then this one perfectly fits the bill. As one of my previously reviewed knives, it is a must-have.
This knife has a full tang blade carved from carbon steel. The knife also features the famous Scandi grind to give you excellent performance when carving wood or cutting rigid materials.
This knife also comes with a leather sheath. To top it all off, it weighs around 140gms for easy portability. One downside of this knife is its wooden handle which isn't quite sturdy and lacks that ergonomic feel.
Pros
Full-tang blade with a Scandi grind for better performance
Comes with a leather sheath
Sharp out of the box
Simple and lightweight design
Cons
The wooden handle isn't ergonomic
Not necessarily well finished
The coating on the blade wears off quickly.
This knife handles light tasks quite well. The wooden handle could be a turn-off to many because it felt dry and is prone to breaking. Overall, I think this knife would be great with a better and more ergonomic handle.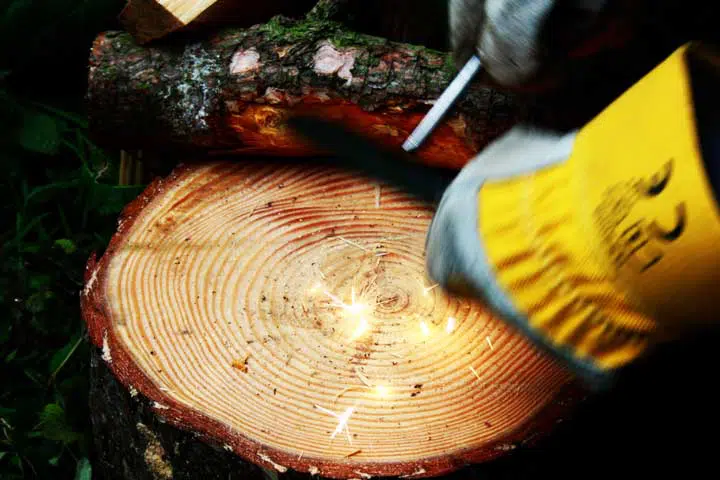 The Hultafors Messer OK4 knife is a fantastic choice all-around, as I have already reviewed. Its overall build is designed to withstand demanding tasks. The blade is made out of carbon steel with a 2/3 tang. This knife can hold its own when carving wood or batoning firewood.
Another fantastic feature of this knife is its ergonomic handle. The knife is shipped alongside a nylon sheath with a hole for fire-steel. Despite being a great performance tool for bushcraft camping, the lack of a full tang blade dents the durability of this knife.
Pros
Simple and intuitive design
Comes with fire steel hole
Good and ergonomic handle for extra comfort and safety
Offers excellent performance for its size
Cons
The nylon sheath isn't built to last.
It could offer better performance with a full tang blade.
Besides lacking a full tang blade, I would recommend this knife because it comes with fire steels. It is also an excellent knife for performing light chores.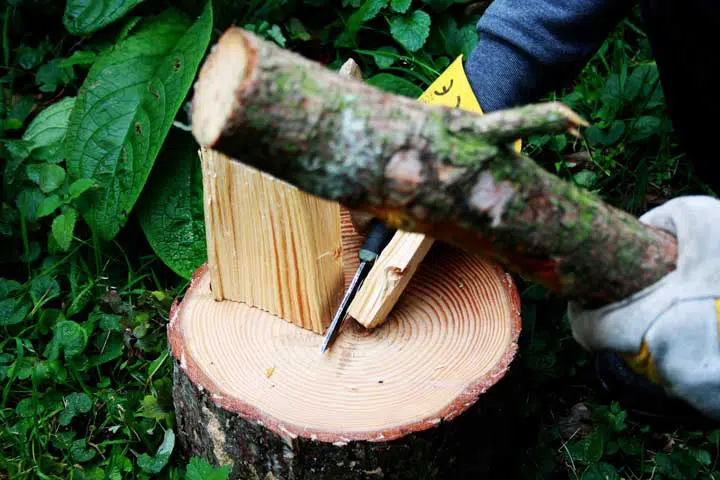 Conclusion
Having the right bushcraft knife by your side will make your camping adventure more fun. Picking the right knife can be pretty challenging. However, in my experience, noting down the main tasks that might require you to use your knife can help you make the right choice.
Bushcraft knives come in a variety of shapes and designs. As much as the design could influence your pick, there are some things you should never compromise on. One is handling, and the second is safety. I would advise you to go for a knife with an ergonomic handle coupled with a rubber grip. Also, you'll want to be sure you have a sharpener on you at all times, as you never know what may blunt your blade.
Of all the bushcraft knives under 50 USD I have reviewed, the BPS Knives BS2FTS is my top pick. Not only is it ridiculously affordable, but it has a great leather sheath that is perfectly compatible with the Moraknive knife on the list. The BPS can be used by both newbies and seasoned survivalists, and is just a phenomenal addition to any outdoorsman.
If you are making your first purchase, try and keep it simple. A simple and easy-to-use bushcraft knife will help you hone your knife handling skills. So, next time you go camping, you don't have to struggle to carve tent pegs using a pocket knife. Get yourself a budget-friendly pocket knife that will make your camping experience fun.