Few tools are quite so useful in everyday life—as "everyday carry," or EDC, in modern parlance—as the ol' jackknife. A folding pocket knife is just about endlessly useful, and that includes out in the backcountry. It's not, however, the first choice for a survival knife, as I'll get into. That said, it can fit the bill in short order if necessary, and meanwhile fulfills lots of other useful functions at the campsite or on the trail—or in your normal routine back home.
In this article, I'll be spotlighting seven folding knives that any outdoors person will appreciate—and select my choice for the very best survival folding knife on the market today.
Before going any further, I'll toss out a plug for the exclusive Outdoors Being primer on choosing a survival knife—definitely recommended background reading for this exploration of folding survival knives in particular.
Best folding survival knives
Best everyday carry
Ambidextrous.
Good edge retention.
Reliable locking mechanism.
The Safest
Strong and firm locking.
Excellent finger-guard.
Highest Value
Affordable.
Versatile.
Simple design.
Folding Knives for Survival & Bushcraft
In this section, I'll dig into the basics of folding knives, their effectiveness in outdoor situations—including wilderness emergencies—and the advantages they offer even if they're not your primary survival knife.
Folding Knives vs. Fixed-Blade Knives
A fixed-blade model should really be your first choice for a survival knife. A folding knife simply can't compare with the strength, durability, and working length of a high-quality, good-sized, full-tang fixed blade, which you can easily use to baton (split) and cut wood, hack vegetation and perform other heavy-duty tasks. And many of the tasks you'll likely need to tackle during a survival scenario are of the heavy-duty variety.
Even a folding knife with a well-designed and reliable locking mechanism may not be able to withstand really hardcore survival use the way a full-tang fixed-blade knife can. You've also simply got more moving parts with a folding knife, and thus more opportunities for breakage and failure.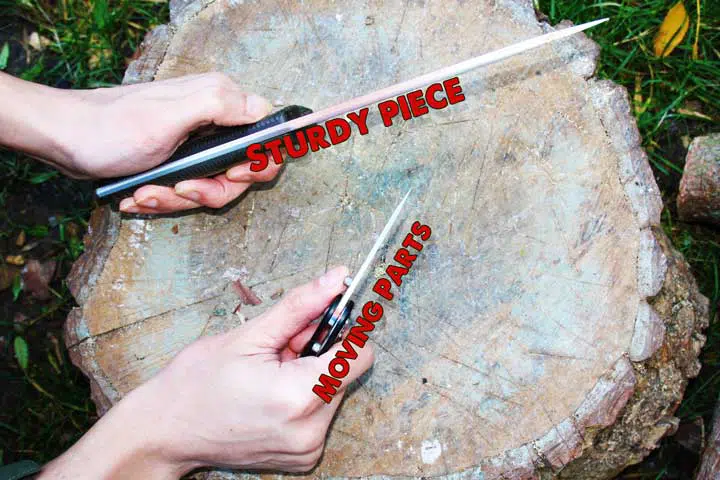 Does this mean you can't use a folding knife in survival situations? Absolutely not. A well-made "folder" can do many outdoor jobs in a pinch, even if in many cases a fixed-blade knife would outperform it. A folding knife is better than no knife at all in an SHTF scenario. Furthermore, any one of the respectable folders reviewed below is probably going to serve you better than a cheap, shoddy fixed-blade knife. There are a lot of such second-rate knives out there—and a knife, whether fixed-blade or folding, is not something you want to skimp on. In addition, a folding knife may be the only legal carry in some places where a fixed blade would be too long.
Ideally, I'd recommend owning and carrying both a tried-and-true fixed blade as well as a folding knife: That gives you the most versatility and security out in the wilds. Turn to the fixed blade for the big tasks, and whip out that folder to fine-tune a spear point, strip bark for tinder, repair a torn jacket, or fray a bit of cordage.
Folding knives also have a number of straight-out advantages over fixed-blade knives. Let's spotlight some of the very good reasons to own one (or more) of these jackknives next!
Advantages of a Folding Knife for EDC and Outdoor Uses
There's no better blade for everyday carry than a good folding knife. A folding design, after all, makes a knife that much more compact and easier to tote. (A fixed blade is not exactly a good pocket knife.) So while you likely want that burly fixed-blade survival knife on your belt throughout an outdoor adventure, your back-home, day-to-day blade is probably going to be a folder.
There are countless scenarios in normal urban or rural life when a folding knife comes in handy: all sorts of cutting, boring, wedging, and bracing tasks made much simpler using this fundamental EDC tool. Along with a screwdriver, you can't really do better on this count than a good pocket knife.
You may also find yourself in an unexpected emergency or disaster situation that prevents you from getting your hands on your go-to survival knife. That small folder in your pocket or clipped on your belt may then turn into an all-out lifesaver.
In both emergency and non-emergency outdoor situations, furthermore, you'll likely reach for your jackknife over your fixed-blade survival knife to perform finer-scale operations such as whittling or mending.
Again, I strongly recommend carrying a large or medium-sized fixed blade as your survival knife, backed up by a folder for your bushcraft knife. The two designs make a great tag team when used this way, and really cover your back in the woods.
You may well, however, want a folding knife that can also double as a readymade survival blade—that is, one that can handle at least some of the rougher chopping and cutting needs you have when, say, building an emergency shelter or manufacturing other tools. In the next subsection, I'll explore some of the features to look for when seeking the best survival pocket knife for your needs.
Attributes of a Folding Knife to Key Into
First and foremost, you want a strong and durable folding knife for survival purposes. Besides selecting higher-quality steel in the blade, look for a robust locking system so that you can employ the knife in batoning, chopping, and other brute-force activities—and to maximize safety when using the tool in general. A non-locking pocket knife may be fine for simple, low-pressure uses back home, but you don't want to monkey with one in the outdoors: Besides its limited use for more rigorous operations, it might snap right down on your fingers. The last thing you need in the backcountry—especially if you're already in dire straits—is a deep, heavy-bleeding gash.
You also want a handle that provides a solid, sure, and ergonomic grip: for safety, certainly, but also to allow you to use the knife frequently and for extended periods without straining or chafing your hand. Select a handle that fits your hand size, and—especially when shopping for a survival folding knife—one large enough to accommodate a gloved grip. Handle materials vary widely, from natural wood or bone to steel, aluminum, titanium, and various synthetic constructions. These all have their own pros and cons in terms of strength, weight, feel, and other properties.
It's nice to have a deep profile to the blade so you've got plenty of room to actually grasp it between your fingers—safely, without slicing yourself—for certain chores requiring more precision or pressure.
Folding knives with simple opening and closing actions, operable with one hand and without exposing your fingers to the blade, are ideal for outdoor use—very much including survival situations when your hands and digits may be numb or wet.
Cost
The old saying that you get what you pay for holds true with folding knives as with anything else, but (as you'll see) there are some very affordable jackknives that are also nicely constructed and high quality. Indeed, you might well opt for a more inexpensive (though still well-made) folding knife for outdoor purposes so you're less stressed about losing it or banging it up. Naturally, many knife enthusiasts and outdoors people will eventually acquire multiple knives; having one or two lower-priced models for rough-and-ready uses isn't a bad idea.
Folding Knife Reviews
This section will run down seven of the best survival pocket knife models currently out there. Each of these is a fine knife in and of itself; long story short, you can't go wrong. But there are pluses and minuses to each, which I'm going to try to cover from the standpoint of somebody looking either for that handy backup blade in case the fixed blade's not available—a runner-up of a survival knife, in other words—or a solid, standalone bushcraft knife.
The Benchmade Freek is a fantastic EDC folding knife that's fully ambidextrous and benefits from the company's surefire AXIS locking mechanism. Benchmade's upgraded the Freek from the standard S30V stainless steel to the incredibly tough M4 alloy blade, which in combination with that AXIS lock makes the knife up for a variety of bushcraft and survival operations: It can stand some abuse, that's for sure! The same goes for the weather-resistant G-10 handle, which, besides delivering a snug grip, looks pretty snazzy with its gray and black pattern and red accents.
The drop-point blade of the Benchmade Freek—very easy to sharpen, mind you—is 3.6 inches with a 0.114-inch thickness. Closed, the knife measures 4.86 inches; open, it's 8.46 inches.
That deep Benchmade Freek blade accommodates "choking up" quite well. A couple of potential knocks on this knife are the fairly shallow reversible clip and the fact that the M4 blade's coating, for some, makes for slightly jerky opening and closing action—though usually with a bit of a wearing-in period that improves dramatically.
Pros
Ambidextrous.
Good edge retention.
Reliable locking mechanism.
Cons
A bit pricey.
Coated blade means opening and closing can be a little sticky, at least at first.
Not in stock or too expensive? Check the alternative links below:
Launched in 1976, Colorado-based Spyderco is a legendary name in the knifemaking business, particularly when it comes to folding knives. The Spyderco Shaman boasts the brand's trademark round hole in the blade for quick and easy one-handed deployment, even when wearing gloves: just one of the features that make this one of the best outdoors-ready jackknives around.
The stainless steel CPM S30V blade—available in either plain or serrated edge—runs 3.63 inches, part of the knife's eight-inch open length; it's 4.7 inches long when closed. The Spyderco Shaman's on the heavier side of things when it comes to EDC folding knives, clocking in at 5.3 ounces.
The blade's essentially a full-flat grind or nearly so; this almost top-to-bottom bevel translates to minimal drag when cutting and also reduces the weight a bit. The Spyderco Shaman employs a rock-solid Compression Lock—one drawback being that it favors a right-handed person, though the knife's technically marketed as ambidextrous.
The G-10 handle's wonderfully ergonomic. It's mighty smooth, but the knife still delivers good grip thanks to the rounded contouring, the jimping up top, and the finger choil.
Pros
Easy one-handed opening.
Robust knife.
Great edge retention.
Cons
On the heavy side.
Somewhat pricey.
Right-hand bias (due to the Compression Lock setup).
Not in stock or too expensive? Check the alternative links below:
Here's a folding knife that comes about as close as possible to the feel and performance of a fixed blade. You "pay" for that muscle with that much more heft: The Ka-Bar Mule weighs about half a pound. But the AVS 8A stainless steel, hollow grind blade, coupled with a super-secure Lockback mechanism, makes for a rugged, tough-as-nails knife that's great to have on hand out in the backwoods.
That black-coated, clip-point blade measures some 3.9 inches—one of the longer folding-knife blades in this roundup, long enough to take a bit of getting used to if you're more accustomed to penknife sizes. (The Ka-Bar Mule's total length is 9 1/16 inches; closed, it measures 5 1/4 inches.) The blade holds its edge very well even when subjected to repeated hard use. It's a joy to flip open and closed: The lock bar makes for a knife you can truly count on, and one that can do nearly anything you ask of it thanks to the secure lockback and the substantial blade.
The Ka-Bar Mule's handle is made of the very durable fiberglass-reinforced nylon material trademarked as Zytel. It's a large, robust, and contoured grip that provides a comfortable and secure feel.
The only knock on the handle, really, is the fairly puny reversible pocket clip, which may be tough to use with thicker fabrics. That said, the Ka-Bar Mule also comes with a nice polyester sheath, black as the knife itself.
Pros
Extremely strong.
Very secure lockback mechanism.
Stands up to major abuse.
Cons
Heavy.
Small and slender pocket clip.
Not in stock or too expensive? Check the alternative links below:
The Cold Steel SR1 tactical folding knife boasts the longest blade of any on this list—four inches of keen 8Cr13MoV steel—as well as the most all-around secure locking system. Like the Ka-Bar Mule and arguably even more so, this is a knife that gives you the portability of a folding knife while delivering enough muscle to get you close to fixed-blade territory.
Several factors account for the Cold Steel SR1's strength. For one thing, that long, flat-grind, clip-point blade is also a thick one: 4.8mm, with a broad spine that can take some significant strain and pounding. The heart of the whole system is Cold Steel's innovative Tri-Ad lock, said to be the most secure locking mechanism for folding knives on the market. The company's testing has demonstrated that the Tri-Ad lock can support upwards of 800 pounds of hanging weight.
The Tri-Ad lock includes a robust stop pin that efficiently transmits pressures from cutting as well as hammering, wedging, and jabbing. The lock and the blade tang nest together over a generous surface area, and the notch is deep enough to allow the handle's rocker to seat more deeply over time.
The handle, made from Griv-Ex glass-filled nylon, measures 5.38 inches; the knife's fully extended length is thus 9.38 inches. It weighs in at 6.9 ounces, a bit on the heavy side—but that makes sense given the blade thickness and length.
Pros
Incredibly strong and firm-locking.
Excellent finger-guard design.
Cons
Somewhat heavy.
Some users may find the blade too long.
Not in stock or too expensive? Check the alternative links below:
One of the qualities of a good survival knife is its ability to stand in for any number of other tools, from a hammer to a screwdriver. Obviously, though, there's a lot to be said for having specialized tools in addition to a sturdy blade, and that's the advantage of a high-quality multitool such as the LEATHERMAN Signal.
This 7.5-oz. combo device comes with 19 integrated tools, among them a 2.73-inch, 420HC stainless-steel knife blade that locks in place. That one-handed blade is backed up by a saw, needlenose and regular pliers, a bit driver, a quarter-inch hex bit drive, a ferrocerium rod, a wire stripper, wire cutters, a hammer, can and bottle openers, an awl with a thread loop, a safety whistle, and a number of other implements. This makes it a convenient multi tool for outdoor recreation and survival, not to mention EDC needs.
Understandably, the LEATHERMAN Signal's blade isn't the most versatile or tough of the folding knives I'm covering here, but if you want a functional pocket knife that's also outfitted with a whole arsenal of other tools, this is definitely a contender.
I do have to note one significant flaw in the LEATHERMAN Signal: The paint chips and peels way too easily, and out of the box the multi tool's frequently smudged and oily.
Pros
Versatility: 19 tools in one.
One-handed operation.
Cons
Not in stock or too expensive? Check the alternative links below:
Buck's a trusted name among knife aficionados, having been crafting quality blades since 1902. The 836 Folding Selkirk Survival Knife is a very respectable midsized folder that ups its outdoor cred with an included firestarter rod and an emergency whistle. It's also a classic-looking sort of knife with an old-school form, though the materials are cutting-edge.
The drop-point blade of the Selkirk Survival is made of high-carbon 420 HC steel, which exhibits excellent corrosion- and abrasion resistance as well as high strength and edge retention. The 3.9-inch blade, which is 0.15 inches thick and shows a full flat grind, is a nice middle ground between some of the shorter and longer points on this list—and just shy of the four-inch cutoff that, in some states, defines a legal-to-carry knife. And it folds down to a nice and compact five inches.
The steel-bolstered Micarta handle calls to mind an old-fashioned wooden handle, which we think is a plus aesthetics-wise; the material and the subtle contours on the bottom make for a very comfortable and snug grip, too.
You won't find a pocket clip on this 5.7-oz. folding knife: Instead, it inserts tightly into an included belt sheath that can be oriented for either horizontal or vertical carry. One drawback of the sheath is it really only works with pretty thin-diameter belts. It includes the ferrocerium striker that gives you a fire starting capability; the back of the rod incorporates the emergency whistle in case you need to signal your location.
Pros
Versatile, middle-ground blade length
Included ferro rod and whistle for extra utility
Classic, elegant look
Cons
Sheath only works with thin belts
Not in stock or too expensive? Check the alternative links below:
If cost is one of your primary considerations, the Ontario Rat 1 is about the best folding survival knife for your money. It's extremely affordable while giving you solid quality and functionality.
The Ontario Rat 1's AUS-8 stainless-steel blade measures 3.5 inches and boasts a classic drop-point form with a full flat grind. This gives it nice versatility, handy for slicing and paring as well as some slightly more heavy-duty uses. Don't expect super-great edge retention, however, though it's easy to sharpen. The blade's deployed via a thumb stud, though we wouldn't say the locking system is the easiest to use—another knock against the Rat 1, though, again, you're not shelling out big bucks for it.
The Nylon 6 handle provides good grip with its subtle texture and curves, and it's a nice length that works well with hands of different sizes. The knife's easy to choke up for precision work.
Pros
Affordable
Versatile
Simple, accessible design
Cons
Edge retention isn't great
Not the most user-friendly deployment/locking mechanism
Not in stock or too expensive? Check the alternative links below:
The Winner
All of the knives I've covered here have their virtues, and any one of them would make an extremely handy EDC tool. In my opinion, the best all-around for survival purposes—and also wonderful as a bushcraft knife—is the Benchmade Freek. The extremely sturdy M4 blade and the secure Axis Lock mean it can reliably perform many of the vital tasks you need in the great outdoors, including building a shelter, making other tools, and handling game.
So there you have it: I consider the Benchmade Freek the best survival folding knife out there, though it faces some stiff competition from the other products spotlighted here. Let me know your thoughts on the matter—and feel free to explain why you disagree with my ranking!