With a telescoping fishing rod, you're always ready to drop a line at a moment's notice. Today, we're going to take a closer look at the best telescoping fishing rods on the market and share some essential tips to help you select the best telescoping fishing rod for your next trip.
Telescopic Fishing Rods at a Glance
Best Overall Rod
Available in several sizes and actions
Graphite reel seat
Best Kit and Case
Available in 4 sizes
3000 size reel
Stainless steel reel seat
Best on a Budget
Includes rod, reel, and tackle
3000 size reel
Stainless steel reel seat
What Is a Good Telescopic Fishing Rod?
Whenever you're shopping for a new fishing rod, there are some things you'll want to do to ensure that the rod you're selecting is going to be a strong fit for your needs. As you evaluate the different options, here's what you'll want to consider.
Quality: Telescopic fishing rods are a relatively niche item, and many of the products you'll come across are little more than novelties. Be sure that you're choosing a rod made from quality materials that will be able to deliver when it counts.
Size: The most notable feature of a telescoping fishing rod is its small size when packed. Consider where you'll keep your rod when you're not using it, and make sure it's going to fit your pack. 
Value: Many better telescoping fishing rods are available with a rod and reel only or in a kit that includes some tackle necessities. If you're considering a kit, make sure it provides more value than if you purchased your tackle separately.
Target Species: The type of fish you'll be catching is vital in deciding the best telescoping fishing rod for you. If you need a rod that can capably land most freshwater or saltwater species, make sure you choose a heavier rod. 
The Benefits of a Telescopic Fishing Rod
While one-piece fishing rods will always be the industry standard, they aren't incredibly portable, especially at longer lengths. Two and three-piece rods are a standard solution, but they aren't quite as stable as a one-piece rod, and it's much easier to lose or misplace one of the pieces than it is with a standard rod.
Telescoping fishing rods solve the portability issues that are inherent with regular rods. Most telescoping rods collapse to under 18 inches, making it easy to keep one in your truck, hiking pack, or virtually anywhere else when you're short on space.
It's also safer to transport a telescoping rod than a standard one, as it's easy to break a tip or guide if you aren't careful when transporting rods, which are usually 6' or longer. If you're purchasing a rod for a child, a telescoping model is a good choice for this reason alone.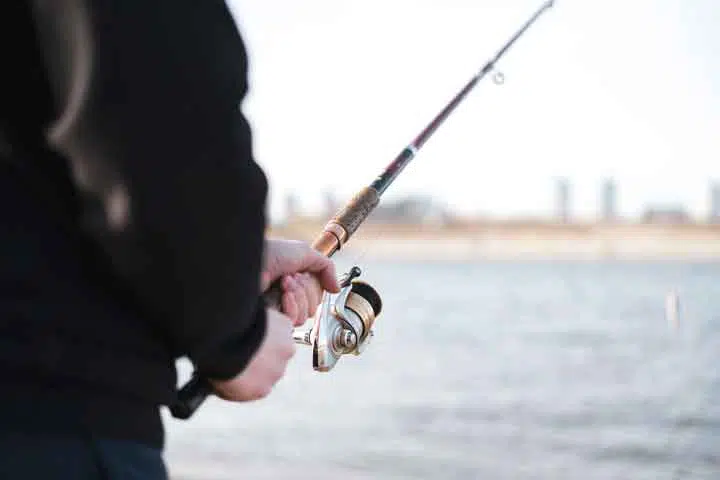 Why Are Telescoping Rods Bad?
For starters, there aren't many quality options on the market for telescoping fishing rods. They're often seen as beginners or novelty products, and most well-known manufacturers that cater to anglers don't make them. You have to be especially careful when shopping to make sure you're purchasing a proper fishing rod and not a toy.
Most telescoping rods are for smaller fish in the 1-4 pound class, and you'll have an even harder time finding suitable models for casting larger lures and catching bigger fish. That said, you can still find telescoping rods for saltwater fishing.
Telescoping rods also have several interlocking sections, which are inherently less stable than a typical one-piece rod.
While telescoping fishing rods have their drawbacks, they're still essential for fishing in specific scenarios, and owning one can mean the difference between an impromptu catch of a lifetime and no fishing at all.
How to Choose the Best Telescoping Fishing Rod
When shopping for the best telescopic rod and reel combo, there are a few crucial areas to consider to find the ideal model for you. Here's what to look for.
Rod Characteristics
Depending on the rod, characteristics like how sensitive it is, how much the rod bends when you're fighting a fish, and where the rod bends can vary significantly. Manufacturers use somewhat standard measurements, called rod action and power, to indicate what you can expect from the rod.
Rod action corresponds to where the rod bends when a fish is on. Rods that bend closer to the tip are the most sensitive, while rods that flex further down the rod aren't as sensitive but allow you to cast farther.
Extra fast and fast rod action indicates that the rod bends closer to the tip. Moderate fast and medium rods bend further down the rod, while moderate slow and slow rods bend almost entirely along the rod when a fish is on.
Rod power corresponds to how much pressure is necessary to bend the rod according to its action rating. The heavier the rod, the larger the fish you'll be able to catch with it.
Extra heavy and heavy rods are the most powerful and can handle the largest fish. Medium-heavy, medium, light, and ultralight telescopic fishing rods are perfect for smaller fish, and they allow you to detect even the most subtle bites from your target.
Many telescoping rods sell without a corresponding power or action rating, and it's safe to assume that these rods offer medium power and moderate action, which is an ideal all-around configuration that will reliably catch fish.
Reel Capacity
Most telescoping rods come with spinning rods in the 1000-2500 size range, ideal for most freshwater and smaller saltwater species. You'll want to consider the test rating of the fishing line you need (most anglers use 6-12 pound test) and ensure that the fishing reel you're choosing provides ample capacity. You'll also want to match the size of the rod to the reel.
Reel Drag
Drag is a critical tool for anglers that helps protect your gear while also slowing a powerful fish as it fights to stay in the water. Reel drag functions like an emergency brake for the reel. If a fish pulls hard enough, the reel will spin backward, allowing the fish to take line.
Drag helps protect your rod from snapping under the force of the fish, and it also allows the fish to tire itself out, so it's easier for you to land.
Look for a telescopic fishing rod and reel combo full kit that offers a quality system with drag plates made from a durable material, such as ceramic.
Best Telescopic Fishing Rods for this year
Now that you have all the information you need to select an excellent telescopic fishing rod, let's look at the five best options on the market today.
This carbon fiber rod from PLUSINNO is an excellent choice for freshwater and inshore saltwater anglers who need a portable rod that's versatile enough to handle fishing in most waters.
This rod comes in four sizes ranging from just under 6-feet to just under 9-feet. Each rod utilizes carbon fiber and fiberglass construction to provide an exceptionally durable rod resistant to saltwater and built to handle any fishing conditions.
This saltwater telescopic fishing rod offers medium power, moderate action, and aluminum oxide guides that allow the line to travel through the guides for long casting smoothly. The guides are also durable enough to stand up against braided fishing line, which can cut into cheaper guides over the long term.
The reel is a 3000 size. Depending on the line diameter you use, you can load it with up to 240-meters of line if you're using something in the 4-6 pound test range. You can use heavier lines up to 12-pound test, allowing you to land larger fish without damaging your rod and reel reliably.
This reel offers a heavy-duty bail, a powerful carbon drag system, and an interchangeable handle for left or right-hand operation. The one drawback of the reel is the housing is plastic, which may present some durability issues over the long term.
Pros
Strong composite and fiberglass rod blank construction
Comfortable butt makes it easy to fight fish
Large spool provides plenty of line capacity
Cons
Plastic reel housing
Only available in medium power and moderate action
This fishing telescopic rod from Sougayilang is a versatile option that's an excellent choice for anglers who just need a rod because they already have a reel to use. If you need a whole outfit, this rod is also available in kits that include reels and all the accessories you'll need to start fishing.
The rod itself is made from high-density carbon and fiberglass, making it durable, strong, and sensitive. SIC ceramic guides allow for the smoothest casting possible, and they're strong enough to stand up to braided fishing line without the line digging into the guides.
If you opt for one of the kits that include a reel, you'll get one of the better outfits on the market. This reel offers a 13+1 bearing system, CNC machined parts, and a 5.5:1 gear ratio that's perfectly suited for most fishing techniques. The kits also include a spare spool, so you can easily switch out your fishing line in the middle of a trip to something lighter or heavier, depending on the conditions you're fishing.
The reel also includes an EVA power handle that makes it easier to reel in when you're fighting a large fish. The additional CNC machined spool is a lovely inclusion, and it increases the versatility of this excellent portable fishing outfit.
Pros
Available with a rod only or in kits
Kits include an excellent reel
Composite and fiberglass rod construction for strength and durability
Cons
Only available in medium power and moderate action
If you're looking for the most affordable portable fishing outfit you can find, this kit from BlueFire could be the perfect option for you.
This kit includes a carbon fiber rod, and it's available in 6' and 6'6" models. The kit comes complete with the rod, a reel, carrying case, and all the tackle necessities you'll need to get started.
The rod is made from carbon fiber and offers impressive strength with enough backbone to land larger fish reliably, and the reel features an aluminum body with a 5.2:1 retrieve rate. The reel is smooth and stable, and it does an excellent job of imparting action onto your lures.
The kit is the most affordable on the market, and it's an excellent option for budget-minded anglers and anybody looking for an inexpensive travel outfit. There are a few tradeoffs with this rod to keep the price low compared to some of the competition. The handle isn't quite as comfortable, and the tackle the kit includes is a bit more sparse than some pricier options.
Pros
Includes everything you need in a straightforward kit
Solid and durable carbon fiber rod blank
Smooth reel retrieve
Cons
Handle isn't especially comfortable
Only available in one power and action
If you're a dedicated angler looking for the best telescoping fishing rod you can find, the KastKing Compass may be the one for you. This rod is made by a trusted brand and has performance-minded features that competitive anglers demand, but few telescoping rods can deliver on.
This rod offers a graphite and composite blank with stainless steel guides equipped with ceramic guides for smooth casting and durability. It's also the only collapsible rod to provide a graphite reel seat, which helps reduce rod weight while delivering the utmost strength and stability.
The Compass is available in multiple sizes, power, and action ratings, so you can select the best rod for your waters instead of trying to make it work with whatever the manufacturer provides. The Compass is also the only telescoping rod available in casting or spinning models, giving you even more control over your setup.
Pros
Highest quality components and craftsmanship
Available in spinning and casting models
Available in multiple sizes, action, and powers
Comfortable grip
Cons
Only includes a rod – you supply the reel
As another solid option from PLUSINNO, this rod and reel collapse for travel, and it's a viable option for anglers who need to be able to wet a line at a moment's notice.
The rod is available in 6-9 foot lengths to suit the needs of a variety of fishing scenarios. The carbon fiber and fiberglass construction ensure that the rod is sensitive enough for you to feel every bite while providing the strength and durability you need to land larger fish.
This telescopic fishing rod combo includes a 3000 size reel, so it's ideal for virtually all freshwater and inshore saltwater fishing. The reel offers instant anti-reverse and a deep spool that offers plenty of line capacity.
It's only available in medium action, so it isn't quite as versatile as, say, the rod above from KastKing. Still, it's a solid all-purpose outfit that you can use to catch a ton of different species of fish.
Pros
Solid carbon fiber construction
Comfortable grip
More compact than the competition
Cons
Reel body is plastic
The accessories the kit includes are mediocre and don't provide much value
Time to Choose Your Telescopic Fishing Rod
Telescoping fishing rods are an ideal choice for hikers, adventurers, and anybody who wants to enjoy fishing whenever the opportunity presents itself. The five rods above represent the best telescoping fishing rods on the market, and any of them is a worthy choice if you're shopping for a compact fishing setup.
Overall, the KastKing Compass is my top choice of telescoping rod if you already own a reel, as it offers the best construction and build quality. It's available in a broader array of sizes and rod powers than the competition. If you need a rod, reel, and some tackle to get you started, the Sougayilang rod above may be your best bet.