Looking for a quality pocket knife sharpener? In this article, I have chosen the top five pocket knife sharpeners on the market. I have also included a guide for how to choose the best pocket knife sharpener so you can find your best fit.
Best Pocket Knife Sharpeners
Best Overall
Stainless Steel
Great for camping and hunting
Doesn't require batteries
Lifetime warranty
Best for Honing Pocket Knives
Ceramic, Diamond
Aggressive sharpener
Lifetime warranty
Great for backpackers
Best Accessories
Coarse Carbide, Fine Ceramic
Extremely durable
Versatile and easy to use
Ideal for outdoor survival
How to Choose the Best Pocket Knife Sharpener
You need a quality pocket knife sharpener that will give you a return on your investment. Specifically, you want a lightweight, portable pocket knife sharpener that can last ten sessions or more, or roughly around a year.
Take a look at the video above for a short guide for choosing the best pocket knife sharpener.
To determine whether a pocket knife sharpener is right for you, you need to look at the following:
Kind of Task
Before you decide what is the best pocket knife sharpener for you, you need to ask yourself what kind of task are you going to be using your tool for?
Are you using your pocket knife sharpening to hone or sharpen something? Honing and sharpening are different concepts in the knifing world.
Honing is more similar to straightening. For example, you hone your knife when it becomes misshapen or dented after cutting through a can. Sharpening, on the other hand, refers to the process of making your knife keener so it can cut effectively again.
Honing and sharpening tools are distinct and you can't use them interchangeably, so be sure to identify what you are going to be using your pocket knife sharpener for before you decide to buy one.
Kind of Tool
You also need to ask what type of pocket knife sharpener you want:
Whetstones or sharpening stones: The most popular and affordable, whetstones are rectangular stones that use water or oil to activate the sharpening surface. To use this type of sharpening, hold your pocket knife at the right angle as you run it down the whetstone. Typically made of aluminum oxide, silicon carbide, or Novaculite, they are an inch thick and can quickly wear down, so you would need to get a replacement as soon as it's worn to the base.
Sharpening steels and knife hones: These are long rods that straighten rather than sharpen. Accordingly, you should get these if you're looking for realignment more than sharpening. Sharpening steels and knife hones can be further broken down into diamond steels, ceramic steels, regular steels (made of steel), or combination steels, which combine a smooth surface or honing and a rougher one for minor sharpening.
Electrical sharpeners: Unlike whetstones, these need batteries or electricity to work. They also use a V-shaped notch or a rotating wheel to carve into your knife. While they are very quick and efficient, Unless you plan to use these sharpeners in a more urban area, it may be hard to get a lot of sharpening done using electrical sharpeners while out in the open. They may also be too bulky for your portable pocket knife.
Handheld sharpeners: Like electric sharpeners, these can make the sharpening process much easier. They tend to be more portable than electrical sharpeners, making them a better fit for those of you who need pocket knife sharpeners while camping in a rural area.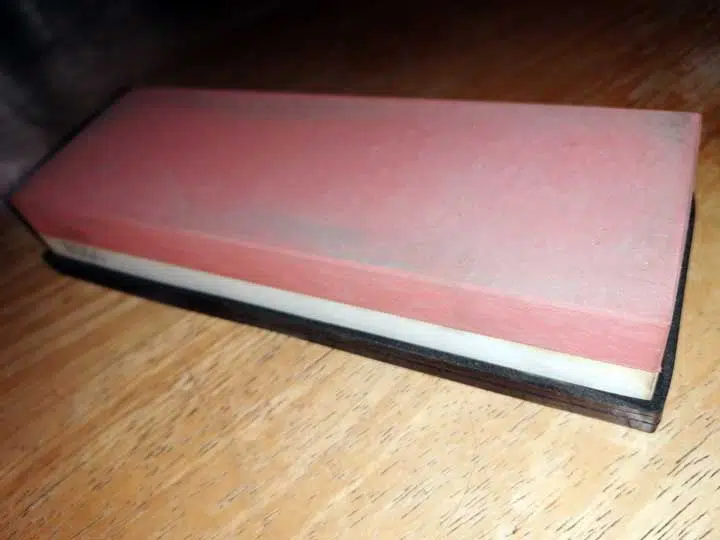 Usage Requirements
You need to also take a look at what you need in order to use your pocket knife sharpener.
If you have a whetstone or sharpening stone, it may need moisture in order to work. In contrast, honing oil may work better for other sharpening stones. There are also knife sharpeners that will rust if they get wet, so you can only use them for dry sharpening, such as diamond sharpeners.
For electrical sharpeners, you will need rechargeable batteries or access to a power outlet. If you're planning to take your pocket knife to a rural area where these may not be readily accessible, consider buying a handheld, whetstone, or sharpening steel.
Construction Materials
Since you are going to be taking your sharpener with you everywhere, you should look for one that is portable, lightweight, and compact.
At the same time, you need to weigh these considerations against the longevity of your tool. For instance, while plastic knife sharpeners are light and compact, they don't last as long as metal knife sharpeners.
Grit
All knife sharpeners have different levels of grit. Whetstones are usually double-sided, while manual and electrical sharpeners tend to have a minimum of two settings.
If your pocket knife has nicks and chips, you should look for a sharpener with coarse grit.
Medium grit (300-400) is for dull, undamaged knives.
Finally, you should look for a sharpener with fine-grit (1200) if you need to refine your knife's edge.
Flexibility
Finally, you need to consider whether your knife sharpener is flexible. How many kinds of knives can your tool sharpen? For example, electric sharpeners have presets for different types of knives. Some sharpeners also come with adjustable angling as well as serrated edges and curved cutting surfaces.
Now that you have a better understanding of what to look for when searching for the best pocket knife sharpening in 2021, let's take a look at my list of the five best pocket knife sharpeners in 2021.
The Five Best Pocket Knife Sharpeners in 2021
Without further ado, here is a list of my top picks for pocket knife sharpeners this year, and what they're each best suited for.
The EDC Micro Sharpener & Knife Tool offers you an efficient and streamlined knife sharpening experience. Great for camping and hunting, this manual sharpener does not require batteries.
Pros
Angle guides that makes sharpening quick and efficient – great for beginners
Diamond (600 grit) and ceramic (equivalent to 3000 grit) sharpening that quickly hones and sharpens your knife
Small (6.1 x 5.2 x 0.5 inches), lightweight (0.14 pounds), and portable – you can take this anywhere
Great price
Lifetime warranty
Cons
Star/torque bits could be better
Angle guides can be confusing
Sharpening rods could be longer
Small size means you may have to take more time to sharpen large knives
All in all, the EDC Micro Sharpener & Knife Tool is one of the best pocket knife sharpeners in 2021. Not only is it great for beginners, but it can handle a variety of knives, from Swiss Army Knives to budget blade steels such as 8Cr13MoV.
However, due to its small size, it will take you longer to sharpen large pocket knives. The star and torque bits are a bit soft, but you can swap them out for stronger and more reliable bits.
Accordingly, the EDC Micro Sharpener & Knife is my pick for Best Overall pocket knife sharpener in 2021.
Built to last, the Smith's Abrasives PP1 Hunting Knife Sharpeners is great for repairing knives that have dulled over time.
Pros
Lightweight and small (0.02 pounds, 3.5 x 1 x 0.01 inches)
Two grit types: fine, coarse
Lanyard hole for carrying
Carbide blades (coase carbide slot) and ceramic stones (fine ceramic slot) provide for efficient sharpening
Carbide and ceramic stones are reversible and replaceable
Preset sharpening angles for guaranteed results
Good price
Cons
Quality control could be better – coarse side can come chipped or arrive rusty
Does not sharpen as efficiently as advertised
Although this tool is not as hardy as my other picks, it is a good knife sharpener for its budget price. However, while it will make your knives workable, it is not as efficient as advertised and also will not make your knives extremely sharp.
The Smith's Abrasives PP1 Hunting Knife Sharpeners is not perfect, but it is a decent pocket knife sharpener for the price. As such, it is my pick for Best for the Price.
Our pick for Best Accessories, the Sharpal 101N 6-in-1 Pocket Knife Sharpener is a force to be reckoned with.
Portable, durable, and versatile, it has everything you need to sharpen your knife.
Pros
3 years warranty and great customer service
Carbide and ceramic abrasives have passed field use tests 10,000 times
Portable and lightweight (8.27 x 4.72 x 0.6 inches, 0.1 pounds)
Six functions:

No. 1 V-Notch Slot (coase carbide) – set new edge
No. 2 (fine ceramic) – hone for smooth edge
Tapered diamond rod (medium grit of 400) for gut hooks and serrations
Diamond rod with groove for fish hooks
Ferro rod
High-pitched emergency whistle and firestarter

Comes with built-in lanyard hole, ideal for fishing, hunting, and outdoor survival
Versatile

works with your pocket knife as well as kitchen knife
can sharpen very dull or damaged blades
hone blades
Works with straight-edge and serrated knives
Cons
Can be too aggressive for certain types of blades
Large compared to other models
Firestarter does not work as well as it should
Does not have rubber strips or feet to make the tool lie more steadily on a flat surface
In general, the Sharpal 101N 6-in-1 Pocket Knife Sharpener is a worthy investment. It comes with everything you need for your outdoor adventures and can sharpen a variety of knives. It can also hone your dull knives and help you start campfires. You can see why it is my Best Accessories pick.
The Lansky PS-MED01 BladeMedic is my best pick for beginners. Simple yet effective, it is easy to learn how to use and works with a variety of pocket knives.
Pros
Easy to learn how to use
Works with standard, serrated, fillet, and gut hook knives
Carbide, ceramic, and diamond sharpeners
Lightweight (0.23 pounds, 8.5 x 3.5 x 0.13 inches)
Cons
Rattles a lot while using
Screws can stick out a bit in the back
Carbide sharpeners could be more aggressive
However, this may not be the best pick if you are looking for a sturdy pocket knife sharpening with lots of functions. It rattles and the carbide sharpeners are duller than advertised, so it does not provide the most streamlined sharpening experience.
Finally, let's take a look at the Work Sharp WSGPS-W. This powerful, lightweight tool is an effective sharpener and honer.
Pros
Aggressive sharpener
Great honer
Portable and light (0.1 pounds, 0.5 x 1.75 x 6.5 inches)
Budget price
Great for backpackers
Cons
Can be difficult to use, particularly for beginners
Diamond sharpener may be too aggressive for some pocket knives – can remove a lot of metal if you're not careful
Too long to fit inside your pocket
Better at honing than sharpening
If you're looking for a tool that can hone your dull pocket knives, the Work Sharp WSGPS-W is a great choice. However, I do not recommend it for beginners, since the diamond sharpener can easily ruin your pocket knives if you're not careful or experienced enough.
Conclusion
After reviewing all five items, my Best Pick is the EDC Micro Sharpener & Knife Tool. Cross-functional, lightweight, and small enough to fit in the palm of your hand, this handy pocket knife sharpener makes for a great outdoors companion.
Unlike the Lansky PS-MED01 BladeMedic, the EDC Micro balances ease of use with portability and quality. In contrast to the difficult-to-use Work Sharp WSGPS-W, the EDC Micro is flexible and safe for beginners and pros alike. Accordingly, it is one of the best pocket knife sharpeners this year.
We hope that my buying guide and reviews have helped you narrow down the best pocket knife sharpener for you.