Imagine you are out in the woods. You have a large survival knife with you, but you need to carve some tent pegs for your shelter. After a few attempts to whittle a branch, you discover the knife is too large for your whittle effectively. Life in the shelter will not be so comfortable tonight. Do not let this happen to you – read my reviews of the best 6 bushcraft knives.
Best bushcraft knives
My Choiche
Accessories included.
Great grip.
Sharp out of the box.
Best durability
Strong, durable blade.
High quality leather sheath.
Holds a great edge.
Best versatility
Horizontal or vertical sheath.
Ergonomic handle.
Sharpens well.
Best Bushcraft Knife for Beginners Buying Guide
Below, I outline the top ways you can pick out and buy the best Bushcraft knife for your needs.
Bushcraft Knife Versus Survival Knife
When spending time in the outdoors, you may find that one specific knife is not enough. Normally, hikers, campers, or fishermen bring along more than one type of knife for their woodsy adventures.
The best Bushcraft knife is often smaller and usually a specialized type. Yet, that's exactly the reason one would bring a survival knife along with a Bushcraft knife for any outdoor adventure.
For example, hunters who trap animals will need a survival knife for the initial hunt and then a Bushcraft knife for skinning the animal. Along with a Bushcraft knife, you can also use a quality Wiebe Beaver knife to skin a deer or other wild animal.
If you spend plenty of time in the woods, you will need to learn what is the best Bushcraft knife for your needs. There are several subtle differences between survival knives and Bushcraft knives that you'll need to understand.
Most importantly, a Bushcraft knife is designed for specific jobs and tasks that you'll need to complete when camping, hunting, hiking, or fishing in the woods. A survival knife, however, is meant for a multitude of uses and can likely do whatever you need it to. Further, survival knives are larger than the smaller Bushcraft ones. Both types of knives are life-saving tools.
The biggest differences between the typical survival knife and a Bushcraft knife are:
Bushcraft knives are smaller at 3 to 5 inches in size, which are much smaller than the bushcraft machetes.
Bushcraft knives are used for more delicate activities than survival knives, like putting up a trap or skinning deer.
However, with Bushcraft knives and other tools like a hatchet and hacksaw, a survival knife may become redundant. Bushcraft knives also have a fixed, durable blade, good weight, excellent balance, and ergonomic features. The best blade is usually between four to six inches in length.
Generally, knives with fixed blades are unlikely to have weak points like folding knives. That ensures they're less likely to break when strong pressure is applied when cutting. In addition, you should pick a knife with a full tang, which means the blade runs all the way through the handle. That also ensures the knife is less likely to break.
How Is the Typical Knife for Bushcraft Designed?
Bushcraft knife design usually requires high-carbon steel materials. Manufacturers use knife patterns to make the basic outline of the product. Then, those producing the knife use an angle grinder to grind the material into a basic knife.
The next step involves using a bench grinder to improve the design. Lastly, the designer drills holes for the pins and creates the handle.
Where Are Bushcraft Knives Made?
The manufacturer makes Bushcraft knives right in the United States of America. Bushcraft makes the majority of its products in the United States.
How to Choose the Best Small Bushcraft Knife
Are you looking for the best knife for Bushcraft enthusiasts? When picking out the knife, consider the blade design and function of the product. Choose the best fixed blade along with an affordable option. Also, figure out which metal is best for your needs.
What Are the Advantages of Bushcraft Knives?
A Bushcraft knife has numerous benefits, such as its sharp tip. Personally, when I used my favorite knife from Bushcraft, I found it easy to create spears for fishing. The sharp edge and tip make it a perfect knife for numerous needs.
What's the Best Way to Use a Bushcraft Knife?
I've used Bushcraft knives for numerous reasons, including cutting down a tiny tree and cutting away bushes to create a tent area. I've also used the knives to make better fire kindling for my campfires.
You can use Bushcraft knives for multiple different tasks. For instance, you can use the knife to baton firewood when camping. When planning wood for kindling, Bushcraft knives also come in handy. When you're preparing a meal in the woods, you can use a Bushcraft knife to make all the cuts you need when cooking your food.
Are you going camping with a tarp? If so, you can use a Bushcraft knife to carve tent pegs or for other needs to support putting together your tent.
Review of My Favorite Bushcraft Knives
It is up to you to figure out which bushcraft knife is best for you. Many variables and features go into picking a knife. Below, we cover several of these common variables. At the end of the day, it's up to you to see which type of Bushcraft knife is best for your outdoor adventures.
Here are our in-depth reviews of the four best bushcraft knives that you can take camping or hunting.
The Morakniv Companion Fixed Blade Outdoor Knife is the best overall option, as it is the absolute best for the price and provides the top choice for beginners. Essentially, the strong stainless steel blade does not need as much sharpening as other Bushcraft knives.
I've found the knife easy to clean and perfect for carving kindling for campfires. It also works well for cooking and food preparation.
Pros
The perfect option for camping, fishing, and more
Useful for hiking and basic outdoor adventures
0.08-inch thick hardened blade
Stainless steel blade
High-friction handle
Unlikely to rust as quickly
Comes with a belt clip
Affordable price for a quality knife
Cons
Has small flaws and imperfections in the blade
Not meant for intense outdoor use
The tip isn't as strong as expected
The sheath doesn't hold the knife securely
The knife becomes dull faster than expected
The knife's weight is too heavy
The Buck Knives 119 Special Fixed Blade Hunting Knife is a more pricey option than the Morakniv Companion, with a price of about $70 on Amazon. However, the razor-sharp blade might work better, and the comfortable grip provides plenty of uses.
It has a protective leather sheath to keep it secure and convenient to carry around. Best of all, these knives come with a lifetime warranty. I love that idea since I've had knives fall apart in the past and a lifetime warranty could help me quickly replace a broken knife. Like all Bushcraft knives, the Buck Knives Hunting Knife is made in the United States.
Pros
Best fixed blade knife for bushcraft
Durable blade and handle
Multi-use capabilities like camping, hunting, fishing, and hiking
Easy to carry knife right on your belt
Cons
The weightless handle makes it harder to balance and use
The blade may have discolorations and finishing issues
The knife may have a rougher edge
The Helle Knives Sandvik Stainless Steel Fixed Blade knife has excellent craftsmanship and incorporates the best stainless steel material out of all four options. The high-quality knife is designed and built in Norway. Best of all, these knives are rather long-lasting than other Bushcraft knives.
The handles are made from curly birch wood and steel plates. The length of the handles reaches 5.1 inches, while the blade is 4.1 inches in length. This particular knife costs a high price of $144 on Amazon. Essentially, it is a durable and ergonomic blade that is comfortable to use and hold.
Pros
Razor-sharp edge
Meant for numerous applications
Great for cutting and carving
Excellent sheath for holding knife securely
Cons
May have discolorations or quality issues
Too small of a knife for those with larger hands
Higher price
The cutting edge may not line up with the spine
One of the more widely reviewed knives on the market right now, so there was a lot to consider on this folks. The Benchmade – Bushcrafter 162 is renowned for the strength of its blade. This blade is made by Crucible Industries. Bevel covers two-thirds of the blade. It can easily baton branches that are 2-3 inches thick, both hardwoods and softwoods. Comes with a leather sheath. A handsome knife that you will love to show off to your friends.
Pros
Strong, durable blade that can last in the elements.
High-quality leather sheath.
Holds a great edge.
Cons
Grip is not the most ergonomic for some users.
Requires some sharpening out of the box. The ideal purchase for someone who enjoys crafting their blade.
It is no surprise I've included a Benchmade on the list. This particular model holds a great edge, is incredibly durable when you take out and accomplish several jobs. Makes for an excellent bushcraft and survival knife. If you are only going to take one knife out, this is one of them.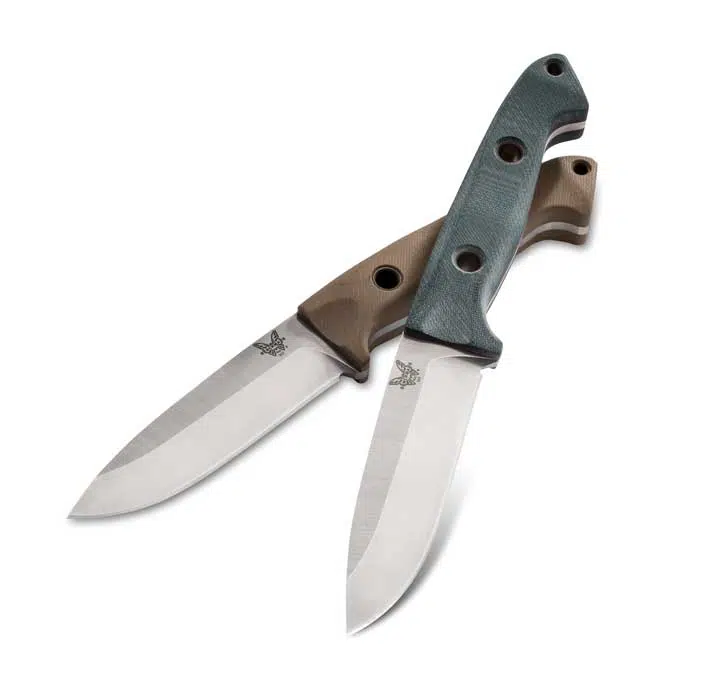 Regular readers may remember that I reviewed this knife in another post, but I feel like it is so good that I thought it deserved consideration here. The Morakniv is a product of Sweden. I think it is a great knife, both in terms of price and in size. This knife comes from a reputable maker known for their quality. Includes a diamond sharpener and Fire Starter in the sheath. Fire Starter can yield 7,000 strikes and works well even when wet. Sheath made out of black plastic. A great knife for both the veteran bushcrafter and the beginner. If there is someone in your life who you want to get a beginner knife – this is a great candidate.
Pros
Includes diamond sharpener and fire starter on the sheath. A great addition to the knife that does not add a lot of weight.
Great handle – grips well, feels good in the hand.
Limited lifetime warranty.
Quality knife for its price.
Arrives sharp in the box.
Cons
The sharpener is rough, leaves marks on the blade.
Not a full tang, which may make it a no-go for some consumers.
The Morakniv is a tough knife that feels good in your hand and is a quality buy. I love the size, the weight, and how easy it is to work with. A great purchase for anyone who wants to spend the money. Excellent bushcraft knife. Would bring a full-tang sturdy knife to compliment.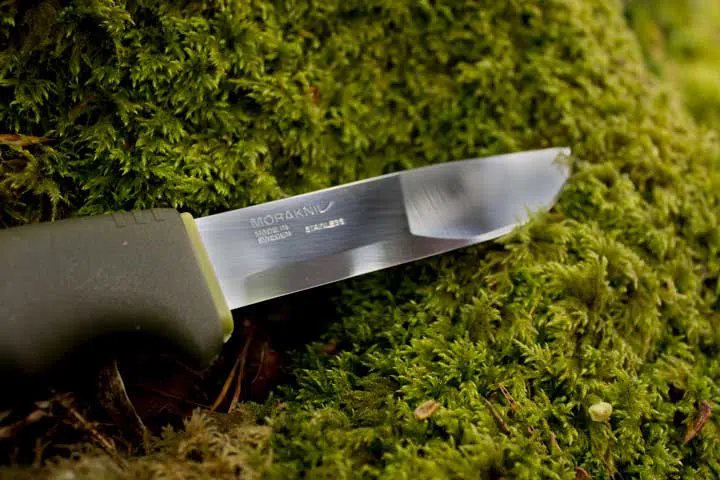 This is knife is made with stainless steel, has a full-flat grind. Produced in Spain. The sheath comes with a fire starter in the sheath. Comes with a Cocobolo wood handle.
Pros
A very durable blade, reputable for sustaining heavy abuse without chipping, rolling, or damage to the edge.
Great grip surface, lots of traction, feels good in your hand.
Cons
Sheath mounts sideways on the belt. Some may prefer another mount.
I like the grip and the blade of the CDS – Axarquia. You are sure to get compliments from your buddies when you have it out.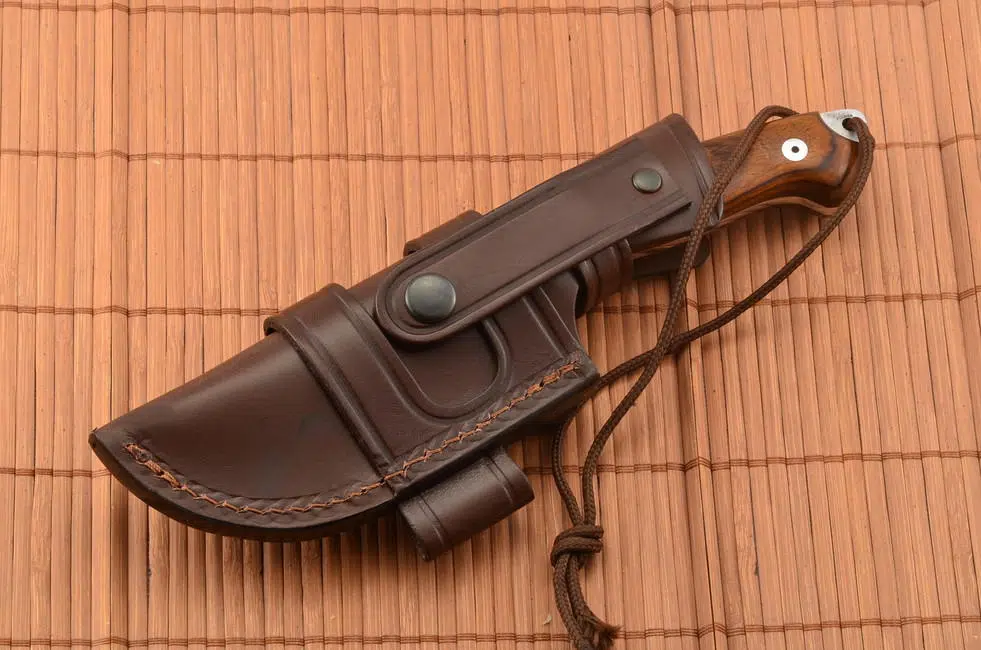 A product of El Salvador. The blade is made out of high carbon steel. Comes with a Micarta handle. A heavy knife that feels solid in your hand, heavy steel. The Selknam is a big, heavy knife. 90-degree spine. Complete with a full-tang blade with a convex edge.
Pros
Solid handle, shaped ergonomically, grips well, and is super durable.
Fantastic sheath, great snap, comes with a pouch that is also handy.
Cons
A thick edge makes it hard to sharpen to a razor's edge.
Requires sharpening right out of the box in most cases.
I think the Condor Selknam has one of the best grips out there. Has some serious weight behind it that makes me feel confident whenever I pick it up.
Another great Spanish made knife. Comes with a cobalt blade, flat grind with a scandi edge. You have the option of buying a handle made out of either micarta or cocobolo. Comes with a genuine 100% leather sheath that is multi-positional so it can be used horizontally or vertically. Comes complete with a good fire starter.
Pros
Great bevel. Very sharp blade. Holds a great edge.
Very durable, can take a beating and keep working.
Great handle – grips nicely, especially good for people with larger hands.
Firestarter strikes well.
Cons
A little expensive. If you are just starting, maybe check out another option to get comfortable with at first.
Some slight variations in the thickness of the blade.
I love how this blade holds its edge and that I can count on it to weather any situation I take it into. The Firestarter is a bonus that makes this a great knife to have around.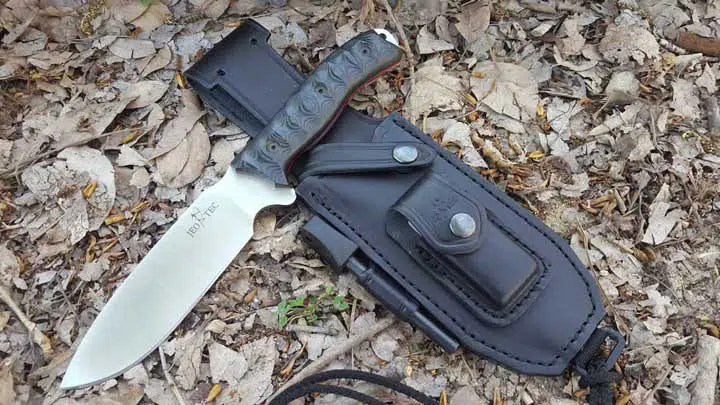 This knife is the product of hundreds of hours' worth of outdoor experience. The Brothers of Bushcraft are a network of bushcrafters and outdoor professionals who collaborated in making this particular knife. The blade is made out of high carbon steel. The edge is effective for carving, skinning, and other tasks you would encounter in the woods. The sheath is included and made out of durable Kydex and includes a steel clip that makes it easy to clip onto your belt. The strong spring guarantees that it will not come off your belt easily. The handle is made out of tan canvas micarta.
Pros
A versatile knife that, in the hands of the right person, can be used expertly for the small, nuanced tasks such as carving, hacking through saplings, and can even be used for some campsite cooking if pressed.
The sheath is versatile, can be worn horizontally or vertically, according to your preference.
Ergonomic handle that feels good and will not be uncomfortable after prolonged usage.
Great edge, sharpens well.
Cons
The coating on the blade can cause some issues when using it as a fire starter.
Can rust faster than other knives on this list if not properly maintained.
I love the versatility of this knife, I have used it for practically everything one might encounter. The handle also ensures no blisters or hot spots after long-term usage.
Not in stock or too expensive? Check the alternative links below:
Conclusion
They say a man can do everything he needs with the right knife. I tend to agree with that. Like I said at the beginning of the article, there are many variables to consider when purchasing a knife. While I offer the best and most thorough review, at the end of the day, the only way to figure out which knife works best for you is to pick one and start using it.
While the competition was close among the four Bushcraft knives reviewed here, the Morakniv Companion is the best choice if you're a beginner. It's also the best Bushcraft knife for the money, as it costs under $20 on Amazon.
You can also pick the knife in different colors. It makes a perfect addition to a camping trip, fishing, or hiking adventure.
I've found that the Morakniv Companion Fixed Blade Outdoor Knife is perfect for carving kindling to start a fire and cutting up big chunks of meat when cooking on a campfire. You won't regret picking that Bushcraft knife for your next outdoor adventure.