The Best Kayaks for Under $400: Which one is right for you? Kayaking has become increasingly popular over the past decade, and that's great news for anyone who loves being out on the water. Let's find a Kayak for your next venture. These are our top picks whether you are a beginner or a seasoned kayaker.
My favorite affordable Kayaks
Best Angler Kayak
Fishing rod Holders
Fish finder bracket
12.7 feet length
Best Weight Capacity
650 lb weight capacity
Lightweight
12.5 feet length
Best for Kids
Bright Green
Swim-up Step
6 feet length
Kayak Buyers Guide FAQs
Which type of kayak should I buy: sit-on-top or sit-inside?
Sit-on-top kayaks are the most popular type of kayak. They are lightweight and easy to carry, and many kayakers find them more comfortable than sit-inside kayaks.
Sit-in kayaks are generally easier to paddle than sit-on-top kayaks, but they can be challenging to maneuver in windy conditions. Sit-inside kayaks are easier to roll over and more challenging to get right. Sit-on-top kayaks do not take on water during a rollover, making it simple to right.


What about weight capacities?
If you're looking for a kayak that will take you on your fishing, paddling, and leisure adventures, selecting the suitable weight capacity is crucial. Different kayaks come in various weights and capacities, so it is essential to know what they are before buying.
Make sure the kayak you choose can hold your weight and fit comfortably but also remember to factor in the gear you wish to bring with you also. Will you need fishing equipment? Will you be bringing along your ruck bag for an overnighter? Please consider all factors. If unsure, you can also check the kayak's weight capacity online.
Which kayak is the most stable?
Stability is vital if you're looking for a kayak to let you safely and easily explore your surroundings. A kayak with good tracking and stability will make staying in position while paddling easier, so you can focus on exploring the area around you. Sit-on-top are the best choice for those looking for calmer waters.
If you're looking for a more immersive experience, sitting in a kayak is more adventurous than sitting on top of one. Sit-inside kayaks are excellent for rapids and fast-paced action.
How Comfortable are Kayaks?
If you're thinking of taking up kayaking as a new hobby or activity, it's essential to choose the right kayak. It should be enjoyable to sit in and easy to maneuver. You will most likely be in the sitting position for 2-3 hours or more. That can become miserable if you do not have a comfortable seat.
Most people customize their kayak with padding or cushioning to help with circulation and fatigue. Finally, always choose a kayak that is comfortable for you, or you will be less likely to take advantage of using it often. Kayaking should be fun and relaxing. This will take some trial and error for each person.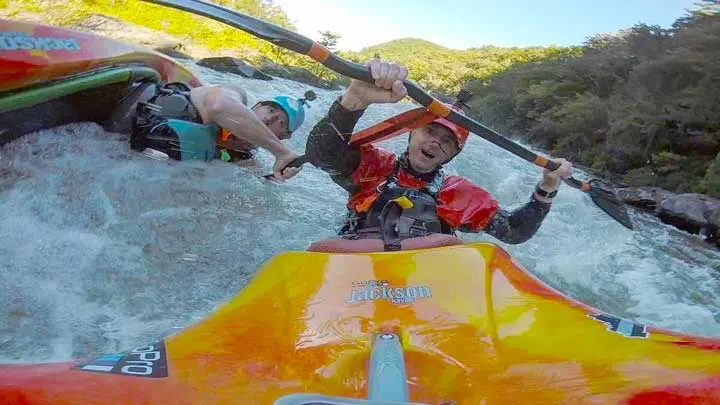 Can you add more seats to your kayak?
There's nothing like paddling out on the open water and taking in the breathtaking views. It is an even more exciting experience when it is shared with others. But before you can kayak, you need to have the right equipment.
Check with the manufacturer before adding seats. Each kayak has a weight capacity and a schematic to balance that weight.
That means ensuring that your kayak is of the correct size and shape for your needs. Be sure to consider the dimensions of your kayak and the number of people you want to transport with you. You can find kayaks in different shapes and sizes, so it is essential to find one that is perfect for your crew and style of paddling.
How difficult is it to paddle the kayak?
Kayaking can be a great way to get in shape and enjoy the outdoors. However, before you can kayak, you need to make sure that your kayak is safe and suitable for your weight, build, and ability. Paddling is not usually a very strenuous activity but can be tiresome when done for more extended periods. Make sure to take breaks and stay hydrated.
What type of paddle do I need?
Recreational kayaking can be done with either paddle-style oars or kayak-style oars.
Paddle-style oars are best for beginner kayakers because they are more maneuverable and less tiring than kayak-style oars. Paddle-style oars usually attach to your kayak on each side and have a flat blade on one end. You have the option of letting go of the oars, and they will stay connected to your kayak.
Kayak-style oars or paddles usually have blades on both ends and do not connect to the kayak. Kayak paddles must be held to prevent losing them. Most kayakers use a paddle leash to secure the paddle to the kayak or their wrist.
Do all kayaks have storage?
There are different types of kayaks for various purposes, such as fishing, rowing, racing, touring, etc. For this reason, the size and shape of the kayak are determined according to the purpose. Some kayaks come with dry storage compartments or cargo nets to hold a waterproof dry bag where you can store your personal items and other gear. Some kayaks do not include any storage options.
How do inflatable kayaks compare to hardshell kayaks?
Some find inflatable kayaks easier to use than hardshell kayaks, especially if you're new to kayaking. Inflatables are usually not as stable as hardshell kayaks and don't have much storage space.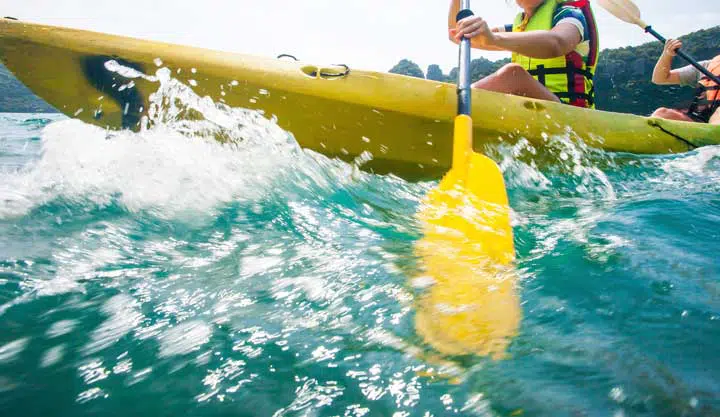 Inflatable kayaks are typically lighter than hardshell kayaks, but most hardshell kayaks are significantly more durable and better built.
Inflatable kayaks have the advantage of transporting because most are light, foldable, and easily packed. Hardshell kayaks require a truck, trailer, rails, or specialized transporting equipment. But if you do not have rails on the top of your vehicle, there are alternatives.
Best Kayaks under $400 reviewed
The Intex Challenger is an excellent option under $400 because it is sleek and streamlined, with a comfortable and compact design. It is a two-person sit-in tandem kayak. On the other hand, the seats are removable and adjustable, so going solo is an option too. It has a roomy cockpit to accommodate up to 400 lbs persons.
The Challenger sit-in kayak makes paddling smooth and easy. It is excellent when teaching new kayakers how to kayak.
With its two 86-inch aluminum paddles and an Intex high output pump for easy inflation and deflation, this kayak is excellent for traveling. Inflated, it is 11.5 ft in length, and when deflated, it weighs just under 35 lbs.
Pros:
Adjustable seating is excellent for one or two people
Quick and easy inflation and deflation
The Boston Cap alleviates the frustration of air leakage while inflating
The inflatable seat can be inflated in the seat and back or just the back if sitting too high is an issue
Cons:
There is a learning curve the first time out using the pump
It takes around 110-120 pumps on the air pump to inflate the entire kayak. Those with diminished abilities may need an electric or battery pump
May inflate one side higher than the other causing you to adjust your weight to correct
Intex Challenger Kayak Inflatable Set with Aluminum Oars is one of the best-selling touring kayaks for a reason. It is affordable and has an easy setup as well as rave reviews. It is also versatile, from a solo to a tandem kayak with lots of space.
---
The design of the Intex Explorer 2 Kayak helps make it stable enough in the water while also looking great too! This sit-on durable kayak is mainly known for its stability and performance. It has a high weight capacity of 400lbs, making it possible to accommodate two adults.
Three separate air chambers provide safety in the case of damage, or a leak occurs. A leak is not likely due to the heavy-duty puncture-resistant vinyl.
Also, for safety, the bright yellow color offers excellent visibility allowing other boaters to be aware you are there. This kayak is lightweight and excellent to get in a bit of fishing back in the nooks and crannies where bigger boats can't navigate.
The removable skeg makes this kayak move smoothly in the water with little effort. Inflated, the Explorer K2 is 10 feet in length and deflated and weighs about 30lbs.
Pros:
Three separate air chambers add safety
Bright yellow color for optimal visibility
Two-person sit-on kayak
It can be used solo
Cons:
Skegs seem to be lost often
No storage net
Weak seams
Explorer K2 Kayak, 2-Person Inflatable Kayak Set, is best in visibility because of its bright yellow exterior. This provides safety from other boaters in the area. The three air chambers also offer security and keep you afloat in the event of punctures or leaks.
---
The Intex Excursion Pro kayak series is built for adventurers who demand the ultimate performance. With a super rigid laminate PVC and polyester core, this kayak is lightweight and highly resistant to abrasion, impact, and sunlight damage.
This versatile vessel is perfect for fishing, floating, and recreation use. The removable and adjustable mounting bracket makes it easy to add additional accessories, such as GPS systems, fish finders, and swivel fishing rod holders. Plus, with extra space in the bow and stern of the kayak with stainless steel d rings for tying down dry bags and gear, you'll have everything you need for a hassle-free outing.
Pros:
Great for Fishing
Plenty of Space for Additional Gear
Can be Manuevered into Remote Fishing Spots
Made for Calm Water
Cons:
Cockpit is Narrow
The seat needs to be more rigid
Cheap carrying bag
Intex Excursion Pro Kayak Series is the best for anglers with all its allowances for fishing gear and accessories. It is fantastic for getting into those places that a larger boat would not dare to enter. The two skeg design allows for excellent maneuverability.
---
Sevylor Quikpak kayaks offer a quick way to get out on the water and enjoy a leisurely cruise. It comes with a sturdy paddle and an easy-to-carry backpack. This foldable inflatable watercraft works just like a traditional sit-on-top kayak, except when you're ready to pack it up and stow it, it folds into its integrated backpack and sets up within five minutes.
The three-air chamber design keeps you afloat in the event of a leakage or snag. And with its tarpaulin bottom, you will enjoy durable protection against scratches and punctures.
You'll want to pack food and supplies in the front cargo net and keep your drink in the handy drink holder. The up to 400lb weight capacity allows it to accommodate big boys.
Pros:
Storage
Backpack system turns into a seat
Cup holder
5-minute setup
Able to stretch out to avoid cramping
Cons:
400lb weight limit may be a little heavy
Paddle quality is lacking
Air pump is challenging for those with diminished abilities
Sevylor Quikpak K1 1-Person Kayak is the best for a solo leisure kayak. It has lots of storage space and a cup holder. It is so versatile. You can explore, fish, or float the river in comfort whether you need the extra weight capacity for yourself or your gear it delivers.
---
This affordable inflatable Sea Eagle Sport Kayak is as lightweight and portable as it gets, yet still remarkably stable and durable. Don't let the lightweight fool you. It's a rugged kayak with plenty of space, rated to hold three people or 650 lbs.
The Sport kayak features a fully adjustable seat and foot braces. A strong, padded seat and backrest give the kayak stability and strength. Each kayak comes with a sturdy, reinforced PVC frame that helps stabilize the kayak during use and storage.
The Sea Eagle Sport Kayak has a heavy-duty, black webbing strapping system attached to the frame and each other. This system is designed to hold the kayak together while transporting it.
The frame also comes equipped with two sets of nylon D rings to attach the kayak to your boat or a dock. The Sea Eagle Sport Kayaks can be inflated in under 10 minutes and deflated and packed in less than 10 minutes.
Pros:
Holds three-person up to a maximum weight capacity of 650lbs
Can secure to a dock easily
Lightweight and affordable kayak
Two skegs for optimum tracking
Cons:
Seats lack structure and comfort
Skegs need to be sturdier
Need better paddles
Sea Eagle 3 Person Inflatable Portable Sport Kayak Canoe w/Paddles is best for weight capacity. It can hold up to 3 people just like advertised. The PVC frame makes it sturdy and durable for those long rides over moderately rough terrain.
---
The Sevylor Big Basin 3-Person Kayak is a good choice for a family trip. You can take your family on their next water adventure in the Sevylor Big Basin 3-Person Kayak and feel the quality and security.
Heavy-duty PVC construction and rugged tarpaulin bottom make it ready for anything from a calm lake to manageable whitewater. Sevylor kayaks are the best kayaks for beginners. The Sevylor Big Basin 3-Person Kayak holds up to 490lbs and is easy to use.
The Big Basin has an adjustable seat, making it easy to customize for different paddling styles. The Big Basin comes with a spray skirt that will help you keep dry. The Boston Valve is a double-threaded system that allows you to inflate or deflate your kayak quickly.
Pros:
Comes with a spray skirt
Three air chambers for safety
Storage behind the back seat
Stable and tracks well
Cons:
Cheap foot pump
Three adults may be crowded
Sevylor Big Basin 3-Person Kayak is the best for tandem adventures. Yes, it is a three-person kayak, and you can definitely go that route, but for tandem rides, there is room for additional gear, snacks, and, if you wish, a couple of fishing poles. It's up to you how you fill it.
---
This kayak is so unique that people are asking you questions about it. It has a rigid form that helps keep you on course. This is a compact, easy-to-use, inflatable boat for a day on the water.
The Advanced Elements Lagoon 1 is a solo kayak with a rigid bow and stern that helps you cut through the waves and keep you on course.
Advanced Elements Lagoon 1 inflatable kayak has many great features, including easy setup and Twistloc and high flow spring valves. It's one of the most durable kayaks available.
Pros:
Good for calm water
Quick setup
Very Stable
Excellent for solo adventurers
Cons:
It is challenging to board and un-board
Not for tall people
Seat back needs more support
Only for short rides and not for choppy water
Lagoon 1 Kayak is best for solo adventurers who like a cool ride. This is for the kayaker with style but also needs performance. This one will get looks and attention but will not sacrifice function and durability.
---
The 6-foot Lifetime Wave is an ideal kayak for kids ages five and up or up to 130 pounds. The sloped back end and swim-up feature allow riders to exit and renter from the water. There are also scupper holes for draining water, including a black double-sided paddle and a soft rubber handle.
The Lifetime Youth Wave Kayak offers balance, safety, and confidence for kids of all ages. Its lightweight construction makes it easy for smaller riders to steer and navigate, and the twin-fin skeg design provides a smooth and stable riding experience. Because it only weighs 18lbs, most kids can transport it to the water without assistance.
Pros:
Kid-friendly at only 6ft and 18lbs
Bright green color for optimal visibility
Swim-up step for re-entry
Perfect recreational kayak for kids
Cons:
It is hard-shelled so transporting can be difficult
No backrest,
Needs side handles
Lifetime Youth Wave is the perfect kayak for young kayakers. The bright green color keeps them visible, and the swim-up step allows them to reenter the kayak from the water safely in case of a rollover. Its width makes it highly stable and easy to master.
What are the best kayaks for under $400?
There you have it, my top 8 best of the best kayaks for under $400. You can have awesome kayaking adventures on a budget. My best of the best pick is the Intex Excursion Pro Kayak Series. I love the versatility. You can take a leisurely float, explore remote places (even caves), and you can go fishing with all the fishing luxuries of your bass boat (excluding the trolling motor). There is plenty of room for a buddy or an abundance of space for a solo mission. All this talk about kayaks and fishing has me pumped up for a trip to the river. See you out there!