Water sports lovers have always loved kayaking in the open sea and through the rapids, but the COVID-19 pandemic seemed to have intensified our desire to be outdoors. This comes as no surprise; the stress of the last two years has many of us looking for relief among nature. Whatever the reason might be, if you're looking for the best touring kayak for your purposes, I've got you covered.
My Favorite Touring Kayaks
Best Overall
600D polyester hull design for UV protection
Perfect for ocean and lakes
Lightweight and easy to transport
Easy to set up, inflate, and deflate
EVA padded seat with a high backrest to ensure rear and back comfort
Best Tandem
1000D reinforced PVC protects against rocks, bumps, and other obstacles
Perfect for beginner and advanced anglers
Rated for class III rapids
Great weight capacity at 400 lbs
Rigid drop-stitch floor suitable for stand-up fishing
Best Performance
High-volume EVO beam flooring suitable for taller and/or larger paddlers
Perfect for recreational paddling in all types of weather
Cockpit drain makes it easy to drain any water
Boston valves offer super quick inflation and deflation
Deck cargo bungee keeps the gear and other equipment dry
What is a Touring Kayak?
Think of a touring kayak as an SUV – extremely versatile, capable, and efficient. With a touring kayak, you can travel long distances in open water, be it a gentle river or white water.
And yes, I know there are kayaks specifically made for whitewater kayaking, but a well-built touring kayak can also meet that need. This means you can paddle your touring kayak pretty much anywhere you want.
Is a Touring Kayak the Same as a Sea Kayak?
Almost. A sea kayak is a type of touring kayak designed with a higher rocker, i.e., the curve from bow to stern. This feature helps it easily handle ocean swells and harsher environments.
It can be sometimes difficult to tell the difference between a sea kayak and a touring kayak, but generally speaking, sea kayaks are longer and narrower than touring kayaks. A sea kayak's enhanced V-shaped design makes it great to deal with choppy waters but it somewhat compromises its stability.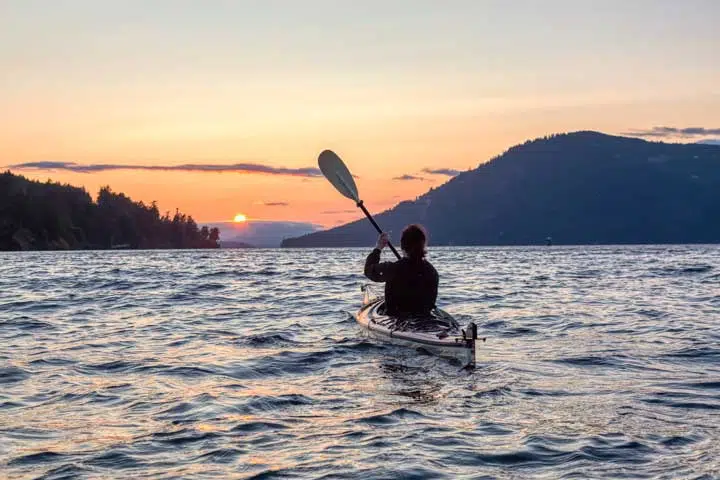 What is the Difference Between a Day Touring Kayak and a Recreational Kayak?
The main difference between the two lies in the hull design. Touring kayaks are longer, thinner, and equipped with features that make them track well in fast currents. Recreational kayaks, on the other hand, don't perform as well in the sea because they are built for stability.
If you're a casual paddler interested in photography, fishing, or a peaceful paddle on protected saltwater, a flatwater stream, or a lake – away from strong waves – a recreational kayak will be a better option for you.
Compared to a touring kayak, a recreational boat has a larger cockpit for easier entry and exit, and a wider beam for additional stability. It also has less storage space compared to a touring boat. Touring kayaks are 1-2 feet longer than recreational kayaks. This extra length means two things –more room to store gear, and easy maneuverability when you want to go in a straight line.
Are Touring Kayaks Good for Beginners?
Yes, they are. When you're new to the sport, the single most important feature you want in your kayak is stability. You probably also want it to be lightweight and easily portable so you don't have to spend a lot of time and effort hauling it from point A to point B. A touring kayak has all of these features and more.
To make sure that the kayak you're choosing is designed to be as stable as possible, look for a pontoon-shaped or flat hull and a wider beam (anything above 28-inches is great).
What's Better: a Sit-In Or a Sit-On Kayak?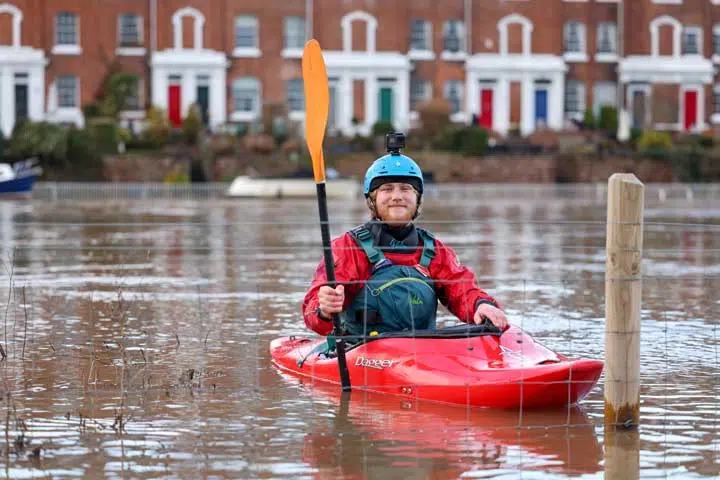 It depends on how, where, and when you plan to use your kayak. Each has its own strength and weaknesses. And before I describe the pros and cons of each, let me clarify one thing: sit-in kayaks are recreational kayaks, while sit-on kayaks are touring kayaks.
The biggest advantage of a sit-inside kayak is that it keeps you protected from the elements. You can fit it with a sprayskirt to keep cold breezes and drips out of the boat. The downside is that they have a super large cockpit which can take in a lot of water in case you flip your kayak. If you're a beginner or you're kayaking in the marshes, you'll have a hard time climbing back into the kayak. This is why sit-in kayaks are best paddled when you're close to shore.
Personally, I prefer sit-on-top kayaks. I mostly go kayaking on my own, so when I capsize, the self-rescuing part is easier. All I need to do to get back in my boat is to flip it back upright and climb back on. Unless the hatch somehow malfunctions (a very rare occurrence), a sit-on kayak doesn't fill with water. You don't have to swim to the shore and empty the boat to get back in action – unlike sit-in kayaks.
If you're a beginner or you have limited mobility, a sit-on kayak is definitely a better option for you.
What Size Touring Kayak Do I Need For My Height?
When you are shopping for a kayak, look for information regarding "volume". Manufacturers tend to sell kayaks in three categories: low, medium, and high volume. This volume indicates the amount of space inside the boat for gear storage as well as for you to sit.
If you are under 5'6" and weigh up to 140 pounds, a low-volume kayak is best for you.
If you're between 5'7" – 5'10" and weigh up to 180 pounds, a medium-volume kayak is best for you.
If you're over 5'10 and weigh more than 180 pounds, choose a high-volume kayak.
Generally, people under 6 feet in height fit perfectly in a standard sit-in kayak cockpit. If you are taller than that, I always recommend testing a 12 or 14-foot kayak to get a feel for the legroom, seat height, and overall fit. Since I am that tall and with bigger-than-average feet, I look for kayaks that have larger cockpit opening length and width.
How Do I Choose the Best Touring Kayak?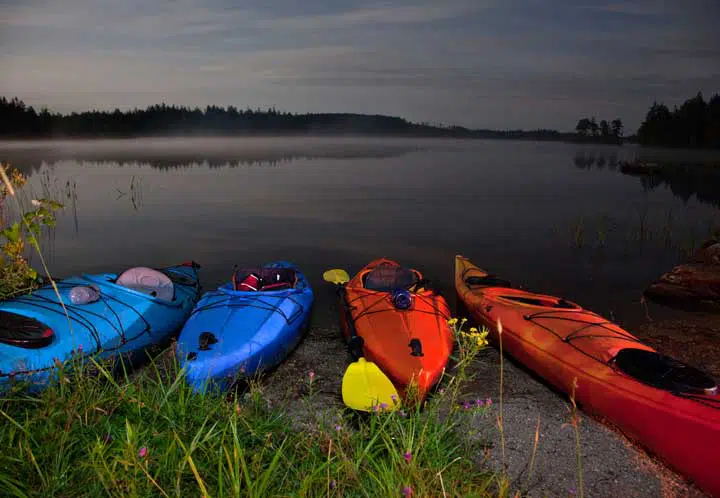 To find the absolutely perfect model for you, you need to consider a few factors:
Your Level of Experience: As I said before if you're a beginner, you want stability over anything else. A slightly wider kayak specially designed for beginners will be best for you.
Materials
Some of the most common materials include polyethylene, polycarbonate, fiberglass, wood, and composite. Polyethylene kayaks are highly durable, lightweight, and cheap. Polycarbonate models have a smoother finish and faster speed, but they are not as durable as polyethylene.
Fiberglass kayaks are quite expensive and provide great strength. Wooden kayaks offer great performance but understandably, cost a small fortune. Composite is a mixture of carbon fiber, Kevlar, fiberglass, and other materials, and offers awesome rigidity and water resistance.
Shape of the Hull
A touring kayak will either have a round hull or a V-shaped hull. The round hull offers great primary stability in flat water but I won't recommend it for open sea. The V-shaped hull is best for kayaking in open sea since it easily adapts to strong currents and waves.
Sinkage Level: This feature indicates the weight that must be put on the kayak to make it sink about an inch into the water. If the kayak is labeled "high-level", it means more stability. Low level means more water might get inside the boat when you're navigating rough conditions.
Rough Water vs Flat Water
Are you planning to navigate sea or rapids? If so, look for a model with a V-shaped hull and a tighter cockpit. If you'll be navigating calm lagoons and rivers, a basic sit-on kayak is all you need.
Primary and Secondary Stability: Primary stability refers to the craft's ability to remain stable when it is resting in flat waters. Secondary refers to its stability when tipped on its side. You may think that as a beginner, you should prioritize primary stability. But it depends on what type of water you're going to be in. Keep in mind that kayaks that are stable in flat water are usually unstable in rough waters and vice versa.
Review of Top 8 Touring Kayaks for 2022
After analyzing dozens of kayaks available in the market right now, I found these 8 to be the best in terms of performance, hull design, stability, comfort, and cost:
Affordable, inflatable, and highly portable, the Intex Challenger K1 comes with a set of 84-inch aluminum oars. If you're looking for a kayak that you can throw in the trunk of your RV or car for a camping weekend, this is a great option. It has a maximum capacity of 220 pounds and a cargo net that can store all of your extra gear. I really like the green and blue color as well.
The package comes with an inflatable kayak, one set of collapsible oars, one skeg (to keep the boat straight in the water), one inflatable seat, one repair kit, one carry bag, one pump with hose attachment, one measuring tape, and an instruction manual.
For those of you who are intimidated by the inflating feature, I have found that it can be inflated in 3-4 minutes even if you are a total newbie. Inflating the other items and assembling the paddle can be done in under 10 minutes. When it comes to deflating, my advice is to approach it like you are rolling air out of an air mattress.
I found the inflatable seat to be surprisingly comfortable and supportive for an inflatable system. And while there is plenty of legroom, if you're over 6 feet tall, it might not be enough for you.
I was initially skeptical about the material because the general consensus is that an inflatable kayak can be easily punctured. Since a lot of my friends like to take their dogs kayaking with them, I was worried about their nails or claws puncturing the kayak but that didn't happen.
Pros:
Made from heavy-duty puncture-resistant vinyl
Only weight about 20 lbs and can fit in a bag
Pumping and assembling can be done in less than 10 minutes
Offers great performance for cruising and tracking
Cons:
Not as fast as hard-shell kayaks
Not ideal for people over 6 feet in height
---
Another salient option from Intex, this Explorer K2 Kayak is designed for two people. This is also an inflatable set that comes with two paddles, a skeg, and a pump. Inflating all the components takes less than 10 minutes.
The heavy-duty materials it's made from are impressive – if you accidentally come in contact with branches or rocks, I am fairly positive it can handle them. Its multi-chamber system means the kayak will stay above water despite loosing air in a couple of sections.
I love this kayak because of two reasons: if you remove both seats, two people can comfortably sit on the floor facing each other and enjoy some quality time out on the water; and secondly, it has a flat hull and detachable skeg system, which means it is very hard to flip. If it does flip over, re-entering is super easy.
The kayak's high sidewalls don't inflate to especially high pressure, making it one of the most comfortable inflatable kayaks. With that said, if you're under 5'6" or you're kayaking with a child, the smaller paddler can find themselves straining to reach the water.
Pros:
Made from puncture-resistant materials
Maximum weight capacity is 400 lbs
Beautiful and well-designed paddles
The skeg attaches tightly yet it's easy to detach
A multi-chamber system
Cons:
It can drift a bit too easily, even with the skeg
The seating area is quite shallow, so taller paddlers may feel awkward getting in and out
---
The Intex Excursion Pro comes in two variants: 1-person and 2-person. Made from laminate PVC and polyester core, this is one of the toughest kayaks I've found. It's lightweight yet highly resistant to damage from impact, abrasion, and even sunlight. To say that Intex Excursion is built to withstand whatever nature throws at you, wouldn't be an understatement.
Another thing I love about this model is just how adaptable and adjustable it is. You can adjust everything from the floor-mounted footrests to the seating pads for maximum comfort. If you are small in height or you're planning to go fishing, the extra inflatable seating pads to raise the seat are a big advantage.
I sometimes like to record my trips, so the removable rod holders and the mount-point near the bow are perfect for me to set up my phone or Go-Pro. You can also use this feature for your fishing trip. Although it is advertised as resistant to punctures, the 3-chamber design means the whole kayak won't deflate under you should a puncture happen.
Pros:
The inward-pointing rod holders make it perfect for fishing
Extremely comfortable seats with extra pads
More than average room for cargo
Cons:
Carry-bag is not the best quality
Smaller paddlers may find the oars uncomfortable
---
This inflatable, backpack kayak has a 250 lb capacity. It is made of 24-gauge laminated PVC and heavy-duty polyester which means it actually performs decently well when you take it out on the water. I like that it comes with a couple of skegs on the bottom so you are not swinging back and forth with every stroke.
As a clunky-looking kayak, the Quikpak is pretty stable. It also has a spray skirt to help you keep out the water, whether from minor waves or paddling. The bottom section of this kayak is also reinforced to help safeguard the hull's underside from punctures if you're kayaking in the shallows.
What I don't like is that the upper portion of the external fabric layer is not water-resistant. This means it takes on water, increasing the overall weight of the kayak as you keep paddling. It also makes rinsing and drying this kayak more of a hassle.
That being said, I like the build quality more than I expected. The bottom is really thick so even if you accidentally scrape against some branches or rocks, the kayak is not likely to be punctured. If you're looking for a durable touring kayak to take with you on trips but don't want to use a rack on the roof, this one is a fabulous option.
Pros:
Has a backpack design and only weighs 23 lbs
The reinforced PVC bottom makes it extremely durable
Enhanced stability makes it perfect for beginners
Size is perfect for tall paddlers (i.e., taller than 6 feet)
Cons:
The external fabric is not waterproof
Paddle design is not very comfortable
Drying the kayak is a bit time-consuming
---
This is an ultra-stable, lightweight fishing kayak with all the bells and whistles an angler may ever need. It is made from high-density polyethylene, which means it can withstand just about anything from a durability perspective. The material is UV-protected, so you can spend the entire day in the sun without worrying about damage.
It comes with an adjustable padded seat cushion and seatback, a paddle, a top-mount fishing rod holder, and two flush-mounted rod holders. When you're sitting in a kayak for hours, you want the seat to be comfortable – and that's exactly what these padded seats are.
This Lifetime fishing kayak has several footrest positions as well, in addition to ample storage capacity. If you want to add your own fishing accessories to the boat, there's enough space for that.
Another thing I like about this kayak is that it's just 10 feet long – small enough to maneuver easily, yet there's enough legroom to stretch out when you want to.
Pros:
It comes with a 5-year construction guarantee
The UV-resistant coating protects from fading
Chine rails on its hull prevent the kayak from flipping
Affordable compared to most fishing kayaks
Lots of storage space
Cons:
The seating pad could be thicker
It's not designed for high-top speed or sharp turns
Heavy for one person to lift alone
---
This is a touring as well as a recreational kayak, which means it's designed for both choppy and calm waters. Covering long distances with long glides comes easy with the Driftsun Almanor.
As I was going over the kayak's design and the components included, I couldn't help but think this is a really well-thought out boat. You can quickly and easily repack everything into the carry bag, which, by the way, is big enough to carry your life jacket and some other stuff too. You can inflate, assemble, and get on the water in less than 15 minutes.
The side tubes are particularly wide, which means you don't have to worry about the kayak tipping over when getting in and out. The seats have plenty of padding so back support is top-notch too. Plus, depending on how straight you want your back, you can adjust the seat.
It is available in 3 variants: blue (2-person and 1 child), green (2-person), and yellow (1-person), and all of them look very stylish. Another notable feature is the removable skegs which make the boat easy to paddle in a straight line.
Pros:
Adjustable padded seat with high back support
Hull is made with 600D polyester for UV protection and long-life
Adjustable footrests offer a sturdy base to brace against when on the water
Includes a spacious travel bag
Cons:
Those with wider hips might find it a tight fit
---
This is an inflatable, rigid kayak with all the features an angler may want. Its drop-stitch floor is a perfect fishing platform no matter how you want to cast – seated or standing. The Elkton is a tandem kayak, which means it's designed for two people.
The sturdy floor also means you can stand on without the fear of tipping over. The steelhead kayak also provides protection against punctures in rough waters. I like that it has a spray shield on the front bow to keep the splashes away.
Every fishing kayak worth its salt comes with ample storage space and the Elkton Outdoors Steelhead is no different. You won't have to worry about catching "too much fish"; there's plenty of space for all of your gear and equipment. The boat has two storage spaces – one is a bungee cargo area, and the other is at the bow and stern.
If you and your kayaking partner are of different heights and weights, the adjustable EVA seats can be moved to accommodate your varying needs. The package also includes 5 rigid modular equipment mounts, which make it easy for you to fit the boat with bait trays, downriggers, and rod holders.
Pros:
It comes with several extra accessories for best angling experience
It can handle up to Class 3 and 4 rapids, guaranteeing your safety in any weather
Allows for casting while standing without losing balance
Multiple storage options
Customer support is super fast and efficient
Cons:
The paddle might be too short for some
The user manual is not detailed enough
---
This is a high-end kayak equipped with advanced features like a weedless fin for better tracking and paddle keepers for hands-free access when you're not paddling. If you want to experience the fun of a fast river, this is the kayak for you. The Aquaglide is designed for both touring and recreational paddling, which means you can use it as a fishing kayak, family kayak, or just to relax at the beach.
It's one of the most versatile watercrafts I've ever come across in this price range. Be it heavy winds, rough seas, or any other environmental challenge, the Noyo 90 can withstand it all. Other features include an integrated cup holder and a paddle lock to keep your stuff safe.
Now let's talk about its sturdiness. Simply put, the Noyo 90 is insanely solid yet light as a feather. The polyester material is very tough and can handle a lot of scraping (from gravel, branches, and rocks) when you're out in the water.
Hook and loop straps are connected to the bottom seat across the fully-covered floor. This provides impressive adjustability while keeping the seat firm when you're paddling. There's a drain plug in the floor which makes cleaning and draining the boat super easy.
One of the biggest factors I don't like about this is the lack of room. If you're taller than 5'5" or weigh more than 150 pounds, you'll have a hard time sitting in the cockpit comfortably.
Pros:
Extremely lightweight, making it easier to carry and swerve alone
Sprayskirt is included for winter kayakers
Both primary and secondary stability are perfect
Inflating and deflating is very easy
Cons:
Pump, paddle, and personal floatation device (PFD) are not included
The kayak zippers are not waterproof
Strictly for one paddler; two-paddler variant is not available unlike other options
Not enough legroom
What are the Best Touring Kayaks?
Now that you've had a chance to look at some of my favorite touring kayaks, you'll hopefully have a concrete idea of what to look out for when purchasing one. Just keep in mind that a reliable touring kayak is one that allows you to stay out on the water for extended periods.
So, some of the features you should be looking for are adjustable seating (preferably with high back support) and greater storage space. It should also be responsive with outstanding tracking performance. I'd say that all of the kayaks mentioned above fit this bill to a degree, some better than the others. The one boat that ticks all the boxes – for me at least – is the Driftsun Almanor Inflatable Recreational Touring Kayak.