Not all cars have rails on the roof, but this doesn't mean you can't enjoy your outdoor hobbies. It's not that hard to find a kayak rack for a car without rails and install it yourself. I've tried several different racks and here are the ones I preferred.
The Best Kayak Racks
Buying Guide
Knowing that you can install your own kayak rack for a car without rails is only half the battle. There are different types of racks on the market, so you need to know what you're looking for.
How to Choose the Best Kayak Racks
There are different types of kayak racks, so you want to choose what's best for your needs. When you're installing a kayak rack for a car without rails, your options include foam blocks, inflatable tubes, or metal crossbars.
Foam Blocks
Foam block kayak racks strap to the roof of your car so you can remove them easily. Place the foam blocks on the car, adjust the straps so they're secure, and set your kayak on top. Secure your kayak into place and you're good to go.
Buying foam block racks is a great choice if you don't want to permanently install something on your car. They're also really affordable and durable. The downsides are that you can only haul one kayak at a time with foam blocks, and you can't drive too fast when you're loaded up.
Inflatable Tubes
Inflatable tubes strap to your car like foam blocks, but they're more portable. You can deflate them and pack them away when you don't need them. They're more expensive than foam blocks, but they don't take up much space.
Because this type of kayak rack is inflatable, you have to be careful with them. They can rip or get holes like any inflatable item. On the plus side, they provide a great cushion for your kayak.
Metal Crossbars
Metal crossbars are the most expensive option if you're buying a kayak rack for a car without rails. They look like the rails that come on cars from the manufacturer, but you install them yourself.
You can buy metal crossbars that drill into your car's roof or attach with straps. Drilling is more secure, of course, but it's also permanent. Using straps is secure enough to drive with your kayak on your car, and you can transport multiple kayaks with additional accessories.
What Are the Advantages of Kayak Racks?
You don't need a kayak rack to haul your kayak around, but it makes things easier. If you have a hatchback or truck, you have plenty of space to load in your kayak. You can hook up a small trailer to tow it behind a car or bike. But since you can buy a kayak roof rack for a car without rails, it's a simple solution.
Securing your kayak to the top of your car is the safest way to transport it. Rails give you something to attach the kayak to and ensure it doesn't shift when you're driving. This method also keeps your car streamline so you don't lose speed or waste gas.
Kayak racks are not only safe, but they're secure for other gear, too. If you love the outdoors, you probably have plenty of things you regularly transport. Instead of loading up your backseat and trunk, you can secure larger items, like a tent, to the kayak rack.
Things to Look For
When you're buying a kayak rack for a car without rails, you want to consider three key things: ease of use, durability, and cost. Knowing what you need and what it takes to install and use helps you find the best kayak roof rack for a car without rails.
Ease of Use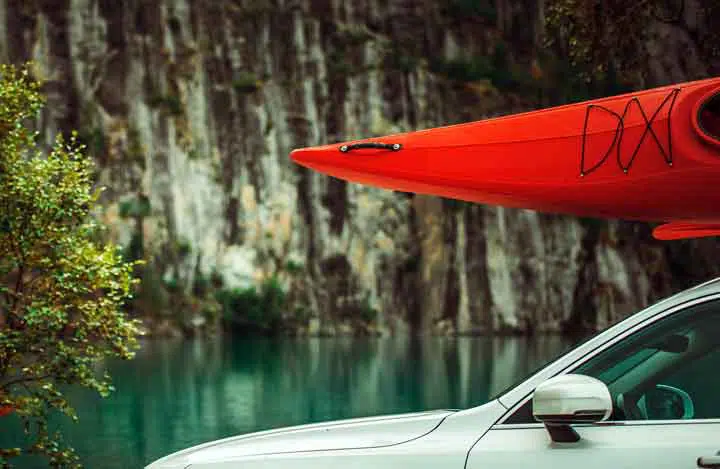 Some kayak roof racks require that you drill into your car. This method requires more work and can damage your car if you're not the handiest person. If you know that you want a permanent kayak rack, you might prefer to drill into the roof since you'll only have to install everything once.
But you don't have to make a permanent change to your vehicle. Racks that have foam pads are the easiest to install. Suction cups are another good choice for something easy to put up and take down.
Inflatable racks are simple, too, but whenever you take down the rack, you have to deflate it and inflate it again later. Unless you have impressive lunch power, you might have to haul around an air pump to make this installation easier.
Durability
The racks that are easier to install might not be as durable as the permanent options, so you have to decide what's best for you. If you're constantly taking the kayak rack off and re-installing it later, the parts might wear out.
Cost
Cost also factors into things. You might want an inflatable kayak rack so you can easily install and remove it as needed. It's cheaper than a permanent option, but you also have to look towards the future. You need to be careful with an inflatable rack or you'll end up tearing it and buying replacements, which can add up over time.
Kayak Rack Reviews
After finding five of the best kayak racks for cars without rails, I went through and labeled them all. This list will help you find the best kayak rack for your needs.
The aluminum racks have a finish to prevent rusting. The tops of the bars have padding so you won't damage your kayak. Due to the size of these kayak racks, as well as their finish, you can haul other gear too, like lumber, ladders, and camping supplies.
The racks themselves are lightweight so you won't have a problem hauling other items. Before loading up your vehicle, it's best to check your maximum load limit to make sure your motor can handle the weight.
And if that wasn't enough, Spring Creek proudly manufactures all of its merchandise in the United States. When you buy from them, you're supporting your country. Keep in mind that you have to buy each rack separately, so get two.
Pros
Holds two kayaks at once
Attaches with suction cups or straps
Lightweight aluminum won't rust
Made in the USA
Cons
Sold individually, so you must buy two
Most expensive option on the list
Inflatable kayak racks are one of the most convenient items on the market. They're easy to inflate and secure to the roof of your car. They have straps that thread through your windows to give your kayak a sturdy base.
When you don't need the HandiRack, you can deflate them and fold them down into a tiny package. This is a perk when you're carrying other outdoor and camping gear. The last thing you want when you're trekking through the woods is a bulky item in your pack.
HandiRack includes a pump to inflate the racks quickly. True, this is an additional piece of equipment to bring on your trip, but it's worth it. The pump inflates the racks quickly and you can save your breath.
Though it's inflatable, it's strong enough to support up to 175 pounds. This particular manufacturer even includes the stern lines for you to attach your kayak to the rack.
Pros
Easy to inflate and deflate
Packs down to a small package when you don't need them
Includes stern lines to attach your kayak
Very affordable and convenient item
Cons
Can only handle one kayak at a time
Makes noise if you're driving at a high speed
Going inflatable isn't your only option for a soft kayak rack. The foam rack by Alfa Gear is lightweight and protects both your car and your kayak during transport. When you're not using them, they fold up so you can store them in your trunk or out of the way.
Though it's made of foam, this rack can handle up to 200 pounds of gear. They strap to your car roof through the windows and you tighten them to prevent noise and drag when you're driving.
You can buy an entire package of gear so you're ready to go as soon as you strap on the kayak rack. It includes the straps for the rack, long rope to secure the kayak, and hood and trunk tie-down straps.
Pros
Foam protects your car roof and your kayak
Can handle up to 200 pounds of gear
Folds down for easier storage
Doesn't create noise or drag during transport
Cons
Not as portable as the inflatable option
Pulling the straps too tight can cause them to snap
The Malone Downloader Folding Rack looks high-tech compared to the previous options, but it's just as simple to install and use as any others. These steel racks won't rust when exposed to the elements, so you can leave them on your vehicle at all times.
If you do decide to take them off and on as needed, you won't have any trouble. They securely attach to your car with straps. For cars that already have rails, you can still benefit from these racks. They attach to rails with mounting hardware that won't add bulk when you drive.
The folding elements on these racks give you the option to secure various gear in many ways. They remind me of the gear loops on backpacks, so you're sure to find the best way to haul your supplies with this rack.
Pros
Big enough to haul three kayaks of different styles
Rails have padding to protect your kayak and gear
Folds down when not in use for streamline driving and low clearance
Attach with straps for easy install and takedown
Cons
Doesn't come with straps or tie-down rope for your kayak
One of the more expensive options on the list
You don't have to break the bank to add a kayak rack to your car. The Orion Motor Tech option offers a soft rack at a low price. These foam racks attach to any vehicle with long, secure straps. Both the pads and straps are soft enough to prevent scratches or damage to your vehicle.
Since this rack is foam, you won't hear noises as you drive. They allow your kayak to fit tightly for a more streamlined drive. Unfortunately, no kayak straps come with this package, but it's so affordable that it's no big deal to buy separate straps.
Pros
Soft rack won't damage your car or gear
Comes with extra-long straps for easy installation
Can hold up to 165 pounds
Most affordable option on the list
Cons
Looks bulky on your car roof
Doesn't fold down to a portable size
What Is the Best Kayak Rack for a Car Without Rails?
The best kayak rack for a car without rails is the Spring Creek Manufacturing Suction Cup Rack. The sturdy metal racks have padding to protect your kayak. They attach to your car's roof using suction cups, making them the easiest option to put on and take off.
While they're more expensive than others on the list, this rack is worth the investment. You don't have to worry about them deteriorating over time. You can leave them on your roof permanently without drilling into the car. The Spring Creek rack gives you the most flexibility of any kayak rack on the market.