Kayaking is an amazing sport and one that is welcoming to beginners. Anyone can have fun paddling out in nature and there are always more skills to learn to take your kayaking to the next level too. It's an outdoor activity that's versatile, allowing you to explore lakes, rivers, and oceans while focusing on performance, simple play, or even fishing.
Today I review the best affordable kayaks for beginners. Whether you're looking to grow in the sport or you just want to be able to play on the water on a cheap kayak, I'll help you find an option that fits your goals. Maybe you plan on fishing from your kayak, finding solitude on the water, or eventually exploring the open ocean. Let's start by answering some of your general questions in my beginner kayak buying guide and then move on to reviews of 3 different boats to consider whether you're kayaking in Florida or the mountains of Colorado.
My Favorite Affordable Kayaks for Beginners
Best Performance
Durable
Hybrid design
Performance
Most expensive
Best Price
Affordable
Attractive
Not high performance
Not incredibly durable
Best Value
Maneuverability
Lightweight
Durable
Harder to learn on
Beginner Kayak Buying Guide:
This beginner kayak buying guide talks through the different types of kayaks, which ones you should consider, and how much you should be planning to pay. This guide will answer some questions that come up when you start looking at the different kayak options out there from sit-on to sit-in to cheap kayaks to reliable brands. It's helpful to have a general idea of the scope of kayaking so that you can narrow it down to what matters to you.
What are the different types of kayaks?
First off, when it comes to different types of kayaks there are either sit-in or sit-on-top kayaks. It's just like it sounds where you're either sitting on top of the boat or you're sitting inside it and the boat is around you.
Either type of boat can be used in most conditions but a sit-inside kayak will require a skirt for whitewater rivers or open oceans so that you don't get water in your boat. A skirt is a cover for the hole where you are sitting in your kayak and it's designed to keep the water out of your boat.
Kayaks are also often designated by sport. You might have heard of sea kayaks, river kayaks, whitewater kayaks, and fishing kayaks. Don't get confused by the various categories of kayaks, the different types are designed for different specialties which for beginners doesn't matter as much as it does for white water kayakers.
What is the difference between a sea kayak and a regular kayak?
A sea kayak is a sit-in kayak that's designed long and fast for traveling far distances. Therefore, a sea kayak is limited in its maneuverability because it's so long it is hard to turn. A sit-on-top kayak is also good for the open ocean because it is so stable but it's not as fast as a sea kayak because it's not as long.
Are sit-in or sit-on kayaks better for beginners?
Traditionally, a sit-on-top kayak is considered better for beginners because of the ease of use and excellent stability but don't discount the sit-in kayak as an option. Sit-in kayaks are maneuverable and if your long-term goal is to learn how to paddle efficiently and effectively, choosing a sit-in kayak can help teach you more awareness and balance.
Beginners will nevertheless be concerned about stability and comfort. The sit-on-top style of kayak is most stable initially and might feel more comfortable in rough water. However, the sit-in kayak is faster and lighter which can have advantages too.
A faster boat can be more fun to paddle, I certainly don't like being left behind when I'm paddling with friends. And a lighter boat can be less hassle to transport to and from the water especially if you're going paddling alone and need to be able to transport your boat, which brings us to another option, the inflatable kayaks which are often the lightest kayaks.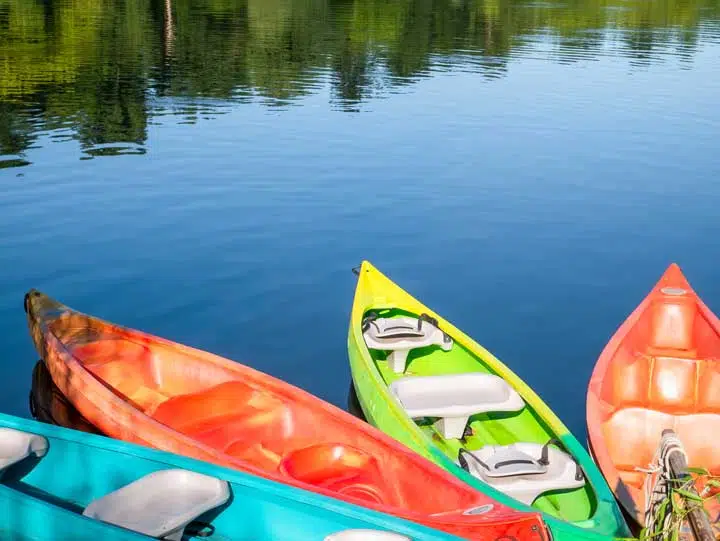 Are hard shell or inflatable kayaks better for beginners?
Inflatable kayaks are becoming a popular choice for beginners because they are often lower in price and easier to store and transport. Hardshell kayaks are often more durable for rough waters, however, inflatable kayak design is constantly improving. Lastly, inflatable kayaks can sacrifice some maneuverability since their shape is less defined.
Essentially, both hardshell and inflatable kayaks can be considered for a beginner kayaker especially if you will mostly be on flat water. You'll want to factor in how you plan to store and transport your kayak and what your kayaking goals are. Some people would rather not have to inflate and deflate their kayak every time while others prefer that to figure out how to get the kayak on their roof rack.
Therefore, if you're looking for a lightweight kayak, it's worth checking out inflatables. However, as you'll see in my review there are some lightweight hardshell kayaks out there too.
How to Choose the Right Size of Kayak?
When it comes to size, a beginner should buy a boat that's around 10 feet long and 2-3 feet wide. When you're learning you won't be as particular about the length so 10 feet is a good ballpark to ensure the boat isn't too short, too long, or too heavy. Longer boats are designed to go faster while shorter boats are more maneuverable so you're looking in the mid-range.
When determining what size kayak you need for your height and weight you'll want to make sure that you will be comfortable in the boat. If you're concerned about legroom, you can always consider a sit-on-top style boat. If you are concerned about your kayak accommodating your weight you will also want to pay attention to the stability of the boat because that may be a factor of how tippy it feels for your size.
Other things to look for when considering kayak fit would be a comfortable seat, an adjustable seat, a roomy cockpit, and adjustable foot braces. Those small changes can have a big impact. Adjustable footrest position for example can also make a kayak more versatile in order to fit more than one paddler.
What other gear will I need?
Once you select your kayak you'll also need paddles and a personal floatation device known as a PFD. If you end up with an inflatable kayak you'll need a pump as well. Beyond that, your gear list will vary based on how technical you get with your kayaking, get started with our how-to kayak guide.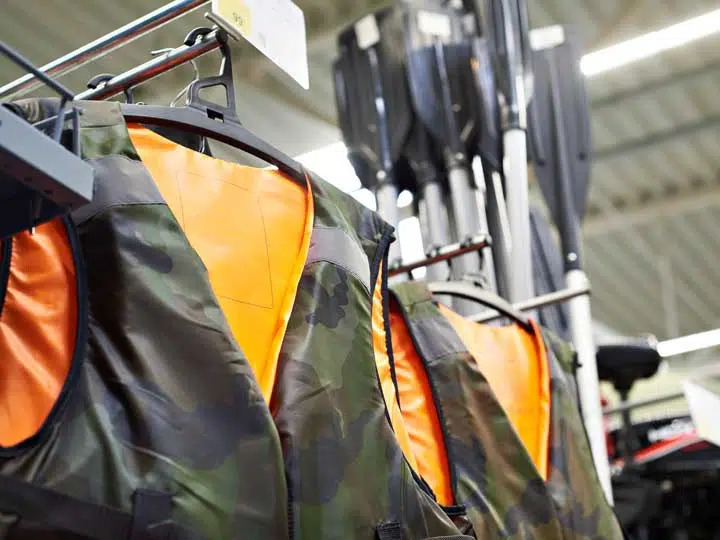 How much should a beginner spend on a Kayak?
A beginner should look to spend anywhere from $125 to $700 on a kayak. Obviously, there are more expensive kayaks on the market that will bring you higher into the $1000 to $2000 range. However, when you're just getting started you can get a solid boat in the $400 range or something to mess around on for $200.
Kayaking can be an expensive hobby as you get more particular about your gear but as a beginner, it can have a low cost of entry. Kayaking is a great sport for being outside on a lake and enjoying time in nature. Even a lower quality and inexpensive boat can provide a high amount of joy and connection to the outdoors.
It's worth buying a cheap kayak to lower your overall financial commitment to a sport you're still learning about, however, if you want maneuverability and durability over time, you might want to consider a compromise. In this review I'll discuss various options for level of investment and you'll see that it will come down to your long-term vision for kayaking.
Essentially, you don't want to buy a cheap kayak that you'll be immediately wanting to replace with something better. And you also don't want to spend a fortune and then find out you don't like kayaking. Let's take a look at some options and see what you think.
Review of Best 3 Affordable Kayaks for Beginners
The Advanced Elements AdvancedFrame Inflatable Kayak is about $650 making it the highest price tag in this line-up. If you're just toying with the idea of getting into kayaking, this may not be the option for you. However, if you want a durable and high-performance kayak that will go the distance as you expand your skills it's with taking a look at this boat.
The boat is 10'5" long and 32" wide. It weighs 36 pounds and accommodates one person. It folds down to 30" x 17" x 10" and is an inflatable kayak that fits into its own little duffle bag for transport.
Performance becomes a factor the more you are on the water because you'll want to go greater distances with more accuracy. Thus, Advanced Elements took performance into account when designing this boat. It's an inflatable kayak which is great for convenience but it has an aluminum rib frame and rigid panels which means it excels at performance too.
The hybrid design gives this boat more performance with its inflation chambers and a skeleton frame of sorts that gives it the AdvancedFrame name. The frame gives the boat more shape and this helps you maneuver the boat which honestly makes kayaking more fun. The kayak also touts durability due to multiple layers of material.
Essentially, this is a portable kayak that paddles more like a hard shell which makes it a great choice for beginner paddlers that plan to increase their skills and therefore want the maneuverability that comes with a better boat. It's an inflatable kayak which is a popular choice for ease of transport to and from the water but the great design means it also excels in the water.
Pros
Durable
Hybrid design
Performance
Cons
---
A beginner looking for an affordable kayak can get a lot of fun on flat water for around $125. Yes, that is seriously the price of the Intex Challenger Kayak Inflatable Set complete with two Aluminum Oars. There's also a one-person option for under $100 or you can get the set with the electric pump for still less than $300.
This boat is 11'6" long and 30" wide and weighs 35 pounds. As I mentioned, it comes with 2 paddles, a carry bag, and a hi-output pump or you can go for the electric pump upgrade. The seats are adjustable and there's a cargo net for storage as well as a removable skeg.
This boat gives you all the benefits of an inflatable kayak. It's stable, easy to store and transport, and easy to learn to use. The skeg, or fin, is helpful in steering and maneuverability but even with it, this boat won't turn on a dime.
A beginner kayaker looking for an affordable boat for family fun, leisure, or to get a feel for the sport will love the price of the Intex Challenger. It's a low commitment price tag. However, if you end up loving the water and want to actually be able to get around you'll likely end up investing in a higher-performance boat.
In this boat, you can go out on the water, but what you'll be able to do once you get out there is limited. It's not fast or easy to steer or in any way a high-performance boat. However, beginners might not care about that yet and at this price, you can't really lose with this inexpensive kayak.
Tandem kayaks can also be really fun because you can paddle with a friend and share the experience with someone else which is something I really enjoy. Calm waters and an affordable price make this choice easy if you're on a tight budget and in the market for one of the cheapest models.
Pros
Cons
Not high performance
Not incredibly durable
---
The Pelican Maxim 100x Recreational Kayak is a solid choice for beginners looking to learn and grow. This hard-shell yet lightweight boat is easy to transport and the performance of the kayak quickly teaches you how to maneuver where you want to go.
The Pelican Maxim 100X Sit-in Kayak is right around $400. This boat is just under 10' long and 28" wide. It only weighs 36 pounds which makes it really easy to transport for a hard-shell kayak.
This kayak is maneuverable which might take some getting used to but you'll appreciate the learning curve. If you just want to noodle around on a lake you might not need this boat. However, if you really want to learn how to be a proficient paddler you'll appreciate learning on this one.
It might feel tippy at first but you'll come to appreciate the awareness of where you are in the water. In time, you'll come to see that the responsiveness of the boat becomes an asset even if it doesn't initially feel like a stable kayak. Learning to balance in the boat will help increase your paddle skills making this a great budget touring kayak which I really appreciate as the more I explore the more I want to be capable.
This is not an inflatable kayak so you'll have to have somewhere to store it and some way to transport your kayak. But as I mentioned, it's so lightweight that it's still a fairly hassle-free option and an excellent choice. I really like the value of this boat for the beginner who is excited about learning to paddle.
Pros
Maneuverability
Lightweight
Durable
Cons
---
What is the best affordable kayak for beginners?
Choosing a kayak comes down to a matter of priorities and purpose. If you're looking for both affordability and maneuverability, the Pelican Maxim 100x Recreational Sit-in Kayak is the clear winner in my mind. At right around $500 it's an affordable option for a boat that will allow you to learn and grow in the sport of kayaking.
If you're just looking to noodle around and want an affordable playful boat, the Intex Challenger Inflatable Kayak is an obvious pick for the easy-going kayaking experience. And, if you're looking for a high-performance and durable inflatable kayak instead, then the Advanced Elements AdvanceFrame is a solid choice and would be enjoyed even by experienced paddlers.
Since the Pelican Maxim 100x is so lightweight, the advantages of the inflatable kayak aren't as important or critical here. While one of the luxuries of the inflatable kayaks is to be able to throw them in the car, it wouldn't be hard to dial in a routine for putting the Pelican Maxim on top of your car. Additionally, durability isn't as much of an issue with the hard shell so the AdvanceFrame design that you're paying for with the Advances Elements option may not be necessary or worth the extra cost if you're on a budget.
All of these boats are excellent options for the beginner paddler and your decision will come down to your budget and the type of paddling you hope to do now and in the future. Since they're all within the $100-$700 price range, they are all reasonably priced kayaks to start with so get out there and paddle!