I bought a kayak. What is the best way to transport it? I got you. This article has the answers to your transporting kayak questions.
I bought my first kayak, took it out to the river, and fell in love. It hooked me. There is nothing better than being on the water and allowing it to propel you into an adventure. I hit a snag when trying to find the best way to transport my kayak. I also figured out that kayaking is better with family and friends. How could I transport multiple kayaks? I had to find answers.
Transporting a Kayak isn't as simple as a How-to. There are many factors to consider. Let's explore some options and some facts.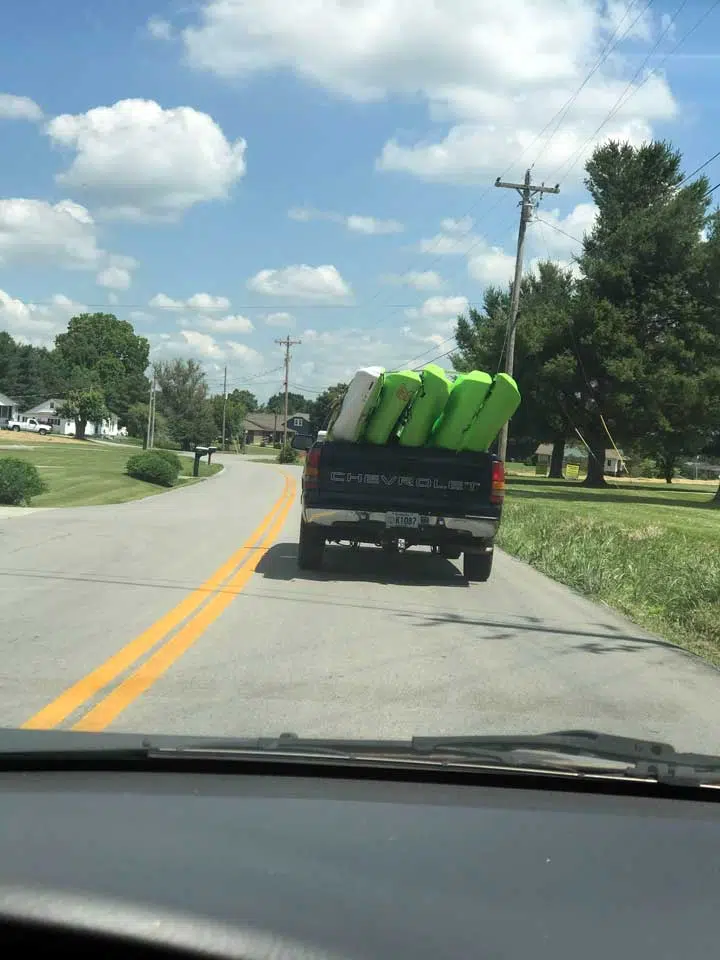 FAQs
How do you transport a kayak without a rack?
It is not advisable to transport your kayak without any barrier between the kayak and the roof of your vehicle unless you have a soft-top vehicle such as a Jeep. It is possible to transport a kayak on top of your car or SUV without factory roof racks. You can install aftermarket roof racks. There are lots of manufacturers and styles to choose from. You can also find them in every price range. Foam blocks are another economical solution. These are placed under the kayak hull to provide a barrier. With this method, ratchet straps become vital. Some kayak enthusiasts have found DIY ways to haul their kayaks. I can't comment if these DIY roof racks are an efficient method.
Is it better to transport a kayak up or down?
There is a lot of debate on how to transport a kayak up or down. Both ways can be correct. There are some questions to answer to determine what's suitable for your kayak. In all cases, you should transport kayaks constructed from composite materials upside down to inhibit the tension in the tie downs from warping the hull and resulting in cracking. You can transport kayaks made from plastic-type textiles in any position appropriate for your vehicle or the type of carrier system available. Plastic-type kayaks are more resilient and easier to transport.
How do you travel with a kayak?
There are many ways to travel safely with a kayak. From racks to trailers transporting a kayak has become easier as the sport has grown. Selecting the proper gear for your vehicle and situation takes a little research.
Checking the laws
Different countries and states all have laws about transporting all types of materials. Some laws may apply to the kayak trailer as well as the length of overhang and height. Please make sure that you are familiar with your area and the areas you will travel through and to. If you are unsure, you can check with your local Department of Motor Vehicles. Checking this and complying will prevent any legal issues from damping your adventure.
Verticle Racks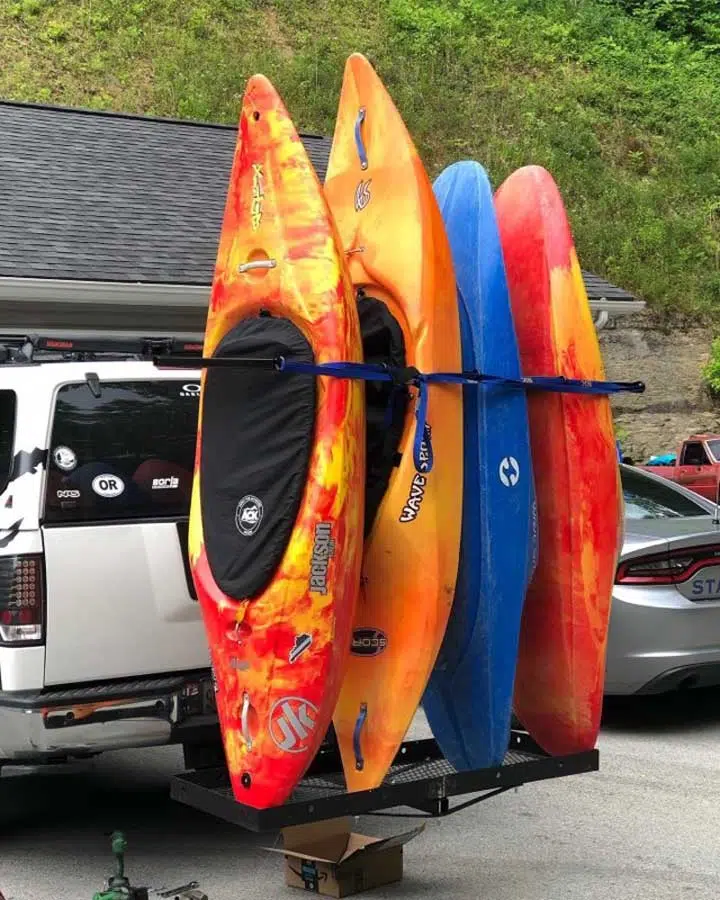 A vertical kayak rack mounts uprightly against the rear of your RV. If you have a Class A or fifth wheel camper or van, this is a superb choice. It can also be an option for those traveling in an SUV. Both of these racks mount straight to your hitch. Essential to note that it is advisable that your receiver should be frame-welded to support security. Typically vertical racks are installed to two-inch hitch receivers.
Rooftop Racks to Carry Kayaks
Rooftop racks could be an outstanding selection if you drive a car, lower-profile vehicles, smaller Class C RVs, smaller campers, Vans, and pop-ups. Please consult your owner's manual to utilize your factory roof rack best.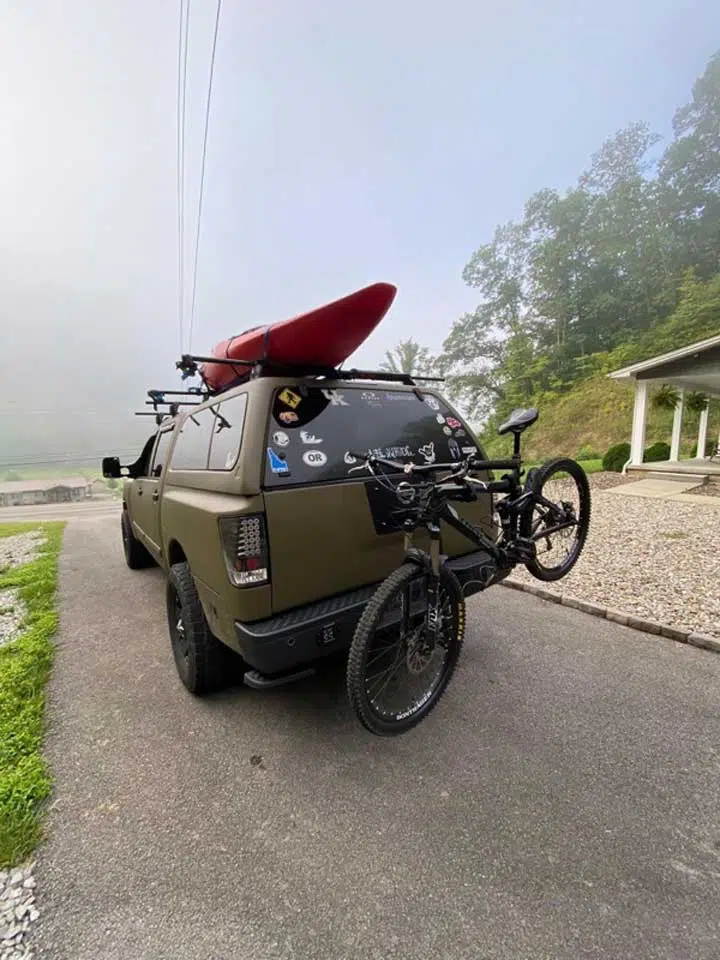 Truck Mounted Racks
You can also fasten a truck rack to your pickup truck. This type of rack installs over your truck bed and might be a convenient transport option if you need space for extra gear in your pickup truck bed. Tie-down straps are still necessary. A crossbar added to your truck's cab is imperative, in addition to an aft mounting rack to support your kayak.
A truck mount provides you with the ability to transport several kayaks at one time. And more alternatives if you use your truck to access the river after setting up camp. Also, study your environment. Often we place our kayaks in the water in isolated rough terrain that we are not able to access in an RV or a vehicle without four-wheel drive.
Kayak Trailer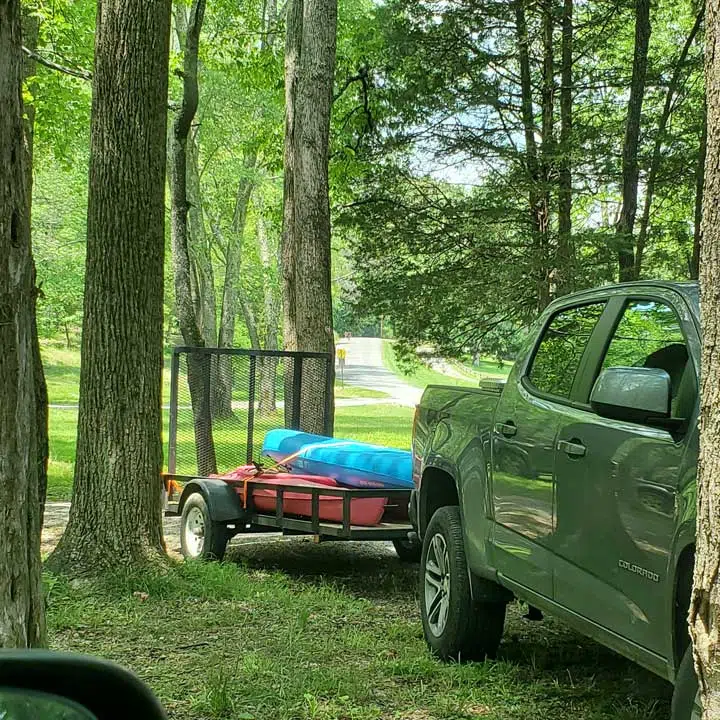 A kayak trailer or even a utility trailer is excellent if you own several kayaks. A fantastic aspect is most kayak and utility trailers can be tailored to carry diverse types of toys, including kayaks, paddleboards, surfboards, and bikes. A kayak trailer keeps loading and unloading an easy job. Kayaks can scope from 20lbs to over 100lbs prior to customization and loading your gear.
Truck Bed
Stacking kayaks in the back is pretty simple for those with a full-size truck bed. Make sure you do add bungee cords or ratchet straps for added security. You can get several kayaks into one truck bed if you are good at puzzles.
How to transport a kayak with a Jeep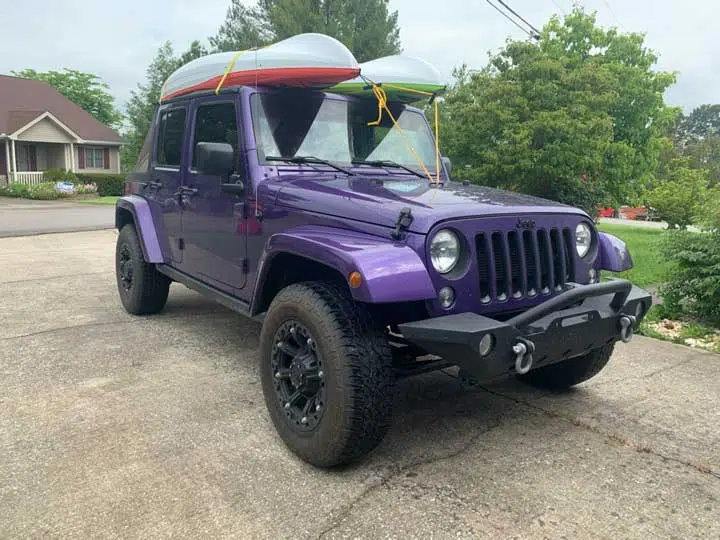 Jeeps are very popular with outdoor enthusiasts. Jeep owners love the freedom to take the top off and cruise or put it in a four-wheel drive and explore the backcountry. Taking your kayak along is not a problem. You can secure your kayak to your soft top without rails. They can also be placed in the Jeep the same way you do in a truck bed. Make sure you always secure everything.
Truck Extender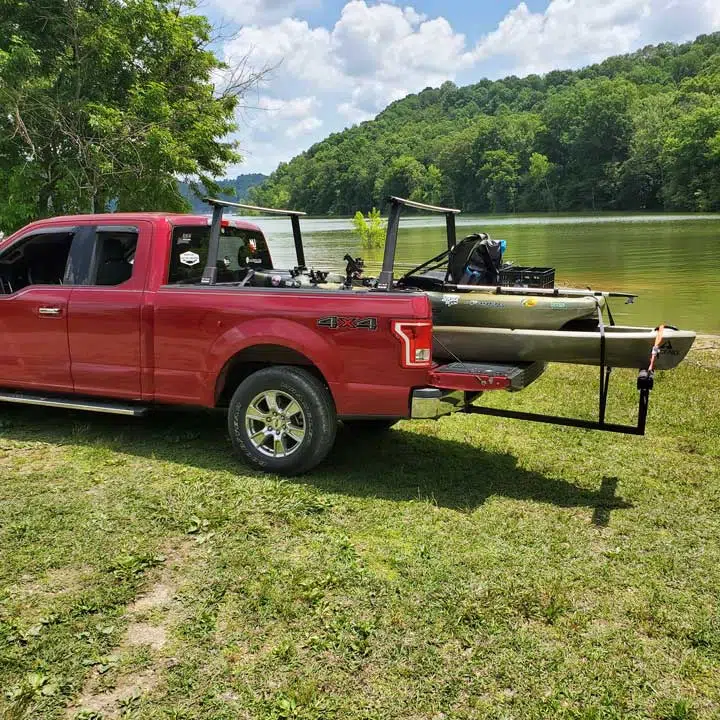 The truck bed extender is another option for transporting your kayak with a truck. Outdoor This extender mounts to your hitch and supports the kayak's bow. There are different manufacturers with different features. Most extenders will accommodate kayaks up to 14.5 feet long. The above setup belongs to the Outdoor Navigator.
How do you transport a 12-foot kayak in a truck?
If you would like to transport a 12-foot kayak in your truck, you could choose to purchase a truck bed extender or in the bed of your truck.
Generally, there exist three sizes of truck beds. These beds range from short, standard, and long beds. A short-bed truck features a 5-foot truck bed. A standard bed is 6.5-foot long. A long-bed truck measures an 8-foot bed. With the tailgate down, you gain another 2 feet. This means that most kayaks are longer than your truck bed, and this will cause a bit of an overhang. But depending on your size, bed sliding your kayak above or on the tailgate could be possible.
The most important thing is to secure each kayak properly. The rule of thumb is two straps or bungees per kayak. I recommend a truck bed extender if your kayak is above 12 feet. Also, a vital consideration is the local laws about how long your haul can protrude from your truck.
How do you move a kayak by yourself?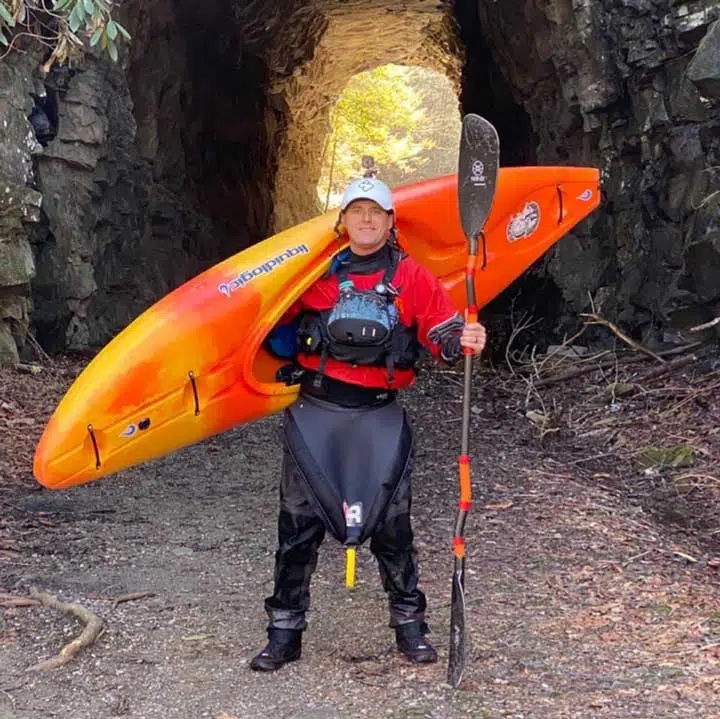 Usually, life is easier if you have two people carrying a kayak for transport by the grab handle but moving a kayak by yourself is absolutely possible. Let's look at a few options. Kayaks come in several different lengths and weights. Lengths vary from 8-14 ft, and weights can differ from 20-100lbs before adding your gear.
If you feel your kayak is of manageable weight. It may be possible to carry your kayak by lifting its center mass. Remember safety first, bend your knees and hips and crouch down to the kayak. Keep it close to your person and raise it by straightening your legs. Never lift a heavy kayak above your shoulders. Try to avoid twisting or turning while transporting your kayak.
You can make this even easier with a carry strap. Straps are snuggly fitted around the stern and the bow and connected with a carry strap. This distributes the weight automatically. There are many affordable carry straps available.
If you feel your kayak weight is too heavy to carry, there are other options. A kayak cart dolly adds wheels under the stern of the kayak so that pulling its weight is possible by lifting the grab handle at the bow.
Another option is a lift assist. It is popular with elders or disabled kayakers because it enables one person to load and unload on their own even with decreased capabilities. Gas-assist struts raise and lower up to 40 lbs of the kayak's mass while double extending arms lower the kayak to waist elevation. It eliminates the need to wait until someone is obtainable to help.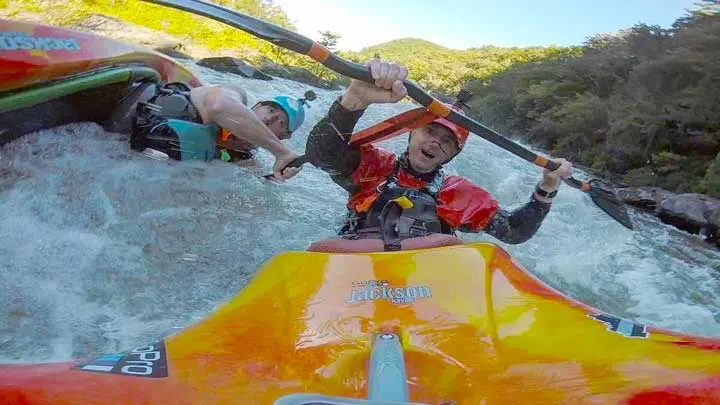 Final Thoughts
There are options. Transporting your kayak to the water is not a one-size-fits-all situation. Just consider all the information before purchasing. No one likes to return products that didn't work or meet your needs. There is no substitute for good research. And you can never use too many tie-down straps. The most important thing is to find your way to the water and push off, and may your kayak stay upright. And if it so happens, you find yourself in a roll or making a wet exit; it's just all part of the ride. Enjoy your Yak.