Kayaking in Florida is a unique and memorable water-based adventure. From exploring bioluminescence to cruising the brackish water of Everglades, there's a world to explore with only a paddle. Ok, so you might need more than just a paddle.
This article will talk through everything from the basics of paddling to the intricate details that you need to know when planning a trip to go kayaking in Florida. I'll share everything from my favorite spot to paddle to addressing common fears such as dealing with gators. Whether you're looking to explore the waters of Florida's lakes, rivers, or coastline, here's some useful information.
Pack your drybags, we're heading to the turquoise waters of Florida in search of unforgettable kayaking adventures.
4 Important Kayaking Tips for Beginners
Beginners can learn how to kayak by starting simple, hiring a guide, and making sure that they learn about the safety and equipment needed. This initial section will briefly talk through some beginner kayaking tips. Be sure to learn more about how to kayak before jumping in the water.
Kayaking Safety in Florida
It's safe to go kayaking in Florida if you know where to go, what you're doing, and how to minimize risks. I'll talk more about alligators and other specific fears that new kayakers have in a later section but first some general safety tips to kick off a day of kayaking.
Start Simple:
Beginners get into trouble because of what they don't know. Experience helps make it safer to kayak but there's only one way to get experience and that's to do the thing. Therefore, respect the sport by knowing your limits, and your skill level, acknowledging your beginner status, and starting simple.
Bad form will matter more the longer you're out on the water. If it's your first paddle, make it a short one. If it's your first time navigating, choose an easy route.
Be Aware:
Always be aware of your surroundings. Know the potential threats of the area you choose to paddle. If you doubt your skill level, stick to calm waters.
Educate yourself:
Once you know the threats from things such as currents, weather, and wildlife you can educate yourself on the best way to mitigate those threats. You're less likely to find yourself in a bad situation if you take measurements to avoid them, to begin with. Consider a boating safety course if you're looking to learn more or study common first aid techniques for boating-related illnesses such as hypothermia.
Consider Going with a Guide:
One of the joys of kayaking in Florida is the wildlife. But that doesn't mean you want to paddle with the sharks. When in doubt, hire a guide to not only keep you safe but inundate you with local ecology knowledge.
Many kayak rentals will come with short safety training or location tips.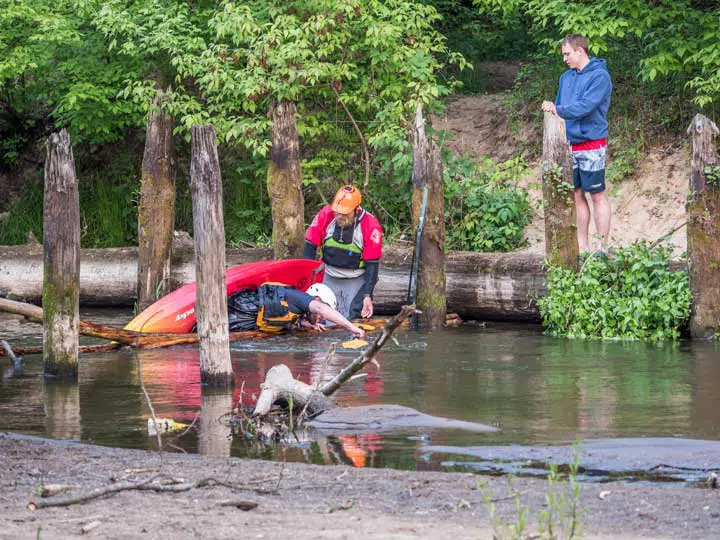 What to Wear and What to Carry – Kayaking Gear and Clothing
It's important to carry the appropriate gear on a kayak in Florida. While you might picture yourself barefoot in your swimsuit sipping a cocktail, kayaking in Florida requires a little more preparation.
What should you wear when kayaking?
For starters, when you're kayaking in Florida you need to wear appropriate clothing for the weather. This might mean a warm thermal layer, a waterproof windbreaker, or sun protection like a wide-brimmed hat. The best plan is to pack layers so that you can be prepared for anything.
Consider what conditions you're preparing for and make your packing list accordingly. The best outdoor gear is multi-purpose and versatile or lightweight so that you don't regret bringing that extra layer just in case.
Sunglasses are a must and polarized sunglasses have the extra benefit of seeing into the water. Actual shoes, as opposed to flip flops, are helpful in case you find yourself in a situation where you need to get out of the boat and maneuver around rocks. Bug spray and a camera can also help you capture the right kinds of memories from your trip.
What else should you carry when kayaking?
Always carry plenty of drinking water when you're kayaking in Florida. Even if you only plan to be out for a short paddle you should be prepared. Get a waterproof bag such as a dry bag to carry anything you don't want to get wet.
Figure out what you need for navigation such as tide charts or a GPS. And be sure to tie everything down so you don't lose it.
Carry a whistle or other sound-making device for emergencies. You also need lights in case of night paddling or limited visibility conditions. See more rules and regulations on the Florida Fish and Wildlife Conservation Commission website.
Do you have to wear a lifejacket when kayaking in Florida?
Lastly, you don't have to wear a lifejacket in a kayak in Florida but you do have to carry one. You have to carry a U.S. Coast Guard-approved Type I, II, or III PDF in good condition, the same is true for paddleboarding. Children under 6 must wear their PFD.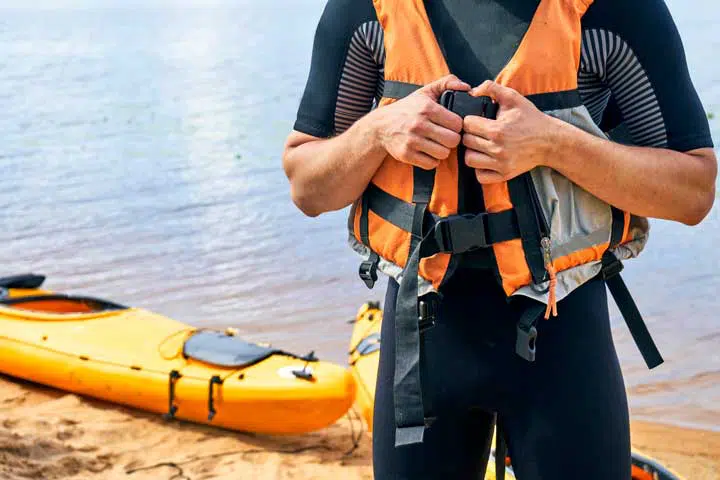 When you're just learning, you don't need a fancy boat. In fact, you can buy a good kayak for under $400 for your beginner kayaking. Note that Inflatable kayaks might be all the rage these days but they might not be the best choice for the predator-filled waters of Florida.
Florida Kayaking Permits
Kayaks, canoes, and paddleboards are non-motorized vessels so you don't need registration and there's no minimum age to operate a kayak.
However, it's important to check if you need a permit wherever you're planning to kayak in Florida. The National Park Service, for example, requires a National Parks Pass for entry. Check out their Wilderness Trip Planner with reservations and permits information.
Kayaking skills to learn
The challenges with kayaking start before you even get to the water. Transporting your kayak can be a challenge before you even get started. This article features kayak racks without rails.
Of course, you can always avoid that burden by looking into a kayak tour.
Once you're on the water, basic water navigation skills will come in handy. Learn how to understand tide charts and nautical charts. Understanding currents and tides will help you have a leisurely paddle instead of a stressful battle with the forces of water.
The paddling technique can be learned by familiarizing yourself with various types of strokes which are easier to understand when you're actually on the water. The more experience you get, the more you'll be able to get where you need to go.
Lastly, be aware of geographical challenges. Kayaking in Florida can mean a lot of different things depending on what type of water you're exploring. Be sure to research the area you're planning to go to.
My Favorite Kayaking Spot in Florida – Everglades National Park
My favorite kayaking spot in Florida is Picnic Key in Everglades National Park. It's one of the Ten Thousand Islands. You can paddle there and reserve a campsite on the National Park website, note that it's more than a day trip.
Picnic Key is a great choice for a multi-day Everglades National Park kayaking adventure with incredible views. You get the experience of paddling through the Everglades working with (or against) the tides and currents to reach a specific destination.
There are a lot of fascinating campsites in the Everglades for a wonderful and memorable experience if you're interested in overnight trips. And there are convenient nearby kayak rentals.
South Florida provides the unique experience of exploring both mangroves and beaches. Mangroves are groups of trees that grow in brackish water. Brackish water is in between freshwater and seawater, the transition where the rivers meet the sea.
We saw lots of wildlife too. The birds specifically, were breathtaking.
If you're planning a trip, do your part to not only enjoy the area but help keep it amazing for the future. Consider learning about or joining the Florida National Parks Association. Oh, and don't forget your bug spray.
10 Other Popular Florida Kayaking Locations to Check Out
Key Largo
Cocoa Beach
White Springs Suwannee River
Winter Park Lakes
Crocodiles and Alligators and Kayaking Oh My!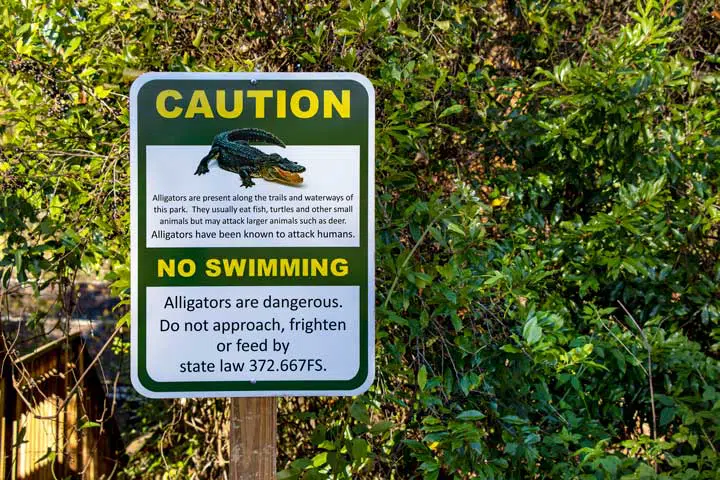 Wildlife encounters of the wrong kind can turn a wonderful time and leisurely paddle into a rough day. Once again, the trick is education and awareness.
You shouldn't worry about alligators while kayaking, instead you should be alert and aware. Like with any wildlife, avoid the impulse to take a selfie and instead give the animal space.
The "mama bear" analogy is a good one to think about with all wildlife. You know, don't get between a mama bear and her cubs? Alligators are similarly territorial, therefore, mating season is not the safest time to kayak near them.
Alligators aren't out to get you but attacks can happen so keep your distance and pay attention to signs of aggressive behaviors. You can also avoid dawn and dusk when they are more active and stay in your kayak.
There are stories of alligators flipping boats so, yes, it can happen. But again, prevention is the best plan. Stay calm and avoid panicking so that you avoid appearing as a threat and provoking them to attack.
The Everglades in South Florida is home to both alligators and crocodiles. Alligators are black with a u-shaped snout and crocodiles are more grayish-brown with a v-shape snout. Alligators prefer freshwater environments and Crocodiles can be found in both freshwater and saltwater.
While you should avoid both, crocodiles are considered more aggressive.
Want to avoid these reptiles altogether? Consider the rivers of Central Florida instead of the brackish waters that they prefer. There's lots of wildlife in Florida that doesn't feel like it's out to get you!
Fun Thoughts on Kayak Colors and Clear Bottom Kayaks
When it comes to safety, the safest color of the kayak is the one that makes you visible to other boaters. That's why the most popular kayak color is yellow.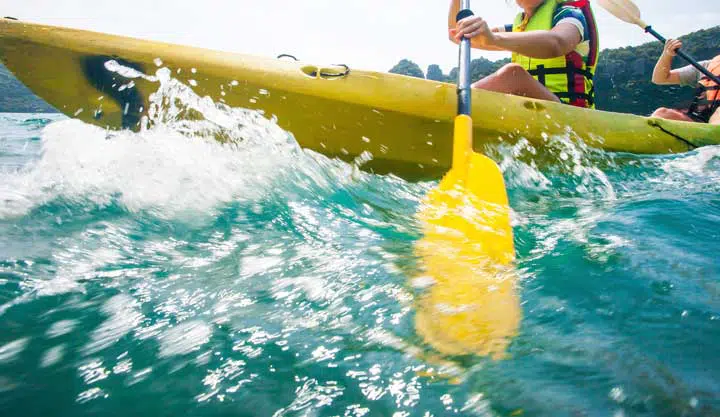 You may have also heard of clear-bottom kayaks or seen a picture of a glass-bottom kayak. It's exactly like it sounds, the bottom of the kayak is designed as a window so that you can better see the fish or bioluminescent algae. The clearest waters demand the clearest boat bottoms.
Bioluminescent algae you ask?
Perhaps you've heard of this stunning glow-in-the-dark algae. When the bioluminescent algae is disturbed by motion such as the swipe of a kayak paddle, they produce blue-green light. It can be an incredible experience to see the power of nature making these overnight trips a must-see.
A glass-bottom kayak might be yet another reason to consider a kayak tour. These glass bottom kayak tour companies specialize in giving you an incredible experience and they'll know the when and the where.
Kayaking at Night in Florida to See Bioluminescence Waters
Not only can you kayak at night in Florida, but you should also add it to your bucket list. As I mentioned above, bioluminescent kayaking is a popular activity, especially in a glass-bottom kayak. In order to see bioluminescence, you need darkness.
Look at the moon phase and aim for a new moon, aka no moon. The darker the better so see this amazing phenomenon without the interference from moon glades. Bioluminescent kayaking tours, self-guided or otherwise, will be an experience you don't soon forget.
Exploring Florida's Bioluminescent waters might start out as a cool reason to love kayaking and turn into a reminder of how awesome our world is. Picture yourself cruising through a mangrove tunnel, swiping your paddle through glow-in-the-dark algae, or swimming alongside fearsome reptiles.
Conclusion
Kayaking in Florida is a unique and wonderful experience. From bioluminescent to alligator encounters, it's a destination for those looking for more than your leisurely paddle. Whether your goal is incredible views on overnight trips or getting lost in a mangrove tunnel for a day of kayaking, get ready to paddle Florida.
Florida has countless kayaking destinations each touting something special and memorable. There are guide services offering to help plan your trip and show you around the areas only they know best. Whether you're a beginner looking to experience bioluminescence or an experienced paddler looking for a multi-day adventure, Florida's vast coastline, lakes, and rivers beckon.