When loading your rifle or bow, tying a knot, or checking the compass, you need your hands free. With a convenient hunting headlamp, you won't drool on yourself while you hold a flashlight between your teeth.
The best headlamps for hunting separate themselves with available features, making them more versatile.
top rated headlamps
Best Overall
Lockout feature
550 Lumens
Three color settings
Lightweight
Best for the Price
165 Lumens
Very affordable
Waterproof
Lifetime guarantee
Best Long-Lasting
750 Lumens
Allows more control over the brightness
Includes multiple color settings
How To Decide on Your Hunting Headlamp
The best headlamp for hunting is the one that works best for you. You should think carefully about how you're going to be using your headlamp before you decide which one to buy.
If you hunt at night and have to be on the move a bit, you're probably going to want a headlamp with a red light option to preserve your night vision while illuminating essential tasks. But if you rarely need to move or make adjustments to your gear and you tend to hunt alone, you might be able to skip the red light option.
If you opt for a simple white light on your headlamp, with low power for climbing into your blind before dawn, you can cut down on your costs. But if your hunting requires a bright or red light at any point, you won't have that capability.
And, if your hunting headlamp is underpowered, it won't be as effective as a brighter light would be if you need it to signal for help or illuminate an unexpected urgent task, like giving first aid.
If you're operating near the water or out in heavy rains, you might require a waterproof model. You also might want a very lightweight model if you intend to wear it for long periods.
Suppose you are out in the field without access to power for long periods. In that case, it might make sense to pass over the headlamps with rechargeable batteries and instead opt for a model that allows you to change traditional batteries in the field.
It's up to you to think carefully about your hunting and outdoor activities and look for the best combination of features for a hunting headlamp.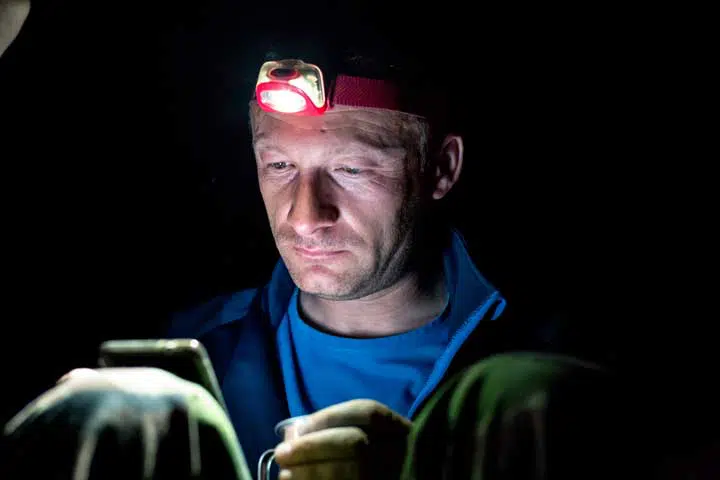 What Are the Advantages of a Headlamp For Hunting?
The most significant advantage of having a headlamp for hunting is that your hands can remain free while still accurately directing light on your tasks. When it comes time to do an essential activity that requires illumination and two hands, you don't have to balance a flashlight on a rock or hold one in your mouth. You have a handy light right on your head.
But, some headlamps for hunting also have other advantages. For instance, some can emit a strobe pattern for use in an emergency. Activate your strobe to attract the attention of searchers and rescuers. Still, other models have an integrated whistle that can draw attention or call for help.
Features To Look For in Hunting Headlamps
Headlamp shoppers can tailor their purchases to their needs. Let's look at some standard features and why they might be advantageous when integrated with a hunting headlamp.
Multiple Light Colors and Modes
Many hunting headlamps offer more than just a standard white light. While bright white light is perfect for penetrating the darkness, it disrupts our night vision. And, it can also startle the animals you might be stalking.
Typically, a user can cycle through the available light colors to find the best option for their application. For instance, maybe they use white light to set up their base camp. Then, they switch to red light during a quick bathroom break. If their headlamp has the ability, they may use a green light to read a map or check a compass.
Finally, some models of headlamps also have a strobe pattern, which is helpful for attracting attention or warning of an emergency — some even strobe in an SOS pattern for signaling using morse code.
Enabling the different lighting modes is often done via a series of button clicks that allow you to cycle between modes. Some headlamp models have dedicated switches for different lighting modes, making them a bit easier to use in some cases.
Some headlights cannot change colors or mode, but most have the ability to vary the intensity of the light they put out. I like versatility in most hunting tools, but sometimes doing one thing well is the best thing I can say about a tool.
Make sure that you shop for headlamps that offer the lighting flexibility you will need on your hunting excursions.
Rechargeable Batteries
Rechargeable batteries are usually a handy feature on a headlamp. But, if you're in the field and unable to charge your batteries, it is even more helpful if you can swiftly swap to a set of traditional batteries in a pinch.
I know how easy it is to forget to charge up a battery, so I always appreciate having the flexibility to make a change if needed.
But, the convenience of rechargeable batteries is pretty unbeatable, especially when the batteries are charged by simply plugging in the device, as opposed to having to remove them from the device and put them in a separate charger.
Tiltable Light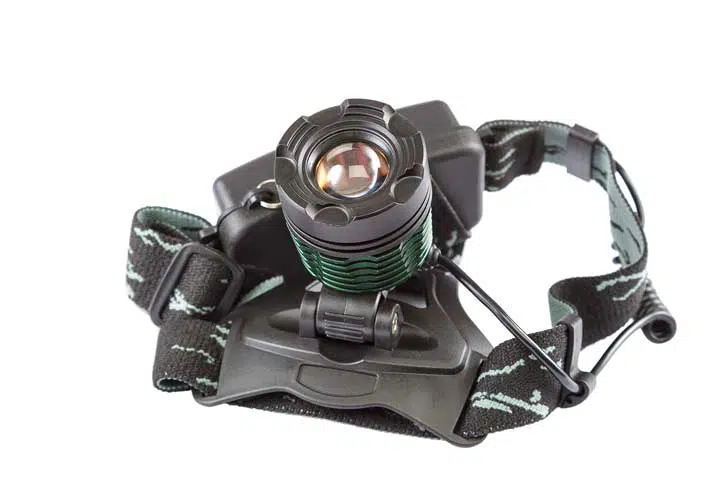 Some headlamps offer the ability to tilt the light up and down vertically without having to move your head. That can be a real advantage for performing tasks that require you to look in one direction while maintaining your lighting in another.
For instance, if you're trying to walk down a trail, it's more beneficial to aim a headlamp down at your feet than off into the distance. This way you can see where you're walking. But, you don't want to have to be staring down at your feet to aim your light on each footfall.
A tilting headlamp gives the ability to focus your attention and eyes in a different vertical plane than your light's beam, which is an essential feature for specific hunting tasks.
Lockout Mode
Lockout mode is a handy feature. Instead of having to remove the batteries from a headlamp to prevent accidental turn-on, some models allow the user to lock the power switch to prevent it from being turned on when accidentally pressed.
It's easy to inadvertently press the power switch or have your lamp jostled in a rucksack. So, the lockout feature is pretty helpful for preserving battery life. But, if it's complicated to activate the lockout and you have to remember combinations of button pushes to do so, you're going to just remove the battery if possible.
It is a great feature if it's easy to use but annoying if it's going to be a hassle to activate and deactivate.
Waterproofing
Some hunting headlamps offer a sealed design that is basically waterproof. While no headlamp for hunting can meet the rigors of a diving light for underwater use, many are pretty rugged and can handle a quick splash in the water or a deluge of a rainstorm.
Some others claim to be weather-resistant, meaning that they can likely handle getting a bit wet but that even a brief splash or drop in a puddle will ruin them. Still, others don't make any claims to withstand exposure to water.
To put it in a simple frame of reference, if you're stalking desert mule deer in the Arizona desert one week and going night fishing in the swamps of Louisiana the next, you're talking about two vastly different sets of expectations for your hunting headlamp. Maybe you even need two.
The 6 Best Headlamps For Hunting: Reviewed
I went through all of my gear and tested out some of the best hunting headlamps on the market today. Let's see how they stack up against each other.
The NiteCore NU32 comes in as my top choice for several reasons. First off, the CREE XP-G3 S3 LED emits up to 550 lumens. That's up to about 136 yards of coverage when it's set to turbo mode. On the lower setting, the rechargeable battery can reach a maximum of 330 hours of runtime.

This headlamp can also be used with multiple outputs. The primary LED offers a few different brightness settings, which can range from 1 to 550 lumens. In addition, you can change to the high CRI auxiliary LEDs or the red auxiliary LED.

The fit of the NiteCore Nu32 is comfortable and features an adjustable headband. Furthermore, weighing in at just 3.5 ounces allows you to easily run or hike at night without that weight becoming an issue.
Pros
Powerful lighting (up to 550 lumens)
Four levels of white light intensity (550, 190, 33, 1 lumen, respectively)
Separate red light mode activated by a dedicated switch
Lockout mode
Sixty degrees of tilt
Water-resistant
Rescue Beacon and SOS modes
Power indicator
Fast, portable charging via micro-USB
Affordable price point
Cons
You cannot swap the integrated battery
With 750 lumens, this BioLite headlamp is close to the brightest option on this list and comes with a few useful features. One complaint that some users have with headlamps is that they automatically dim the brightness to conserve battery life. While this may make the lamp more efficient, it can also make it difficult to work when you're fighting with low light.
The BioLite headlamp offers a way to get around this with its Constant mode. With this feature, you can set your lamp to ensure it's providing the same level of light, regardless of battery life. With a three-foot cable, you can even connect the lamp to an external power bank and continue using it as it charges.
As far as design goes, this lamp is also built to make sure it doesn't get in the way while you work. Unlike some lamps, which may bounce as you move around or place too much pressure against your forehead, the band on the BioLite lamp distributes pressure evenly. It uses a moisture-wicking band to prevent chafing in hotter temperatures.
Pros
Allows you more control over how much the brightness dims
Longer cable allows the lamp to charge while working
The band absorbs moisture while you work
Offers more color change settings than other lamps
Brighter light
Cons
Battery and light may be a little heavier and bulkier to wear
Controls may be challenging to figure out at first
The Nitecore HC60 comes in for the best brightness on my list due to the impressive capability of its 1000 lumen maximum output. Though this model only has the option for neutral white CREE XM-L2 U2 LED light, it has five brightness levels that you can customize to your liking. The 100-degree wide beam has a reach of 128 yards, and a 90-degree vertical rotation for extra clarity. The white beam also comes in handy on foggy nights due to the natural color increasing visibility.

The headlamp operates on the included 3400 mAh rechargeable battery that can be charged via the built-in USB port. Both the battery, USB cable, and LumenTac adapter are included, so there's no need to buy any extra parts. On a full charge, the battery offers an hour of runtime in Turbo mode and as much as 680 hours in Ultralow mode.

The single button operation is easy to use with an integrated power indicator to let you know when your levels are running low. Additionally, at less than 5 oz. the headlamp is lightweight and comfortable to wear on long hikes or trips.
Pros
Supreme brightness (1000 lumens)
Five levels of lighting intensity (1000, 420, 210, 38, 1)
Ninety degrees of tilt
Works with rechargeable battery or traditional options
Waterproof to one meter
Cons
Expensive
Single light color (white)
The warranty process is a headache
For the ultra-low price point, you're really getting a bang for your buck with the Foxelli headlamp. Not only is it stylish, but it's durable, comfortable, and lightweight.

The Foxelli headlamp includes five different light settings: 165LM (up to 50m), 80LM (up to 35m), 40LM (up to 15m), red light mode, and SOS mode. In addition, the body is tiltable up to 45 degrees, offering versatility in several situations.

This headlamp is built to last as it is resistant to cold temperatures and high-impact situations, so it's perfect for hunting in colder climates. The headlamp is also IPX-5 certified for additional waterproof capabilities from 6.3mm of water for up to three minutes.
Running on three AAA batteries (included), the headlamp offers up to 45 hours of run time. Even with three batteries, this headlamp is ultra-lightweight, coming in at just 3.2 ounces. The strap is adjustable and ergonomically designed for comfort whether you're hiking, joking, or going on long-distance runs.
Furthermore, each headlamp is quality tested before release on the market, so you're sure you're getting the quality you expect from a Foxelli headlamp.
Pros
Very inexpensive
Multiple color options for headband
Red and white light mode
Forty-five degrees of tilt
SOS and strobe mode
Weather-resistant
Lifetime warranty
Cons
Batteries are not rechargeable
Not that bright, just 165 lumens
Due to its ability to help you blend in with your surroundings, this headlamp is best for stationary use. If you're hunting or fishing and just need a dependable light for your immediate area, you're all set with the Petzl Tactikka.

The Tactikka +RGB is available in 3 colors, and preserves night vision by offering blue, red, and green light modes at the easy click of a single button. The beam only provides 350 lumens, but it can reach up to 90m, which is suitable for stationary use.

The hybrid concept design allows the Tactikka +RGB to be compatible with the included three AAA batteries, or the Core rechargeable battery, which you can purchase separately. If you often find yourself taking in the elements and your headband is constantly getting dirty, don't worry. This headlamp comes with a detachable strap that can be thrown in the wash between your outings for easy clean-up.

Furthermore, the Tactikka +RGB is fully tested before packaging, but if anything happens, it's also backed by a 5-year guarantee.
Pros
Three lighting colors (red, green, and blue)
Three brightness settings
Detachable headband
Lightweight
It saves your last light setting
Use traditional or rechargeable batteries
Cons
Moderately bright (365 lumens)
Cannot tilt
Relatively pricey
Weak strobe, not suitable for a rescue beacon
Does not tilt
If you're new to headlamps and looking for something to fully encompass what you should expect in your first compact headlamp, the Petzl Tikka is for you.

The Petzl Tikka offers a straightforward design with an easily accessible single button. With this, you can choose up to three different lighting modes: proximity, distance vision, and movement modes.

The 200-lumen headlamp is compact, and has a wide beam that's great for proximity movement such as camping, trekking, or traveling. With red lighting capabilities, you're sure not to catch anyone else in the group off guard when the light hits their eyes. Equipped with a phosphorescent reflector, this headlamp is easy to find in the dark for quick access.

The Tikka operates on three AAA batteries, but since it's a hybrid model, it can also operate on the Core rechargeable battery, which can be purchased separately. Unlike other models, this headlamp doesn't include batteries, so be sure to purchase yours before heading out on your adventure.
Pros
Relatively inexpensive
Integrated emergency whistle
Three brightness settings
Two lighting modes (Red and white)
Detachable headband
Cons
Not as durable as some models
Not that bright (200 lumens)
The headband can be uncomfortable
Tilt setting tends to drop to the lowest setting
The Princeton Vizz now offers another option for a higher lumen of 420 as opposed to the previous 205 lumens. The 420-lumen option can last for up to 110 hours of burn time, which is powered by three AAA batteries. Because of its waterproof capabilities, it is my top choice for the best fishing headlamp.

The Vizz has three different beam options that can easily be accessed by a single button. These include the Maxbright LED, which acts as a strong spot beam for long-distance illumination, the Ultrabright LEDs, which are a pair of white LEDs that act as a flood beam, or the red Ultrabright LEDs that are great for close distance lighting.

By pressing, holding, or double-pressing the button, you can change your settings. You can also upgrade your Vizz headlamp by purchasing Vizz colorways in transparent orange, transparent blue, black, or tan.

If you're worried about your headlamp turning on accidentally and startling your catch, don't be! The Vizz comes with a locking feature that prevents unwarranted power-ups. In addition, the customer service that Princeton offers is top of the line and generally replaces any parts that may be causing trouble.
Pros
Waterproof
Red and white light modes
Adjustable tilt settings
Outstanding customer support
Removable headlamp
Lockout switch
Low battery indicator
Cons
Not that much lighting power (205 lumens)
Relatively expensive
Controls can be difficult to use
Less quality than prior Princeton models
If this Princeton model hunting headlamp doesn't have enough lighting power for your needs, consider the Princeton Tec Vizz 420 lumens configuration. You may even be able to find it at a lower price point.
Wrapping Up: The Best Headlamp For Hunting
In my opinion, the Nitecore NU32 is one of the best overall headlamps for hunting. I believe any hunter working in the field at night will appreciate its blend of helpful and valuable features. I'm also pretty meticulous about making sure my gear is ready to go, so the integrated, unchangeable battery isn't a big negative to me.
The ability to lock the unit out when it is not in use further boosts my confidence that this headlamp will be charged and ready when I need it. And charging is easy to accomplish via a micro-USB, so even in the field, I can charge it from a solar power center or solar setup if needed.
The ability to tilt the headlamp up to sixty degrees means you can use it for hiking a trail, reading a map, or dress a buck. And, if things go south, you can activate its strobe or SOS mode to try and get help.
It's not waterproof, but it's weather-resistant enough that you can take it out in a heavy rainstorm without worrying. And if it gets much worse than that, I'd hunker down, just like most of the animals we're looking for anyway!
Overall, the Nitecor NU32 is my choice for the best headlamp for hunting, which is why it is in my rucksack.