If you have ever gone camping in a rainstorm and woken up to drips on your face and a soaked-through tent, this article is for you. After years of trial and error, I have finally discovered the best way to waterproof a tent. Keep reading to find out all you need to know!
Best waterproof products
Best Overall
Provides UV protection and waterproofing
One can cover a large tent
Best For Waterproofing Canvas Tents
Works on canvas
Still allows fabrics to breathe
Best For Restoring Water Repellency
Restores water repellency that has faded on fabrics and vinyl
What Is the Best Tent Waterproofing Product?
The best way to waterproof a nylon tent? Use a spray!
I have found that spraying your tent with a waterproofing spray is the best and easiest way to make it waterproof. Nikwax waterproofing spray is my personal favorite tent waterproofing product, but there are plenty of great ones on the market. I will review each of them in more depth below.
Does Waterproof Spray Work on Tents?
Waterproofing spray works incredibly well on tents. Although it may need some upkeep over time, depending on what you use and how you treat your tent, it is a fast and effective way to shelter you from outside weather.
Should You Waterproof Your Tent?
If you have just purchased a new tent, the chances are that it is already water-resistant. Over time, however, you may need to coat it again to keep it waterproof. The first step to waterproofing a tent is determining where the water is getting through. Is there a rip in the tent, or is it soaking through the fabric?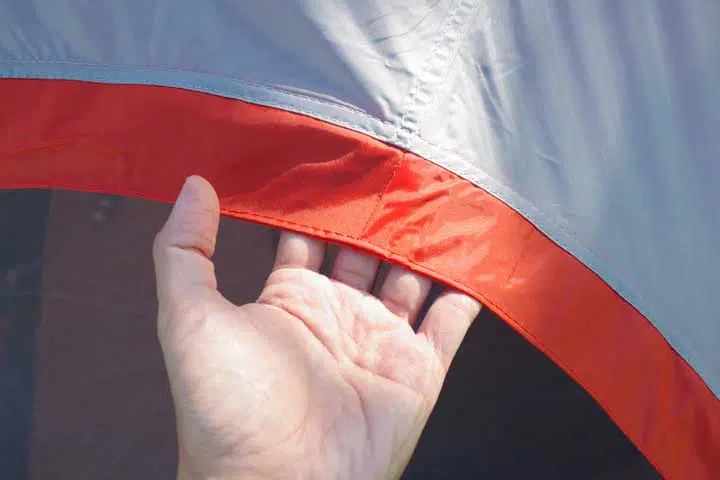 Check the seams to see if there is a leak in the seam that is causing water to enter your tent. If this is the case, there are several seam sealants on the market that you can use. If you discover that the water is leaking through the fabric of the tent, then it is time to consider using a waterproofing spray on the outside of your tent.
How Do You Make a Cheap Tent Waterproof?
If you have purchased a cheap tent that has no real water repellency, then spraying it with a waterproofing spray is a great solution. Most good tents come with a waterproof coating and sealed seams, but these can be pricey! If you are looking to save some money or if you don't camp very often, then purchasing a cheap tent and a can of waterproofing spray can save you a lot of dough!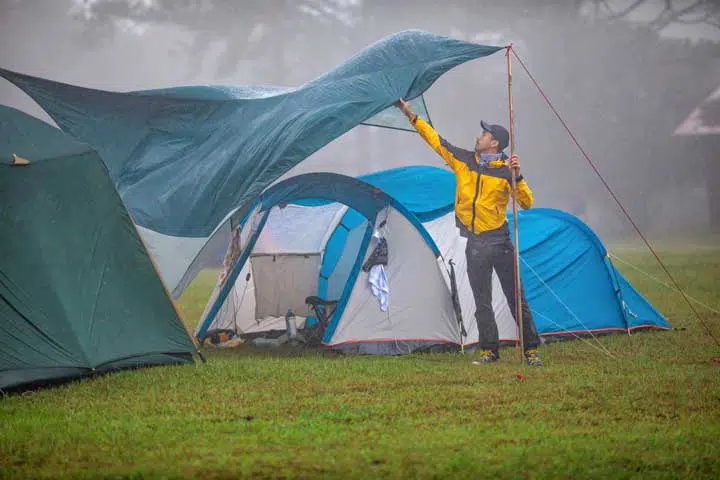 Do Tents Lose Their Waterproofing?
Over time tents can lose some of their waterproofing and become less resistant to moisture. If you notice that water is seeping into your tent, or you can visibly see the coating is flaking off, then it is time to reapply a waterproofing spray.
Waterproof coatings come off when your tent isn't properly taken care of or stored. If your tent is extremely dirty or is not left to completely dry off after being used, it can cause the waterproof coating to wear off quicker. To help prolong the waterproofness of your tent, take good care of it by keeping it clean and storing it in a sealed, dry place when not in use.
How Often Do Tents Need Waterproofing?
This depends on the tent material, the spray you use, and the frequency you use your tent. To know for sure if your tent needs waterproofing, spray it with a hose and notice if the water beads up and rolls off or if it soaks into the fabric at any point.
What Is the Best Tent for Rain?
If you are sick of waterproofing your tent, you should consider one built specifically to withstand the rain. In harsh weather conditions, I have found that the best tent for rain is the ALPS Mountaineering Lynx. It is made from completely waterproof materials, such as polyester, that completely wick away water and keep the inside dry. It has sealed seams and is built to withstand wet and rainy conditions.
Product Reviews
After years of trying product after product, I have narrowed my list down to help you choose the best waterproofing spray for your specific needs. Here are my recommendations for the five best waterproofing sprays for tents in 2021.
Nikwax's tent waterproofing spray is incredible and is the best tent waterproofing spray. It completely waterproofed my tent, and it provided UV protection, keeping it from deteriorating so quickly when left in the sun. It keeps your gear in better condition and helps revive old gear you no longer can use. Nikwax spray is perfect for use on tents, backpacks, boat covers, umbrellas, outdoor furniture, and so much more.
This spray is easy to apply, quick to dry and cleans the dirt off of your tent as you apply it. It works on almost all gears and is completely biodegradable, making it non-toxic to the environment and healthy for you as well. What makes this product even better is that it is affordable and doesn't need to be bought very often.
After trying what seemed like every product on the market, this one was my favorite overall. Although it did not provide the long-term durability that some of the other products provided, its ease of application and sun protection moved it to the top of my list. One bottle was able to cover an entire seven-person tent, and I had some leftovers for touch-ups later on.
Pros:
Provides UV protection along with waterproofing
Biodegradable and not harmful to the environment
Removes dirt as you spray it on
One bottle is enough for almost any tent
Cons:
May cause discoloration – spot test before using
Not as durable as other sprays
KIWI Camp Dry water repellent is an easy-to-use spray that can waterproof almost anything. It completely wicks away all water droplets, making your gear waterproof rather than water-resistant. This spray was created specifically for camping gear, so it is made to be very durable and last for a long time.
The reason this spray works so well against water is due to it containing silicone, which keeps water from seeping into any fabric or seams while still allowing the clothing to breathe. KIWI claims that this spray is perfect for tents, rain flies, tarps, hunting clothing, boots, patio cushions, and boat covers. It is odorless and super easy to use.
I purchased this product a few months ago, and they shipped me two cans. One can is able to completely coat my seven-person tent twice! I found that you will want to spray more than one coat over your tent, but once you have it completely covered, there is no moisture at all that passes through!
Pros:
Uses silicone to create a completely waterproof barrier
One can is enough to coat a large tent and other gear more than once time
Product sprays on as a mist and does not drip or run down the material
Most durable waterproof spray on the market, in my opinion
Cons:
May cause discoloration or darkening in fabrics – spot test before use
Must wait while for the waterproofing to work fully
This waterproofing spray by a better boat is made for use on boat covers but works great on tents! It completely waterproofs any fabric or vinyl and causes the water to ball up and wick away. You can add and repair water repellency to any of your camping gear with this spray, including tents, boat covers, seats, tarps, RV canvases, shoes, and more.
This is a non-hazardous and water-based spray that protects upholstery from getting soaked by rain or other water sources. I had an old tent that had long lost its water repellency. I found that this product was the best at restoring previously waterproof products. I was pleasantly surprised when I took my old tent camping in a horrible wind and rain storm and woke up the next morning completely dry!
Pros:
Affordable product
Easy to use
Does not affect the color of the material
Restores the water repellency of previously water-resistant fabrics
Cons:
Not great to use on fabrics that weren't already water-resistant
Has to be reapplied each season or more frequently
This spray by Bayes is suited for indoor and outdoor use. It is meant to repel water, stains, and UV damage. It is made with a water-based spray, so it doesn't use any harmful chemicals like petroleum distillates or acetone. It is safe to use on your furniture in your home or on your rugged outdoor gear. This is the perfect product if you are looking for a great overall protectant to keep your tent in mint condition.
This spray protects your fabrics against both oils and water. It keeps your stuff dry and eliminates stains. It protects your tent fabrics from the sun's harsh rays and dirt, bugs, bird poop, sap, and more. It keeps your tent from getting dehydrated or bleached from the sun. It is eco-friendly and comes in a recyclable bottle, which is an important factor that I always consider.
Pros:
Great to use on almost anything
Safe to use on your camping gear as well as household upholstery
Water-based and non-toxic
Environmentally friendly
Easy to apply
Protects from water, dirt, and sun
Cons:
Not completely waterproof; it makes tents more water-resistant
Not as durable as the other sprays on the list
Each of the spays on this list work against waterproofing on polyester and nylon tents, but what about if you own a canvas tent? This Scotchgard spray is exactly what you need for waterproofing canvas! It is a non-toxic spray that is easy to use and safe for boat covers, backpacks, boots, outdoor furniture, tents, rain flies, and so much more.
When I tried the other sprays on my canvas tent, I was disappointed. This one did the job and completely repelled all water when I put it to the hose test. The only downside that I found is that, although it is affordable, you will need to purchase multiple cans of the product to cover any tent. One can provide 20 square feet of waterproof fabric. It took me two and a half bottles to completely cover my largest tent.
Pros:
The only product that I have found to work on canvas tents
Still allows your fabric to breathe when it is sprayed on
Affordable
No lasting scent
Cons:
Takes at least two cans to cover a tent
Needs to be reapplied as time goes on
Conclusion
There you have it, the complete guide to waterproofing your tent. If you have noticed moisture leaking in or drips falling on your sleeping bag, then investing in a good waterproofing spray can make your worn tent feel brand new again.
I recommend using Nikwax spray for complete waterproofing as well as UV protection and a surface clean. There are many comparable products, though, that works great with comparable results. Make sure and do research on which product is best for your tent material before purchasing one. For example, if you have a canvas tent, you will need to go for a Scotchgard Outdoor Water Shield product to coat that unique fabric.
No matter which sprays you choose, follow the directions closely and keep your tent in good condition to achieve the best results. Happy camping!