Learning how to prepare and what the best tent for heavy rain can provide you allows you to still connect with nature, even when conditions are subpar.
Take a look at the chart below for some top product recommendations followed by an in-depth review of each one after diving into an all-around guide of how to sleep with nature in heavy rains.
Best Tent for Heavy Rain: At a Glance
Here, we will take a brief look at my top picks of the best tents in heavy rain. If you see one that interests you, be sure to continue reading for a thorough review of each product at the end of this article.
Best solo tent
(sleeps 1 person)
Available with several accessories.
Polyester tent fly resists water and UV damage.
Free-standing and aluminium two-pole design for easy set-up.
Best Compact Tent
(sleeps 2 people)
Welded corners and inverted seams for stability.
Large windows and ground vent for air circulation.
E-port for channeling electrical power.
Best for ease of use and storage
(sleeps 4 people)
Double-thick fabric offers longevity.
Welded corners and inverted seams for waterproofing.
Comes with a rainfly for convenient ease of use.
Things to Consider When Buying the Best Tent for Heavy Rain
You have finally taken the bold step to invest in a good tent. Consider these tips to help you make a good choice.
Basic Rainproofing Factors
Tents can withstand rain, and this often relates to the material type quality and construction. The common water-resistant tent types include polyester, nylon denier, and various other materials.
The waterproofness of tents also relates to the place where you set up camp. For example, placing your tent in a low region exposes you to more free-flowing water, which can eventually compromise the tent's waterproofing.
The intensity of the weather is also another factor to consider. Some materials can only withstand small amounts of water. So you have to be cautious with the weather patterns and the waterproofing quality of your tent.
How Long Does Tent Waterproofing Last?
On average, expect the waterproofing on your tent to last between 6 – 24 months. The ideal frequency for waterproof your tent relates to various factors. For instance, the frequency of use is the first factor. A regular user will likely have to apply the waterproofing material earlier than an occasional user.
Furthermore, the frequency of waterproofing required also relates to the quality of the material. For example, tents with heavy-duty materials are likely to provide several months of use without requiring product application.
Storing your tent the right way is also likely to impact the frequency of waterproof required. For instance, placing your tent in conditions that experience regular rain and sunshine over time is likely to damage the tent's microstructures. Ensure you keep your tent in a bag and a cool and dry place.
3000mm and Its Suitability for Tents
Before I talk about this, you should understand the use of the metric "mm." It's a metric for the Hydrostatic Head rating of tent materials. The term refers to the amount of water exposure one can withstand before experiencing water seepage.
On average, most tents average between the 1000mm to 2500mm level. So, this means the 3000mm level is perfect for heavy downpours or conditions with excessive water. However, remember that material quality also plays a vital role.
Some tents might have excellent HH ratings but may break down fast, especially when left outdoors for long periods. Plus, the HH rating of a tent also influences its price.
The Best Tent for Rain and Wind Tips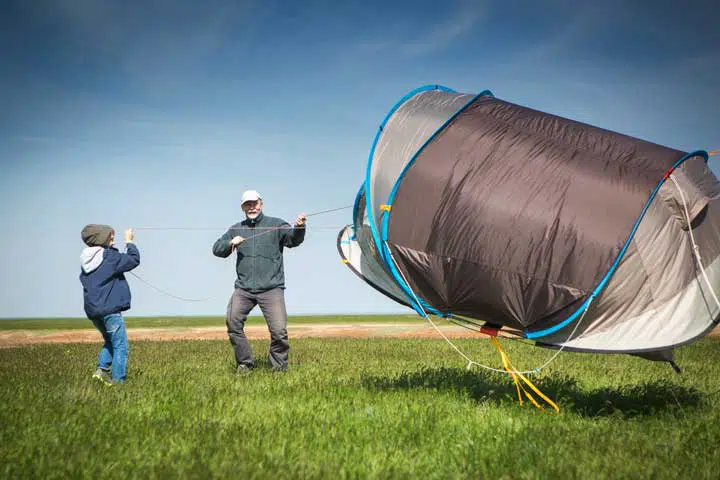 While there is no specific tent brand perfect for rain, you have many options to consider. Each option relates to various factors such as your budget, tent features, and your needs. There are also many tents on the market, and each has its benefits and perks.
However, before you rank any tent as excellent for rainy weather, be on the lookout for the following features:
Waterproof quality – check the HH rating, and remember that anything above 1500 mm should be perfect for the outdoors.
The material construction – some materials such as nylon and polyester often require residual materials for longevity.
Ease of set-up – the ideal tent for rain is easy to set up and stays stable even during a heavy downpour.
Construction of the tent components – take a look at things such as the seams, grommets, and various others for weatherproofing.
The windows and doors – remember to check for tent components such as mesh doors or windows and a rainfly.
Mesh and ventilation structures – ventilation is vital if you plan on sharing the tent with other users. Go for a tent with mesh windows and doors that provide easy access.
Reasons Why Tents Get Wet Inside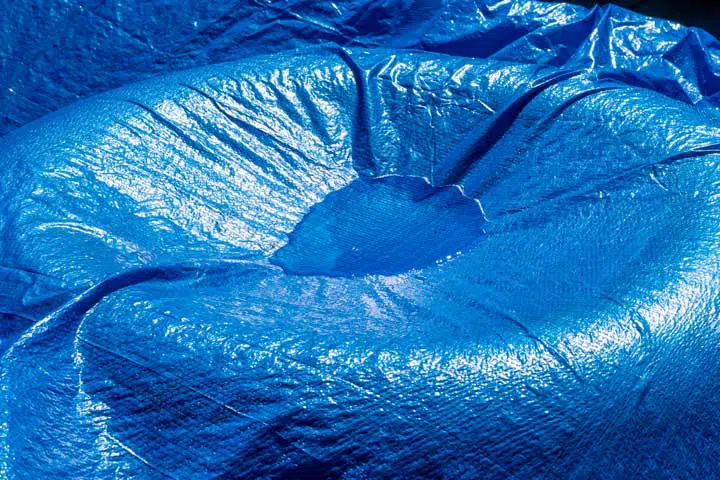 The cause of a tent getting wet inside could be down to various reasons, including:
Inferior quality materials – any poor quality tent material is likely to lead to leakages and water seepage.
Poor tent installation – failing to install your tent the right way can lead to leakages, primarily through seams or grommets.
Excessive downpours or poor weather – weather patterns have been unpredictable of late, and this can easily overwhelm a tent.
Lack of waterproofing – some tents require regular waterproofing procedures. Failing to do them on time can easily let water in through to your tent.
Causes of Tent Leakages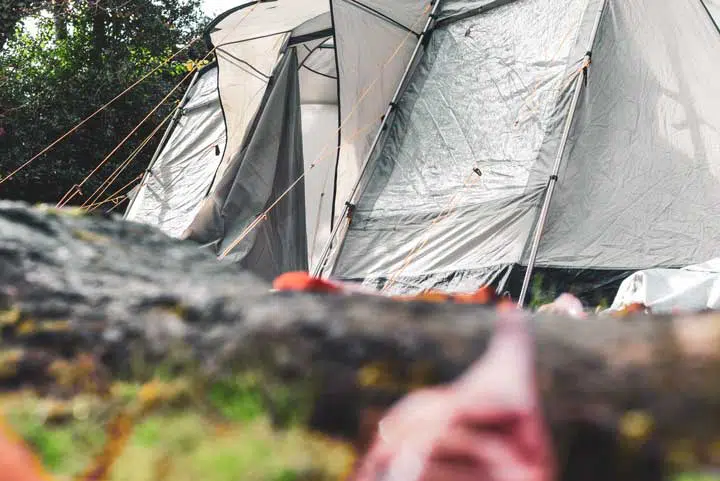 Touching your tent won't necessarily make it leak or break down. However, this statement is only applicable if you set up the tent correctly and if the components are of high quality. For example, a flimsy tent with weak structures such as grommets or seals is likely prone to leakages upon touching.
The strength of your touch also comes into play. For instance, tall or large-bodied people need lots of headroom when moving around the tent. Any excessive force on the tent structure, such as standing or moving around, can lead to leakages.
If you know your tent will be housing several people, practice caution, as any negligent falls or touches can damage the material structure. Also, go for tents that have durable frame structures such as vestibules and stakes. These components are vital if you want to make your tent stable for many people, especially during harsh weather patterns.
Tents and Lightning
Even if tents provide safety from the rain and sun, lightning remains a significant safety threat. Tents can attract lightning, and especially when you set them up in very open locations.
If your tent comes with a lightning-resistant accessory, then you are lucky. However, this does not guarantee 100% safety from lightning. And such tent accessories also increase the weight of your already large number of outdoor resources.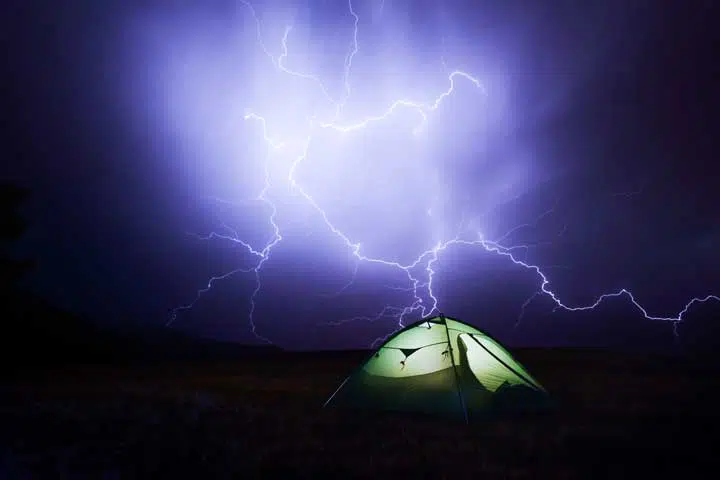 However, even if your preferred location is close to your backyard, there is no telling when the lighting can strike. A few recommendations if you have to tend during the seasons with heavy downpour include:
Be able to predict any hazardous weather patterns.
Maintain awareness of any changing weather conditions.
Be aware of when to seek safety and find a suitable area to rest.
Best Tent for Heavy Rain Reviewed
Below are some excellent tent reviews for you to consider:
First on this list would be the ALPS Mountaineering Lynx 1 person tent. The tent is simple to assemble because it comes with two free-standing aluminum poles. These poles are stable and can provide years of longevity for the outdoors.
The ALPS mountaineering tent also features heavy-duty polyester material that can withstand Ultra-Violet (UV) rays and water damage. You can also add a further vestibule to provide additional storage space for you and other tent users.
While this tent is not as spacious as its counterparts on this list, it's durable and offers comfort. Plus, setting it up on your preferred outdoor locations is easy, and it can withstand wind speeds of over up to 35mph+.
Convenience is also another benefit of the ALPS mountaineering tent, which has several accessories. The tent comes with eight zippers, a gear loft, guy ropes, and various other accessories for convenience.
Pros
Mesh storage pocket – you can use the pockets to store your most important gear, and it's also easy to access.
Half mesh walls – these are heavy-duty walls that help improve ventilation in the tent.
Weatherproof fly buckles are essential for protecting the indoor section of the tent and for ease of adjustability.
Heavy-duty construction – The tent also features high-quality polyester, which can ensure years of longevity.
Cons
It's a one-person tent – some people prefer large tents as they tend to go outdoors in large groups.
Camping or backpacking is fun when you have the correct gear, and I recommend you look at the Coleman Sundome Tent. The tent comes with welded corners and inverted seams, which ensure the interior section of your tent is always dry.
For added weather resistance, this heavy-duty tent features a wind and rain test frame. According to the Coleman brand, the tent can withstand wind speeds of up to 35mph +. The tent is also spacious, whereby it has large windows and provides excellent headroom for tall users. You can even adjust the window space to suit your unique air ventilation and the temperature of the tent's interior.
You can still use your devices comfortably in this tent, thanks to the E-port you can use to connect a power source. Set-up is also a breeze, thanks to the simple and intuitive design of this tent. The Coleman Sundome Tent also has large windows and a ground vent, which helps contain the movement of warm air.
Pros
The tent has a weatherproof tent design – it has welded corners and inverted seams that are perfect for controlling water entry.
Offers optimal ventilation – the tent comes with large windows and a large ground vent for optimal airflow.
Heavy-duty material construction – the durable poly-guard material fabric is resistant to exposure to UV and changing weather conditions.
Cons
It's a two-person tent – while this unit offers up to 48 inches of space at the center, it can only accommodate two adults at a time.
If you are looking for a way to add fun and convenience to your outdoor activities, remember the Coleman Cabin Tent. You can use it reliably in rainy weather conditions because it has welded corners and inverted seams. Plus, the tent features a heavy-duty rainfly, which offers improved airflow, and easy access to the tent.
The tent also offers durability because of the thick fabric material construction, which can withstand changing weather patterns. Set up is also a breeze, and you can have this six-person tent ready in just a few minutes.
When it's time to leave, this unit breaks down into a compact unit that you can store in a flexible carry bag. The bag also has a ripstop, which you can remove for convenient tent-packing. And when it's time to go home, the camping tent packs away securely in the included expandable carry bag that lets you tear away the rip strip for easy packing.
Pros
It is made using heavy-duty material – the tent features a thick fabric structure that can withstand changing weather.
Reliable rainfly – the rainfly on this tent is unique and offers excellent airflow.
Large tent capacity – the tent is spacious enough to accommodate up to six users at the same time.
Ease of set-up – you can have this spacious tent ready in a few minutes, and it sits stable thanks to heavy-duty vestibules.
Cons
The rainfly is prone to intense weather – the rainfly should be more stable as it breaks down easily.
Enjoy cabin-like comfort with the Eureka Copper Canyon 8 Person Tent. It's a two-room tent, which lets you enjoy privacy thanks to the detachable divider curtain. In addition to the near-vertical walls, this tent is spacious for items such as air beds and cots.
If you still want to use your handheld devices such as laptops, there is an E-port you can use to connect a power supply unit. The tent also has an eight-person capacity and all the features to support many such people. For instance, it features six windows that provide 360-degree views and excellent ventilation.
The Eureka Copper 8 person tent is also spacious to provide enough headroom to move around or engage with other tent members. In addition, this unit comes with several accessories for ease of use, including gear lofts, storage pockets, and carry bags.
The Eureka brand has over three decades of experience in the outdoor gear industry, which means quality is evident in each aspect of this tent.
Pros
Detachable divider curtain – this component makes it easy to convert the tent into a two-room set-up.
It comes with vertical walls – these walls provide a spacious interior and sufficient headroom.
Eight capacity tent – the tent is spacious and has six windows to accommodate several people.
The tent has high stash pockets – you can use these pockets to store camping gear and various other accessories.
Cons
It takes time to get all the tent components right – you have to do this if you want the tent to sit stably, even in harsh weather.
The NTK Arizona GT 7 to 8 person tent is also another excellent addition to your outdoor regimen. The tent provides over 2500mm of waterproofing, and it has an exceptional full coverage rainfly. The rainfly features 190T polyester, which has lamination and polyurethane material.
For optimal weatherproofing, this unit features partial aluminum and a heat welded seam design. So, the tent is always dry regardless of the intensity of the heavy downpour. The tent is also ideal for use in the sunny seasons, as it offers UV protection and has large covered mesh vents.
Thanks to the large D-style doors, you have a convenient way to access the tent. The doors also have a mosquito mesh, which provides bug-proof benefits and excellent night sky views. If you have lighters, torches, or other small items, you can store them in the roomy utility and gear loft sections.
Pros
It comes with a full-coverage rainfly – the tent has a 190T polyester rainfly that also offers weatherproofing benefits.
It has a mosquito mesh – you can still gaze at the stars at night without having to worry about the rain or night moisture.
Heavy-duty flow material – the floor material features a waterproof material that also has antifungal properties.
Cons
Not friendly for Cold seasons – The tent is not good for the cold seasons since it gets cold fast due to the amount of vent used to make it.
The Core 9 Person Instant Cabin Tent is as large as waterproof tents get. The exceptional 14′ x 9′ floor can accommodate over nine users in sleeping bags. Venting is also noteworthy on this tent as it's easy to adjust, improving the quality of air circulating. The feature backing this air circulation functions up would be the ample-sized mesh ceiling.
The ceiling does well to keep out bugs and improve ventilation in the tent. The other unique aspect of this tent would be the removable rainfly. It lets you get convenient views of the sky, and you are safe even when it starts raining.
You can thank the broad and dense tape structure heat-sealed on the tent fabric for such weatherproofing benefits. So, the wind and rain won't ever make it to the interior section of your tent.
Time-saving is also another benefit of this tent, as it comes with pre-attached telescoping poles. So, you pop up the tent through a few short steps, making it perfect for novice users. There is also a side T- door, which provides convenient access to the tent and also helps improve the flow of air.
Pros
Adjustable air intake vents – allow hot air to escape, and air circulation improves thanks to the large mesh ceiling.
The tent has a removable rainfly – the rainfly is easy to remove, so you stargaze and stay dry when there is heavy rain.
It comes with a T-side door – the door provides easy access to the tent and improves ventilation.
Cons
Large in size – this tent might accommodate up to 9 people, but this makes it heavy to carry around.
The Big Agnes Copper Spur HV UL Tent is also another excellent recommendation for your outdoor activities. The tent has a unique design structure, which includes a high-volume pole and angled hub. So, it provides optimal space to accommodate several users at the same time.
Accessing the tent is also easy because it comes with one door and a vestibule with storm flaps. These components make the tent stable and safe even during heavy downpours. For convenience, the tent has a two-tone mesh that guarantees optimal safety. You also get optimal freedom bugs while still being able to stargaze at night.
The tent material features a heavy-duty structure that guarantees years of longevity. You can also use the 3D bin pockets to store gear such as flashlights, keys, lighters, and more conveniently. It also has a heavy-duty material construction, which offers longevity and reduces the need for regular waterproofing procedures.
Pros
Two-tone mesh design – the unique design lets you view the nightlife and will keep you safe from bugs.
It comes with one door and an awning vestibule – these are components that help make the tent stable and easy to set up.
High-volume design – the tent features a high-volume pole and awning-style vestibule for ease of set-up.
Cons
It's a two-person tent – some people prefer large capacity tents.
Whether it's for backpacking, camping, or even hiking, the MoKo waterproof family tent always comes through for your needs. The tent has a heavy-duty construction, which features a double-layer structure with a flysheet. The flysheet contains an exceptional 2500mm+ of weather-resistant fabric, thus making it perfect for different outdoor conditions.
For ease of set-up, this unit features a structure that is easy to assemble and disassemble. It also has three adjustable fiberglass poles, which will save you time during installation, and guarantee stability regardless of wind conditions.
If you are going outdoors with your friends, the Moko Tent provides adequate capacity for up to three people. In addition, the MoKo brand has also been benevolent to include a convenient storage bag for convenience.
Pros
It's designed to be easy to set up – the tent features three flexible fiberglass poles for time-saving purposes and ease of use.
The tent has a heavy-duty material construction – the double layer design with over 2500mm+ of water-resistant polyester fabric.
Ultra-portable tent design – the tent can break down into a compact unit, and it's available with a carrying bag for convenience.
Cons
It could use a better rainfly structure – the tent does not have a snow skirt, and the external frame design won't shed snow over the front section.
Make your outdoor activities convenient next time when you have the Standing Rooms Tent. The tent has a 10 x 10 straining leg canopy, which sits stable even when there is a heavy downpour. Plus, the fabric is waterproof, and the vaulted ceiling is convenient to set up.
Setting up this tent is also easy, thanks to the easy-to-follow instructions and canopy hooks. The Standing Rooms brand has also done well to include a storage bag, making tent storage a breeze.
While this tent has a four-person capacity, it can stretch to provide room for up to six people. In addition, various benevolent features include the tent, such as two big separate doors and two giant zippered windows.
There is an extra-large version of this tent that features doors and zippered skylights. With such a spacious design, you will gain easy access to the tent. And you can also set up two or more tents for optimal space.
Pros
Spacious tent design – the tent comes with large straight leg canopies, and it can provide over 8 feet of headroom.
Two windows and doors – these are components that make it easy to gain access to the tent.
It comes with storage pouches – the tent comes with pouches you can use to store batteries, keys, torches, and various other accessories.
Cons
No stakes included – you may have to purchase stakes which are inconveniencing.
Wrapping Up
The NTK Arizona GT 7 to 8 Person 14 by 8 Foot SportCamping Tent would have to be the best performer on this list. It's a spacious tent, capable of housing up to ten people, and it's also easy to set up. The tent might be large, but it's compact when taken down and fits easily into a traditional storage bag.
Furthermore, the tent offers up to 2500mm of waterproofing, which is more than what the traditional tent can provide. However, I also have various other contenders on this list, which could suit your needs.