Camping in one tent as a group or family is a tall order as it can get cramped inside. However, the right tent can change everything by providing enough space and features to live comfortably.
8-person tents are perfect for such situations, but which one do you pick? Read on to learn more!
The Best 8-Person Tent Comparison
All-season camping
Four-season tent
5-inch stove jack
Breathable, waterproof, and UV-resistant
Instant setup
Pre Assembled frame with telescopic poles
Waterproof Core H2O Block technology
Large T-door
Privacy
Splittable into three rooms
WeatherTec waterproof system
6-foot center height
How to Choose the Best 8-Person Tent
Before purchasing a tent, consider the following factors to ensure you pick the best 8-person tent.
Ventilation
Aeration is crucial, especially considering you might be up to eight folks inside. Windows are the primary points of ventilation, so the more they are, the better.
Some tents have angled windows that can remain open when raining without letting the water in. I find this to be a super convenient feature as it helps keep the interior unstuffy. Also, check for air/ground vents and a mesh roof.
Ease of Setup
Why spend a whole hour setting up your tent while some take only 15 minutes? Better yet, tents with pre-assembled frames require only about a minute to set up.
However, the process will take a long time if you are unfamiliar, so practice setting up before going out. Do this in your backyard so that you don't waste time in the field.
It is worth mentioning that these quick-setup tents might sacrifice stability and quality, so they might feel very shaky when there are strong winds outside.
If going camping in areas with extreme weather, get a firm tent. It might take 20 – 30 minutes to set up, but you will feel much safer inside.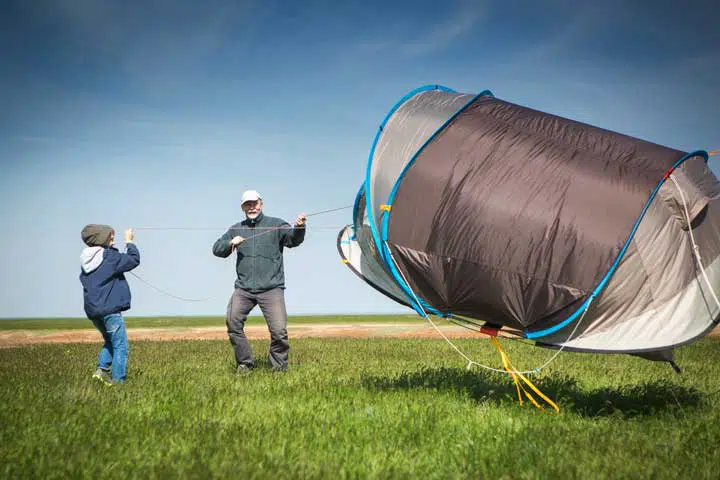 Weather Protection
Of course, all camping tents are waterproof, but a few leaking points pop up, such as along the zippers and seams. What matters most here is the technology used to keep these parts leakproof.
Most brands use fancy technical terms, but the best tents for heavy rain should have inverted seams, corner welds, welded floors, wind-strong frames, and other waterproofing features.
A rain fly is also crucial in this equation, and it should at least cover the entire upper section of the tent. The best option is the one that covers the whole tent. Consider using waterproof sprays as they work incredibly well on tents as well.
Organization
Most people combine camping with other activities, such as fishing and hunting. Even if you don't participate in such, you will have outdoor gear that needs organized storage to keep things neat.
Pockets help with this, and the more they are, the better. Vestibules also come in handy as they are additional rooms for storing gear, coolers, shoes, and other items while protecting them from the sun and rain.
Dome, Cabin, or Bell Style
When considering the shape of the tent, there is either the dome, cabin, or bell style.
Dome tents have a more streamlined shape that withstands strong winds better. However, you might be uncomfortable standing inside as it gets taller towards the center. The headroom on the sides is shorter.
On the other hand, cabin tents have almost vertical walls, which give an even head clearance from all sides. Also, they have plenty of windows to maximize ventilation.
However, this shape presents a wide surface area to the wind and might get blown off in extreme conditions.
Bell-style tents almost resemble dome tents but have vertical walls to a certain height, then wrap up to a cone at the top. A center pole holds the material to form the cone.
They are usually used for glamping or camping during cold weather as they are good at regulating temperature and can host stoves to warm up the interior.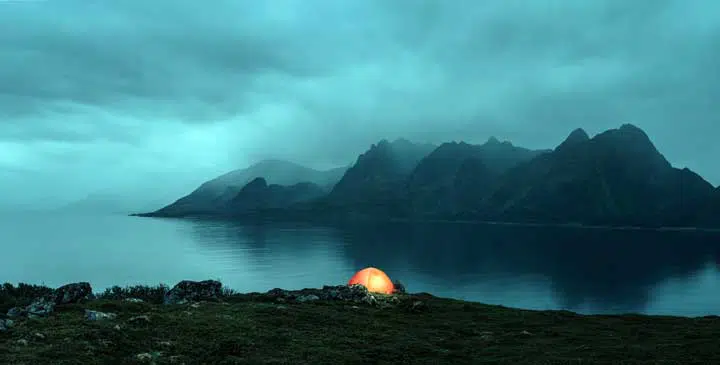 Season Use
Most tents are usable during the three seasons of spring, summer, and fall. It is impossible to survive the winter without heating, so the best 6-to-8-person tent for all-season use must have a way to warm the interior.
Bell tents usually have a fire-retardant stove jack that enables you to place a stove inside to keep warm in cold conditions. Make sure you get this tent if you want to camp during winter. Alternatively, you can insulate the shelter, which will keep you dry and prevent hypothermia.
Space
Instead of having a single large-room interior space, it would be better to separate the sections for privacy purposes. There are two ways to achieve this.
The first is by using dividers, where some have one or two to create double or triple rooms. The second way is if the tent features a vestibule, an extra room that can sleep two or three people.
What Are the Advantages of 8-Person Tents?
The main advantage is space. Having a large floor plan gives you enough room to sleep comfortably with your friends or family. Also, it is fun to share space as you can play games, tell stories, and even share items like lanterns.
Additionally, these large tents are usually 6-6.5 feet high, so you have enough headroom to stand comfortably inside.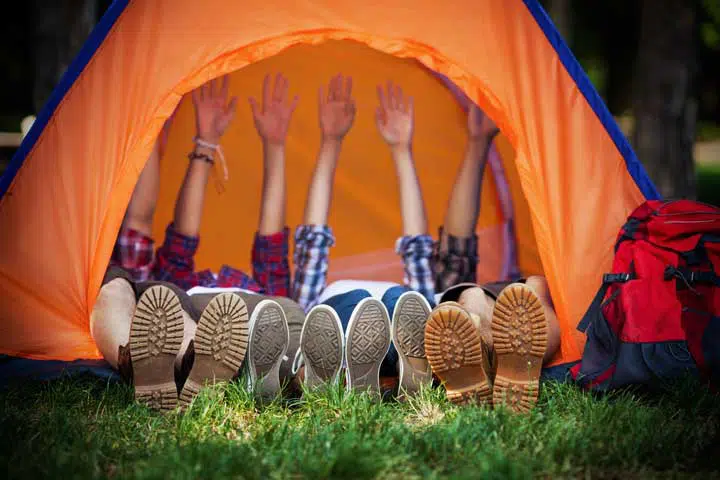 Precautions for Setting Up and Using 8-Person Tents
You can't just set up your 8-person tent anywhere. Look for hard flat ground with no roots, branches, or rocks. Avoid dry riverbeds or riverbanks as they are usually soft. Also, it should be high ground so that rainwater does not flood in.
Consider the sun as well. If camping during winter, position the tent under the sun to warm it up during the day. In summer, set up the tent away from direct sunlight to avoid overheating the interior space.
Remember to check the surroundings too, especially what is above the area you want to set up. Are there beehives, spiderwebs, or dangerously hanging branches? You also want to ensure that you aren't under any dead, decaying, or brittle trees that could be at risk of falling on your campsite.
8-Person Tent Reviews
Now that you know the advantages, precautions, and what to look for, it is time to pick the right product for your needs. Here you go!
Camping can be a challenge during the wet season, but the Elite Montana tent has all the features to keep you dry and comfortable inside. Of course, most tents are waterproof, and this one has a few extra tricks up its sleeve.
It incorporates a WeatherTec system with inverted seams and patented corner welds to keep the water out.
On top of that, the tent features angled windows that can remain open without letting in the rain. As such, you can keep the interior aerated at all times.
If you are just back from fishing or any other activity, an extended door awning creates a dry area outside the door where you can keep shoes and gear safe from the rain. The hinged door gives you easy access, while a rainfly covers the upper section to block rainwater from hitting the tent directly.
With a patented ping-and-ring system plus continuous, snag-free pole sleeves, setting up the structure is easy and takes about 15 minutes.
Once set up, the interior has enough space to fit three queen-size airbeds, so there's enough space for you and your crew.
However, the tent does not have dividers, so you cannot have private rooms inside.
Pros
WeatherTec waterproof system
Angled windows
Extended door awning
Easy access hinged door
Enough space to fit three queen-sized beds
Cons
While the Elite Montana tent takes 15 minutes to set up, this unit only requires 60 seconds, making it the best 8-person instant tent.
But how is this possible?
The tent features a pre-assembled frame with telescopic poles pre-attached to the polyester structure. Popping it up takes a few steps, and you will have your space ready in a minute.
After setting up, the tent has a center height of 78 inches (6.5 feet) and a 14 x 9-foot floor plan. It fits two queen-size air mattresses and sleeps up to nine people. If you want more privacy, there is a room divider that can split the space into two.
Additionally, there are wall storage pockets to keep your gear organized and off the floor so that the space remains clear for sleeping and hanging out.
The tent features Core H2O Block technology, with heat-sealed seams from the rainfly to the floor. No water will get in. The only part that might remain open is the electrical cord access port, but it has a flap to keep rainwater from flowing inside, and it is fully closable when not being used.
Ventilation begins at the large T-door, which has large mesh windows to improve air circulation. There's also an adjustable ground vent to complement the mesh windows.
The downside is that the tent is only suitable to use during three seasons of the year. It is not ideal for winter.
Pros
Quick 60-second setup
One room divider
Wall storage pockets
Heat-sealed waterproof seams
Large mesh windows
Cons
Not suitable for winter camping
With two camping dividers, the Red Canyon has the option of splitting the interior into three separate rooms for maximum privacy. As such, you can sleep in a 3-3-2 configuration since it can accommodate eight people maximum.
The floorplan measures 17 x 10 feet, with a 6-foot center height, so most people can stand comfortably inside and stretch out without feeling cramped.
The exterior consists of a Polyguard double-thick 2X fabric skin that gets a boost from a WeatherTec system, which consists of inverted seams, zipper protection, a wind-strong frame, and patented welded floors to block any moisture entry points.
If it gets uncomfortably hot or stuffy inside, a built-in cool-air port and Variflo venting system let you adjust the airflow to keep things under control.
After the getaway, packing things up is easy because the kit includes separate bags for the tent, stakes, and poles.
On the downside, the structure does not have a vestibule to offer more space for storing gear.
Pros
Includes two room dividers
Thick waterproof skin with a WeatherTec system
Cool-air and Variflo venting system
Separate bags for the tent, stakes, and poles
Cons
Organized or methodical campers will find it a delight to use this extended dome tent due to its structured interior. It features a gear loft to hold equipment, a lantern hook to hold a light source at the top, and pockets for organizing items on the sides.
The kit includes a carry bag for safe and organized storage/ transportation of the tent, poles, stakes, and rain fly.
The tent has a durable, water-resistant 68D polyester construction with Core H2O Block technology that heat-seals the seams from the rainfly to the floor. However, the base has a more durable material (115gsm P.E) to withstand the pressure.
Once you set it up, the structure forms a spacious 16 x 9-foot interior space that fits three queen-size air mattresses. Combined with a tall 6.5-foot center height, this is one of the best 8-person camping tents as it gives enough headroom to all the nine people who can sleep inside.
On the downside, this is a one-room tent without any dividers, so there's no privacy.
Pros
Top gear loft with a lantern hook
Multiple pockets
Includes a carry bag
Durable 68D polyester construction with Core H2O Block technology
Spacious interior with enough headroom
Cons
With its convertible screen room (vestibule), the Klondike offers a second separate room that you can use as a sitting area with your family. The room is also a perfect sun shelter space, gear room, picnic room, or relaxing room to play games while catching up.
The entire structure measures 16 x 11 feet, offering a spacious interior to accommodate eight people maximum. Sleeping arrangements split into a five-person capacity for the larger 98-square-foot interior space and three people for the smaller 60-square-foot screen room.
The center height of the inner room is 6.5 inches, so there is enough headroom even for tall people.
Both rooms have a removable seam-sealed fly that exposes a mesh roof to let in the breeze and give you a clear view of the stars while keeping out the bugs. Also, there are two flap-zippered mesh windows to improve ventilation.
Since it has a large face or surface area, Wenzel gave this model a fiberglass frame with power corners to increase stability during strong winds.
The tent comes with a 10-year warranty covering manufacturer defects, so you can be sure of a replacement if there are any issues. However, the unit lacks a power cord opening, so you have to get it in via the door.
Pros
Multipurpose convertible screen room
Removable seam-sealed fly
Sky net (mesh roof)
Fiberglass frame with power corners
Backed by a 10-year warranty
Cons
Talk about a heavy-duty 8-person tent. The Regatta features a breathable, waterproof, and UV-resistant army-duck cotton canvas exterior that can withstand extreme conditions during all seasons.
What's more, it has a 5-inch stove jack made using fire retardant material, so you can cook inside or use it to warm the tent on a cold winter night. You can also get the entire tent with a fire-retardant finish to maximize safety.
When it is hot outside, the 2-layered door and windows come in handy as you can roll up the outer canvas to expose the mesh and enhance the aeration.
Since it is a bell tent, the unit has a heavy-duty, rust-free galvanized door and center poles to hold the heavy fabric. The center pole doubles up as a lantern holder using its D-ring.
Overall, this is one of the best 8-to-10-person tents, but it is expensive. Considering its features, though, it is worth the money.
Pros
Breathable, waterproof, and UV-resistant construction
5-inch stove jack
Available in a fire-retardant finish
2-layered door and windows
Rust-free galvanized door and center poles
Cons
Wrap Up: Which Is the Best 8-person Tent?
Wet weather is a big challenge when camping, but the way the Coleman Elite Montana Tent handles such conditions makes it the best overall.
With an extended door awning to keep your shoes covered and angled windows that keep the rain out, you and your crew will remain comfortably dry inside. The window design also helps to maintain aeration even when it is pouring outside. However, I must also mention the Whiteduck Regatta Canvas Bell Tent due to its all-season handling capability. Though expensive, it is the perfect option if you want to camp during winter.