When navigating in the great outdoors, even a small degree of error can land you a distance away from where you want to go. Reliability and accuracy of tools are the most consistently reviewed factors for compass watches.
Here, I'll dig into how to find the best compass watches along with my top choices.
The Best Compass Watches
Best overall
Offers GPS, Fitness Tracker, and Smartwatch.
Battery can last up to 40 hours in battery saver mode.
Water-Resistant.
Best Value
Has a twin-sensor to tell direction and temperature at the same time.
Battery life of 3 years.
Made of scratch-resistant mineral glass.
Best Solar Powered
Solar-powered with a battery that can last up to 6 months on a full charge.
Water-resistant up to 100M.
Multifunctional.
What Is A Compass Watch?
A compass watch is a watch and multi-tool in one. Often a compass watch will have timekeeping, alarm capabilities, compass, and multiple measurement tools as a part of the watch or band—things like temperature, barometer, calendar, and altimeter. A few of these digital compass watches can even monitor heart rate.
How To Find The Best Compass Watches?
When navigating in the wilderness, I like to have multi-use devices due to less weight and more availability of tools in the most compact package possible. No one wants to buy a product that doesn't have a proven track record, so it's essential to consider a few things before making a purchase.
Intent
The first step in thinking about what to look for in a compass watch is your list of needs. Will you be climbing? Do you need an altimeter? Do you need or want a heart rate monitor in your watch? What about the ability to GPS locate or to track weather?
Display
Depending on your preferences, you may prefer a specific display. There are two different types of compass watches on the market: digital compass watches and analog compass watches. If you prefer a classic display, you could find a basic analog watch with roman numerals. For something a little more high-tech, go with one of my digital options below.
Battery Life
If you're out in the wilderness trying to connect with nature, the last thing you want is for your trusty tool to die on you. I've had this happen, and it takes the fun out of your journey. It's essential to find a compass watch that will function through your whole adventure. If you don't have access to a power source, solar-powered compass watches are an excellent option.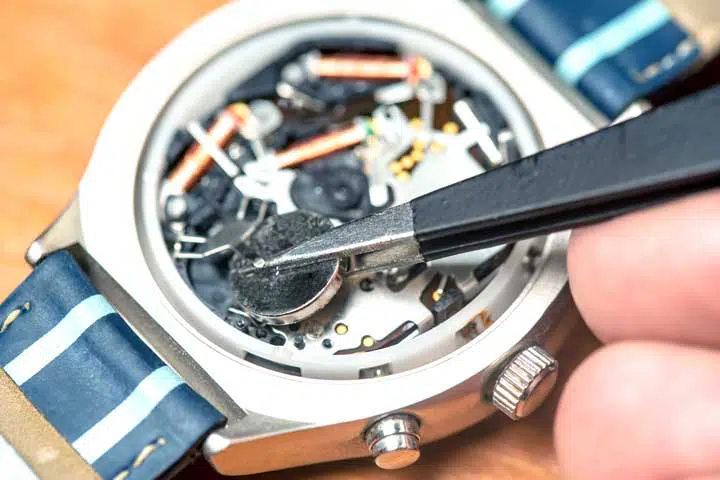 Band / Strap Material & Closure
If you're planning to use your watch regularly in an outdoor environment, you want to find a material that is durable and can withstand some wear and tear.
Resin and silicone bands provide the most flexibility, durability, and in addition, are generally waterproof materials. If you know you'll be exploring the wilderness in rain or shine; a waterproof compass watch is a must.
Many other materials such as vegan cloth fabric, leather, or titanium are also common in compass watches. These materials may not offer the same protection to the elements as resin and silicone, so they may not be the best choice for the extreme explorer.
As you're working your way through trails and rough terrain, you'll also want to consider your watch's closure. You want something that is comfortable and secure, so you don't look at your wrist to find your watch has fallen off along the way.
Though buckle closures are an extremely popular option, they can get caught on branches and twigs, and the holes can wear down over time. However, this may offer the most secure fit. Other options to consider include velcro or magnetic closures, though magnetic closures may be more likely to come off while exploring.
Extras
Compass watches tend to do much more than just tell you North from South. If you're looking for an all-in-one compass watch that can offer essential information, consider some of these extra features.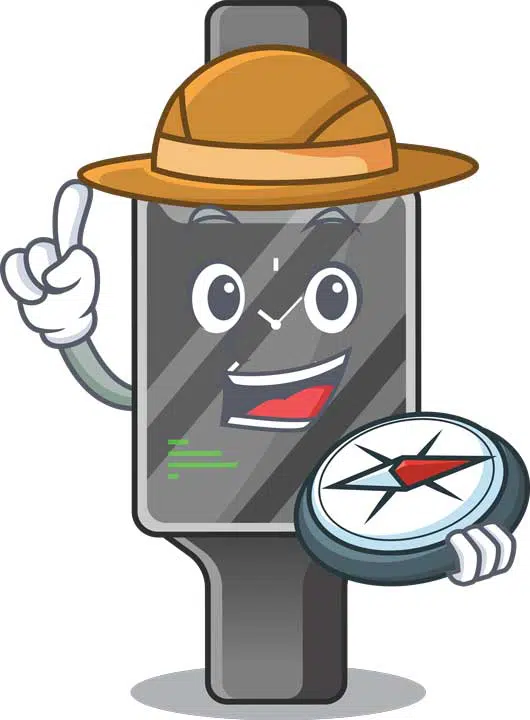 Altimeter
An altimeter in navigation helps you to measure elevation or altitude. It helps you pinpoint how high above sea level you are by gauging atmospheric pressure. This data from your compass watch can help you make important decisions about when and where to stop and give needed information for your safety.
Barometer
Barometer, why would you need a barometer for outdoor adventures? Outdoor enthusiasts have been using barometers to predict weather and record the air pressure changes for centuries; by having a barometer on your arm, you can track weather changes. This tracking ability brings a significant safety advantage when in remote locations and can give you advanced warning of storms.
Heart Rate Monitor
A newer feature of a lot of watches is a heart rate monitor. When in survival-type settings, the first line of defense in medical care is you. By having a heart rate monitor on your watch, you can watch for the heart rate rise that signals dehydration. These tools allow you to recreate responsibly.
Advantages Of Using A Compass Watch
There are many advantages of having hardy, rugged tools with you on any outdoor adventure; keeping track of multiple data points at once while in the unpredictable outdoors is a significant advantage.
Some of the advantages of a compass watch and its other measurement tools include saving time by quickly seeing multiple measurements at once. In survival and adventure situations, the saved time can mean winning a race or a team's safety.
The Best Compass Watches, Reviews, And Features
These, in my opinion, are the best choices for those that adventure regularly into remote and epic places in the world. They feature multiple measurement tools, and each is unique and holds its own in this industry.
A rugged watch, the Garmin 010-02064-00 Instinct was designed with the extreme in mind. This model is a watch, compass, GPS, heart rate monitor, and path tracker in one. Staying connected is made easier due to smartphone compatibility.
The battery life on this device can vary depending on the mode it is used, 14 days for smartphone mode, up to 16 hours in GPS mode, and 40 hours in battery-saving mode. This device is a watch, fitness tracker, and navigation tool all in one and could be the right tool if gathering data in all these areas typically fit into your life.
Water-resistant for up to 100M, using U.S. military standards of 810G, this watch will stand up to the extreme if you can.
Pros
Military 810G standards
Smartwatch, GPS, Fitness Tracker
Accuracy, nobody wants to get lost when adventuring in remote areas
The watch will pair with other Garmin equipment
Cons
The software can have a learning curve
Inability to export planned routes from GPS mode
The Casio SGW100-1V is a twin-sensor digital watch. The watch displays a temperature range measured in Celsius to Fahrenheit. The auto-calendar is pre-programmed until 2099. The battery life is approximately three years.
This model is water-resistant to 200M, and its twin sensors continue giving direction and temperature readings while in water. It has all the essential timekeeping and stopwatch functions, including world time and calendar functions.
The large three-section, mineral glass LCD screen allows you to read the data this watch measures quickly. The mineral glass helps keep your watch free from scratches. While in compass mode, this watch will also show the temperature.
The watch will only tell accurate temperature readings when it is not in direct contact with your body; to read accurately, it rests in the environment for 10-15 minutes.
This watch is durable and may be used by either gender. However, one downside is that the watch band cannot be removed and replaced with a different watch band.
The Multi-location time setting is lovely when I travel to know the local time and the time at home at a glance. I tend to be a heavy sleeper, so I do not trust the quiet alarms on this watch to help me wake up.
Pros
Water-resistant to 200M.
Decent Battery life (3 years)
Measures temperature in Celsius and Fahrenheit
Made for sports and adventures
Cons
Low alarm volume, heavy sleepers might miss the alarm
Backplate temperature measurement means the reading is affected by body heat, moisture, and direct sunlight.
Recalibration after battery changes, or every 100 days
Daylight Savings Time is not automatic
When I was in Mexico, I could hear the sound differences at high tide and low tide. This watch might be an excellent choice for those of you that love water. It has a silicone strap, and its temperature sensor measures temperature in air and water.
With the stainless steel case, mineral glass, and Indiglo light surface, you can adventure and enjoy all elements of nature without fear of your watch taking the hit and dying. It is water-resistant to 100m and seems like an excellent fit for snorkeling and swimming, but it is not a scuba diving watch.
Made with the same Timex trust as every other Timex watch since 1954, this watch might be the right fit for a time-savvy explorer that wants to see and enjoy the whole of our world—at the same time, staying on track for flights and trains.
This watch seems like it would be an excellent addition to any sailor's toolbox. Preparedness is a man's best friend. Wait, no, that is a dog—the next best thing when sailing might be having multiple compasses onboard.
Pros
Timex brand lets you know you are getting a quality device
The adjustable strap enables you to choose the pressure on wrists
Tracks high and low tides
Water-resistant to 100M, can be worn swimming or snorkeling
Style and adventure-ready, most sports watches are designed with durability more than style. This watch is both
Cons
Large watch face may not fit small wrists
This watch cannot be solar charged
Bands may not be readily available
The control buttons might catch on to things like clothing
Must be taken off for accurate temp readings, don't forget to pick it up after reading
The Sunnto Core Wrist Top Computer Watch is just that, a sophisticated computer and measurement device for your wrist. This computer watch is a timekeeper, barometer, compass, and weather alert all in one. This watch is water-resistant to 100 feet, and you can add features like a depth meter.
The storm alert senses sudden drops in temperature and sounds an alert and flashes to warn you of in-climate weather approaching. The Core is smart enough to tell the difference between you being still and sleeping during a nighttime drop in pressure versus an actual storm approaching.
It can be difficult without elevation measurements to find your location on a topographical map. The Core can help you find your location and then help you stay on course as you transverse the top of a geographical feature from the map. One of the benefits of adding smartwatches to your compass watch collection is the data recording feature.
Backpacking and trekking require you to weigh and measure every item you pack; a smartwatch that has recording capability, along with its ability to measure air pressure, elevation, weather, tell time and help with navigation, is worth its weight for sure.
Pros
Accuracy, when on a mountain top or a lineman rigging up wires, barometric pressure alerts are helpful.
Features that are focused on tactical, survival, and navigation needs
Sunrise and sunset times for over 400 locations in the world
The choice between Fahrenheit and Celsius for temperature display
Measurement tracking and recording for seven days
Wearer removal log
Multiple language user interfaces
Cons
The tactical nature of this watch means at night; the watch face is harder to see
Not water resistant beyond 100 feet.
The battery needs to be recharged.
Aluminum Finnish
I find solar to be such an exciting study. This watch is a solar-powered sports watch that will appeal to those who do not want to deal with batteries. The battery is supposed to last up to six months on a full charge.
Features in this sport model compass watch include a barometer, temperature readings, and digital compass. I like that this model can turn off the motion sensor to turn on the backlight. The five alarms will also come in handy on days where you don't want to sleep too long.
This sports model has water resistance up to 100M, meaning it is used for swimming and snorkeling but not scuba diving. This watch may be an excellent fit for weekend outdoor treks.
Pros
Easy to read interface
Multifunction – compass, watch, barometer, altitude
Solar-powered, long battery life before recharge
Durable, scratch resistance
Lightweight means less weight on the trail
Cons
The size makes it difficult to wear under gloves
The Original band can break with wear
Altitude accuracy is measured by barometric pressure, so it can be inaccurate and need adjustments daily for accurate readings
"And The Winner Is?"
I've put together a list of watches that are great for any scenario, but through my experiences, the Garmin Instinct tops my list for the best compass watch.
Because the Garmin Instinct is a multi-functional watch, it can operate as a fitness tracker, GPS, and Smartwatch. This makes it an excellent choice for any type of adventure your heart desires. The fact that it is also water-resistant up to 100M makes it great for facing the elements. Whether you're on land or water, this watch is sure to guide your way with precision and dependability.
Though some other watches on our list, such as the Suunto Core, may seem like a great option for its multiple features, the Garmin Instinct focuses on and perfects the basic necessities that may not be mastered amongst several features. Its long-lasting battery performance in different modes also comes out ahead of the solar-powered Casio PAG240.
With so many options to choose from, you're sure to find one that suits your needs, but for me, the Garmin Instinct comes in at #1 for the best compass watch.