The Definitive Guide to Heavy Duty Camping Chairs
A camping chair has been a critical component in my camping and fishing arsenal. I've always been a light packer, but sometimes a heavy-duty camping chair is the absolute best tool to help me unwind.
My preferred chair is sturdier than regular camping chairs, so I know it'll last me a long time and hold up under wear and tear. It's as comfortable as a recliner and can hold all the small bits and bobs that I need when out camping or fishing at the lake. In the next part of the text, I explain what to look for when buying one and my experience with eight heavy-duty camping chairs.
The Best Heavy Duty Camping Chairs
Best Overall
Breathable mesh seat and back
Powder-coated steel frame
Folding mechanism and carry bag
Insulated drink pouch
Large pocket on back
Best for the Price
Affordable
Adjustable armrests
Supports proper posture
Two drink holders
Pouches on either side
Best for Value
Large feet for stability
Seat drain
Water-resistant sleeve
Insulated beverage holder
How to Choose the Best Heavy Duty Camping Chair
I've had my fair share of trouble with camping chairs. I've had chairs lose feet; I've had the fabric rip away from the frame after only a single weekend; I've even suffered through owning monstrosities where the entire cup holder fell out of the armrest. None of these is a fun experience in any hunting or camping expedition.
The answer to my epidemic of shoddily-made chairs was heavy-duty camping chairs. Not only are they comfortable and easy to relax in, but I found them to be more durable and long-lasting than your standard camping seat. Gone are the days of bouncing from one flimsy disaster to the next. I can use a single chair year-round.
In my quest to find the best, I noted a few features were critical to buying a good heavy-duty camping chair.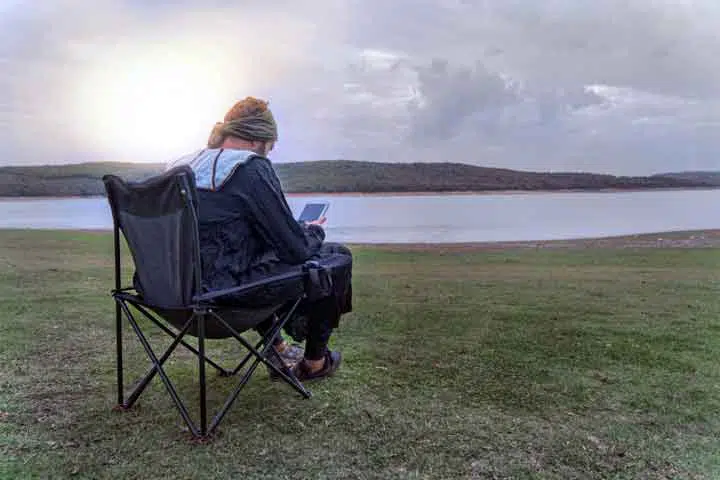 Durability
Having used camping chairs that broke down easily, I wanted a long-lasting one. Luckily, most heavy-duty camping chairs are made from sturdy steel frames, which are more durable than aluminum frames.
Steel metal is reinforced with an iron alloy with a small percentage of carbon and other metals to enhance durability. I also recommend examining the material used on the seating area to ensure it doesn't tear quickly. It should be made from strong, durable nylon material that's also rip-resistant.
Polyester is commonly used because it is abrasive-resistant, waterproof, and durable. It's also thicker and doesn't tear easily on the joints and other areas attached to the frame. I also learned that polyester fabric has varying thicknesses, so I had to check the specs on the product.
Typically, the thickness is labeled in the form of a number and letter D, e.g., 300D, 600D, etc. The higher the number, the thicker the fabric.
Comfort
Beyond durability, I needed a comfortable camping chair. Since my experience with standard-sized camping chairs left my body with aches here and there, I had to check if heavy-duty camping chairs were comfortable.
Do they have adequate padding on the armrests and the headrest? Do they have ample neck and back support? These features play a significant role in my overall comfort if sitting for long hours.
Capacity
Capacity is a crucial feature for heavier campers. How much a chair can hold can play a part in its overall lifespan.
During my research, I realized most heavy-duty camping chairs have a weight limit of 300lbs. However, a few brands exceed this limit by designing camping chairs with a capacity of 800 lbs.
Ease of Transportation
Even heavy-duty folding camping chairs are difficult to carry, so I must consider outdoor activities when going out. I often take my 800-pound heavy-duty chair when car camping or if the camping site isn't too far from the car.
But if going for a more involved outdoor activity, I prefer a camping chair that's easy to fold and carry.
Adjustability
A heavy-duty camping chair should be flexible too. I looked for one that allowed me to adjust the base, armrest, and height, among other features that enhance my comfort. The chair height was particularly important because I could use the chair in different settings. Whether I want to join my pals to play board games, around a fire at night, or relax, it's easy to fine-tune the chair to a comfortable height.
Seat Width
Not everyone needs a larger-than-average seat. If you prefer to have more room to spread your legs, lots of heavy-duty chairs have generous seating space, sometimes up to 20 inches.
Extra Features
Finding a camping chair with extra features is a bonus for my outdoor experience. My heavy-duty chair is equipped with a cup holder that comes in handy when taking my morning coffee.
It also has a large mesh pocket for storing small camping items. I also loved that it came with a carry bag. Carrying a heavy-duty camping chair can be tasking, but transportation and storage are easy with a carry bag.
The Best Heavy Duty Camping Chairs
Having used various heavy-duty camping chairs, I've amassed some experience to help campers look for them. I will share my experiences with them in the next part.
Browning has been one of the best companies producing hunting and outdoor accessories for the longest time. This camping chair is a relatively new addition to the heavy-duty series, and I must say it starks up pretty well to its competitors.
It shares many similarities with the famous ALPS heavy-duty camping chair, but Browning tweaks a few features. For example, the Kodiak comes with a breathable mesh seat and back panel to keep the body cool on hot days. I haven't seen this feature in other heavy-duty camping chairs.
I particularly loved its sturdy construction, which comprised a powder-coated steel frame wrapped with a 600D polyester fabric. At first glance, the structure appears fragile, but upon testing, it feels pretty sturdy on any terrain. Whether I place it on a level or bumpy surface, I feel safe and secure.
Its weight capacity of 800 lbs might seem excessive but only goes to show how prepared Browning is for any possible occurrence. I also found the seating space pretty generous.
I was rather skeptical about how I'd carry it, given its vast weight capacity. While Browning includes a folding mechanism and a carry bag, I still found it rather bulky to carry around.
The insulated pouch on the armrest is my favorite because I can store a beverage while catching up with my buddies. The back also has a pocket, large enough to hold books, magazines, and other small items.
Pros
Foldable design
It has an insulated pouch
Sturdy construction
Breathable mesh lining
Cons
It isn't easy to get out of the chair
It remains bulky even when folded
The ALPS Mountaineering King Kong Chair gave me peace of mind, having destroyed many camping chairs. It was among my top picks for heavy-duty camping chairs, and, having used it for several years, it's still in top shape.
I love that it has a capacity of 800 lbs, which means it can hold more than four times my 165-pound weight. It comes in a basic, four-legged design that makes it comfortable and easy to set up and has a crossbar running between the two front legs. I found it rather awkward and a little uncomfortable.
The powder-coated steel frame feels pretty sturdy for a heavy-duty camping chair of this price range. It supports my body very well, so I don't have to worry about being pulled out of a collapsed chair. I was particularly grateful for the high-quality canvas (600D Polyester) used on the seating area and the back. It's double-stitched and quilted at the back, supporting all the right places of my body.
Unlike other camping chairs with a slanting back, the King Kong is somewhat straight, providing a comfortable surface to support my back and maintain proper posture. The armrests are the only adjustable parts of this camping chair, but I realized that the fabric sags after some time.
It's a small price to pay for a camping chair this size and within this price range, but it might be a bummer for other users. I also loved the convenient shoulder bag that makes it easy to carry and the two drink holders and pockets on either side for storing a backup battery, phone, water bottle, and other essentials.
Pros
Generous seating space
Heavy, comfortable fabric
Convenient side pockets
Sturdy frame
Cons
Crossbar creates discomfort
Fabric on the armrests sags after some time
I bought this camping chair a few years ago before upgrading to the first two products, and I must admit it's a solid buy for big-bodied campers. It has a capacity of 600 lbs which is a little lower than what we've seen but more than enough to support the average adult.
I found its oversized seat (24 inches) quite handy because I had all the room I needed to stretch out. It also has large feet to enhance stability. Another feature that stands out is the drain attached to the center of the seat. At first, I didn't find it useful until I left the chair in the rain for several hours. The water collects into the drain allowing the seating area to dry fast.
Coleman also adds a water-resistant sleeve on the armrest for storing a phone and a few essentials that must remain dry. I particularly loved that it comes equipped with a spacious drink holder lined with plastic to warm my beverage.
Overall its construction is pretty practical for a camping chair, but the lack of ergonomic support was a bummer. The back panel has light padding, and it's not designed to contour the body adequately.
Also, the seat sags after a few hours of sitting, so I often needed help getting out of the chair. The flaws make the Coleman Big-N-Tall Quad Camping Chair a great buy if spending a few hours outdoors, not for all-day camping.
Pros
Affordable
Roomy seating space
Water-resistant sleeve
Equipped with a drain to keep seating area dry
Cons
Lacks back support
Seat sags
Most heavy-duty camping chairs are padded, but finding one with heavy padding can be tasking. When I came across this heavy-duty camping chair, I wasn't just looking for a camping chair but one that could double up as a lounging chair. It didn't disappoint.
The ALPHA CAMP Oversized Camping Folding Chair Heavy Duty has such heavy padding I could spend all day here. This is because ALPHA Camp doesn't use the regular polyester fabric; instead, the company uses 600x300D oxford fabric that provides lots of padding. The material not only contours to my body to keep my back in good posture but also holds up to tears and rips.
Like other camping chairs, its frame is made from powder-coated steel to prevent corrosion and fading. What's more, a heavy-duty steel frame is added to the bottom to enhance stability. It also has a crossbar design on all sides to make folding easy. It collapses to 9.05 x 38.58 inches when folded and weighs 13.2 lbs only; hence, it is easy to carry and store.
I also loved all the other handy features this camping chair has. One of the armrests has a mesh cup holder for holding my camping essentials, while the other is equipped with a cooling bag to keep my drinks cool. It also has a side pocket, large enough to hold books and magazines.
Pros
Folds easily
Adequate padding
Not too bulky
It comes with a headrest
Cons
Small strap
The pouch is too small to accommodate a water bottle
Before I discovered heavy-duty camping chairs, the Kijaro Dual Lock was my choice in my early camping days. It was pretty lightweight, but when I needed to upgrade, I discovered its heavy-duty sibling, the XXL Dual Lock camping chair. It's pretty similar to the 300-pound capacity camping chair, but the XXL can hold an additional 100lbs.
What stood out was the premium seating allowance and its ability to hold my body without sagging. The padding isn't as heavy as other heavy-duty camping chairs 400 lbs, but it still does a commendable job. Sagging seats mount pressure on the back of my legs, causing my body to take on a poor posture.
This model also comes with Kijaro's signature dual-lock feature that enhances comfort and keeps the chair sturdy. I can lock some frame parts in place when sitting to improve stability. I can also disengage the locking joints at the press of a button for easy folding and storage.
I also loved the breathable mesh at the back because it keeps my body cool in hot and humid climates. On the other hand, the seating area is made from a durable diamond ripstop polyester fabric that's rip-resistance and allows moisture to wick away.
The only downside of the Kijaro XXL Dual Lock camping chair is that storage spaces (two cup holders and an organizer with mesh pockets) are scanty. This is a sticking point for any avid camper who needs camping essentials within reach.
Pros
The seat doesn't sag
Lightweight for easy transportation
Dual locks to enhance stability
Breathable mesh at the back
Cons
Few storage spaces
Seams rip off after some time
I haven't used this chair, but one of my camping buddies brings it during our trips. Having tested it a few times, I must say it stacks up pretty well against my top picks — Browning Camping Chair and ALPS Mountaineering King Kong Chair. Its overall construction is designed for stability and comfort, but KingCamp takes another step and includes lumbar support.
My buddy had developed back problems a few years ago after an accident. Finding a camping chair that provided ample lumbar support was difficult until KingCamp developed this oversized camping chair.
Even without chronic back pain, I know poor posture can cause discomfort when sitting on camping chairs. Even short periods of sitting in a bad position can trigger muscle aches. KingCamp's solves this problem by including a lumbar strap that ensures the back maintains the correct posture.
I also loved the heavy padding on the backrest. KingCamp uses the heavy 600×300 D oxford fabric instead of the usual polyester fabric to enhance comfort. In addition, the frame features high-strength steel tubes and metal on metal contact point design, making the chair extra sturdy and long-lasting.
The seating area is also spacious, but it doesn't support as many pounds as other chairs. KingCamp also equips this chair with a cup holder on one armrest and a cooler bag on the other. The cooler bag can store up to three cans of coke.
Pros
Heavy padding for comfort
Durable construction
Many storage spaces
Lumbar support to enhance posture
Cons
Seams rip easily
Difficult to fold
Any big guy can attest to the struggle of finding a camping chair with these three features — ergonomics, sturdiness, and adequate seat width. This camping chair from Oniva is an excellent example of a camping chair with all of them. I came across it when I was shopping for a heavy-duty camping chair, but its price was a little out of my range.
However, I managed to test it out, and I'm glad to say it's worth every dime. The back of the chair isn't angled too far, but it's enough to keep your back anchored. I particularly loved the reclining feature and the exact seat width (25 inches) that makes it function as a beach chair too.
The chair also has soft adjustable armrests and a headrest. The armrests are padded to enhance comfort and equipped with a cup holder and a detachable cooler bag for storing food and drinks. The chair also has another zippered security pocket at the back for additional storage.
As for sturdiness, ONIVA uses sturdy steel frames with hinged feet making it easy for the chair to adjust to any terrain. In addition, the bars are X-shaped to enhance the stability of the structure.
Pros
Has a reclining back
Many storage pockets
Ample seat width
Is comfortable on any terrain
Cons
Expensive
The plastic moldings crack after some time
This camping chair is an excellent alternative to KingCamp's Lumbar Support camping chair. It's more affordable, and its lumbar support is more refined than its counterpart. I particularly loved that I could adjust the lumbar support feature to my liking.
Coastrail equips the chair with an alignment strap I could adjust to my comfort. When coupled with the padding at the back, it creates a comfortable cushion for the back to rest when sitting.
The seat is also fully padded to enhance comfort. It sits on sturdy steel frames supported by X-bars on all sides. Coastrail then reinforces them in the middle to improve stability, but I didn't like the plastic caps used to hold the bars because they can break after several uses.
I was rather surprised that Coastrail managed to incorporate so many storage spaces for the price. On the right armrest is a large cooler to carry several soda cans.
The left armrest has a built-in cup holder that can fit standard coffee mugs. There's extra storage behind the headrest too. Since the pocket is larger than those on the armrests, I stashed larger items like books, magazines, a small pillow, and a blanket.
Pros
Adjustable lumbar support
Affordable
Lots of padding to enhance comfort
Ample storage
Cons
Too bulky
Doesn't fold easily
Extremely long even when folded
What Is the Best Heavy-Duty Camping Chair?
I'd recommend the Browning Camping Kodiak Chair any day. It's within the price range of many campers, has adequate capacity for most body types, and has a sturdy construction. I also loved that Browning reinforces it with mesh at the center, a feature many manufacturers overlook.
ALPS Mountaineering King Kong stacks up pretty well, but the sagging armrests and uncomfortable crossbars make the Kodiak Camping chair the winning product.