Those seeking to enjoy the ambiance of a beautiful fire pit and delicious outdoor cooking without the unpleasantness of thick smoke: your search is over!
Particularly with kids around, building and burning a makeshift fire is just asking for trouble, though it's a lot more affordable. Is convenience really worth danger, or even a forest fire?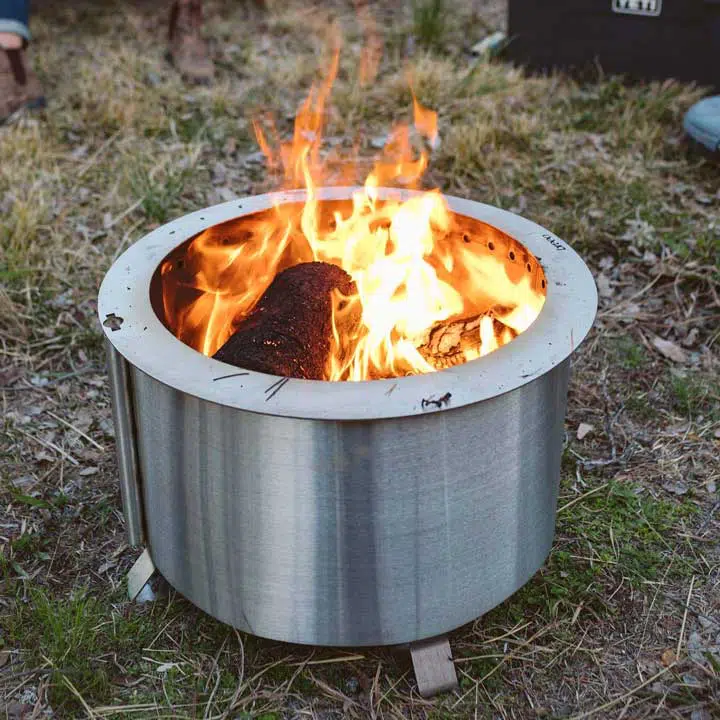 Billed as the best smoke-free fire on the market, today I'm taking a look at this absolute beauty of a fire pit from Breeo. As one of their popular Double Flame series, in particular the 19 inch model, I was really keen to check this bad boy out.
Before we get started, it's worth noticing that this is a more expensive investment for sure…but it guarantees portable partying, lit up by an orange glow, wherever you go.
If that sounds like your cup of tea (or cider by the fire!) then read on to find out what I thought, and whether I recommend it…
Quick Look – Specifications
| | |
| --- | --- |
| Internal Diameter | 19 inches |
| External Diameter | 22 inches |
| Height | 15 inches |
| Weight | 48lbs |
| Material | Stainless steel |
| Fuel Source | Wood |
| Portable? | Yes |
| Can be used for cooking? | Yes, with Double Flame Grill and Post (sold separately) |
Pros and Positives:
Portable and convenient for transportation, yet durable at 42lbs thanks to a heavy duty stainless steel body.
Patented smokeless design, using double walls to prevent thick smoggy clouds and prevent lingering ash afterwards for easy cleanup.
Compatible with accessories for outdoor cooking – safe and easy beach barbecues are well within your grasp!
Adds ambiance and a lovely vibe to any gathering or party, as well as an easy way to whip up some food al fresco!
Possible cons:
Wood-fired cooking fans must purchase a grill grate in order to get started.
Cannot be used on a wooden deck or any other combustible surfaces.
Quality of Construction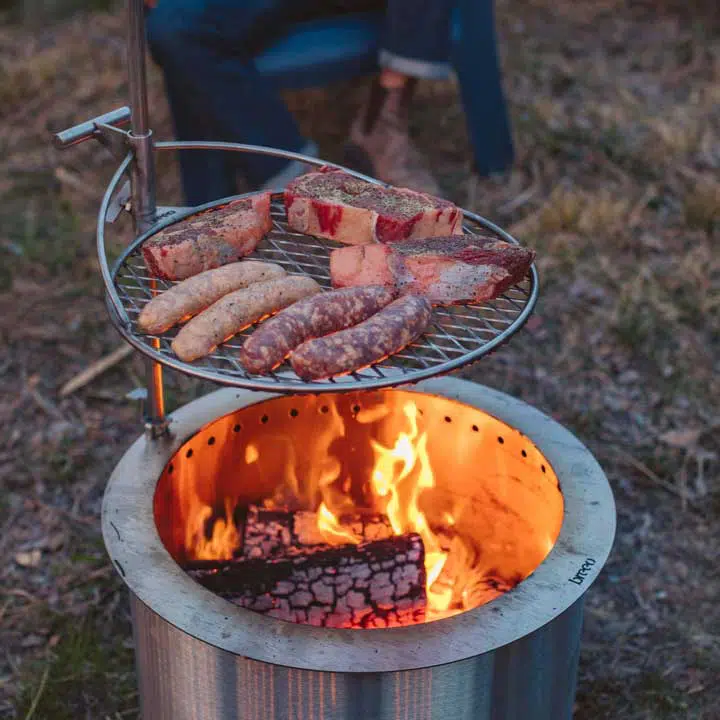 Simultaneously lightweight and heavy-duty, I was immediately struck by the attractive shiny exterior; constructed using 304 stainless steel, it's an industry grade pit that's sure to last for years to come. It certainly survived hours of testing.
Although a little weighty at 42lbs, you'll find it's still portable enough to pack up and go with you in the car – can you say beach bonfire, anyone? Plus, there's no compromise on durability, despite being a take-along pit.
Made in the heart of Lancaster, Pennsylvania, Breeo is a USA-based manufacturer of truly high quality products. Renowned for producing fire pits with meticulous attention to detail and impressive craftsmanship, you'll struggle to find better.
Key Features
One reason I never really thought about a fire pit was all that smoke! I thought it would be impossible to tone that down, but Breeo's super high efficiency, patented reburn system has absolutely changed the game.
https://youtu.be/HWSiOTCdPBEBy feeding the fire from the very bottom of the pit, as well as using dual-insulated walls, additional air is drawn from the fire's surroundings, which burns off additional smoke from the top of the flames, resulting in a lack of smoke you wouldn't believe!
Likewise, this attention to detail also results in a significant reduction in ash production, so when it comes to cleanup and maintenance your life is going to be a whole lot easier. Plus, your yard, the beach or wherever you set up will stay clean!
Heat retention is also especially good – low embers will smoulder for hours and the pit itself radiates warmth for hours, even after your flames have died down. An excellent heavy lid prevents any damage when the wind is up, and also does a great job at protecting the innards from heavy rainfall.
An integrated post sleeve for hanging accessories and locking mechanism are both compatible with the Breeo Double Flame Grill and Post. Although sold separately, adding this kit to your purchase can open you up to the wonderful world of wood-fired cooking!
Potential Downsides
One thing I did notice is that getting a fire going is a little trickier than with a usual fire pit. Those vents at the bottom are quite small, which means that they can get blocked up quickly if you use the wrong kindling or too much initially.
Once you've got things started it runs great, don't get me wrong, but the ignition process is more tedious than I would like, personally.
I also feel that the price for the additional cooking accessories is quite steep considering one of the pit's main selling points is that you can use it to prepare food. As pits go, the RRP is already pretty pricey, so whacking on extra costs feels a little unnecessary.
It's not recommended that you use the pit directly on top of wooden decking or any other flammable surfaces, so consider where you plan on putting it. Or, do what I did and build yourself a platform!
Others have indicated that the edges of their pit arrived very sharp, requiring them to sand it down before it was safe for use. I didn't notice that myself, but it seems a common complaint, so be wary just in case.
You will also find that rust begins to develop if left outdoors over time, but that is to be expected given the stainless steel.
To Conclude – Do I Love This Pit? Would You?
For a first-time firepit, this is an absolute beauty. Although it's out of the realms of a lower budget, you get yourself a sturdy unit that is highly unlikely to succumb to the elements. Ideal to leave outdoors all year if you don't have a garage, though consider additional coverage besides the lid if you do so.
I believe anyone who is fond of fires, but not a fan of the billowing smoke, would be a huge fan of this pit. It's worth noting that you'll never completely get rid of smoke production altogether, but this bad boy certainly does a good job of filtering most away.