Nothing's more frustrating than missing out on a catch just because your fishing line's type and quality are bad. The most common scenario is it gets stuck on a rock and breaks. That's why you need a strong and reliable braided fishing line to get that big catch.
But how can you identify an excellent braided fishing line out of the many available in the market? I've made it easier for you by providing a buyer's guide explaining what you should look out for when choosing a braided fishing line and my list of best-braided fishing lines.
Best Braided Fishing Lines Comparative Table
Best overall
Built for the military
Highly durable
Affordable option
Quality craftsmanship from a vetted cutlery brand
Best value
Great knot strength
Pocket-friendly
Abrasion-resistant
Best for Saltwater
Epoxy Coatings technology
Unpatrolled smoothness and consistent roundness
Strong visibility (bright-colored)
Best Braided Fishing Line Buying Guide
The market is full of braided fishing line options to choose from, making the process of selecting one an overwhelming task for many anglers. To make it easier for you, here are some factors to consider the next time you're shopping for a braided fishing line:
1. Sensitivity and Stretch
A braided fishing line with a firm hooking setting capacity allows you to haul fish successfully.
Sensitivity is another essential aspect. It helps you catch fish quicker. And what determines a line's sensitivity level is the fishing line's stretch. Zero stretches in a braided fishing line mean high sensitivity, which in turn means you can detect fish bites fast, and you stand a better chance of easily catching a big fish. It also helps you know the ideal time to pull the line from the water.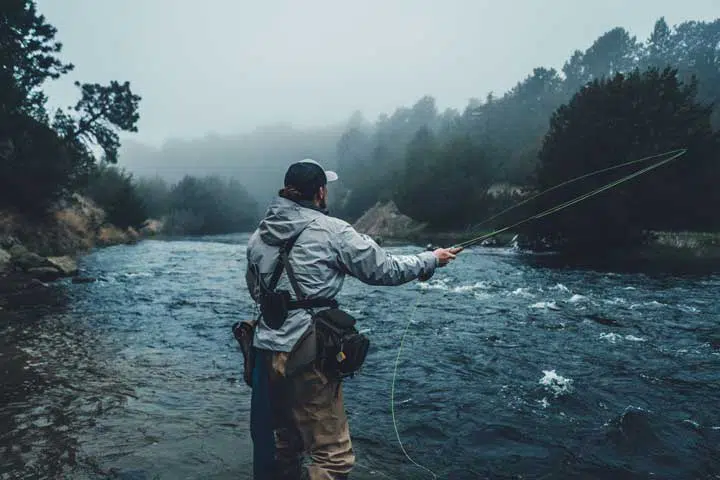 2. Abrasion Resistance
The ability of a fishing line to reduce damages done on it when dragged along rough surfaces or when scrapped is abrasion resistance. A non-abrasion-resistant fishing line will cut under such circumstances (rough surfaces), so it's best to invest in one with high abrasion resistance. It will endure friction caused by obstacles, such as rocks, in deep waters and remain strong. High abrasion resistance goes hand in hand with durability. And although most braided fishing lines are abrasion-resistant, it's worth noting that thinner lines provide more abrasion resistance when compared to thick ones.
3. Strength and Durability
Can the braided fishing line you intend to carry the intended load without snapping? If this is the case and the fishing line can also stay underwater without weakening and withstand trampling without losing its shape, then you can be sure it will serve you for long. Go for a robust braided fishing line to catch big fish easily. The line diameter, number of fibers used, materials used, and knot type can help you estimate the fishing line's strength. Often, braided fishing lines consist of four to eight woven fiber strands. Go for the double loop knots if you're looking for a more robust option.
4. Visibility
The color is essential not only for aesthetic purposes but also for excellent visibility. Chances of you leaving with a good catch are dependent upon the extent to which the fish can spot the line. Of course, a more visible line increases your chances of catching a fish. Therefore, invest in a brightly-colored line that doesn't fade fast, rather than a dull-colored one.
5. Casting Distance and Diameter
Look for a braided fishing line with a long casting distance and a thin diameter. There are days you're going to fish in deep oceans, and this factor will be of great importance. That's because you'll require your fishing line to go deeper underwater to reach the fishes. A thinner diameter allows for a greater capacity of the fishing line while casting.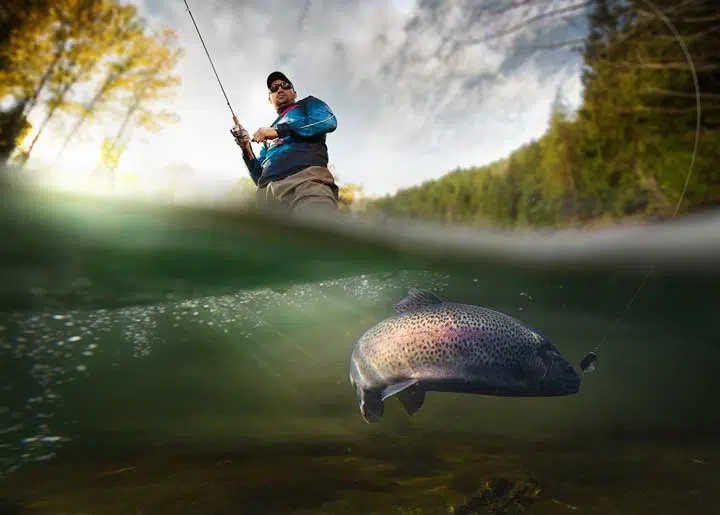 Can Fish See the Braided Fishing Line?
The thickness determines whether or not the fish can see the fishing line. When a line is very thin and has small diameters, it's pretty hard for fish to spot it underwater. However, as mentioned above, investing in a line that's brightly colored increases the chances of the fish spotting the line.
Are Braided Fishing Lines Better?
Braided fishing line manufacturers produce lines made of different fibers to make them more appealing. If you're looking for a strong line that'll enable you to catch bigger fish, braided fishing lines are perfect for you. That said, every type has its pros and cons, and it's always good to be well informed about other kinds of fishing lines and what they're best for.
5 Best Braided Fishing Lines Review
From experience and after extensive research and testing, I've come up with a list of the top five braided fishing lines, explaining why each of them made it to my list.
The Power Pro Spectra Fiber is an incredibly round, smooth, and sensitive braided fishing line built with enhanced body technology (EBT) which boosts handling performance. The spectra fiber used in the construction of this line gives it incredible abrasion resistance. It also has a high strength-to-diameter ratio, allowing for more excellent casting capability. From trout and bass fishing to angling for saltwater gamefish, you can use this line for just about everything as it offers a wide range of pound tests and lengths.
What's more, it comes in various colors, including moss green, white, hi-vis yellow, and vermilion red. The moss green is favorable for most fishing conditions. In murky water, the hi-vis yellow lets you observe the line moving in reaction to smaller bites.
Pros
The line is more abrasion resistant than most brands.
Due to its physical characteristics, the line offers extra casting distance.
EBT technology makes casting and handling more manageable and more efficient.
With its excellent sensitivity, fishing becomes more exciting.
Cons
The line is prone to wind knots, which could make it flimsy and cause it to wrap around your rod's tip.
The line has a tough coating that causes noise due to friction.
If you're looking for a wallet-friendly line, then consider the KastKing SuperPower. It's an affordable option that still offers all the benefits that come with braid.
This line has a strong knot strength due to the dynamically incorporated strands in casting. It allows you to tie a more solid knot with ease.
What's more, it has low memory, enabling you to achieve better, farther casts with fewer wind knots. It also has more excellent abrasion resistance, which decreases the chances of losing your big catch.
In addition, the line has ultra-high sensitivity and zero stretches, allowing for a superior hook setting that boosts your catch ratio. And don't forget this fishing line has a smaller diameter compared to other brands, allowing you to spool more fishing lines onto your reel.
Pros
It's very affordable and highly durable.
The line has excellent knot strength.
It has a wide variety of strength options with types of different tensile strengths.
It has ultra-high sensitivity and abrasion resistance.
Cons
The colors are not fade-resistant.
The line has no wind ties.
The SpiderWire Stealth is an upgraded version of its predecessor, with about 30% more strength. Its reduced weight makes it many anglers' favorite choice.
The line is available in many colors, all with a smooth profile. With this line, you can be sure of optimal visibility in all water conditions.
What's more, you need not worry about strength and durability. It consists of four or eight-strand Dyneema Braids, making it super strong and sturdy.
The line also comes in an improved thinner package, so it'll take up less tackle box space.
Pros
It's made of the best braids in the market, durable and strong.
The fishing line has a wide range of spool lengths and tests.
It's very silent in action as it allows silent casting.
It takes up less space.
Cons
The line tends to knot, which can be a bit annoying.
It has low abrasion resistance, and its coating adds no strength to the line.
The Berkley FireLine Superline is a braided fishing line that's one of the strongest and abrasion-resistant super-line in its class.
It's the first translucent super line ever made, and it's a smooth-handling line, making it the best-braided fishing line for spinning reels.
What makes this line stand out is that it has a thin diameter. The line has low visibility and unbelievable lure action.
Moreover, its micro-fused Dynamo PE fibers are typically three to four times stronger than mono, making this fishing line incredibly strong.
What's more, the Berkley FireLine Superline provides excellent sensitivity, and neither cold nor ultralight rays can cause it to deteriorate.
Pros
The line is super-strength, so you can't lose your catch no matter how heavy your catch is.
It has ultra-sensitivity, making catching easier, plus with no stretch.
The line is suitable for any water conditions and can accommodate all fishing types.
Cons
It fades quickly and is a bit visible underwater, which may make catching fish difficult.
It's unsuitable for very deep waters as the fishing line is only 300 yards long.
Saltwater fishers planning to catch large, pelagic fish species, such as sailfish or tuna, have an ideal product for this purpose—the Piscifun Onyx braided fishing line.
The line is durable and has superior abrasion resistance that uses new Epoxy Coatings technology, which protects it from any form of damage.
Also, with its four strands of unmatched fiber material, the line allows you to tie a more solid knot of high strength. A tight, strong knot increases the abrasion resistance such that the fish cannot come off.
What's more, the line has a smoothness and roundness, which allows the bait to reach the target water layer faster to catch the fish.
It also has minimal stretch, which increases sensitivity and a small diameter to LB ratio, which greatly reduces the memory.
In addition, it's built with Precision Braiding and fiber with four strands, making it very powerful and improving casting and knot strength.
Pros
The line has consistent smoothness and roundness, offering no backlash.
It has high knot strength due to its unmatched strength fiber material.
Piscifun Onyx has very high sensitivity, which easily detects the slightest of a fish bite.
What's more, its minimal elasticity makes it ideal for catfishing.
Cons
The color of the fishing line fades with more use.
It's somewhat noisy when casting.
Conclusion
Determining the best-braided fishing line to use when you go out fishing can be a daunting task, with the many varieties available in the market. However, this review and guide provide an excellent place to start your search.
As I've seen, a good braided fishing line has sensitivity and stretch, abrasion resistance, and long casting distance, and a thin diameter. It's also sturdy, durable, and bright-colored so that it's more visible.
Considering these factors, I consider the Power Pro Spectra fiber braided fishing line the best overall. Its low memory and incredible sensitivity make it well-loved by most anglers, and with it, you're sure to land your bait easily. You can also do casting in deeper waters as it offers a more profound casting distance. Its EBT technology aids casting, plus the line is very strong and durable. Finally, its coloring makes it easy for fish to spot. These features and more make the Power Pro Spectra stand out.
With a quality and efficient fishing line, your fishing experience will be not only successful but also quite enjoyable.