There are times where our phone's flashlights just do not cut it, and we need a powerful and rugged flashlight that will stand the test of time.
That is where Fenix comes in, riding white stead to save the day. Their PD 35 tactical flashlight is a fantastic option to consider. The flashlight might be a few years old, but it is still one of the most popular flashlights on the market.
Today, I bring you the Fenix PD 35 TAC review to find out if this truly is the flashlight for you!
Overview:
Let's take a quick look at the flashlight's key features for those in a rush today!
Six output modes with up to 1,000 lumens for a bright view.
The durable aircraft-grade aluminum and Type III hard-anodized anti-abrasive finish provides outstanding strength.
The toughened ultra-clear glass lens has an anti-reflective coating.
Lightweight, weighing only 3.1oz (90 grams) without the battery.
Two battery options provide great versatility.
Long battery life, even when using higher output settings, provides an affordable use over time.
Low-voltage indicator avoids a flat torch or corroding batteries.
IPX-8 Standards Rating of 2 meters for 30 minutes.
The maximum distance of 200 meters.
Reasonably priced.
Want to know more? Keep reading for an in-depth review of the Fenix PD35TAC flashlight.
Features
Let's take a closer look at some of the great features this flashlight has to offer.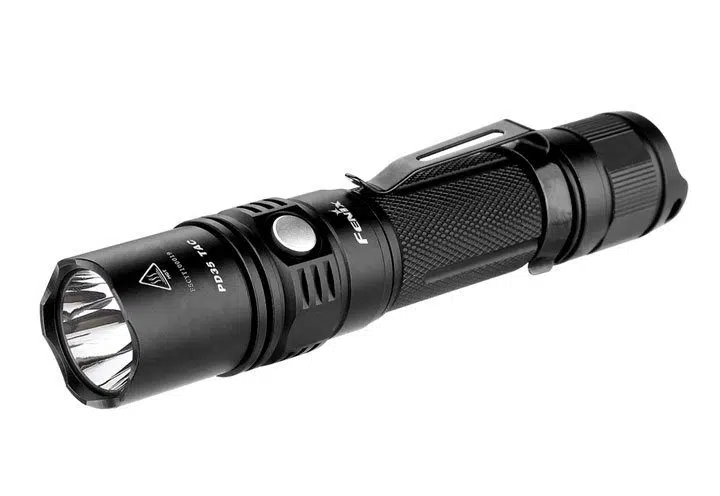 The Fenix PD 35 TAC features six output modes that can deliver up to 1,000 lumens. Using the Turbo-Mode, you can experience this brightness instantly! Great for lighting up a whole range of spaces.
The flashlight uses CREE LED lights that boast a lifespan of 50,000 hours! They deliver fantastic brightness that is not often seen in flashlights this compact! In other models from Fenix, 500 lumens were the best offering, so this is a massive upgrade.
You get a fantastic range with the light too! Prepare to see things you've never seen before. No, I don't mean ghosts (I hope!), but with a range of 200 meters, your creepy shed or cupboard will have no dark spots! The light is digitally regulated, too, to ensure you get consistent performance and no flicker! Great for those that need constant light during dangerous tasks.
The flashlight also boasts a submersible of 2 meters for up to 30 minutes! Why not enjoy a bright burst of light when you need it most? Making the most of the highest output for such a long time is an excellent feature for campers or those who experience power outages.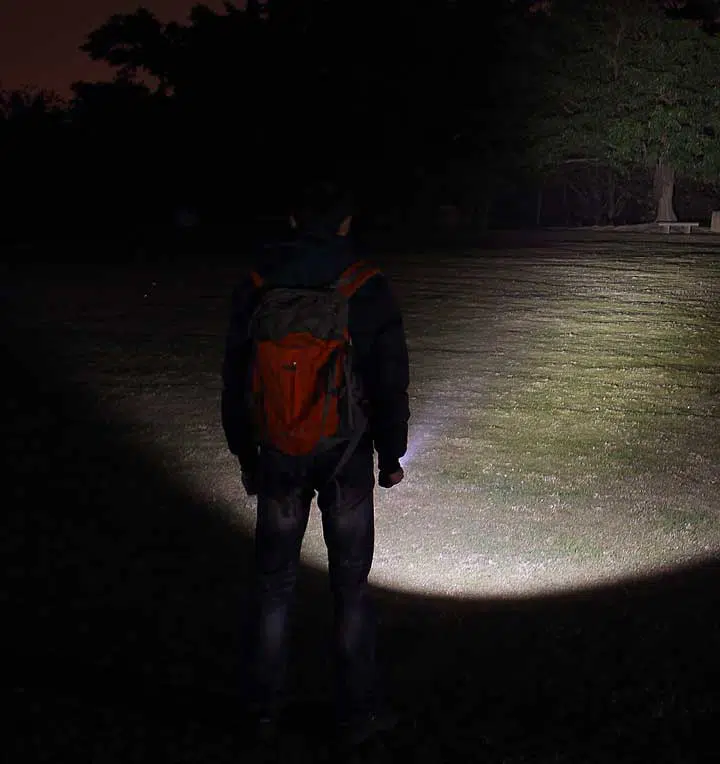 The outdoor mode is an excellent feature and controlled with dual-switch controls on the side of the flashlight. The PD35TAC also remembers the last used brightness level and automatically uses this when you switch it on! Great for those who need to pick up where they left off.
You also won't need to worry about damaging this flashlight either, as it is incredibly durable! Fenix's flashlight features aircraft-grade aluminum and a premium type III hard-anodized anti-abrasive finish to offer a strong finish to the flashlight.
The knurling is also exceptional. The textured design makes the flashlight comfortable to hold and can be cleaned when needed. These materials work to offer an anti-roll and slip-resistant body that keeps the flashlight firmly in the hands of the clumsiest people! Butterfingers over here can even hold it securely.
The threads have been well machined, but some customers did miss some lubrication on them. The lack of lube is not a major issue, as you can apply your lubrication during cleaning, but it is something to be aware of when making your purchase.
Performance
So, how does the flashlight perform? Very well! The light beam is bright and works well to illuminate even the darkest of spaces.
The light is exceptionally bright and great for use in large open spaces as well as confined ones. I use it on dog walks in the rural countryside and find it lights up fields and uneven paths brilliantly.
When used indoors, I have found that shining the light at the ceiling acts as though you have turned the room's lights on! It is that bright. Even in the lower settings, the flashlight still performs well to deliver a bright view of dark rooms.
There is also a low-voltage reminder that will indicate when the batteries need to be changed! You won't be caught out with a flat battery when using Fenix's flashlight! Speaking of batteries, the flashlight operates on CR123A batteries or one 18650 battery. Both options are widely available and not too expensive to purchase.
The battery life will vary depending on the modes you use on the flashlight. Generally speaking, I get fantastic barry-life and so far have only needed to change the batteries once.
If you are using the torch daily on higher output settings, you can expect the battery to run down quicker but still get extraordinary life. Customers have praised the excellent battery life, even when using the single 18650 battery.
Some customers found that while on, the flashlight could get quite warm on the light end. The heat is not surprising when you consider how bright the light is and how small the flashlight is! But it is something to consider and be mindful of when using the flashlight.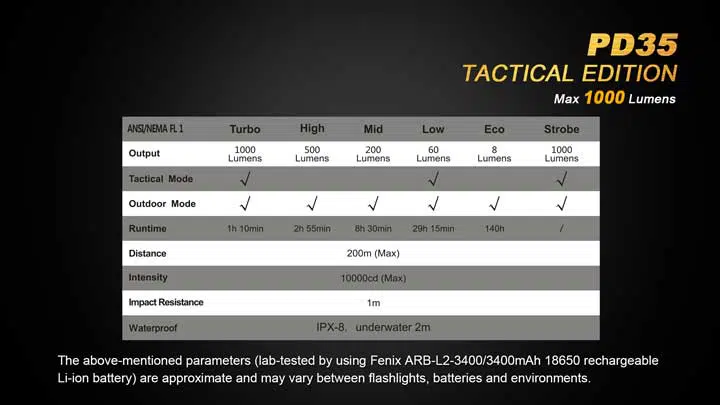 How much?
For such a powerful and rugged flashlight, it is incredibly reasonably priced! Compared to others on the market, the PD35TAC is affordable and still delivers fantastic levels of brightness.
It's a fantastic flashlight for almost every budget and one to consider! Remember to set your budget when searching for your new flashlight to ensure you get the correct price for you and your needs. When setting your budget, be sure to consider other factors such as the cost of replacement batteries for your flashlight.
Final Word
That brings me to the end of my review of the Fenix PD35TAC flashlight.
As you will have seen, the flashlight is a fantastic option for anyone! Whether you are using it camping, on a hiking expedition, or to find the fuse box, I am certain it is a flashlight nobody should be without.