Machetes are sturdy, durable knives you can use for various tasks. Depending on the size and material of the blade, you can quickly clear overgrowth and chop branches with a machete. Consider your needs regarding duties as you check out my reviews of the best machete.
The Best Machete at glance
Best for Clearing Branches
Easy to carry and use with an ergonomic handle
Best for Heavy-Duty Jobs
Cuts thick branches with no extra effort needed
Best affordability
Inexpensive, high-quality materials, solid performance, incredible value for money
Things to Look for in a Machete
Don't get machetes confused with hatchets or axes. They are each different and are designed for different types of work tasks. Machetes are large knives with broad blades that can be used for combat purposes or to cut through vegetation. Check out this article to learn the differences between an ax and a hatchet.
Machetes are incredible tools used for a variety of purposes. Here are just a few things they are commonly used for:
Agriculture (harvesting rice, corn, sugar cane, and other crops)
Clearing brush
Camping (chopping wood for a fire, clearing a campsite, cutting shelter materials)
Self-defense (military combat, fending off dangerous animals)
Food preparation (splitting hard-to-open nuts and fruits)
Creating nature paths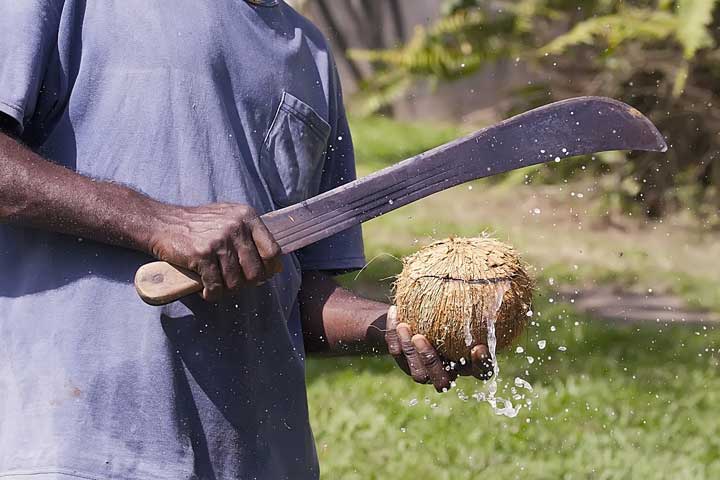 There are several things you should consider before buying a machete of your own. First, be sure to ask yourself what you'll be using it for. Are you wanting to chop branches, and clear away shrubs and plants, or are you looking for a combat weapon?
Once you determine how you're going to use it, you'll want to examine the following factors when you're ready to buy your machete:
Blade Length

Your blade length depends on the type of work you're going to do. Generally speaking, shorter blades are more practical if you're doing easier, lighter tasks, while longer blades will offer more heavy-duty cutting power.

Blade Material

Most blades come in carbon steel, stainless steel, or high carbon steel. Carbon steel blades are usually more robust, more inexpensive, and are better at keeping their sharpness. Stainless steel blades are rust-resistant, dull quickly, and are a lot more costly. High carbon steel blades are the most expensive of the blade materials, offering high durability and requiring less maintenance.

Tang

Tang is the bottom half of a blade that goes down to the handle. If you're looking for more heavy-duty cutting, you'll want a machete with full tang. This means that the tang is as long as the entire handle, allowing you more leverage, balance, and of course, power.

Type of Handle

Believe it or not, a machete's handle material plays a significant role in its use. The weight of this material and your grip has a lot to do with how effective your machete can be in completing the task at hand. The most widely used handle materials include:

Leather – offers a firm grip at a more expensive price
Molded Plastic – inexpensive with easy maintenance, but can become slippery or break or discolor over time
Rubber – an easily worn option that offers a comfortable grip
Micarta – the most durable choice with a higher price tag
Wooden – lightweight with a solid grip yet more costly and more prone to cracking

Durability

Whatever machete you choose needs to be incredibly durable. After all, it'll be cutting through objects. If it's not tough enough to slice nicely without breaking, then it's probably not going to last you very long. Don't settle for a flimsy model from an unknown. Make sure to & the reviews and ensure that your choice can stand the test of time.
Safety Tips for Using Machetes
Obviously, there are always safety concerns when it comes to swinging a sharp object around. However, with a bit of know-how and practice, you can rest assured that you'll enjoy safe slicing.
Whether you're a machete-swinging pro or a beginner, here are a few of the most common safety tips for using your machete:
Examine Your Area

Ensure that the area where you'll be working is free of any safety hazards for you and anyone in the vicinity. Make sure the space is clear of animals and children or that they remain at a safe distance.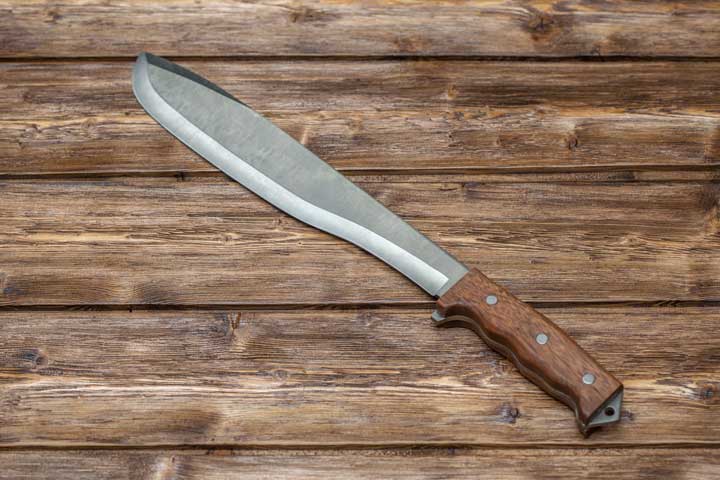 Hold It Properly You must hold your machete with a solid, comfortable grip to effectively use it and prevent blisters. Improper holding technique could lead to the machete slipping out of your hand (overly loose grip) or exhausting your hand (overly tight grip). Take a look at this helpful video to learn how to hold your machete properly.
Swing Correctly

Once you know how to hold your machete, now you're ready to start swinging. It's essential to maintain your momentum with each swing by swinging with your whole arm, leading with your elbow, and flicking your wrist at the moment of contact.

Carry It Safely

Always store your machete in its protective sheath when you are transporting it to a different worksite or carrying it around with you. This will prevent injury to yourself and others.
This inexpensive military machete is no joke. It features a plain edge, 18" blade made of 1095 carbon steel and hardened to 50-55 HRC, including an overall length of 24". With over 125 years of successful knife manufacturing, the Ontario Knife Co. has extensive experience creating beautifully crafted, durable, heavy-duty tools for the U.S. military.
This tool takes the cake for the best combat machete due to its phenomenal cutting power and sturdiness. It's undoubtedly one of the best survival machetes, as it holds up in harsh environments and repetitive use. If you're looking for a professional-grade military machete, this one's for you.
This well-built cutting device will slice through branches, shrubbery, and even small trees with ease. Whether you're an active army sergeant or a homeowner needing to cut down free-hanging limbs in your backyard, you can benefit from using it.
If that's not enough for you, the 1,000+ positive ratings on Amazon prove that you're getting extreme value for your money. And that's why I'm naming it best machete of the year.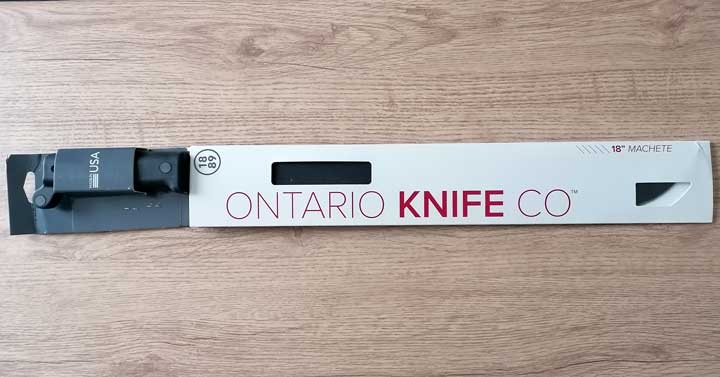 Pros
Incredible durability, built for the U.S. Military
Manufactured by a reputable brand with over 125 years of experience
High-quality steel blade
Lightweight for easy swinging
Cons
The plastic handle can be difficult to grip
Doesn't come with sheet
Heavy
Blade finish scratches easily
Dull out of the package
Some customers noticed rusting on the blade
The sturdy KA-BAR machete kukri is a great knife-sized machete to keep on hand. It fits easily in your vehicle or camping gear, so you'll always have it near. You can use it to hack through brush, clear branches, and prepare a campsite. The machete is light enough for yard work without straining your arms or back.
The Kraton handle feels like heavy plastic and gives you a reliable, ergonomic grip. There's also a lanyard hole at the end to loop it around your wrist for extra security. The machete includes a leather sheath that snaps into place to protect the blade when you're not using it. The sheath has D-rings to attach to your belt or strap to your leg.
If you're using the KA-BAR 2-1249-9 Kukri in your yard, you're unlikely to experience problems. It can chop branches like it's nothing, making quick work of the task. But if you're using it while camping, you should stay aware of your surroundings. If you chop through branches and end up hitting rock, you'll easily chip the blade's edge.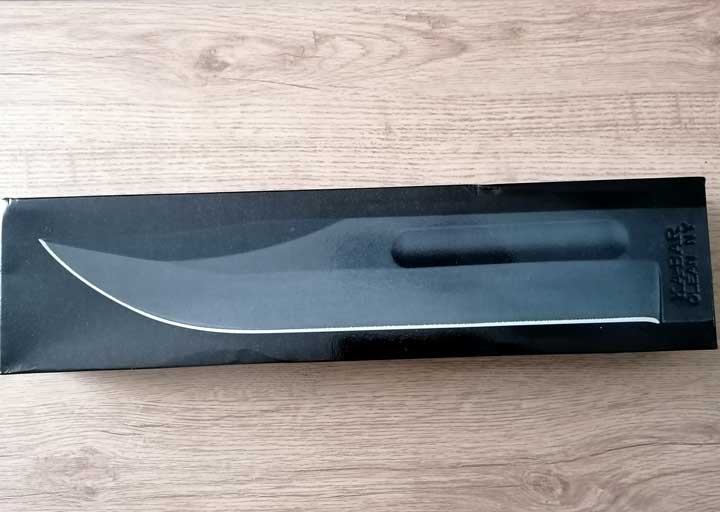 Pros
Cuts through two-inch thick branches without trouble
Weighs 1.7 pounds and includes a leather sheath for your belt
Blade is 11.5 inches long, making the entire machete 17 inches long
Kraton handle provides a non-slip grip
Includes sheath
Affordable for the durable usage and quality materials
Cons
More of a hatchet or durable knife than an actual machete
Blade chips if it hits a rock, though it won't break
Handle melts near fire or extreme heat, which is disappointing for campers
The Gerber Gear 31-002076N Gator Bolo Machete resembles a jungle tool, so you know it's ideal for heavy-duty work. The blade has the classic machete shape that makes cutting through thick brush simple, without extra exertion on your behalf. You can use this option to cut firewood instead of wielding an ax.
Compared to the previously reviewed machetes, the Gerber Gear Bolo Machete stands out based on appearance alone. It's 22.5 inches long overall, with the blade coming in at 15.5 inches. Despite the increased length, the weight isn't much—1.3 pounds without the sheath and 1.6 pounds with it.
Since you'll use this machete for heavy-duty jobs, like cutting branches and firewood, the handle is vital. It's a Gator grip handle, ergonomically designed to fit in your hand without causing blisters. There's a wrist lanyard included for extra security, so you won't have to worry about losing the blade while it's in action.
Pros
Cuts wood and branches without a struggle
Lightweight 15.5-inch blade for easy use
Gator grip handle is comfortable to use and provides a reliable grasp
Includes a nylon sheath and wrist lanyard for additional carrying choices
Gerber provides a limited lifetime warranty on their machetes
Cons
Best suited for heavy-duty use, so there's not much versatility
Blade dulls quickly, so you'll need to sharpen it often
Handle can split with overuse
Although it's probably on the higher end of your budget, this imported Condor Golok Machete hails from El Salvador and offers high-quality cutting power with a manufacturer warranty. Many customers have been thrilled to say that it's sharp right out of the box.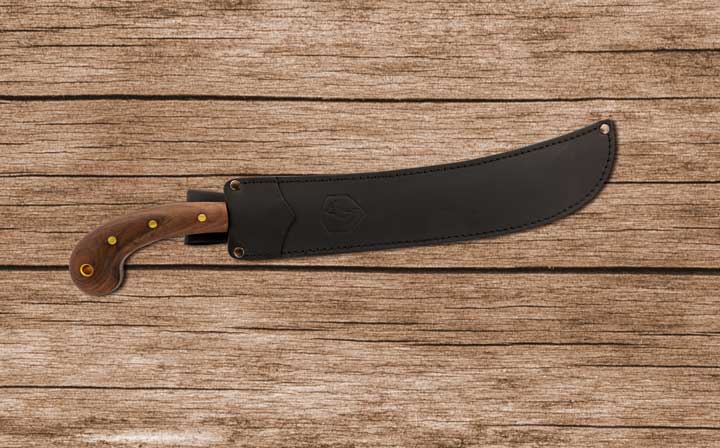 The Condor Golok Machete features a 14-inch, 1075 high carbon steel blade with a black powder epoxy finish and an overall length of 19". I've chosen this product as the best machete for chopping wood due to its strong grip and weighted end.
Some say looks don't matter, but I beg to differ. This machete will make you stop and stare with its gorgeous hardwood handle made of pure walnut. You also get a sweet-looking authentic 100% leather sheath to store your new toy, which includes a belt loop so you can cut on the go.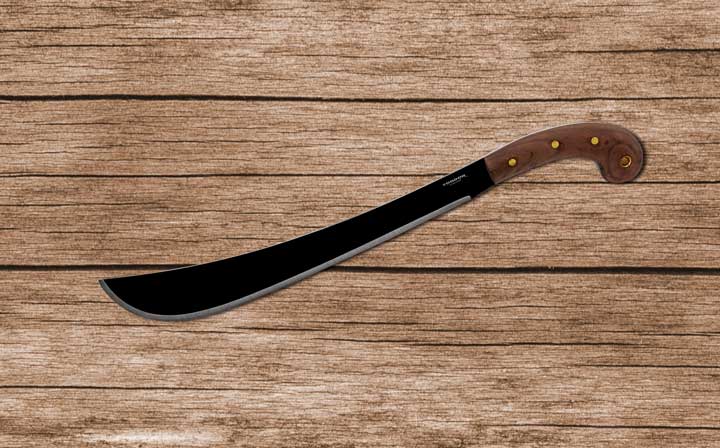 Pros
It offers a beautiful and sturdy walnut hardwood handle.
This product comes with an authentic 100% leather sheath for safe transportation to and from different worksites.
Customers enjoy a super sharp blade right out of the box, saving time and effort on pre-work sharpening.
This machete boasts full tang, giving it extreme cutting power and precision.
Cons
Some customers may find this tool too expensive for their budgets.
It may be too heavy of a tool for customers who either have less arm strength or are smaller individuals.
Some customers found the product to have a poorly balanced handle design and inadequate thickness level.
The blade can be easily dentable, according to some customers.
This Brazilian machete is small but mighty, weighing in at 7 ounces and packing some serious slicing power. It's the cheapest option on our list, making it an excellent choice for nature enthusiasts, farmers, and homeowners with a smaller budget.
This machete is 19.5 inches in length and features a 14.5-inch blade. It can be used for a variety of purposes, from clearing nature trails and cutting through free-hanging limbs to harvesting crops in the field and even opening coconuts on the beach (if you're into that).
With its heavy-duty, long, elongated blade, it makes our list of favorites as the best machete for clearing brush. This Bolo-style machete offers extra momentum when cutting through shrubbery and foliage while also being lightweight. It ranks #6 in Amazon's Gardening Machetes category.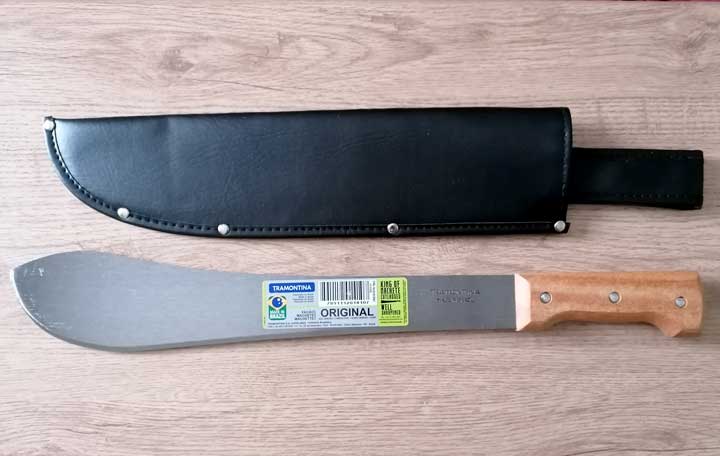 Pros
This is an incredibly affordable option for customers with smaller budgets.
It offers an excellent swing balance for effective cutting and slicing with better results and minimal effort.
It includes a polyurethane coating on the blade to help prevent rust and reduce everyday wear and tear.
This is a highly durable product that can withstand heavy-duty chopping tasks.
It's a multi-purpose tool that can be used to clear brush, chop wood, and much more.
Cons
The product is delivered with a dull blade and requires sharpening by the customer.
The wooden handle may be too small for people with larger hands and may require reshaping as necessary.
This product does not include a sheath, making customers buy it separately.
Some customers think the blade is too thin and flimsy for practical use and experienced a blunted blade.
Conclusion
Now that you've seen three of the most effective machetes, it's time to announce the winner. I've selected the Ontario Knife Co. Military Machete as the best overall machete for its remarkable durability, high-quality design and material, and its insanely affordable price tag.
Most likely, if something's built for military use, it harnesses some serious power, is capable of taking a serious beating without breaking down, and is a reliable tool. Compared to the Tramontina and the Condor, this reigned supreme.
You really can't go wrong with any of these products, as they all rank among the top machetes available. However, if you're looking for the best value for your money, you'd be remiss not to snag the Ontario Military Machete.