It's crucial to cover your skin from harsh UV rays during long summer days. Avoiding sunburns matters, whether you're hunting, fishing, or just spending time outside.
To help find the perfect hat for you, I'll go into detail about some of the best boonie hats available for sun protection and keeping cool this summer.
Best Boonie Hats
Best overall
Wide brim for sun protection.
Sturdy and won't be floppy.
Comes in a wide range of styles
Most Versatile
Tried and true U.S. military design.
This hat comes in many sizes.
Loops serve many purposes.
Best for Fishing
Water-resistant.
This hat has a wide brim for sun protection.
UPF+ protection.
Sweatband.
What to Look for in the Best Boonie Hat
Not all boonie hats are made equal. Let's look at some of the things that set the best boonie hats apart from the rest.
Choosing the Fit
Hat sizing isn't standard across all companies or all styles within the same brand. The disparity can make it easy to buy a hat that is too large or small. Before purchasing a hat, you want to make sure that it will fit. To choose the correct size hat, you should first measure the circumference of your head.
Measure the circumference of your head with a measuring tape or string. Wrap it around the widest part of your forehead and cross-reference this measurement with the provided size guide before you buy.
Choosing a hat with an adjustable elastic string might also be a great choice if you have any doubt about what size will best fit.
The cord may also be handy if you are in an area with strong wind and do not want to risk your hat blowing off of your head. Powerful gusts could happen anywhere from a high-altitude hike to a blustery ocean fishing trip, so be careful!
Overall Comfort
When searching for the best boonie hat, it may be helpful to consider comfort. After all, you'll likely be wearing this hat for hours at a time. When choosing a comfortable hat, it's good to look for:
An adjustable chin string
A sweatband to keep your eyes dry
Vents for added breathability
Correct sizing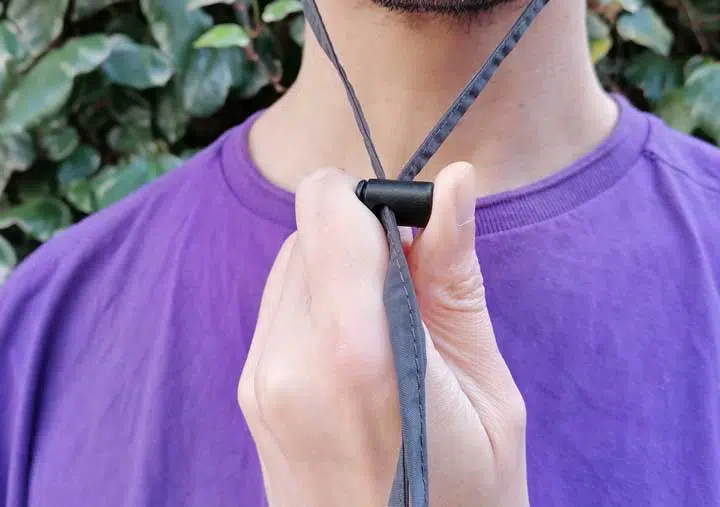 UV Protection
Light summer clothing consists of loose weave material. These loosely weaved fibers can let UV rays penetrate your clothing and reach your skin. To keep yourself fully protected, consider searching for UV protective clothing.
UV ray protective clothing has a tighter weave, limiting the number of harmful rays that can reach the skin. If you have fair skin, are prone to burning, or know you'll spend hours in the sun, it's a good idea to get clothes that are designed to protect you against UV rays.
However, if you value breathability may want to opt for a boonie hat that does not have such intense UV protection. Instead, you can search for a looser weave.
Always wear sunscreen alongside UV protective clothing for the best results. A wide brim will also protect you from the sun. If you are concerned about sun protection, The Skin Cancer Foundation recommends at least a three-inch brim.
At the end of the day, the best hat for sun protection is the one you actually want to wear. The other detailed factors may be helpful to consider if you wish to find the best boonie hat you will keep on—even on a cloudy day. Unfortunately, you're just as likely to get a sunburn when it's overcast.
Waterproofness
Any angler or boater knows that water accidents happen. Whether it's a splashing fish or a kayak tip over, the perfect boonie hat may end up soaking wet. Polyesters or poly-blends are water-repellent, so any droplets will roll right off rather than sinking in.
If you often find yourself on a dock, it might be beneficial to choose a waterproof hat or a hat that dries quickly.
It's important to know that waterproof clothing can be susceptible to breaking down when exposed to DEET and other bug repellents. This could be critical for extending the life of your next boonie hat if you frequently travel in an area with high mosquito populations.
Weight and Portability
If the rest of your gear is ultralight, then you may not want your ideal boonie hat to weigh you down. A lighter hat may also be more comfortable to wear for long periods, such as during a portage.
If you often find yourself packing light, you may want to consider choosing a lightweight and foldable hat. Because boonie hats usually have a wide brim for sun protection and UV protective hats use a dense weave, it may be slightly heavier.
For long trips, hunting, hiking, or fishing, portability could also mean greater ease packing up. Hikers and campers may want to look at hats with clips or loops to hook onto their backpacks.
Style
Sometimes the best boonie hat is the one that simply looks the best. The U.S military popularized boonie hats in the 60s. This history means boonie hats typically come in desert tan and olive drab. Many boonie hats pay homage to the military roots and have a camo style.
Of course, you can find boonie hats in different colors. Consider choosing a boonie hat designed for everyday wear, so it will fit your style.
Best Boonie Hats
All things considered, some hats stand out more than others. Here are the top five best boonie hats available now!
I love this boonie hat for everyday wear. It has a wide 3.7-inch brim for keeping the sun away from my face and neck. Thanks to this, it acts as a shield from harmful UV rays!
The lightweight polyester keeps shape, too, so the brim doesn't drape down into your eye. For those of us who wear glasses or sunglasses, this can be a real benefit. You don't want a floppy brim hitting the top of your frames or blocking your sight when you're looking through a camera lens.
The sturdy material does mean it can hold a crease, though. If you intentionally fold it for an extended amount of time, it will stay. Due to this, the EINSKEY hat is not my top pick for travel.
You may want to check out this pick if you are looking for the best boonie hat for regular everyday wear and increased sun protection. This hat comes in various styles and is excellent for everyone, from casual outdoorsy people to seasoned campers and hikers.
Pros
Wide brim for sun protection
Sturdy and won't be floppy
Comes in a wide range of styles
Cons
Size may run small
Material creases with wear
If you're looking for comfort, then this is the boonie hat for you! I love how this hat includes an adjustable chin strap, so I can stay warm and protected during cold, windy days.
This hat is a comfortable choice for anything that might be especially windy. Thus, this make may be the option to consider if you are going to be in a blustery area. Because of that, it's a great hat for high-altitude hiking and ocean fishing.
The CAMO COLL is also super comfortable in the intense summer heat. Thankfully, your head won't get too hot while wearing it. I like how much mesh it includes and how this hat's unique design keeps your head from overheating during the summer.
I love physical outdoor activities and value anything that keeps me from getting heatstroke. The mesh's design includes built-in UV protection, so you won't need to worry about your scalp burning while you wear it.
Plus, the hat comes in a wide variety of colors, so if the style is something you care about, this boonie hat may be a strong contender.
Pros
The hat comes in a wide range of colors
Vents reduce sweat and keep the head feeling dry
Still has UV protection
Cons
The button on the drawstring can get stuck
This KastKing boonie hat is designed with hunters in mind. Everything from the color to the weight and breathability is specified for spending long days in the bush.
This boonie hat is available in a wide variety of camouflage prints that are excellent for extended hunts. The camouflage style is Prym 1, which is made to look as natural as possible to prey animals. The matte material does not reflect light and is helpful in keeping the wearer part of the scenery.
The KastKing has UPF 50, which means that harmful UV rays can't penetrate the fabric. It contains built-in vents to reduce heat to compensate for the thick, protective material.
Hunts can also take a long time, and sweat can start to get in your eyes. The sweatband is fantastic for keeping your head dry over hours during the dog days of summer.
Pros
Camouflage options are available
The sweatband keeps eyes dry
High levels of UV protection
Cons
Size runs small
The brim is slightly floppy
The Rothco hat boasts an authentic military style. I like this hat most for a vintage look that takes the boonie hat back to its military roots. Not only does this make it look great, but the hat is incredibly versatile.
This particular make comes in a variety of sizes, which is not typical for boonie hats. Choosing a hat that fits well improves wear because it won't be too tight, nor will it fly off. Plus, each hat is outfitted with a long chin string. If, by chance, it does get windy, the hat will stay put.
Having loops all around the circumference may be useful too. These loops are great for putting in foliage if you need a quick camouflage or if you might need to hook the boonie hat onto a backpack.
This hat's design is in line with U.S. military specifications. Hats designed with tactical use in mind are great for any variety of outdoor activities.
Pros
Tried and true U.S. military design
This hat comes in many sizes
Loops serve many purposes
Cons
The brim is somewhat floppy
The material is slightly rough
The SUN CUBE is a great pick for angling in particular. If you're a fisher, you may want to consider this boonie hat for sun protection on the water. This hat is designed with watersports in mind and could be a solid contender.
It's a wide hat boasting a 3.7-inch brim, which can be great for a long day on the lake where the water can reflect UV rays, and shelter is scarce. The hat offers UPF+ protection and an absorbent sweatband, which can be perfect for days when the fish just won't bite.
The SUN CUBE is also water-resistant, which is key if you drop your hat and need to continue wearing it for the rest of the day.
The UV protective fabric is also easy to fold for travel and long fishing trips. With the mesh vents and drawstring, it really has anglers' needs sorted out. I love this hat for sweltering summer days on the lake and long fishing trips.
Pros
Water-resistant
This hat has a wide brim for sun protection
UPF+ protection
Sweatband
Cons
Insect repellents like DEET can damage waterproof materials
To Sum Up
Overall, I see the best boonie hat as the Einskey Sun Hat for Men/Women. It has a large brim for sun protection that can cover a lot of your back, neck, and face. It is made of a sturdy material that won't lose shape over time and will seem like new for years.
Anyone who spends excessive time outside and needs sun protection should consider the Einskey. Feature-wise, it boasts vents for airflow and has a great adjustable chin string to keep it secure.
All things considered, from style to UV protection, the Einskey Sun Hat for Men/Women boonie hat comes out on top.