Hammocks are a great addition to take with you camping, or to put up in your backyard for a Summer day. They are great for sleeping, lounging, and relaxing.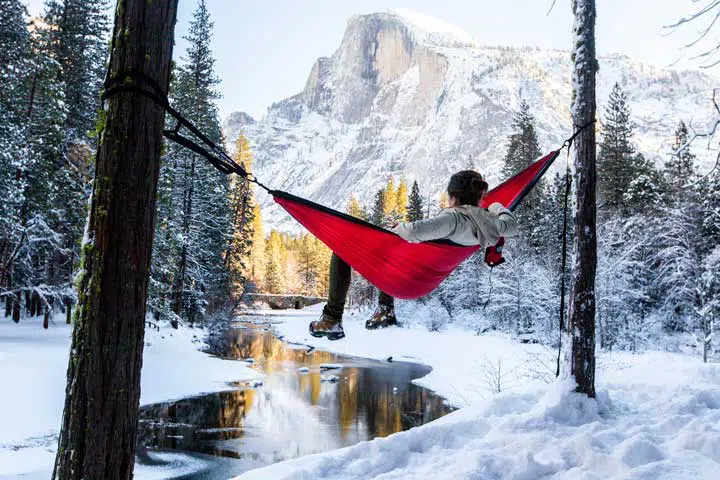 If you are looking for a suitable hammock you will want to consider an Eagles Nest Outfitters product. They produce great quality hammocks that are great options to take camping with you.
In this article, I will be taking a closer look at the Eagles Nest Outfitters DoubleNest Hammock, and sharing all of its features with you. I have reviewed it in detail and discussed its pros and cons so you do not have to.
Review
When looking to purchase a hammock you must consider all of the specifications that you need. To help you with this, I have split the review into different sections.
Price
Eagles Nest Outfitters (ENO), they are an American-based company that creates hammocks and accessories. They are popular and well trusted and have been established since 1990.
When looking at the price of the DoubleNest Hammock it is reasonable. It is a mid-range priced hammock that is created by a reliable company. When you take into consideration the durability and quality of materials, I think it is certainly worth investing in.
When looking at the colors available for the double nest, there are many different colors and patterns to choose from. There is a style that is suitable for everyone, which is excellent and inclusive.
DoubleNest Size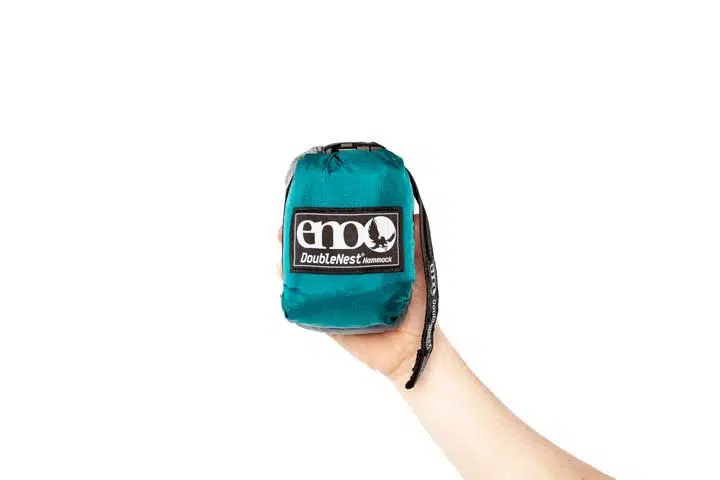 As its name suggests, this hammock is suitable for two people to use at once. This is great if you are looking to take the hammock camping. You will be able to have a place to sit and lounge without having to carry around cumbersome chairs. It can hold a weight of up to 400lbs, which is fantastic.
Given that it is made for two people to use, it is suitable and fairly big. Its full dimensions when opened are 112 x 0.25 x 74 inches. While this is fairly large, the hammock can be folded very small for transportation. When folded, the hammock is only 5 x 5 inches.
As you can see, the hammock is far easier to carry and transport in comparison to other lounging or seating options. In addition to this, the hammock comes with a built-in bag. Once you have finished using it is easily folded and secured in the bag. This is a great feature as it is all contained and you will not have to worry about it unraveling in your rucksack.
Materials
When purchasing a hammock, the materials it is made from are an important aspect to consider. While you want the hammock to be sturdy, you will also want it to be lightweight enough to transport with ease too.
This hammock is made from 70D high-tenacity nylon taffeta. This material is very durable and long-lasting while being lightweight and thin. The material is breathable which is good if you are planning to use the hammock in warm weather.
In addition to this, the material is quick-drying, which is perfect for camping trips. You will not have to worry about waiting for hours for the hammock to dry if it becomes damp.
It is worth noting that the hammock straps are not included with the hammock and will need to be purchased separately at an additional cost. This may be a little disappointing to some potential purchasers, though, they are fairly inexpensive to purchase.
While hammock straps will need to be purchased separately, the hammock is provided with carabiners so you will be able to put the hammock up and secure it. Given this, you may not necessarily need to purchase hammock straps.
The carabiners are made from an Aluminium wire gate. They are significantly strong given that they are capable of holding up 400 pounds of weight with no issues. They are long-lasting and durable. The hammock also comes with snap links made from stainless steel.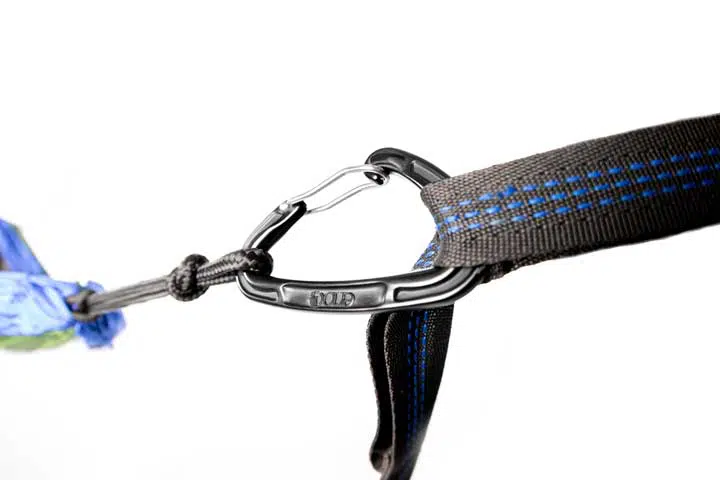 Environmentally Conscious
What is attractive about this hammock and Eagles Nest Outfitters as a company is that they are environmentally conscious. The DoubleNest hammock, in particular, creates far less waste in comparison to other hammocks.
Eagles Nest Outfitters has committed to using all of the fabric available during manufacturing to prevent as much leftover waste as possible. This is why some of their products will have slightly different stitching or color on certain occasions.
While this will mean that the hammock you receive may vary ever so slightly, I think this is a small sacrifice to make when you consider that this is the far better option for the environment.
Easy To Set Up
Given how lightweight this hammock is, it is easy to set up. The carabiners are easy to secure and fasten and the setup and take downtime is quick and requires little effort overall.
If you are planning to use this hammock to sleep in at night in addition to using it throughout the day, you may want to consider purchasing a bug net to protect you at night.
Pros
Eagles Nest Outfitters is committed to being more environmentally conscious and they will use as much of the fabric as possible to help prevent waste, which is fantastic
This is a very lightweight hammock that can be folded into its own bag. This allows for easy transportation
The hammock is suitable for two people and can hold a weight of up to 400 pounds
As the hammock is quick-drying, it is brilliant for use when camping in adverse weather conditions
Cons
The hammock does not come with straps, these will need to be purchased at an additional cost if you require them
Summary
Overall, I would certainly recommend purchasing the Eagles Nest Outfitters DoubleNest Hammock. It is great value for the money, well-made, and easy to set up. As it folds into its own bag and is lightweight, it is the perfect addition to a camping trip.
It is comfortable, and being quick-drying, and breathable, it is suitable for many different weather conditions that camping can throw at you.