When it comes to prepping or the outdoors in general, it is useful to carry a knife with you. A bugout knife can be useful for several different reasons.
If for example, you need to build a shelter or cut through something, a bugout knife is a sensible option to have. The last thing you will want is to be left stuck or without the option to be able to cut through an obstacle.
In this article, I have reviewed the Benchmade Bugout knife so that you do not have to. It is such a useful knife to have and one that I would highly recommend purchasing.
Benchmade Bugout Review
When you are looking to purchase a knife, the knife must be fit for the purpose. Given this, I have broken down my review of the Benchmade Bugout knife into useful specification sections.
Price and product details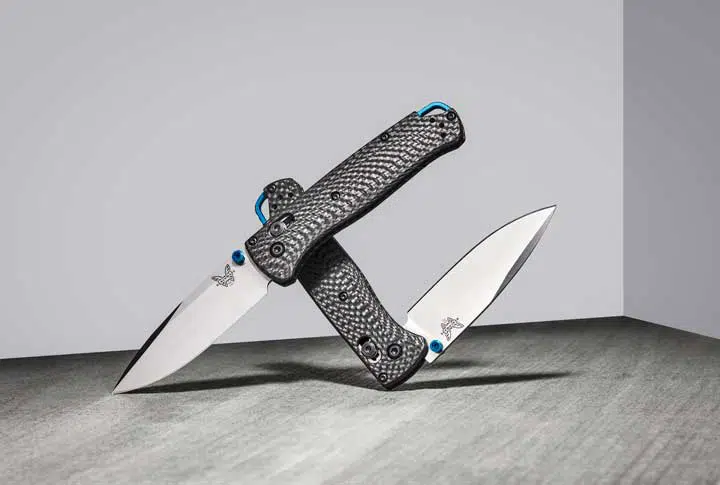 When looking at the price of the Benchmade Bugout, it is not the cheapest knife on the market. However, it is certainly worth considering as it is a well-made product overall. As it is created by Benchmade, you know that it is going to be durable and made to last. Benchmade is an American-based company that specializes in the creation of knives.
The knife has a simple and plain design overall and is available to purchase with two different handle colors, blue and green. The blade can be purchased with a serrated edge, or a plain edge, depending on the purpose and your preference.
When looking at the size of the Bugout Knife, it is fairly compact and will be easy to store and carry while on the go. Its full dimensions are 6 x 1.75 x 0.4 inches. In addition to this, the item weight is only 0.12 pounds. Being so lightweight, you will have no issues popping this into your backpack while camping or hiking.
Blade
The blade is made from American CPM-S30V Steel. This alloy steel is particularly durable and has first-rate edge retention. It has a drop point shape which is great for multiple purposes. It has good precision overall, which is great if you need to cut something in a particular way.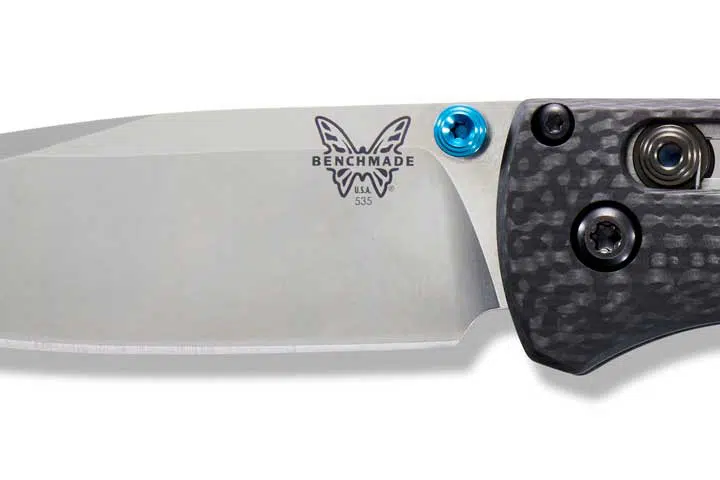 Given how lightweight the knife is, it will be easy and comfortable to use and will not weigh your hand down. This will make tasks easier and more precise.
The blade is particularly strong and it is also corrosion-resistant. This is such an excellent feature as this knife is made to be used in the outdoors. Being corrosion resistant you know it will be safe to use in adverse weather conditions, without having to worry about blade damage.
If you are looking to cut through debris or branches, for example, the serrated edge option will be a great option for you. The full length of the blade is 3.24 inches and its thickness is 0.090 inches.
Axis Locking Mechanism
This knife is great for storing in backpacks or pockets when not in use, thanks to its foldability. As it folds down to a compact size, it is safe to store and carry when not in use.
The Bugout features an axis locking mechanism that allows the blade to lock securely in place when it is open or closed. This gives you peace of mind that the blade will be securely in place at all times.
The blade opens safely and with no issues. It is smooth and does not get jammed. When it comes to transporting the blade, it features a lanyard hole and reversible clip so you can clip the knife to your backpack for example, for easy access when needed. The blade opens manually.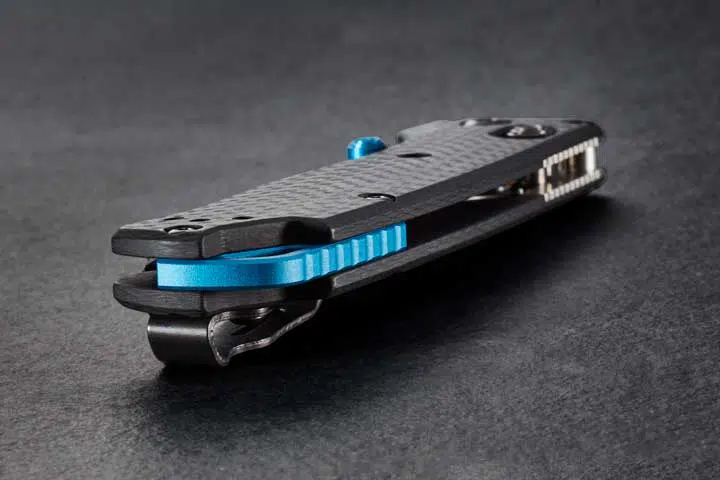 Grivory Handle
When purchasing a knife, the handle is just as important as the blade. The Bugout Knife features a fully ergonomic handle that is ambidextrous. The handle is made using glass-filled nylon.
Not only is the knife particularly comfortable to hold, but the material is durable and long-lasting too. While this is a plastic handle, it is well-made. However, some users may not be as keen on this.
Lifetime Warranty and LifeSharp
What is great about Benchmade Knives is that they come with a lifetime warranty. This will give you peace of mind if your knife becomes faulty in the future.
In addition to the warranty, this Bugout Knife comes with a LifeSharp service. This allows you to send your knife to the Benchmade factory to receive general upkeep and care. This can include sharpening, cleaning, oiling, and adjusting.
The knife is then shipped back to you for free. This is a great addition and does make Benchmade stand out from many of its competitors. I would certainly recommend taking advantage of this service.
Pros
The steel is particularly durable and this knife is a great addition to a camping or hiking trip with it being so versatile
The handle of the knife is ergonomic, ambidextrous, and comfortable to hold
It is made by a well-known company that can be relied upon to create brilliant products
The Lifetime warranty and LifeSharp are great additions that certainly make this knife worth purchasing
Being so compact and foldable, it is easy to carry
Cons
This is not the cheapest Bugout knife on the market, and it is more of an investment. However, it is a reliable and well-made knife that is built to last.
Some users may not be as keen on the plastic handle
Summary
Overall, I would certainly recommend purchasing the Benchmade Bugout Knife. While it is more expensive in comparison to similar models on the market, you know you are purchasing an excellent quality product.
The lifetime warranty and LifeSharp additions are fantastic, and many other companies cannot compete with this.
It is compact, easy to use, and comfortable overall. Being so lightweight it can be carried with no issues. Even though this is a compact knife it cuts well and precisely.
I think that it is a great option.