Exploring the wilderness is something that has always made me feel connected with my roots. However, it's essential to be prepared if you are spending one on one time with mother nature.
By adding the best bushcraft saw to your survival kit, you'll be ready to clear debris from your path, build shelter, or prepare for your next meal.
Best Bushcraft Saws At-a-Glance
Best Overall
Chrome-plated, 10-inch curved blade
Ergonomic handle
Cuts up to 8" branches or logs quickly and efficiently
Solid but still lightweight at only 12.8 ounces
Bargain Hunter
Money-back satisfaction guarantee
Very affordable
Two-angle adjustable blade
Compact (eight inches) and lightweight (under nine ounces)
The Lumberjack
Heavy-duty folding saw with a twenty-one-inch serrated blade
Easy to get leverage with a unique bow saw design
Aluminum frame has integrated storage for extra blades
If you're taking a tool into the wilderness, it better be dependable. It doesn't really matter what activities you're going to be doing. No one ever wants to be left holding a broken piece of equipment.
When it comes to choosing a bushcraft saw, dependability is paramount. If you're out in the woods, and you plan to rely on a saw to cut wood, meat, or anything else, it is an essential piece of your gear. And if anything was ever to go off-script, and you needed to rely on a saw to make an emergency shelter, you don't want to be depending on a piece of junk to keep you safe.
Modern life is often disposable. Even during my time in the Army, we had a tendency to think of some things as expendable. But when it came to essential pieces of gear, we needed equipment and tools that we could rely upon when the rubber met the road. I needed a clean and reliable rifle, rugged and comfortable boots, and a working flashlight. Not some throwaway junk that would fail me when I needed it most.
I consider a bushcraft saw to be in that same essential category. Can I carry it easily? Is it light enough to use for a long time? Can I beat it up a bit and still depend on it? Will it cut rope, meat, wood, and bone as needed?
In this review, we will find out how seven of the best stack up against each other.
Best Bushcraft Saw
Any bushcraft saw is going to be a compromise. Unlike when you're at home, you don't have a stocked toolbox full of specialized tools when you are in the bush. So, almost by definition, a bushcraft saw is going to have to have some tradeoffs.
To us, the longer a saw is, the more versatility it has. But you need to find a balance of traits to find the best bushcraft saw for you and your time in the woods. After all, if given enough time, you could complete most bushcraft tasks even without a saw. So, whichever saw you buy needs to complement your abilities and help you make quick work of your tasks.
What to look for in a Bushcraft Saw
If you go in the woods, at some point, you're going to need to cut stuff. And whatever you can't handle with a knife is going to require a saw. So you better have one that can handle a wide variety of tasks without falling apart or making you miserable. Cutting firewood, cordage, and bone are probably the most likely applications.
Durability
Any tool that you depend on should be durable. But when it comes to a bushcraft saw, durability becomes even more critical. In the demanding environment of the great outdoors, not everything goes according to plan. So, if your saw blade breaks easily, it's useless. If you have to use it in the rain, and the screws rust out after one use, you're going to be out of luck. And if the handle breaks, you're not only going to be without a saw, but you might even end up cutting yourself and having to deploy your AFAK.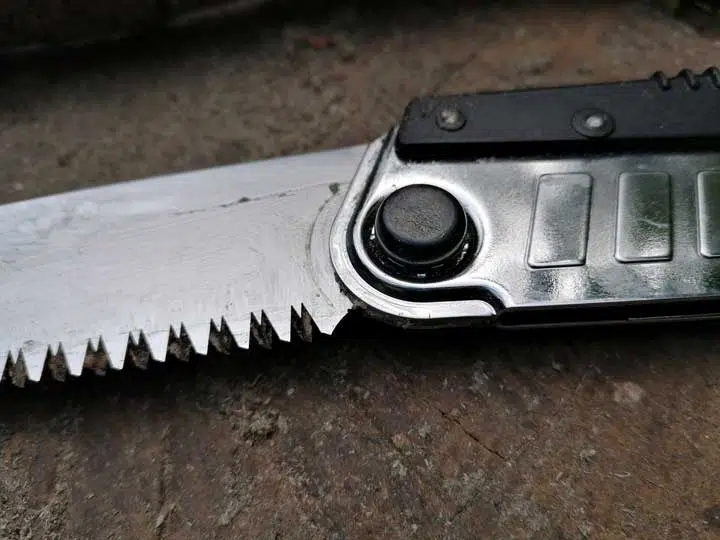 Compactness
Your saw needs to be compact enough to carry. Sure, a behemoth of a saw might make some cutting tasks more manageable, but it will not integrate well with the rest of your gear. And, if you end up having to lash it to your pack because it's too big to stow inside of it properly, it's going to be exposed to the element and every possible thing it could snag on during your travels.
Versatility
A bushcraft saw has to do many things well. And, with these kinds of saws, a longer blade means more versatility.
Even if a saw is advertised as the best at cutting wood, what if you need to use it to cut a rack off the moose skull you just found? Or if you need to use it to cut through a light piece of metal to build an emergency shelter? Is it going to work for cutting up some rope or plastic? What if you lose your knife wrestling a grizzly, and you need a backup blade for campsite tasks?
Some of those hypotheticals might be a little bit dramatic, but I'd rather be more prepared than less. And versatility in a bushcraft saw gives me the edge I need. Pun intended.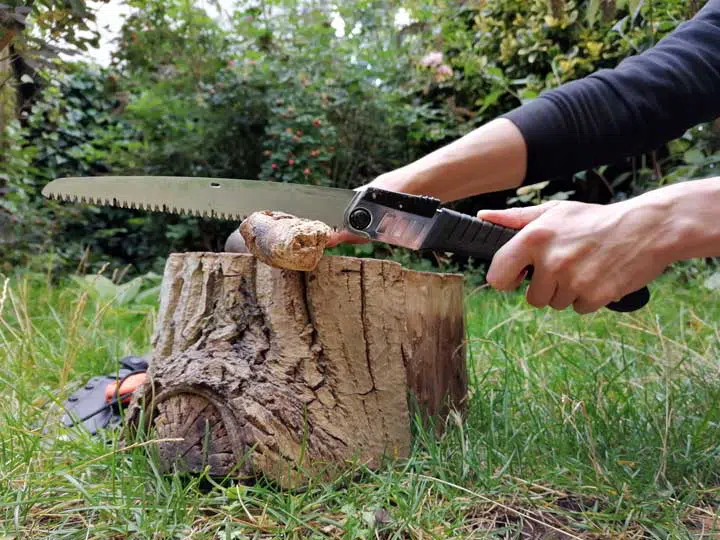 Lightweight
A bushcraft saw needs to be lightweight. You don't want to be humping around a heavy saw as part of your gear. And, you don't want to be using a big, heavy saw to make all the cuts you need on a campsite or to build a shelter. You don't have the luxury of turning to a power tool to cut through a big branch, and making thousands of passes with a saw is going to be that much more tiring if it weighs more than it needs to.
The Best Bushcraft Saws Reviewed
In my eyes, these are some of the best bushcraft saws available. They all offer a blend of the characteristics needed to be an ideal saw in the bush. By paying attention to the tradeoffs, you can find one with the right combination of traits for you.
Right off the top, I feel comfortable stating that they are all fairly durable and well-suited to the rigorous demands I have for a bushcraft saw.
Most of these saws offer a limited warranty and operate as pull saws, meaning they cut when you bring them towards you in the manner of a Japanese blade, not in the sawing motion you might be more familiar with.
Let's break them down and examine some pros and cons for each.
The Corona Razor Tooth Saw is a very capable saw. While offered in a few sizes, the 10-inch version is our preference, as it can handle larger pieces of wood. You can get a good amount of leverage. We have seen this saw cut through thick branches and even small trees with relative ease, and it seems to be a pretty common sight on campgrounds.
Pros
Chrome-plated, 10-inch curved blade
Ergonomic handle
Cuts up to 8" branches or logs quickly and efficiently
Solid but still lightweight at only 12.8 ounces
Cons
Blade may bend a bit during hard use
No carrying case included
The Bahco Laplander Folding saw has a blade that is seven inches long. That might seem long enough, but it will not be well-suited for cutting up branches with a diameter over a few inches. So, if you really just need a saw to handle some light cutting, and you're going to be breaking up a lot of smaller firewood with your hands anyway, this might be a neat little compromise.
You have the benefit of a compact and versatile tool, and you just need to expect that bigger cuts will take more time.
Pros
Very lightweight at only 7.1 ounces
Only 9 inches when folded, very compact
Multi-purpose design for cutting branches, rope, plastic, bone, and more
Cons
Shorter strokes mean more work to cut
Can't handle larger branches as easily as longer blades
This saw is among the most expensive in this market segment. But, its relatively high price tag makes a lot of sense. It is a premium model saw with the largest blade in this review, and it is from a trusted brand.
It is available in a curved- or straight-blade configuration, and it's even available in a package deal, paired up with an excellent backpacking hatchet that I have some experience with and really enjoy using.
Pros
Very long fourteen-inch curved blade makes quick work of big jobs
Very solid, hefty handle
Smooth cutting action
Multiple configurations and package options
Cons
Thin blade may bend a bit during hard use
Weighs over a pound
Pricey
The saw is the shortest of the bunch, so it is probably the least versatile. But, if you don't want to carry around a larger saw, this is an excellent choice to throw into a backpack or a glovebox. What it might lack in versatility, it makes up for with portability. It is also able to fit into the small spaces that a bigger saw can't. So, if you're going to be making some quick cuts in relatively narrow places, this might be a good choice. But it's kind of expensive for a saw that can't really deliver on tackling the bigger jobs.
Pros
Very Compact at only eight inches when closed
Two positions for different angles of attack
Includes a hard plastic carrying case with a belt-clip
Multiple blades are available for different tasks
Capable of tackling many jobs
Blades are easy to replace
Cons
May not be as durable on harder objects
Blade is too small for the largest jobs
This folding saw folds flat like the others, but it creates a triangle shape when the blade deploys. The handle juts out at one end to form almost an L, so the blade spans the distance like the hypotenuse of a triangle. I affectionately call this saw the lumberjack because I feel like we're ready to do some logging when I pick it up.
You can store an extra of the easy-to-replace blades in the handle, but it takes a little bit of patience to get it into the storage area. Even though the saw is pretty big, it is still pretty light. But, even though I like the design, it is a bit less versatile because of it. It simply won't fit into certain spaces, and that might limit your ability to take advantage of the whole length of the blade.
Pros
Heavy-duty folding saw with a twenty-one-inch serrated blade
Easy to get leverage with unique bow saw design
Aluminum frame has integrated storage for extra blades
Does the work of a bigger saw, but only weighs sixteen ounces
Cons
Too big for cuts in tight spaces
Plastic hinge is known to break
This saw is on the more compact end of the spectrum. So, that makes it inherently less versatile. But, the blade isn't as short as some others, and the saw is available at a very inexpensive price point.
This saw is a good addition to any gear bag. And if you end up beating it up a bit, you don't have to worry too much because it is backed by a best-in-class satisfaction guarantee, and it's cheap enough you can probably buy a spare easily!
Pros
Money-back satisfaction guarantee
Very inexpensive
Two-angle adjustable blade
Compact (eight inches) and lightweight (under nine ounces)
Cons
Will not easily cut through hard plastic or bone
Unknown origin or manufacturing location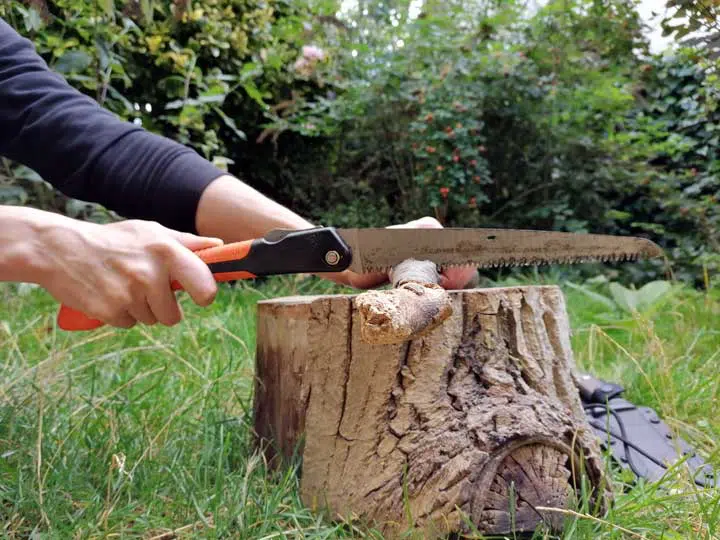 We really like the Ultra Accel Professional's curved-blade design, and Silky is a top-name in the bushcraft saw game. The blade is long enough to handle most tasks, but not so long that it gets to be a hassle carrying it around. It is among the most versatile, it is lightweight, and the blades are easy to replace.
It is limited a bit when it comes to handling really big jobs, but it's definitely a solid compromise that can handle most tasks with ease.
Pros
Long curved blade (Nine and a half inches)
Lots of cutting power, but lightweight (just over ten ounces)
Capable of making quick work of all but the biggest jobs
Blades are easy to replace
Cons
A bit pricey
Blades may not stand up to hard use
Best Bushcraft Saw: The Winner
The winner is the Silky Ultra Accel Professional 240mm Curved Folding Saw Large Teeth. I believe that this saw is the best combination of all the things we want in a bushcraft saw. It is very versatile and durable. It is comfortable in your hand with a solid feel and a bit of heft, but it is light enough you will barely notice it in your pack or even in your pocket.
If there is one tradeoff, I don't think this saw would be too much fun to use to cut very large branches, but I don't anticipate doing that too much. And, if it had to, this model from Silky is sort of like our Goldilocks. Not too big, not too small. Just right.
Spending a few extra dollars on this saw instead of some of the cheaper options is not only justifiable but doing so makes a lot of sense. Anyone who is heading out into the bush and doing some cutting would be happy to have the Ultra Accel along for the trip.