We all love our outdoor hobbies. Be it hiking, bushwacking, canoeing, camping, or any other outdoor activity which might leave you in need of help while far from any form of civilization. Read about the best emergency radio that will keep you safe and well-informed while exploring the world.
Best Emergency Radio
Best Reliability
Powered by hand crank or solar panel
Reaches AM and FM stations regardless of location
USB port to charge other devices
Contacting Responders
Electronic dog whistle
Flashing beacon and flashlight
Solar panel, batteries, and hand crank
Portability
Width of a smartphone
Comes with two light sources and three power sources
Micro-USB to charge batteries or devices
What Does an Emergency Radio Do?
Emergency radios fulfill a wide array of essential jobs, and not all of them have to do with outdoor activities directly. A family living in an area known for flash floods, severe storms, or other deadly natural disasters can keep one in a bag of survival essentials if the worst were to happen. Many people who work in dangerous environments also tend to have several on hand if needed.
Different types of emergency radios also exist in a variety of capacities. Some radios are primarily intended for keeping track of the local weather while you are out in the wilderness. These are referred to as weather alert radios, and they can be a life-saver for some people. Other radios are more of the traditional two-way radio style, tuned to local weather stations and ranger stations, and are intended for potentially dangerous scenarios.
Weather radios are considerably more common, as the utility is far more forthcoming for most hikers and outdoors enthusiasts. The critical aspect of any emergency radio is that it is easy to carry and tough enough to avoid breaking when you need it most. Most radios receive the same SiriusXM weather channel, so it is more a matter of preference and comfort for many people.
How to Choose the Best Emergency Radio
Several factors make for a good and reliable emergency radio.
Weight
You don't want to carry a heavy, bulky radio. Even if you do bring yourself to take it around with you, it'll weigh you down.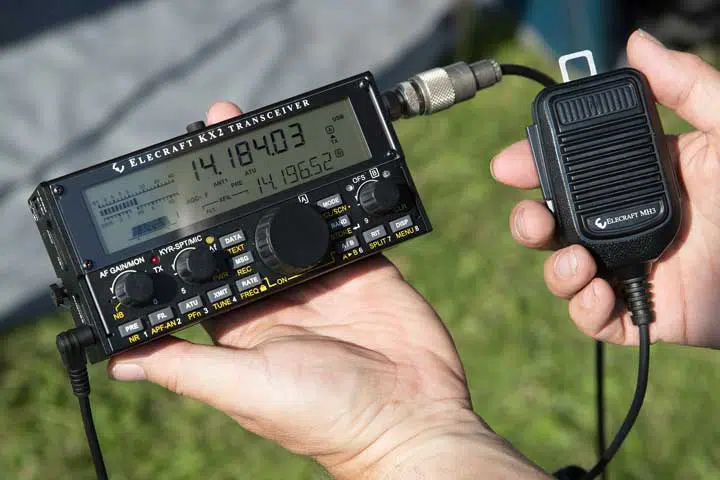 Range
Every radio has a limited range that it can reach. If you are out on a massive hike, you may be too far from the nearest pertinent radio to be picked up.
You need to make sure it can pick up NOAA stations that release weather reports for various areas. Thankfully, most emergency radios have a long enough range for this to be a problem.
Power Sources
You don't want to be stuck with a dead radio. Make sure the radio you choose has power sources you can keep up with. If you plan to use it in the dark, buy one with a hand crank. If you're in sunlight a lot, consider one with solar panels. Many emergency radios come with multiple power sources, so there's always a backup method.
Durability
The radio should be made of solid materials that keep it lasting a long time. The exterior should be water-resistant and able to withstand hard falls.
Extra Features
Do you want the ability to listen privately? Or do you have devices you may need to charge? There are numerous extra features to consider, including:
Headphone jack
USB port
Big buttons
Flashlight, reading light, or red flashing beacon
Dog whistle
Alarms or buzzers
My Favorite Emergency Radios
While this is not meant to be an exhaustive list of all of the radios you can buy and use, these are five of the best weather alert and emergency radios I have come across in my time exploring the outdoors.
This is one I had to include for its sheer reliability. The Kaito is a six-way emergency radio powered by a hand crank or a solar panel. This thing will work for you anytime and anywhere, regardless of the situation. Do you need to find out if a storm is coming? It will be ready. Did you or someone with you get hurt? It is already charged and ready for you to call for help. It reaches a vast number of AM and FM stations from anywhere you are.
The Kaito also comes with a battery charger so that you can charge other devices. Even if you don't think you will get into any trouble on a particular hike, you still have a good reason to bring it along just to charge your phone while you aren't using it. The Kaito is a great product all around!
One minor consideration for the Kaito is that its radio signal relies heavily on using a telescopic antenna to pick up and send out alerts instead of other more modern methods of doing this. Using an antenna does not directly hinder the Kaito's performance, but it is something that you should keep in mind when comparing it to other emergency radios. Telescopic antennas are long, bulky, and much more fragile than modern systems.
Pros
It works with a hand crank or solar panel, making it super reliable in any situation.
It comes with a USB battery charger to juice up other devices.
Equipped with a flashlight and reading light.
Made of water-resistant material.
Cons
The radio signal relies on an outdated telescopic antenna.
These emergency radios are used and trusted by the American Red Cross association, which should tell you most of what you need to know about its quality. The NOAA Weather Radio is geared more toward preventing tragedies than responding to them, however. The "alert" feature streams a broadcast of inclement weather warnings in your area.
The radio also comes with a solar panel and rechargeable batteries, but it still does have the possibility to run out of juice. Assuming you take care of this radio, it will take care of you in return. It lets you know about eventual problems before they become more serious is valuable when out in the wilderness.
The NOAA is an entirely digital radio that does not rely on actual radio waves to send its signals. Digital signals are far less beholden to environmental factors such as wind or elevation, making the broadcast more reliable overall.
Pros
Comes with a solar panel and rechargeable batteries.
Doesn't rely on radio waves, saving the environment and adding more reliability.
Comes with a USB port.
Equipped with an LED flashlight and red beacon.
Cons
The Midland, like the others listed so far, offers multiple ways to power it. It has all three of the ones listed in the previous installments on this list. The Midland offers a large rechargeable battery, a solar panel, and a turnable hand crank all in one. Much like the NOAA above it, the primary use of the Midland is to alert hikers like us to potential storms in the area.
The radio can also contact emergency services by morse code using its flashing beacon, but its primary function is as a weather alert tool. It does come with a variety of other survival features, though. It also comes with an electronic dog whistle which can get the attention of search and rescue dogs in your area.
The Midland exists primarily as a weather alert radio and survival tool and less as a means of contacting ranger stations or emergency services. With it, you can still charge your phone to call the necessary services, but the radio itself can only help indirectly.
Pros
You can charge it with batteries, a solar panel, or a hand crank.
Use morse code with the flashing beacon to contact emergency responders.
Comes with an electronic dog whistle.
Charge additional devices with the battery port.
Cons
You can't disable the weekly emergency tests, so you will hear regular sirens and strobe lights during testing windows.
This radio contains a total of 19 stations, including the 7 NOAA stations, which monitor weather patterns and make up a crucial part of a weather alert radio's role. You can power it using a hand crank, solar panel, or plugged into a DC input. It also has the same USB port to charge your phone if it dies while you are out in the wilderness.
The difference comes down to weight and ease of carrying. This radio is remarkably light and compact. Part of this design philosophy comes from the fact that it isn't necessarily built to be an emergency radio. It is just an outdoor radio that gets a variety of channels. You can listen to music stations on it as well as get the weather alerts you need.
With how seriously most of the entries on this list are taken and how grim the subject matter is, it is nice to have at least one product on here that can lighten up your hike with a bit of fun.
Pros
Incredibly lightweight compared to other radios.
Listen to music while you're out and get the weather alerts you need.
Hand crank, DC input, and solar panel for charging
Comes with a USB charging port.
Cons
The battery dies quickly.
This is the smallest radio on the list by far, being no wider than a smartphone. The size of the FosPower radio is a benefit in and of itself because it means it is easy to carry with you. It has a hand crank, solar panel and takes AAA batteries to make sure it is always there and ready to be used in an emergency. It can also charge your phone when there isn't an emergency.
This is another emergency radio with a built-in flashlight, but its small size makes the flashlight much easier to use. Unfortunately, it is only a one-way radio. It can only broadcast the weather reports advertised, but much like the Midland radio, it makes up for this with its many other features to help you survive in a challenging situation.
Pros
It has a strong power bank to charge devices.
It comes with a flashlight and reading light.
Three power sources (hand crank, solar panel, and batteries).
It includes a limited lifetime warranty.
Cons
There is no headphone jack to listen privately.
Conclusion
An emergency radio is still an important thing to have on long hikes and across treacherous terrain. If nothing else, they are your best bet of finding out about storms and other factors that could ruin your intended adventure before you get stuck. It could even save your life in a dire situation.
Given how bad a potential wind storm could be in various settings, I do not want to think about what would happen if I went out on a trip and didn't know about an incoming storm.
Taking all five of the list of radios into account, I would have to give the gold medal to the Midland. It has all of the reliability of a Kaito and all of the convenience of a FosPower, as well as multiple features that can help keep you alive when things might be looking grim. It is my go-to choice, and I would never leave on a backpacking trip without it.