5 Bushcraft Wool Clothing Options You Need To Try
Outdoor activities, especially bushcraft, require proper clothing that is going to keep you warm and comfortable. There are many options to choose from in the clothing industry. However, wool has been used for thousands of years for a reason. This is because of its exceptional insulation, moisture-wicking, and many more abilities. In this article, we will talk about the best bushcraft wool clothing options
Talking from my experience wool is a great option for those who want to up their game in bushcraft activities. Maybe you think that wool is heavy and itchy to wear, but here we are talking about modern quality bushcraft wool clothing.
In this article, we will discuss the best bushcraft wool clothing options, whether they are waterproof, and the benefits of wool. Also, I'm going to answer how to choose proper wool clothing and what you should consider when buying these garments. You will see the benefits of this material and why so many people use it in their bushcraft adventures.
Top 5 Bushcraft Wool Garments
Having the right gear makes a big difference in whatever you do. Clothing is used the most during all activities so investing in quality garments is essential. Wool garments have proven to be among the top clothing choices. So we will talk about 5 bushcraft wool garments you should add to your kit.
Wool Bushcraft Pants
Wool pants perform excellently in a variety of weather conditions. In cold weather wool will keep you warm due to its incredible insulation and moisture-wicking properties will help keep you dry and comfortable.
You can't imagine bushcraft without fire and fire can be dangerous if you don't pay attention. Wool is naturally fire-resistant so it will keep you safer when cooking or starting a fire. You might ask yourself how durable are wool pants for bushcraft use. I think everything is clear now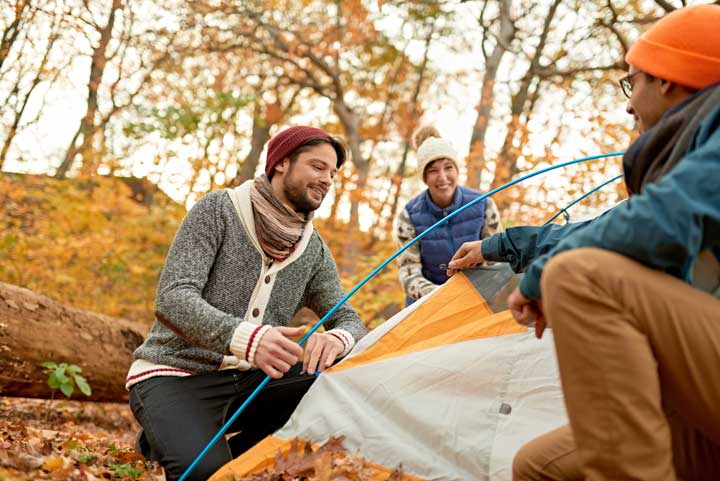 Wool Bushcraft Shirt
When doing hard activities that are unavoidable in bushcraft activities you are going to sweat. Therefore, you need to have a shirt that is breathable and moisture-wicking at the same time. For this problem, there is no better solution than a wool shirt. On top of this wool, shirts are naturally antimicrobial, so they won't develop odors as quickly as synthetic fabrics.
If you like to spend lots of your time outdoors this makes it a great option for activities where washing clothes is not an option.
Wool Base Layer
On cold days layering is key to being warm and comfortable. The first thing you put when layering is a base layer. This piece of the garment needs to trap air that is going to keep you warm. Also, it needs to be breathable so you don't sweat when doing different activities. For the base layer, there is no better option than wool.
Not only is it warm and breathable, but it's also, as we previously learned, odor resistant. All these things show that wool is a durable and versatile piece of clothing that can help keep you warm, dry, and comfortable in your outdoor activities.
Wool Socks
Keeping your feet healthy outdoors is a must. Wool socks will help with this because they are breathable and have moisture-wicking abilities. Therefore, keeping your feet dry and reducing blisters and other problems. Additionally, wool is incredibly warm and insulating, even when wet, which is very important in cold environments.
Wool socks are an affordable purchase for anyone who spends a lot of time outdoors because they are long-lasting and durable. Wool socks will keep your feet cozy and safe whether hiking, camping, or doing other bushcraft activities.
Wool Blanket
Wool blankets have been a trusted outdoor companion for a very long time. Wool blankets are a necessity for any outdoor enthusiast when it comes to bushcraft. They are not only durable and reliable in harsh weather conditions, but they are also warm and comfortable. Wool blankets are also a safe choice for use around the campfire as they are naturally flame-resistant.
Additionally, they are water-resistant, which is crucial in wet places. Also, wool blankets can be used as a ground cover, a shelter, or even as an improvised backpack in addition to their practical uses.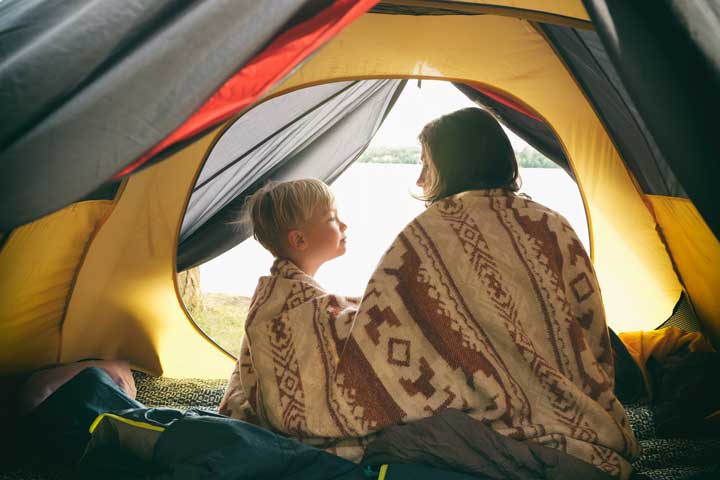 What Are The Benefits Of Bushcraft Wool Clothing
There are many benefits of wool bushcraft clothing that will help you in bushcraft adventures. Here we will explain the main two, but there are many more mentioned above in the garment section.
Warmth
Wool fibers have natural insulating properties due to the way they are structured, which helps to trap heat close to the body. When the fibers are woven together to make clothing, they create tiny air pockets that hold warmth. Also, Wool is an excellent insulator, meaning it helps to keep you warm in cold weather
Durability
Wool clothing is durable and can withstand the wear and tear of outdoor activities. Such as building shelters, chopping wood, and making fires. A fun fact is that wool fibers can bend up to 20,000 times before they break, making it an excellent choice for bushcraft clothing that can withstand the harshness of outdoor activities.
Durability also makes wool clothing a great investment option since you won't need to constantly change your garments.
FAQ About Bushcraft Wool Blankets
There are many questions about wool blankets so we will answer some of the most common ones. Therefore, you will get a much clearer picture of wool blankets.
Are wool blankets good for bushcraft?
Wool blankets are an excellent choice for bushcraft. Since wool naturally insulates, you can remain warm even when it's wet. Also, wool is a durable material that can endure harsh bushcraft tasks. For anyone involved in outdoor activities and bushcraft, wool blankets are a great purchase.
What is the R-value of a wool blanket?
Wool blankets do not have a standard R-value, as they are not typically used as insulation in the same way that synthetic or down-filled materials are. While wool does have some insulating properties, it is not as efficient as synthetic materials when it comes to retaining warmth in extreme conditions.
However, wool is still a popular material for blankets used in bushcraft and other outdoor activities due to its durability, moisture-wicking properties, and ability to maintain warmth even when wet.
Why can't you wash a wool blanket?
A wool blanket can be washed, but it needs to be handled carefully to prevent shrinkage, felting, or other damage. This is because wool is a fragile natural material that easily feels and shrinks.
What happens if you wash 100% wool?
Washing 100% wool can cause it to shrink, distort, and lose its shape. Therefore, it is recommended to avoid washing 100% wool unless it is absolutely necessary. Even then you should use detergents specifically made for wool.
Conclusion
Bushcraft wool clothing is a reliable option for those who want to stay warm and comfortable during bushcraft adventures. Wool has many benefits that will make your outdoor experience much more enjoyable. Breathability, Warmth, and moisture-wicking abilities are just a few of them. It's up to you to find the things that affect you.
Remember when choosing wool clothing look for high-quality durable materials. So you get the most out of your investment.